Merry Yuletide! Here we are, honoring the last days of the 2022 year and as the season shifts – the wind brings forward an air of mystery as we each look to the horizon of hope and possibility. Linger in these moments and lift your imaginations to all things bursting with individuality and creativity as Haven Gallery welcomes you to join them in celebration of new exhibitions by Camilla d'Errico, Andi Soto, Nom Kinnear King, and Takahiro Imai. As if that wasn't enough to entice your wildly expressive sensibilities you can also enjoy new group exhibition Little Big VII, featuring a wonderful lineup of artists.
Balanced on the scales of diversity, we turn our gaze towards the compositional prowess and extraordinary variations of individuality that most assuredly captivate our attention and need for artistic wanderlust. Don't miss each of these beautiful new bodies of work. View them in their entirety alongside all available inventory by visiting Haven Gallery's website!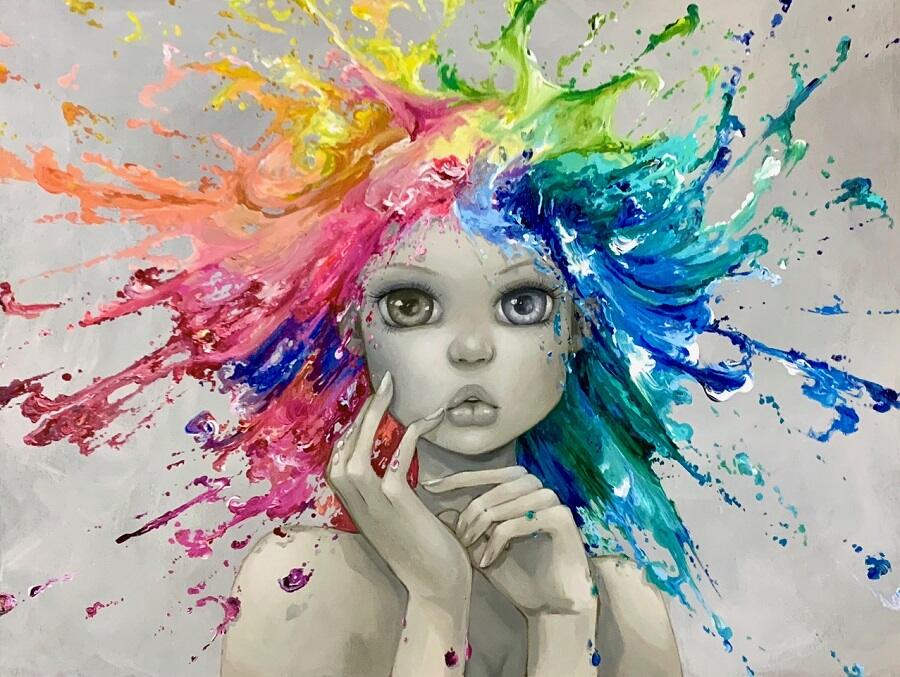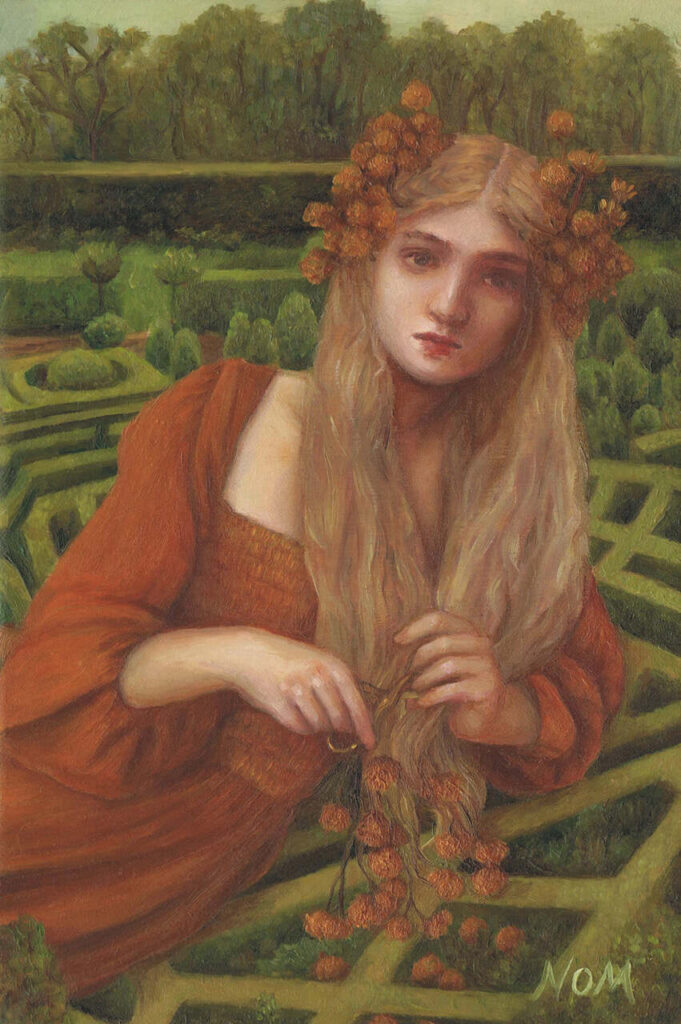 Camilla d'Errico | Andi Soto | Nom Kinnear King | Takahiro Imai
&
Little Big VII
Opening Reception: Saturday, December 17, 2022
Exhibition Dates: December 17, 2022 – January 14, 2023
Haven Gallery
50 Main St., Northport, NY 11768 | ph. (631) 757-0500
To inquire, please contact Erica via email [email protected]
About the Gallery //
Haven Gallery is run by Erica Berkowitz and Joseph Weinreb. The gallery first opened in 2015 in the Carriage House of historic Northport, NY. Within two years, the gallery doubled in size and expanded into the entire Carriage House building. Through their successful in-house exhibitions and presentations at art fairs both domestic and international, Haven opened a secondary location at 90 Main St., in 2020, during the height of the Covid pandemic. It was at that point, that Erica and Joseph knew it was time to find a permanent location for their artists. In January of 2022, they bought the building at 50 Main st., and opened its doors as Haven Gallery's perennial home.
Haven Gallery's focus is on exhibiting emotionally, intellectually and imaginatively driven, representational artwork that connects the audience and artist with universal axioms and passions. We work with both emerging and established artists who transcend their medium and subjects by exploring the world around them as well as the one within themselves.
---
Northport, NY– Haven Gallery is honored to present "Prism", a solo show of new work from Canada based artist Camilla d'Errico. "Prism" is Camilla's third solo show at the gallery and explores the power of color to convey her narratives and serve as a creative tool for both creating and expressing emotion. Often, the complexities of our feelings cannot be put into words. Camilla's artwork serves as a conduit to portray these variations of the human condition. Further, her intermingling of muted, monochromatic palettes with rainbow hues create a striking and powerful representation of the immense nature of our emotions. How we feel is a large part of who we are, and the works in "Prism" express the dualistic nature of our emotions and the beauty in its sentiment. Similar to the color spectrum, emotion covers a vast range, with intermingling elements and complexities. The portraits in "Prism" use color brilliantly to represent these aspects of our being.
Camilla's art has always served as a positive and powerful representation of the beauty of diversity. Through her paintings, she represents a vast array of individuals painted to highlight their unique beauty and differences. Yet, her works are idealized and through their styled and expressive faces, become a metaphor of being human and finding the beauty and acceptance not only of one self but of those around you.
About the Artist //
Camilla d'Errico is an Italo-Canadian artist who has been making waves in the art world with her manga-influenced style. Ever the prolific artist, Camilla is comic artist/creator and Pop Surrealist painter, while also contributing to the vinyl art toy movement, and expanding her style into fashion, accessories, toys and other merchandise. Camilla resides on Vancouver Island, BC. She has distinguished herself through her ability to seamlessly weave comic art and manga with surrealist elements, wrapping it all together with an extensive emotional palette.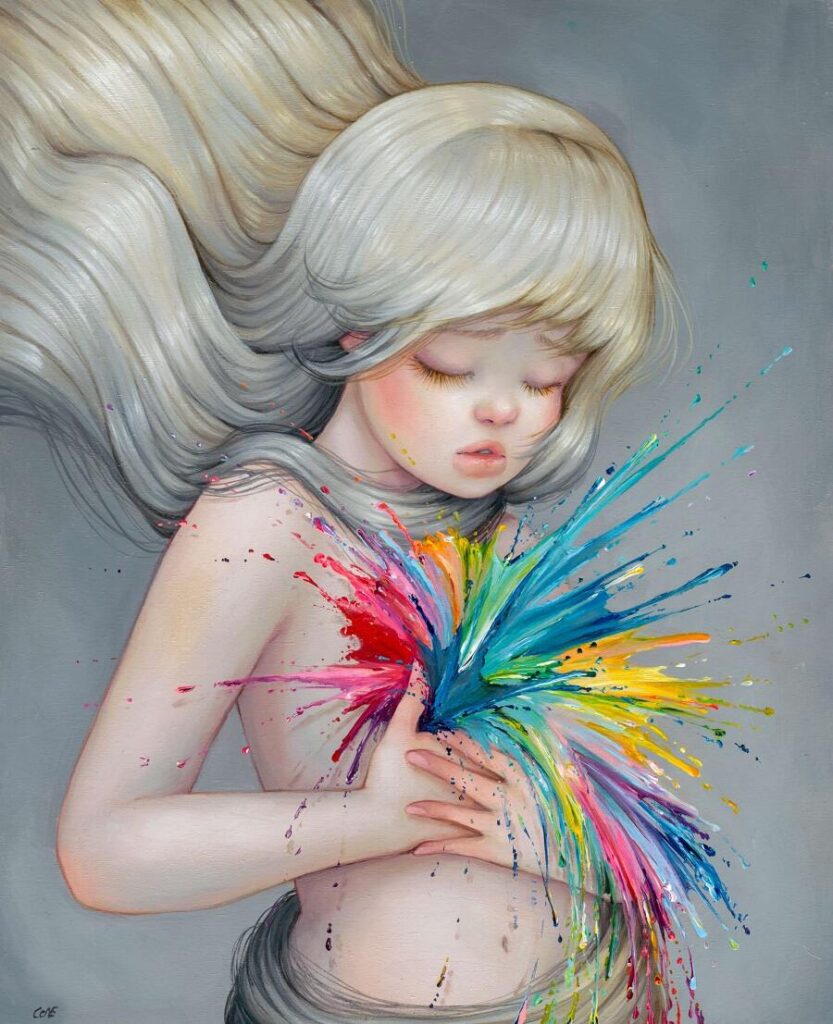 Northport, NY– Haven Gallery is honored to present "Into the Void", a solo show of new work from Croatia based artist Andi Soto. "Into the Void" is Soto's third solo show at the gallery and features new mixed media paintings (ink, colored pencils, acrylics and gold) featuring the artists doll like female sitters as they find balance and harmony within their own personal feelings. Each sitter is situated within dark backgrounds revealing all knowing expressions and peaceful airs, giving off deity-like embodiments, imbuing hope and acceptance. An introspective study of oneself is encouraged and embraced as we face our personal demons and tribulations. These voids may represent the darker end of life through emotional strife with respect to the human condition, yet Soto's paintings reflect on the acceptance, understanding and growth of her sitters. It is through these challenges and hardships that we shine the brightest and see colors at their most luminous.
Artist Statement //
"Into the Void" is the illustrated manual of the artist going back to her roots, the beginning that gave her the life she always wanted, embracing darkness and becoming one with it, in oblivion. New artworks explore the limits of patience, endurance and the everlasting feelings of impending doom, love and all the mixed emotions human beings are capable of. Looking Into the Void will be the way to let yourself lost into the vast realm of line arts, color palette of dying nature, the power of letting go and the creation of new life.
About the Artist //
Andi Soto is a self-taught illustrator. Currently, Soto spends her time residing in Croatia.
Soto's states that her work is a result of "constant day-dreaming and contemplation. Her illustration work is the result of an introspection, a way to examine the world, lurking in the vast realm of the unconscious and the emotional response to darkness.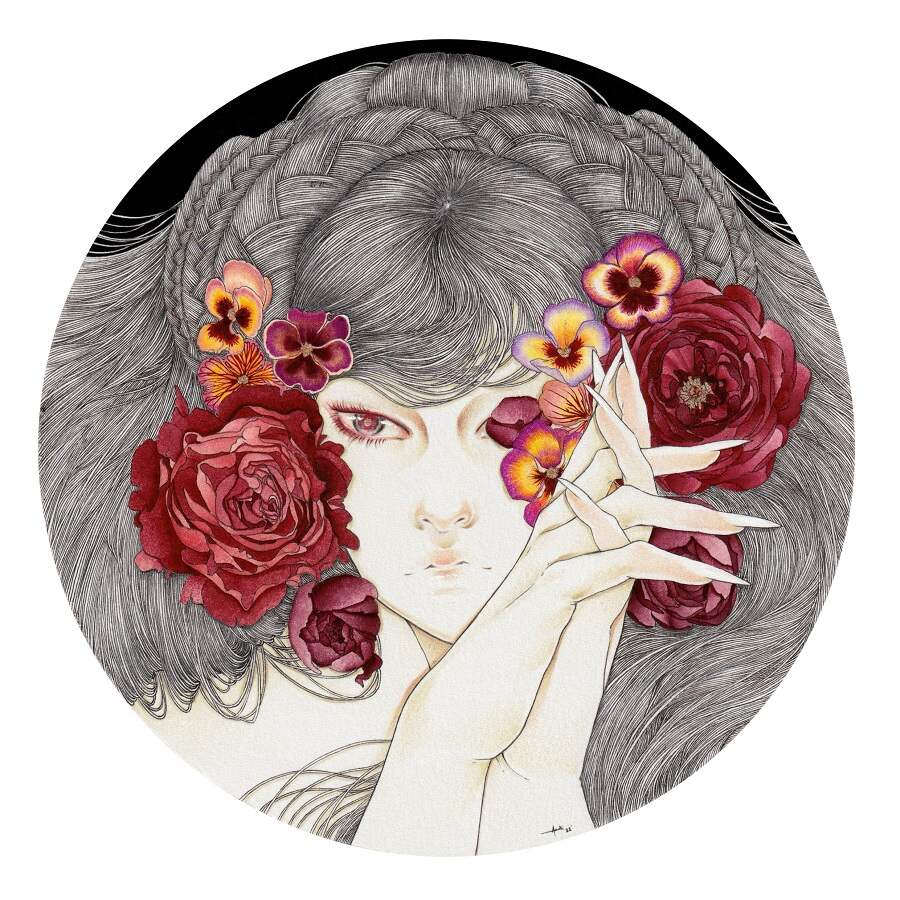 Northport, NY– Haven Gallery is honored to present "Woven", a solo show of new work from England based artist Nom Kinnear King. "Woven" is Kinnear King's second solo show at the gallery and features her classical narratives led by women who exist in a familiar world of nostalgia, laced with magic and and kinship with the natural world. "Woven" describes the weaving activities found throughout many of the paintings, but even more so, the life stories that women entwine into the things they make. Whether it be the quilts they sew, the floral bouquets they arrange, the hair they braid or songs they sing, each painting and creative doing channels their own narratives and connects their personal histories with all those around them.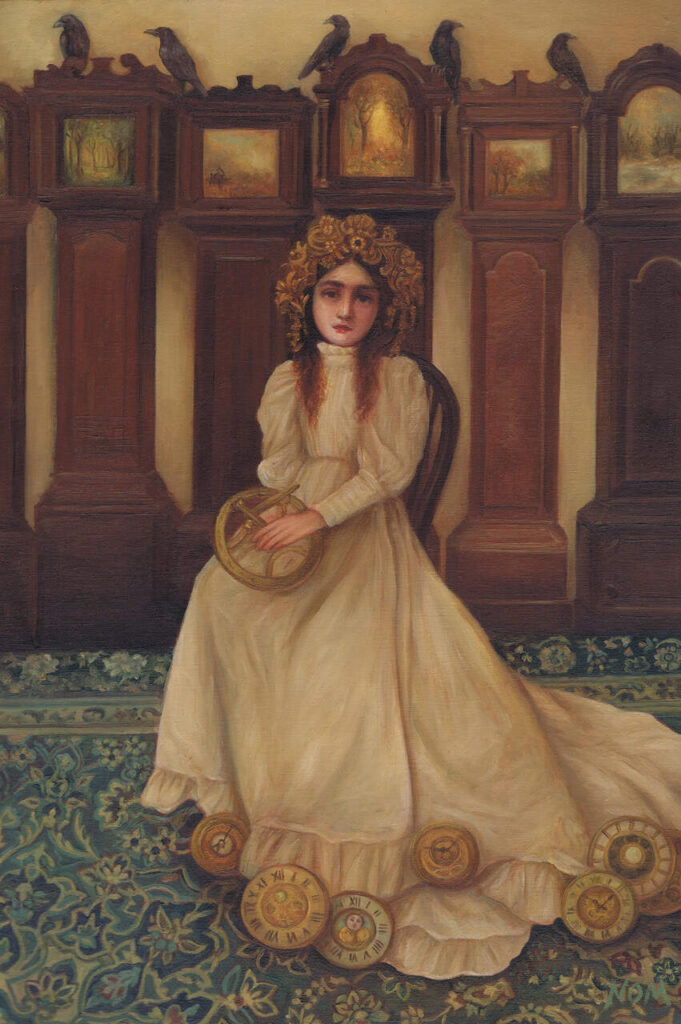 Artist Statement //
'Woven' is a collection that weaves together women in their own worlds of creativity and curiosity. Crafting their tales through costume, textiles, music, and invention. Inspired by past eras of women who found the outlet for their imaginations through the pastimes and traditional handicrafts available to them. Finding ways to hide their secrets and show the individuality in themselves and the magic they saw in the world around them, these private worlds of imagination binding them together in friendship.
About the Artist //
Nom, Originally from the Norfolk countryside, studied Fine Art at Norwich School of Art and Design, going on to be based in Melbourne, Brighton, London and Varese Italy.
Nom now paints from her Studio back in the flatlands of Norfolk in the fine City of Norwich. Gathering inspiration from found objects and her surroundings; working in oils and pastels to create imaginary female portraits. The subjects are girls who roam from town to town in a patchwork old fashioned never world, where rusty melodies trail their steps, their curious behavior shadowed by sweet melancholy. Influenced from a young age by her father's love of the impressionists, magical realism in literature, film and folklore from around the world. Nom has been filling her notebooks throughout the years with her solitary wanderers.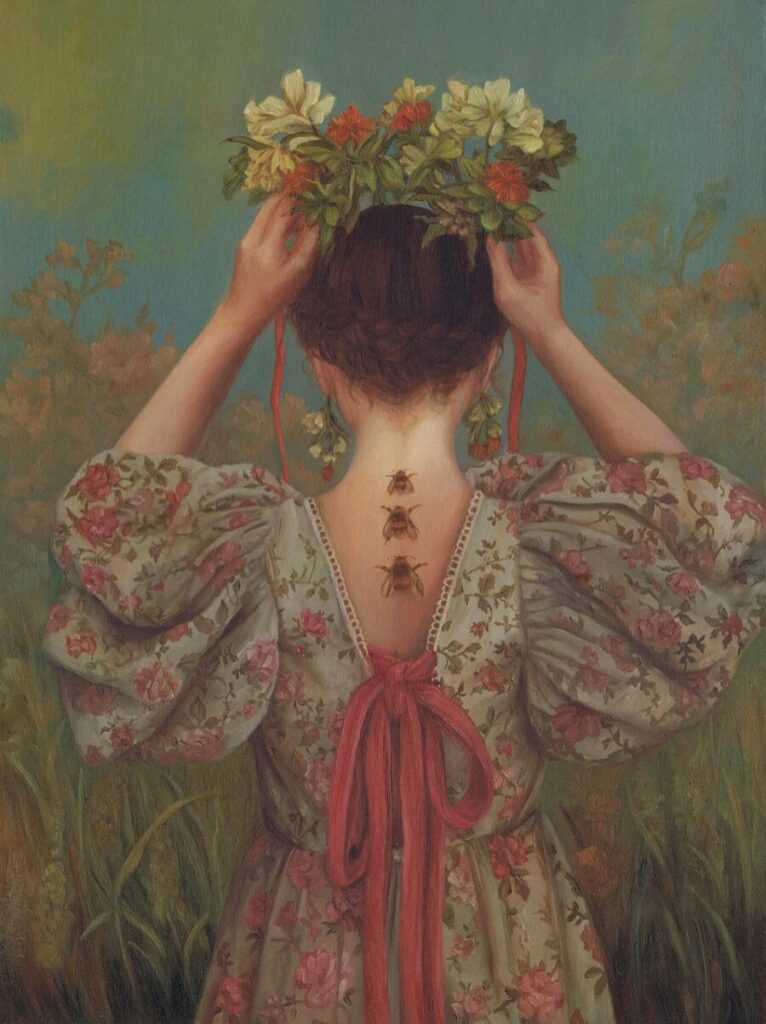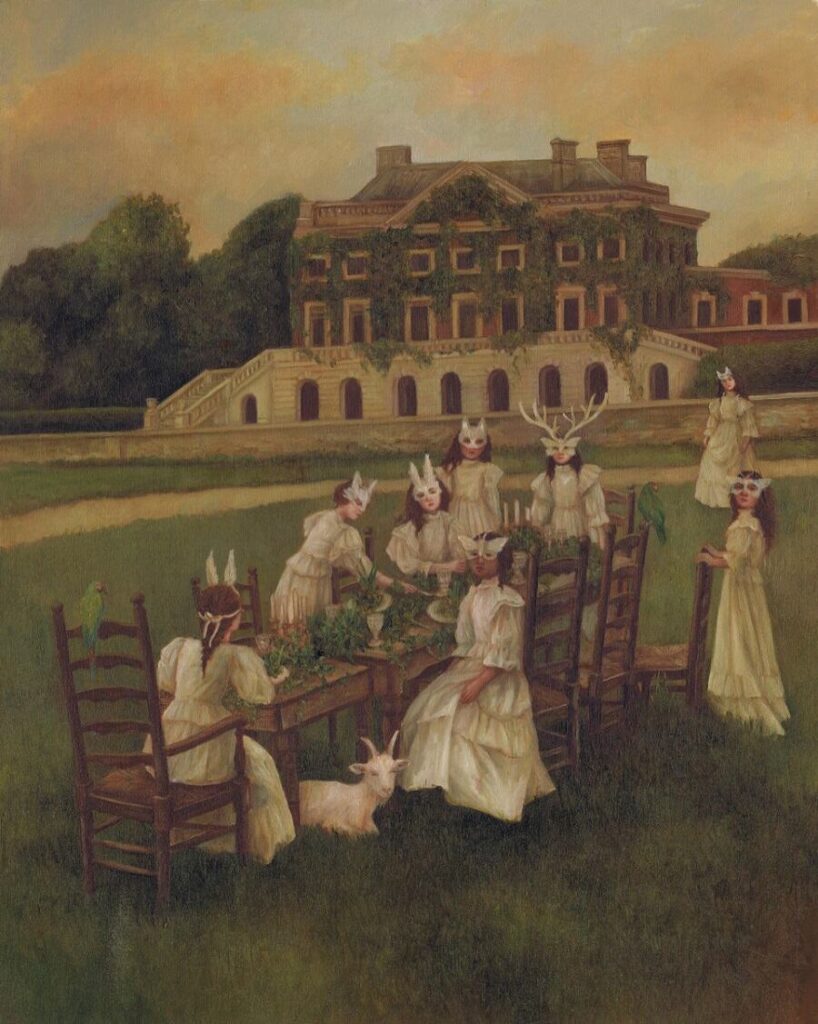 Northport, NY– Haven Gallery is honored to present "Paradox", a solo show of new work from Japan based artist Takahiro Imai. "New Works" is Takahiro's first solo show at the gallery and features his classically painted, stylized female sitters as they playfully confront the viewer, extending an invitation to join in on their follies and amusements. Youthful in appearance and dressed in Lolita style fashions, Takahiro's girls are whimsical and buoyant. His traditional portraits are laced with art historical techniques such as chiaroscuro while embracing elements of Japanese fashion, purity and the visual prominence of anime and manga subcultures; a beautiful merging of the east and west, resulting in museum quality portraiture and cultural explorations.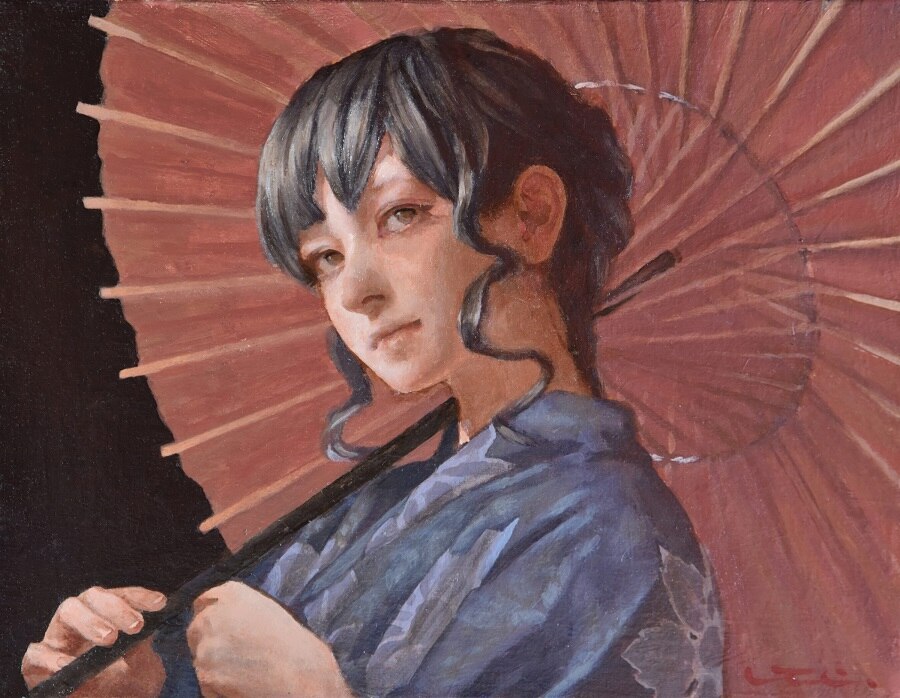 Artist Statement //
….Well… the concept of this solo show is not very new but my best important base for painting. It's the challenge for reality especially female protagonists in the looks like fairy tale. In this solo show, piercing fascinating strongly eyes of some girls are exactly what I want to do. They are looking strongly to you in the real world. But which world us real? They are acting with strong-will in their real world.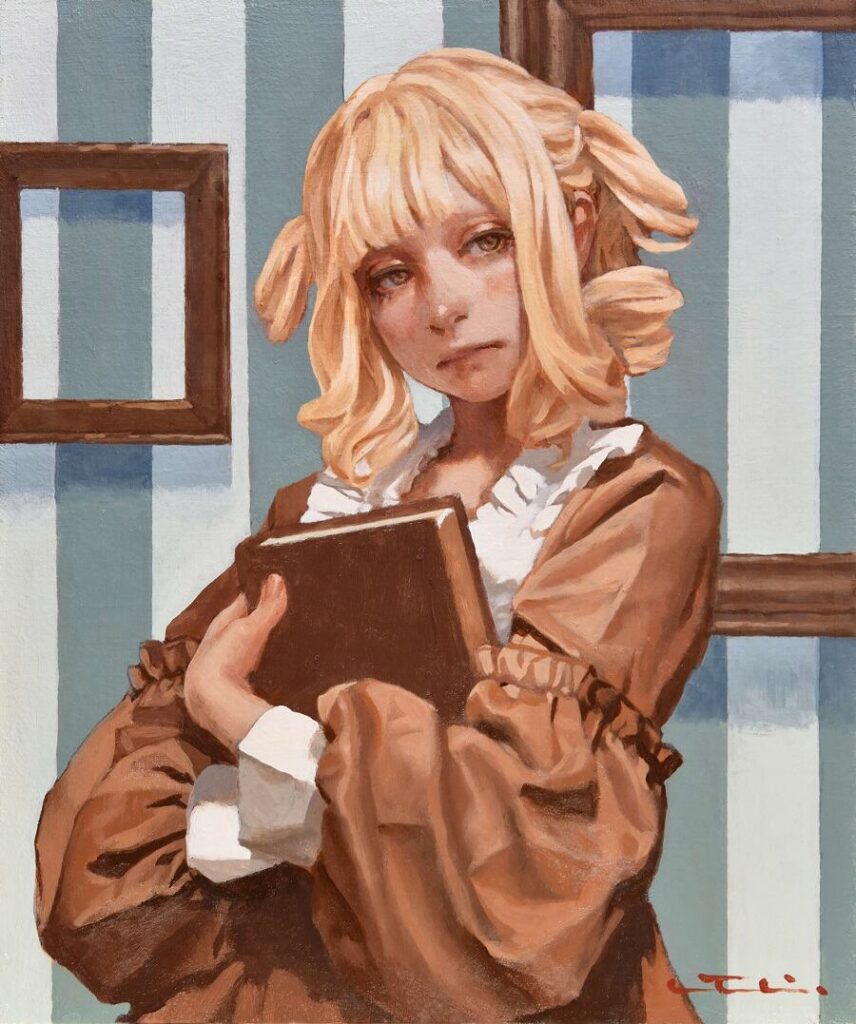 Little Big VII Group Show
Exhibiting Artists Include //
Mark Santos, Phoenix Chan, Mayumi Konno, Nicole Grosjean , Valerie Savarie, Paige Carpenter, Katie Gamb, Laverinne, Sarah Joncas, Alex Kuno, John Brophy, Soojin Mitton, Stephanie Rew, Meagan Magpie Rodgers, Anne Bachelier, Claudia Griesbach-Martucci, Linda Adair, Andrew K Currey, Cirius, Chris Mars, Marc Le Rest, Nicoletta Tomas, Nikole Cooney, Kate Domina, Sophie Wilkins, Himena Kokufuta, Valéry VECU-Quitard, CYON (SION), Ren Phu, Yusei Abe.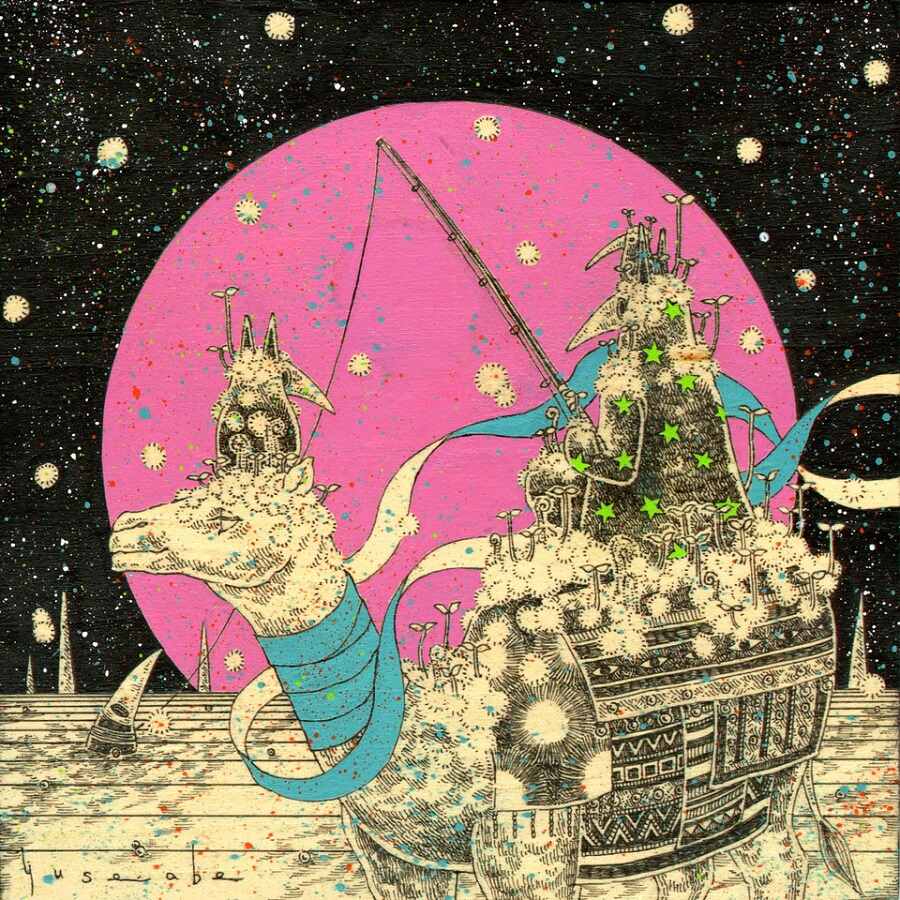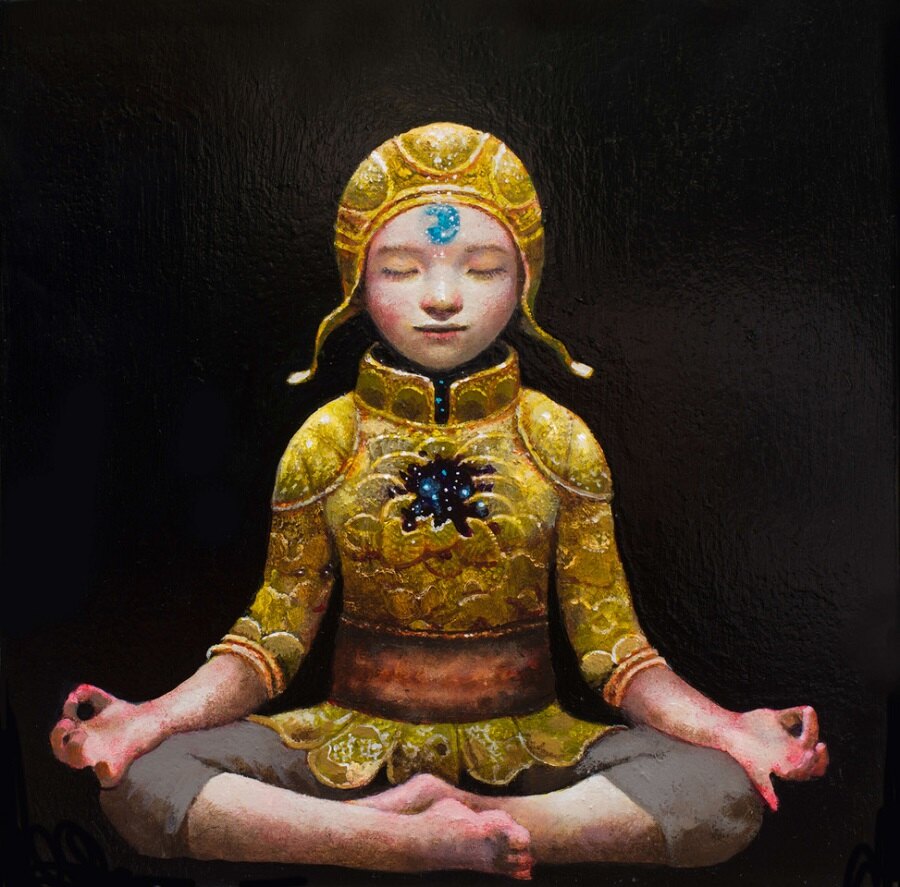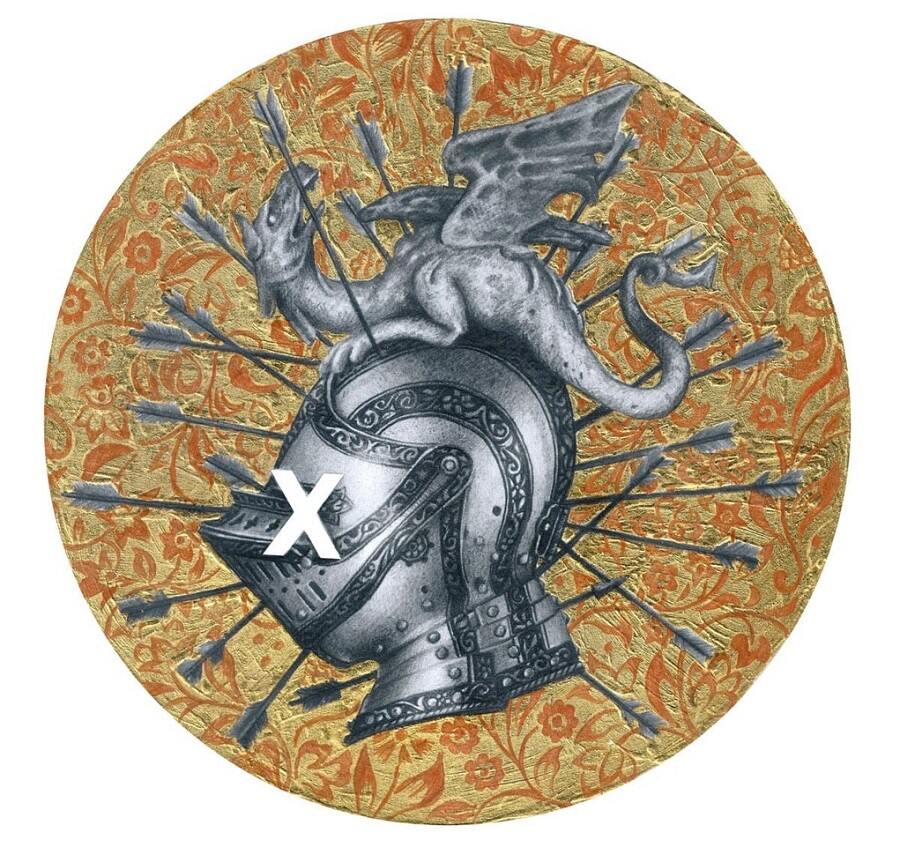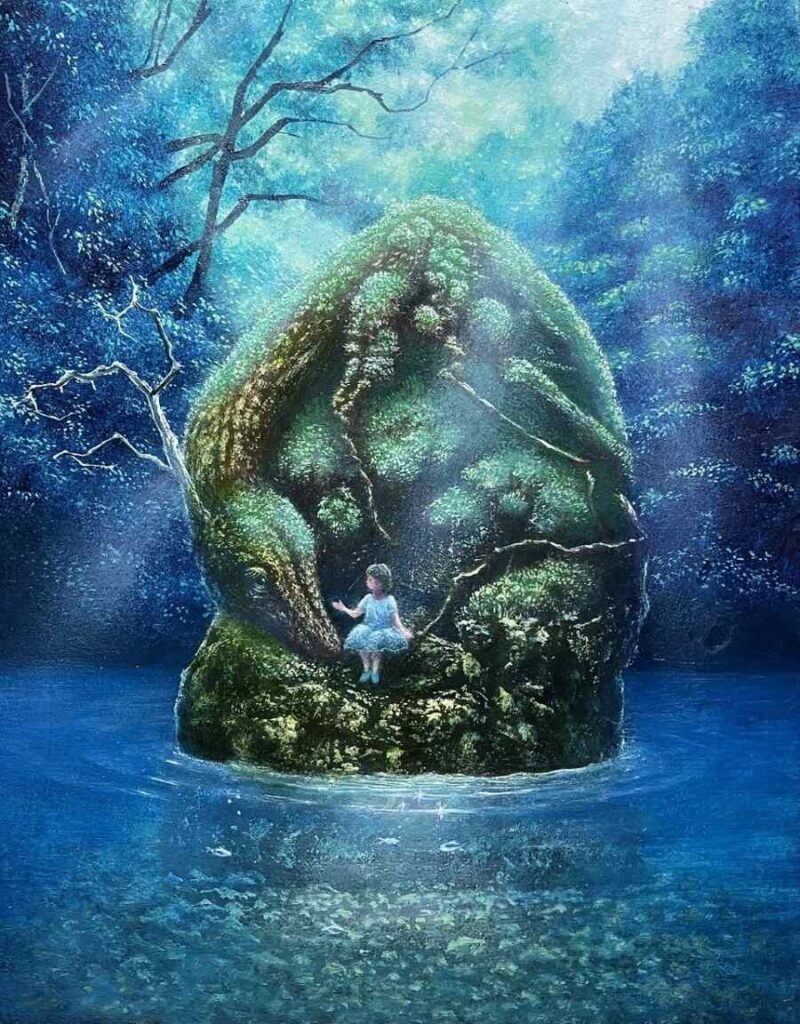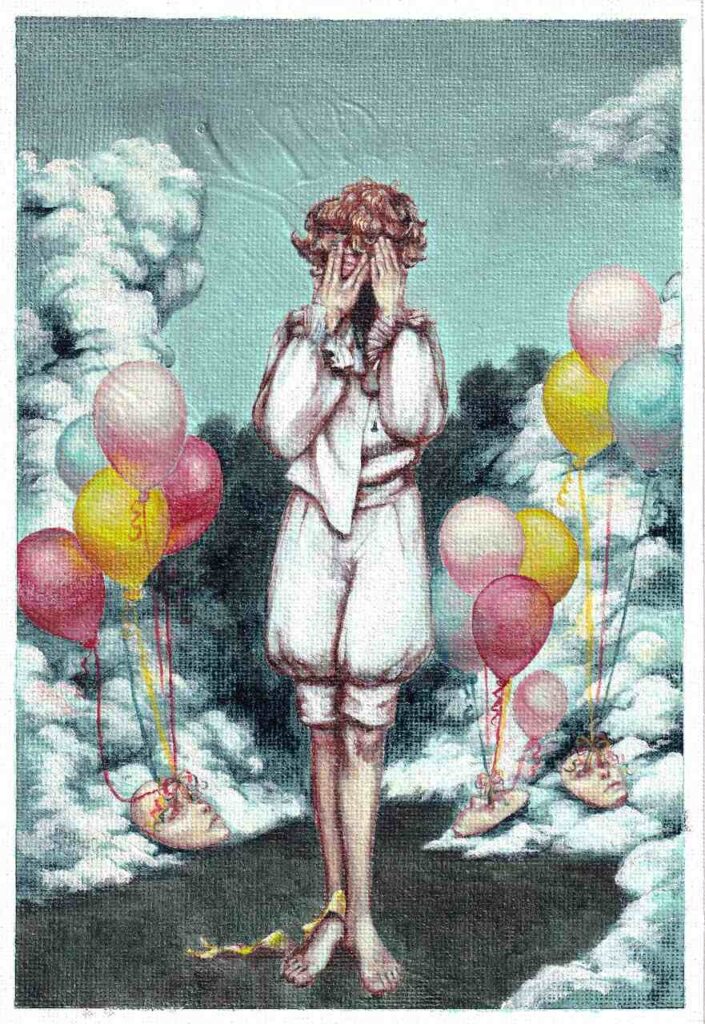 Haven Gallery Social Media Accounts