Have you been waiting for something truly spectacular? Then wait no more because this weekend Thinkspace Projects invites you to join them not only to celebrate the artistic splendor of four wonderfully talented creatives but for a Halloween party unlike any other! Brian M. Viveros, Abigail Goldman, Motelseven, and Huntz Liu heighten our eager senses with their visual potency and new collections of work. With intricacies and imagination that speak to the viewer, the compositional interest and intriguing muse, give us something to ponder long after the show is over.
Join them for their special event and see where the night takes you! If you still need more, and I bet you do, Thinkspace Projects offers a full schedule of events, interviews and inspritation…be sure to follow their blog Sour Harvest to stay updated on all the artsy things you love! If you're hoping to add to your collection of art, take a moment and visit their online store to view all available inventory.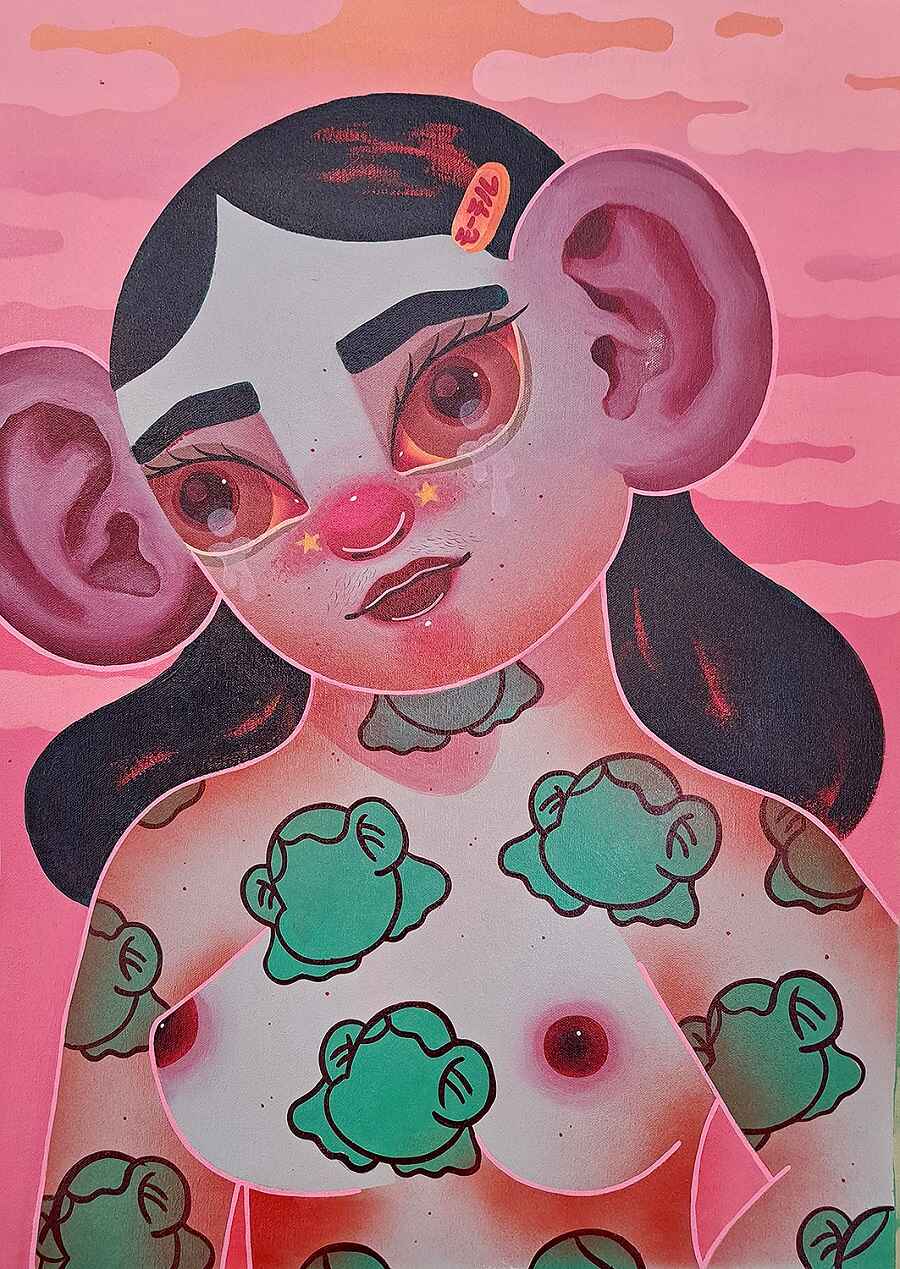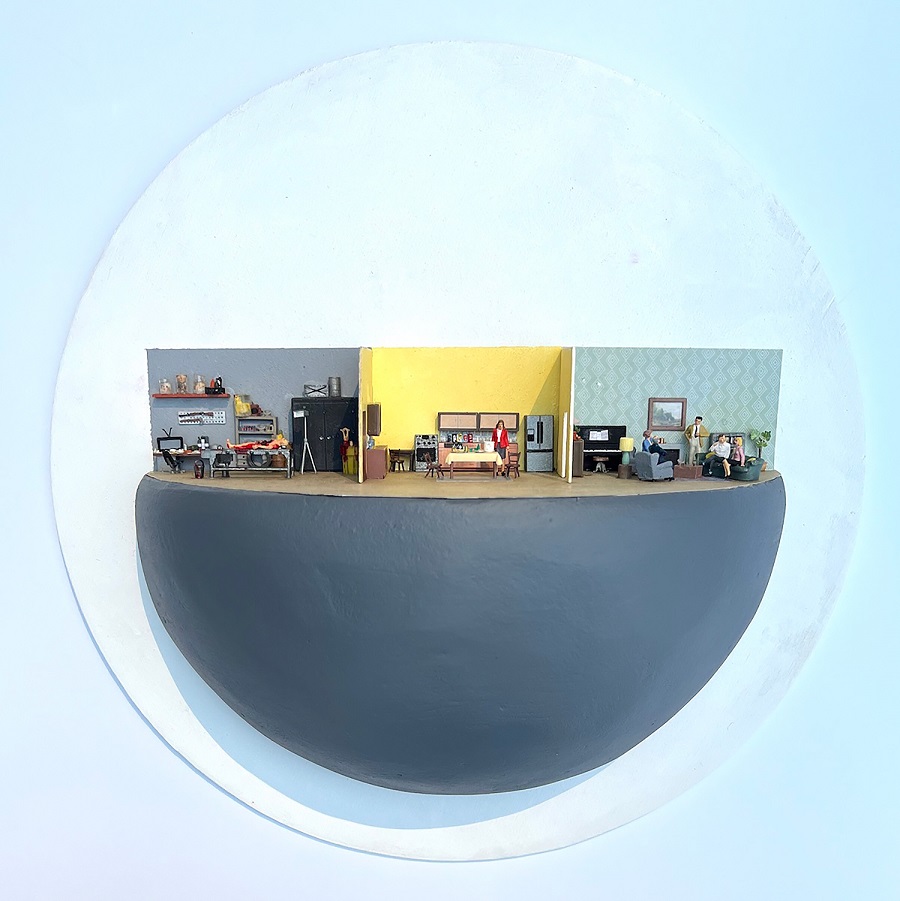 ---
"The Halloween art party of the season with DJs Venice Beats, open bar + free drinks from Liquid Death, video projections from the Digital Debris crew, installations from Balloonski, a vape bar from our friends at Timeless, live painting from Allison Bamcat, Halloween photo op props from GoopMassta, Day of the Dead stilt walkers, grub from The Roll N' Bun + a Halloween costume contest with $500 top cash prize + loads of runner up prizes!!! The first 150 patrons through our doors will receive a free event poster commemorating the opening of MANIA from Brian M. Viveros."
Opening Reception: Saturday, October 29, 2022 | 6-11pm
With DJ, refreshments, live painting, video projections and more
Exhibition Dates: October 29 – November 19, 2022
Thinkspace Projects
4217 W. Jefferson Blvd. | Los Angeles, CA 90016
#310.558.3375 | Tues. – Sat. Noon to 6PM
thinkspaceprojects.com
For all inquiries please contact the gallery via email at [email protected]
Search their hashtags: #thinkspaceprojects #thinkspacegallery #thinkspacefamily
About the Gallery //
Thinkspace was founded in 2005; now in LA's thriving West Adams District, the gallery has garnered an international reputation as one of the most active and productive exponents of the New Contemporary Art Movement. Maintaining its founding commitment to the promotion and support of its artists, Thinkspace has steadily expanded its roster and diversified its projects, creating collaborative and institutional opportunities all over the world. Founded in the spirit of forging recognition for young, emerging, and lesser-known talents, the gallery is now home to artists from all over the world, ranging from the emerging, mid-career, and established.
---
Thinkspace Projects is thrilled to present Brian Viveros's MANIA. The CA-based artist best known for his highly detailed paintings of anti-pin-up doe-eyed 'Woman of Power' and his Dirtyland universe, brings an entirely new body of work to the gallery. For his 7th show with the gallery, Viveros brings his biggest collection yet, with over 25 new pieces. Featuring the beautiful and yet barbarous subjects he is known for, each piece draws from the power of the feminine and its reconciliation of vulnerability, beauty, and power. His subjects are fighters and survivors, they are the heroes standing tall, rendered immaculately, and just bloodied enough to remind us that they are formidable opponents not to be taken lightly. Viveros' work elevates the iconography of the femme-fatale as a powerful emblem of strength and retaliation: insubordinate beauties undaunted by the unruliness of a messy fight.
MANIA is a tribute show, it's a personal show, and it's a bit of a journey taking viewers back in time to the things Viveros obsessed over as a kid, the things that ultimately drove the MANIA inside of him. This body of work is a challenge and a true progression for the artist pushing him outside his comfort zone into breathtaking new territory, not only in theme in scale, size, colour palette, techniques and even mediums like watercolours, gouache, and spray paint. Thus far, his work has been about letting the viewer tell the story. With MANIA he reclaims the narrator role, taking viewers on a very personal journey.
MANIA is the Battle Royal of everything that changed my life. Paying homage and tribute to such influences and heroes like Batman, Superman, KISS, Nirvana, The early days of skating and the Bones Brigade, Bruce Lee & Quintin Tarantino, Conan the Barbarian, Excalibur, Cobra Kai, Wonder Woman, Lucha Libre, Wrestlemania, David Bowie, Star Wars, Boxing and more!
The MANIA collection represents many notable firsts including his largest 'Matador' piece to date entitled 'Solid Gold.' His largest full-bodied Evillast entitled 'In this Corner' is also present in this collection, packed with detail using much more vibrant colours and patterns. The 'Dirtyland,' one of his most iconic characters, returns on a large scale more powerful than ever, with the return of spray paint elements in Viveros's work.
About the Artist //
Brian M. Viveros is a CA based artist, best known for his highly detailed paintings of his anti-pin-up doe-eyed 'Woman of Power' and his Dirtyland universe. Viveros' recognition and exposure was catalyzed by his participation in a major group exhibition in Switzerland in 1997 entitled: The Art of Porn, in which he exhibited alongside celebrated artist and academy award winner H.R. Giger. Since then, Viveros' work has been widely exhibited in North America and Europe and has been published in many books and magazines. Brian also had his first art book published in 2015 entitled 'The Dirtyland: The Art of Brian M. Viveros' published by Thinkspace Editions.
In Gallery II, Abigail Goldman's latest body of work Instincts and Indulgences will be on display. Pulling from her personal experience as an investigator at the Public Defender in Bellingham, WA, a Las Vegas newspaper reporter, and investigator for the Federal Public Defender of Nevada, Goldman creates intricate die-o-ramas rendered in 1:87 scale. The diminutive size of the works is in contrast to the tableaus of gore and mayhem rendered within. Often both humorous and grotesque, the detailed pieces are a wholly engaging product of Goldman's life-long fascination with crime and the dark side of the human psyche.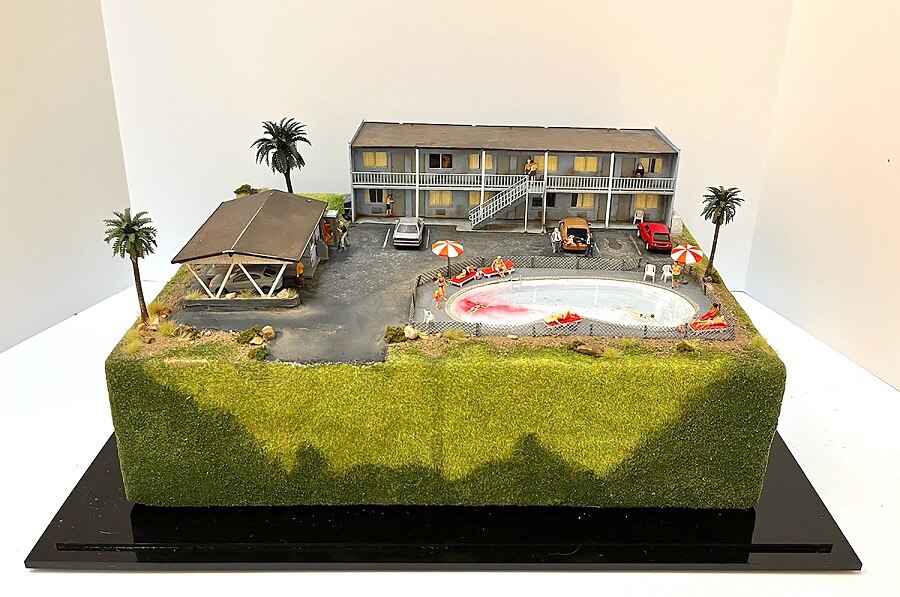 About the Artist //
Goldman's die-o-ramas have been exhibited nationally and internationally, and her work has been featured by numerous media outlets, including the LA Times, New York Times, NPR, Atlas Obscura, Juxtapoz and Huffington Post. In March 2019, Goldman and her work were the subject of a documentary produced for Topic Magazine.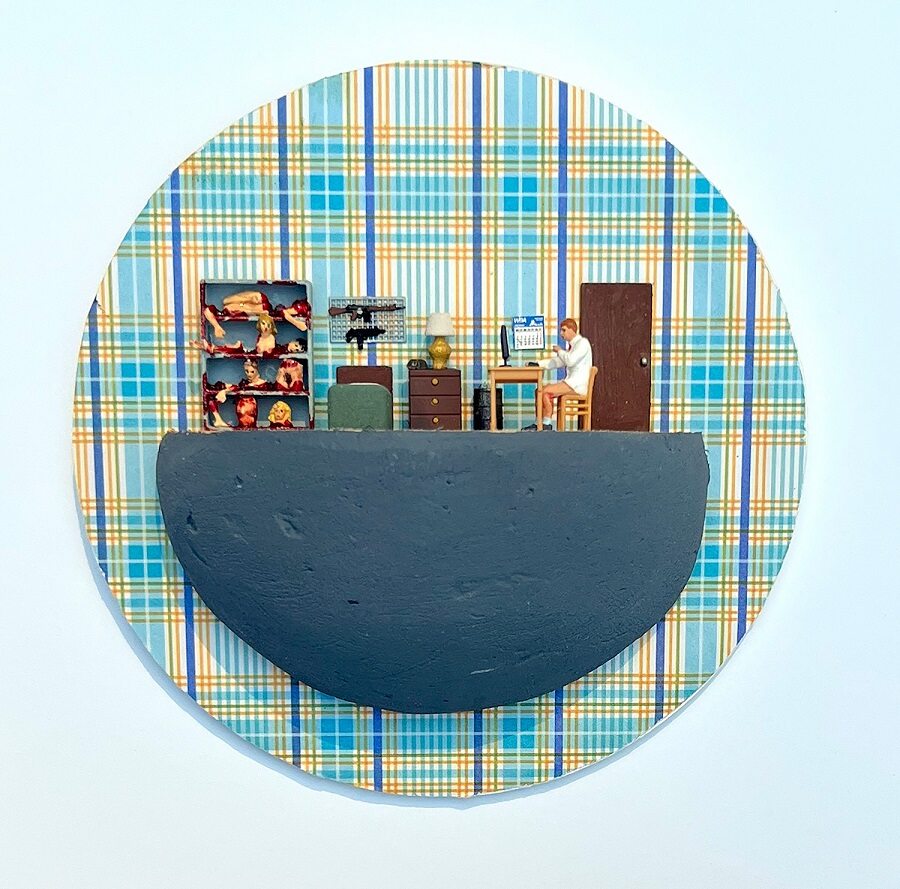 In Gallery III, Thinkspace presents Motelseven's Waiting for Atlantis, an homage to Samuel Becket's Waiting for Godot. Drawing on their own personal struggles about identity, fitting in, narcissism, and complexity, the resulting collection is a juxtaposition of the colourful and playful among tragedy and existential turmoil. Evolving from earlier works, the girls featured in the art are now defiant, determined to break free.
About the Artist //
Motelseven first started painting graffiti at 16 and was immediately hooked. They went on to have their first solo show at the age of 21. After a few successful shows and extensive travelling and painting the streets of Europe, they decided to take a 10 year hiatus from the art world, focusing on becoming a pastry chef, something they had always been passionate about. At this point Motelseven is at a crossroads – creating a world filled with melancholia, hopes, dreams, nostalgia – alongside the often brutal, fast paced environment of a fine dining kitchen.
Gallery IV features Huntz Liu's latest body of work, Dissolution, utilizing his signature technique of layering material. Using a straightedge and knife, Huntz Liu cuts and layers paper to expose geometric/abstract compositions. These compositions are made up of shapes that sit on different planes, creating literal depth, while the composition itself creates a perceived depth. It is this intersection of the literal and perceived that informs the work; where the absence of material reveals form and the casting of shadow creates lines. Furthering his work, Liu has incorporated recent study of the collision between imaginary space and real space, playing particularly with shadow.
About the Artist //
Huntz Liu is a Taiwanese-American artist who works primarily with cut and layered paper. He lives and works in Los Angeles, California.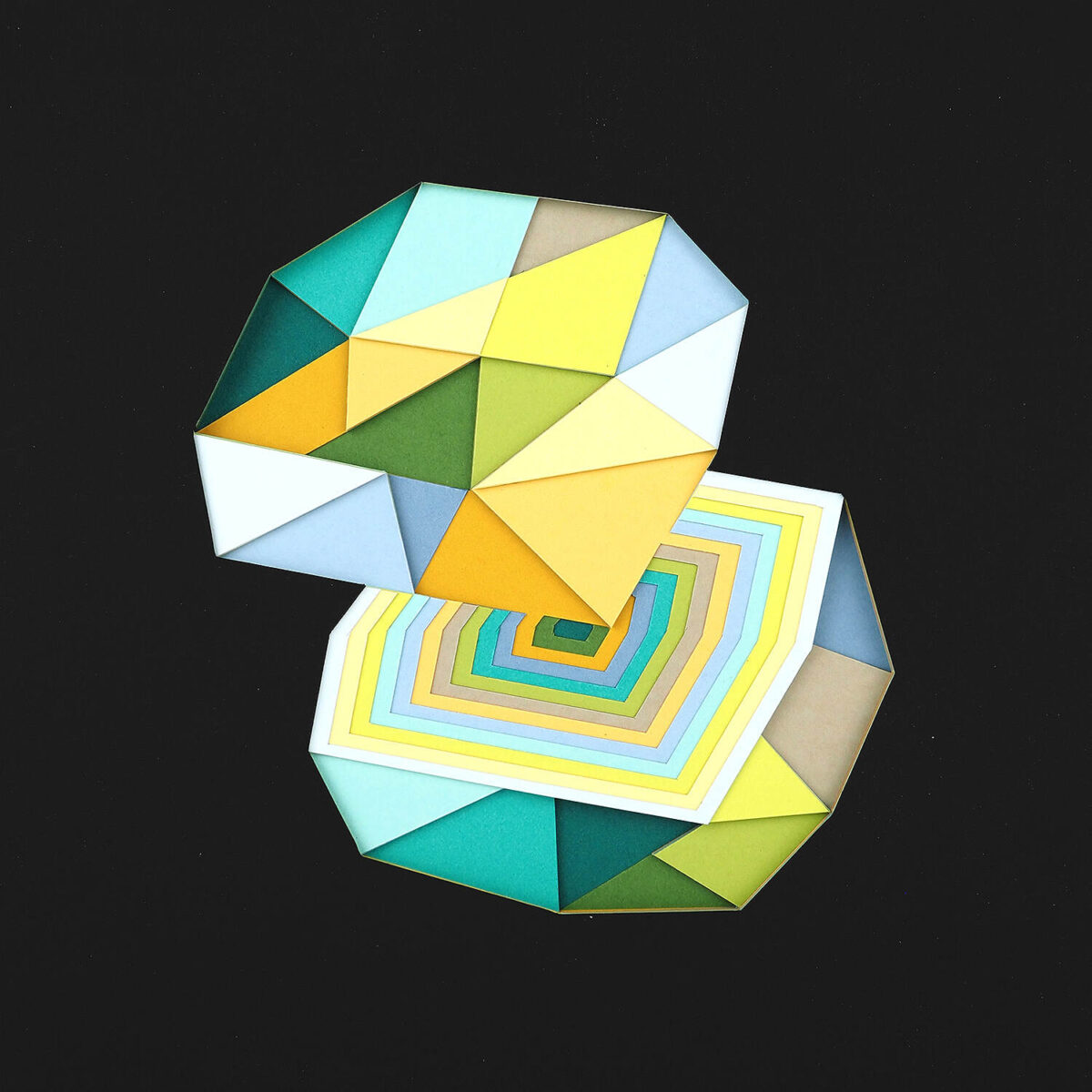 Thinkspace Projects Social Media Accounts