In a season of change, we embark upon October with hopeful minds and hearts. Cradle your imagination and immerse your creative intentions in the wonderful lineup of shows opening this weekend at Thinkspace Projects. Always inspiring us with emerging and seasoned visual artists that shape the contemporary art world, we lean in and take a closer look at each new collection. Join us in celebration of Perspectives featuring new work from Zeinab Diomande (aka Z the Rat), Chigozie Obi, Ayobola Kekere-Ekun, and Bianca Walker alongside solo exhibitions from Yumi Yamazaki, Kristy Moreno, and Mr. B Baby.
If you still need more, and I bet you do, Thinkspace Projects has you covered and offers a full schedule of events, interviews and inspiration to satiate your artistic appetite. Follow their blog Sour Harvest to stay updated on all the artsy things you love! If you're looking to add to your collection, take a moment and visit their online store to view all available inventory.
---
Perspectives: Zeinab Diomande (aka Z the Rat) | Chigozie Obi
Ayobola Kekere-Ekun | Bianca Walker
Solo Exhibitions: Yumi Yamazaki | Kristy Moreno | Mr. B Baby
Opening Reception: Saturday, October 1, 2022 | 6-10pm
With DJ, refreshments, live painting, video projections and more
Exhibition Dates: October 1 – October 22, 2022
Thinkspace Projects
4217 W. Jefferson Blvd. | Los Angeles, CA 90016
#310.558.3375 | Tues. – Sat. Noon to 6PM
thinkspaceprojects.com
For all inquiries please contact the gallery via email at [email protected]
Search their hashtags: #thinkspaceprojects #thinkspacegallery #thinkspacefamily
About the Gallery //
Thinkspace was founded in 2005; now in LA's thriving West Adams District, the gallery has garnered an international reputation as one of the most active and productive exponents of the New Contemporary Art Movement. Maintaining its founding commitment to the promotion and support of its artists, Thinkspace has steadily expanded its roster and diversified its projects, creating collaborative and institutional opportunities all over the world. Founded in the spirit of forging recognition for young, emerging, and lesser-known talents, the gallery is now home to artists from all over the world, ranging from the emerging, mid-career, and established.
---
About Zeinab Diomande (aka Z the Rat) //
Born in 1999, in Virginia (USA) Zeinab Diomande (aka Z the Rat) left Abidjan (Ivory Coast), where she spent her childhood and adolescence, to pursue her university studies in Philadelphia (USA) in 2017. The artist explores the theme of mental health and her experience as a black woman. These themes mark out and feed her warm and colorful world. Adapting what already exists and reinventing it in a way that also shapes a new reality is the main focus of this expression.
Diomandé is currently studying at the University of the Arts, pursuing a BFA in Fine Arts with a concentration in painting and drawing
About Chigozie Obi //
Chigozie Obi (b. 1997) is a multi-dimensional visual artist. Her work explores experimentation with multiple materials to tell stories formed from personal/societal experiences. Obi's work authenticates her keen interest for the human aspect of life, the body, beauty standards and the strive for self-acceptance. She aims to create sustained conversations about people and society – the cultural narratives adopted and how it affects people in it, especially women.
Chigozie's new series 'A Seat At the Table' showcases women working in different occupations, many of which are still believed or expected to be jobs for men alone but they continue to prove that wrong.
'A Seat at the Table' illustrates women of different careers. From low income jobs to the high earners – it seeks to honor women working in all occupational fields, showing them in their element, capturing their stories, highlighting the difficulties they might be facing while working in those occupations and more. Women are strong, reliable, capable of everything and can be a part of anything they choose. They continue to break boundaries and push even in male dominated fields, creating change, overcoming obstacles and opening doors for the next generation of women.
About Ayobola Kekere-Ekun //
Born in Lagos, Nigeria, Ayobola Kekere-Ekun is a contemporary visual artist who attempts to unravel the connections between the self and identity and how they interface with individual and collective memory via her art. In creating the paintings that make up this body of work, she toys with the most wholesome of ideas/experiences: childhood. Seemingly random and benign scenes of existence are shadowed by objects that become breadcrumbs of the artist's attempts to understand her own trauma and beyond.
About Bianca Walker //
Bianca Walker is a 24-year-old, nonbinary, painter from the Bay Area, California. Bianca was raised surrounded by vibrant street art until gentrification began to ravage the place they once called home, leaving colored walls bare. Walker migrated to Louisiana and began their studies at rambling State University where they were submerged in painting and black history. As their education continued, they quickly grew tired of traditional art methods and began to use a drip painting technique that reflects their street art roots. Now developing an MFA thesis at the University of New Orleans, Walker uses these drips as an integral part of their visual language while incorporating archival imagery of the African Diaspora activating a history they can see being erased.
Japanese Artist Yumi Yamazaki fills Gallery II with the new show Moku. The title, like the work itself, has many layers to its meaning. Depending on the Japanese kanji, it can mean silence, to see, to cleanse, to rise, or even simple objects like trees and smoke. These definitions all apply to Yamazaki's painting style which the artist describes as, "a deeply cleansing ritual that allows me to see and reveal my inner feelings. Most of my work is inspired by emotions that I struggle to express physically. They are manifestations of my silent emotions that rise to the surface." This body of work was created out of necessity, providing Yamazaki with a safe and stable outlet in a time of turmoil.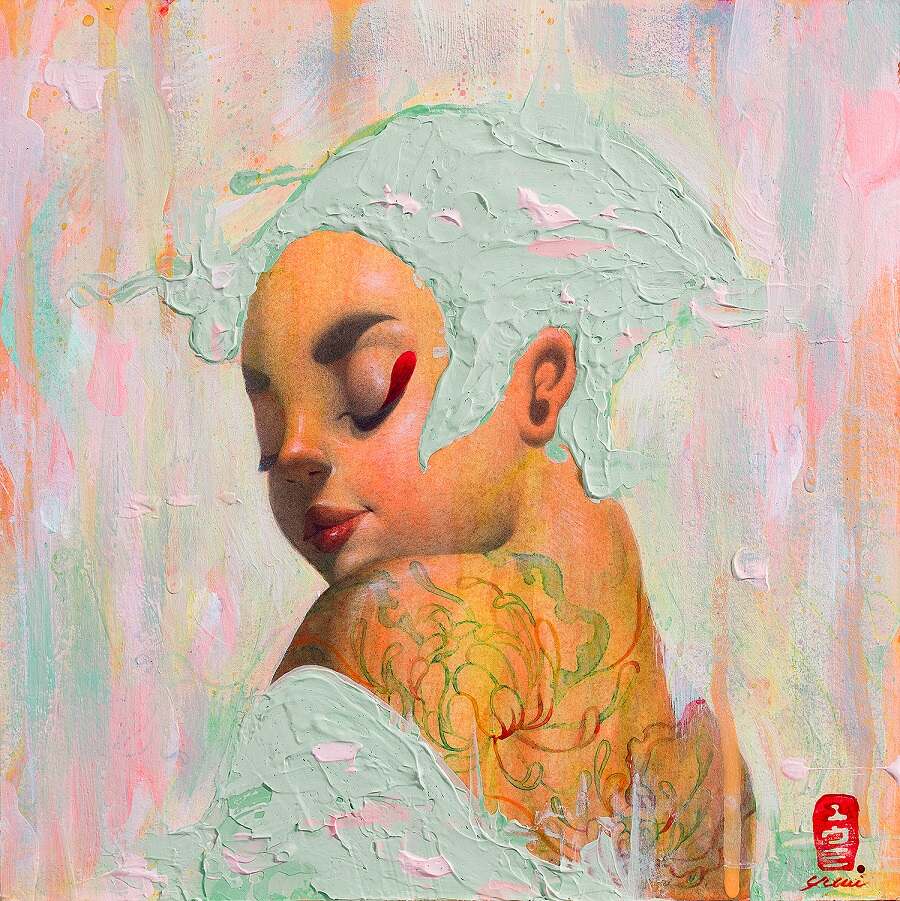 In Gallery III, Kristy Moreno presents Matter of Survival, which focuses on the imagined personas of radicalized future ancestors. The hand crafted ceramic forms are of fictional characters often resembling feminine personalities paused in space and time. Moreno examines the essence of these future communities through the use of body languages and attitudes to further explore themes of rage, empathy and curiosity.
"Individualizing these characters grants me the freedom to be curious about the influences they might have inherited from past societies, as I try to observe how the past often shapes future worlds. I'd like to imagine that these future ancestors survived by decolonizing their way out of patriarchal systems. They are no longer conditioned to believe that they have to live in someone else's reality that is deemed worthy of living."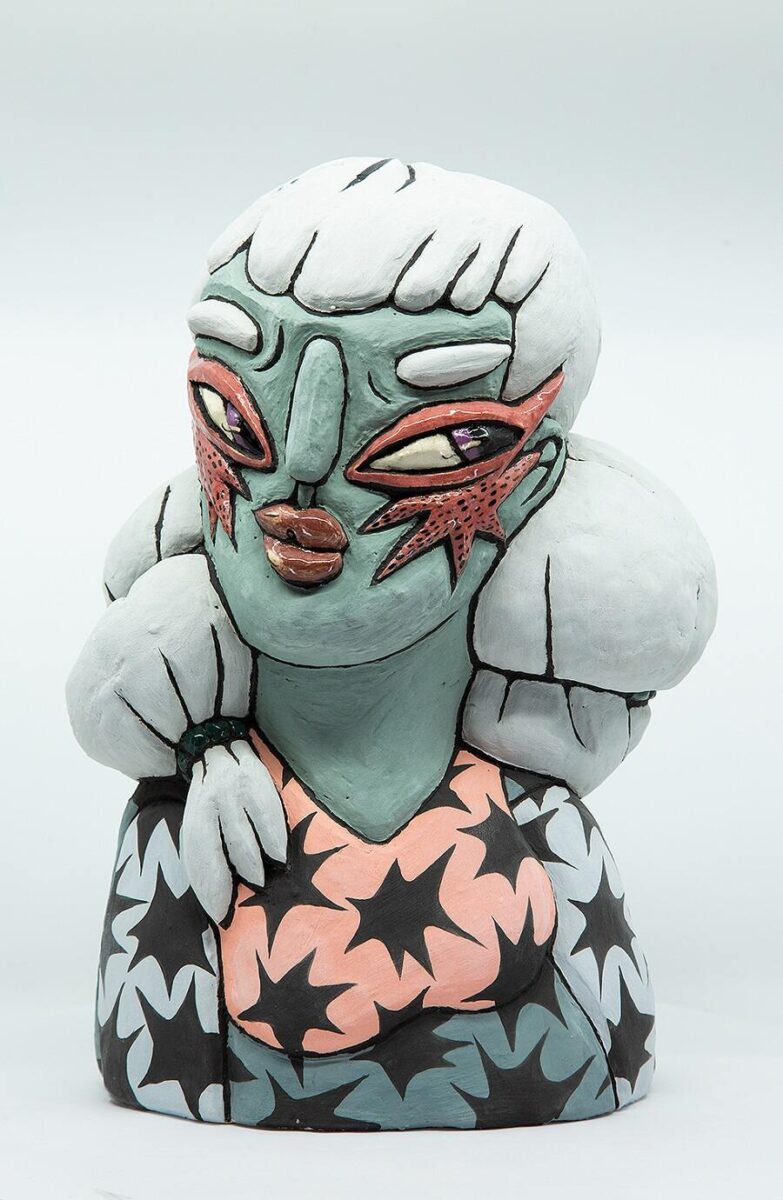 Gallery IV holds Mr. B Baby's The Show Must Go On. A Latina born and raised in San Diego, California, Michelle Ruby, aka Mr. B Baby, uses elements of her heritage as an inspiration for her striking and lively art work. By combining vibrant colors with traditional imagery, Michelle is able to uplift her audience and intrigue her viewers. The artist's aims to bring happiness and joy to her collectors and community, while also having stronger messages intertwined, all of which are open to the viewer's interpretation.
Mr. B Baby's work explores the relationship between Mexican folk art and children's books. Her artwork is a whimsical twist, combining the cultural world with a playful, colorful touch.
Thinkspace Projects Social Media Accounts