What could be more exciting than following an artist in their creative process? A peek into their studios and looking behind closed doors sounds like an adventure in the name of art to me. Whether an artist or an admirer, you must also be thrilled to check out the work behind the scenes of an exhibition and witness the energy that leads to a fantastic showcase. Today, we are lucky enough to join an icon of pop surrealism and lowbrow art in her studio. Camilla d'Errico allowed us to witness her process towards the solo 'Prism' at Haven Gallery in December and shares insights from conceptualisation to execution, wrapping up an exhibition to recreation after the show. The artist has been showing her creations since 2006 all over the world and can look back to successfully representing and claiming space for female artists in the lowbrow movement.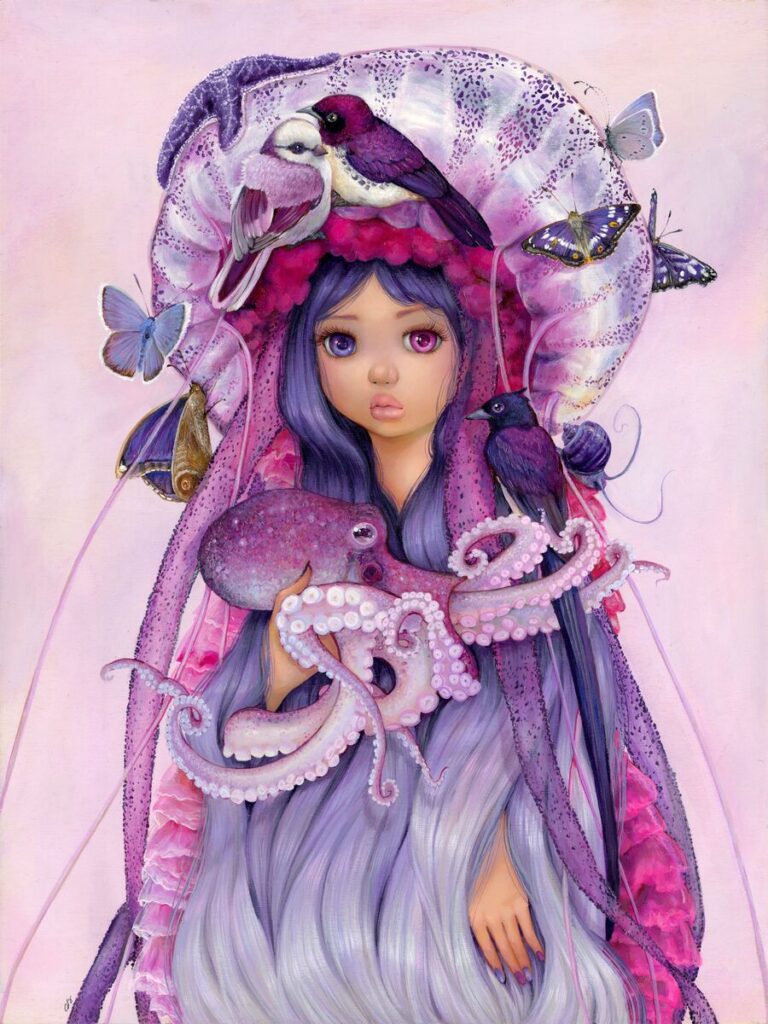 This article is an opportunity to learn from an experienced artist like Camilla and relate to mixed emotions of excitement and pressure to create a mind-blowing solo. It is the feeling of curiosity about how the audience will react to the works, the process of letting go and diving into a liberating flow without overthinking that keeps Camilla going: A rollercoaster of emotions and thoughts. Sharing this journey means sharing these feelings and a big dash of comfort because we all struggle with self-doubt and pressure in the creation process, in any professional context. So join us on this exciting adventure and buckle up for the ride – it is a rocky but equally beautiful path!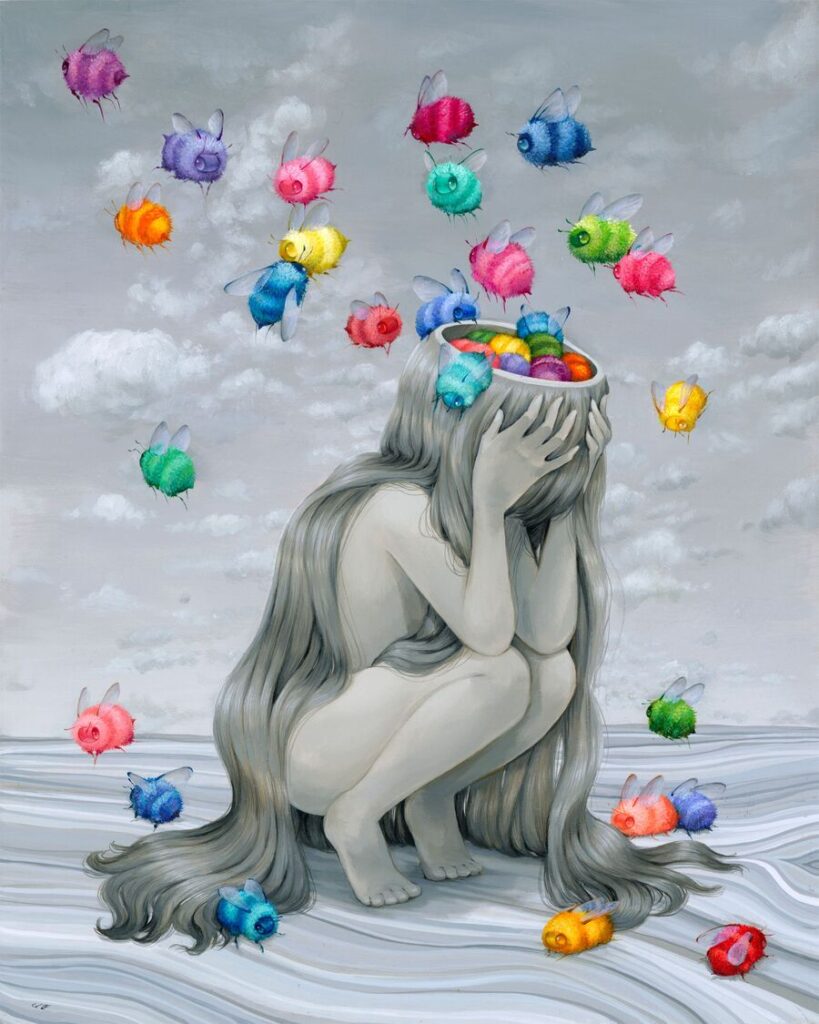 Exclusive Interview with Camilla d'Errico
How do you delve into the process of creation?
The first thing I do is stare at a blank page in my sketchbook for hours. It takes me some time to think up the idea, which can be precisely what I imagine or ideas will suddenly pop into my head out of nowhere. Generally, I try to think of a concept, emotion, or theme I want to explore. For a solo show, I must create a body of work that correlates with each piece. When I take my ideas from paper to wood panel, I refer to my sketches very loosely. I like the piece to evolve on its own, so I allow for differences between my initial concept and the sketch on the canvas. Most of the time, the art I create never looks like how I first imagined it (laughs). It can be frustrating at times but also very liberating.
Do you follow a preset concept or go with the flow?
I sit in that little boat of mine and go down the river of creativity to wherever it leads me. After several failed attempts to create the exact piece that I imagined, I found art can't be forced. It has a life of its own, so I need to nurture it into its own existence.
Where does your inspiration come from?
This is always the most challenging question because there isn't one unique source I can tap into. There are many things in life that I love, and that can inspire me, nature, human emotion, the dichotomy of colour contrasts and literature. So when I'm sitting down to create something, I generally like to focus on the sentiment it evokes and go from there.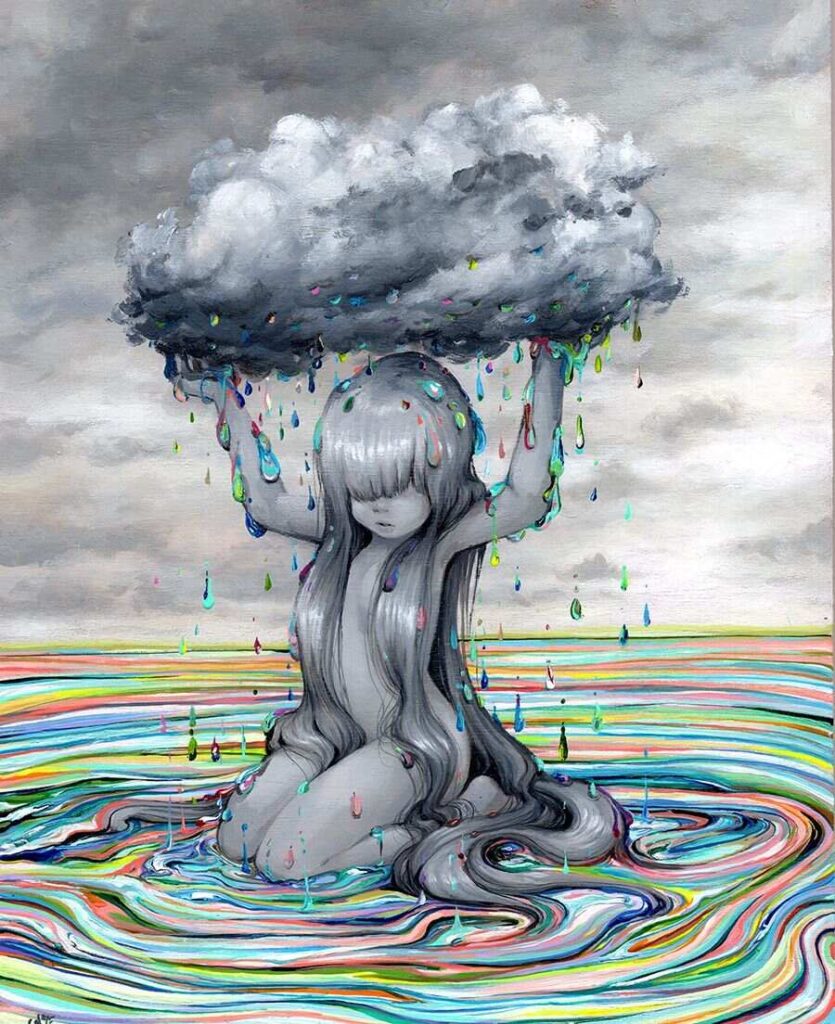 What does your process usually look like? Do you focus on one piece or shift between paintings?
I believe I have the attention span of a goldfish, so I tend to have multiple pieces on the go. It's a lovely way to refresh my creative energy going from one canvas to the next and prevent tunnel vision. It's been my experience that if you work on one piece for too long, then you fail to see the points of correction needed. So stepping back and looking at the art with fresh eyes always helps.
Do you feel a lot of pressure to create and finish? How do you handle this?
There's a tremendous amount of pressure as an artist. Firstly, I always take on too much. So for me, I'm not as worried about finishing as I am about making sure I can create the best piece in the amount of time I have. I try to be as realistic with my time as I can, so I dedicate certain times of the day, nighttime is best, to paint and create. Life has so many distractions that I find my most productive time is when the world is sleeping.
What excites you about a solo exhibition the most? What keeps you going?
There are so many things that I love about a solo show. One of the best parts is that I can do a more significant showcase of my work. I can create a visual dialogue with the audience and tell a connective story with the paintings. My favourite part of the show is probably that I can organise everything in one space. Not only with my paintings but also with staging, adding decals or making special effects unique to the show, so it is a fuller experience. Sometimes it's not easy to execute these aspects, especially since I don't live in the cities where I exhibit. Still, I get so excited about the final product that it keeps me motivated.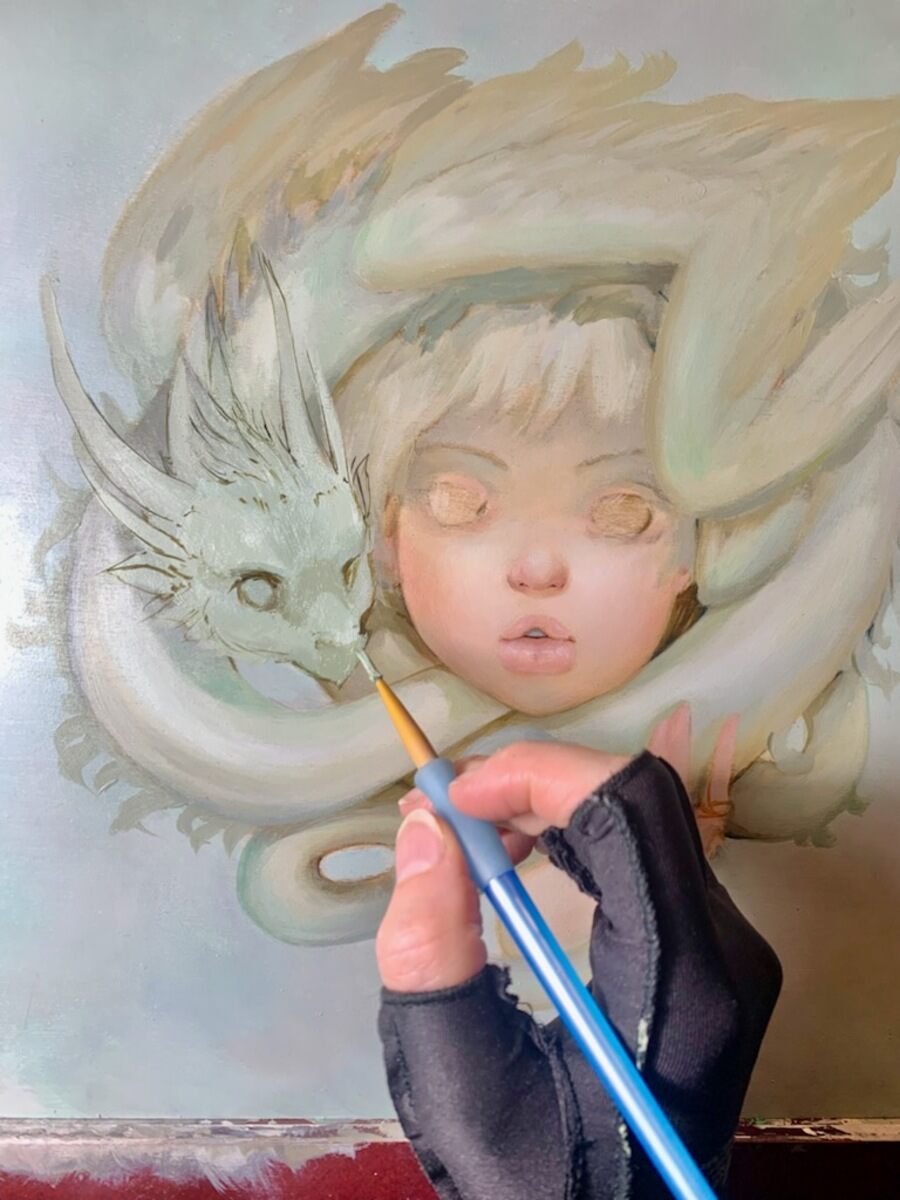 How do you stay motivated and keep going?
It is hard, to be honest, sometimes. I don't think the art creation is the most challenging part but rather the way social media changes every few months. The shifts in algorithms are an endless series of hoops we have to jump through just so that my own followers can see my posts. It hurts my motivation greatly when I feel this insurmountable hurdle to overcome.
So the best way to stay motivated is to remember that even when the world seems to conspire against small businesses and artists, there are still those who take pleasure from the work.
I've read comments from people that my art has helped them heal, motivated them, or made them smile and made a difference in their lives. Those comments bring me so much joy and remind me that my art is not just for me but others. Life is hard, so knowing my art can brighten someone's day is the motivation I use to keep going.
How do you treat yourself after an exhibition or a project? What is your secret to recovering from the pressure and amount of work?
Oh, that's a brilliant question. I do the most adult thing that I can do, which is to do nothing! (laughs) I used to go out, celebrate with friends, and have drinks when I was younger. Now, I get in my comfies and grab all the dirty snacks I can that I deny myself and plop myself in front of the TV and watch about 18 hrs of movies or shows. Anyone who works their butts off will probably appreciate the bliss of being a total slug for a day because the next day is back to the hustle.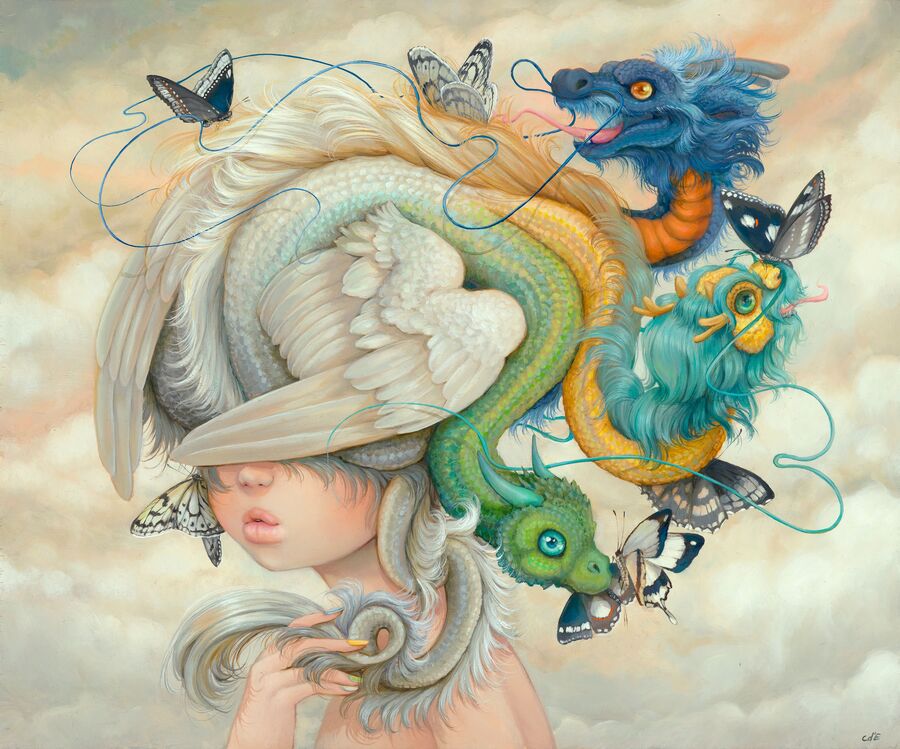 Camilla d'Errico Social Media Accounts