Organic, colourful, and joyful are just three words to describe the stunning paintings by Sara Weintraub. Her portraits, of predominantly woman, are blended with botanical features to bring a rather spectacular touch to the human form. Sara highlights some important human experiences in her pieces, especially when it comes acceptance. Her characters pose with confidence, a blooming beauty that comes from feeling safe in one's own skin. The colours are cheery and dance about her subjects in a playful manner often splashing about without an apparent direction.
Though her floral figures lack detail in their simple linework, Sara is not without the ability to create more. She has taken a fascination to painting mouths and eyes showing elegance in her skill. The focus on these parts are captures moments of intimacy either from the stranger across the room or one's own lips approaching another pair. The colours flow and shine with radiance that only a painter can hope to convey. Without further ado, get ready to meet Sara Weintraub.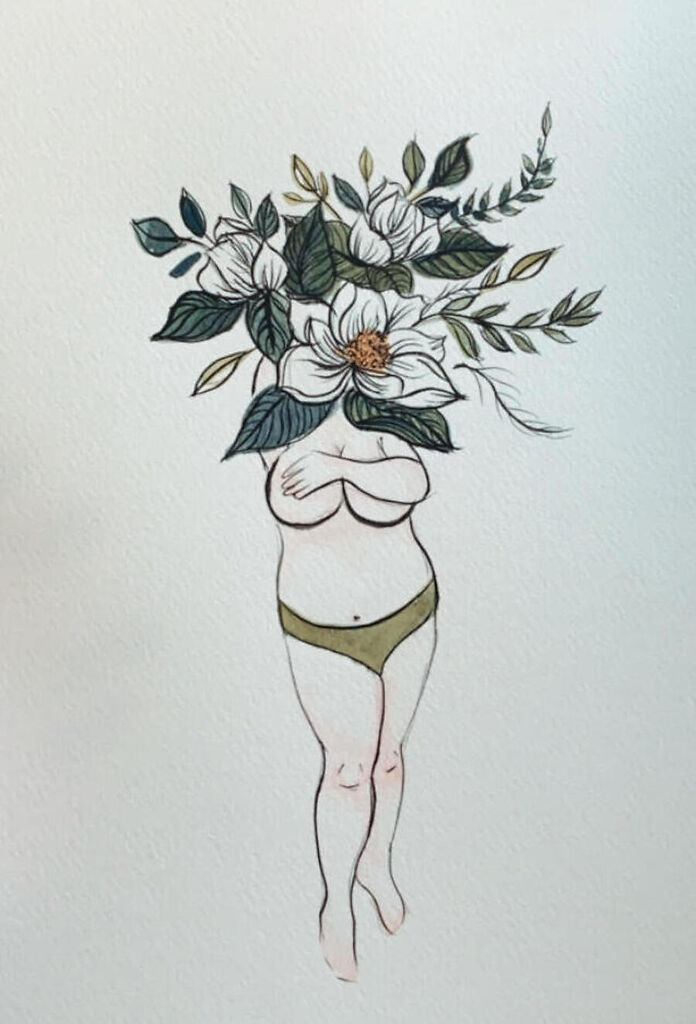 Interview with Sara Weintraub
What encouraged or inspired you to pursue visual arts, especially in the form that you do?
I've always drawn and painted, since I was little. It's something that has been woven into the way I process things and clear my head. I have been doodling in the corners of papers for as long as I can remember. When I'm making art I feel connected to myself in the deepest way.
Are you formally trained or self taught?
I'm mostly self taught. I've taken an art class here or there growing up but most of what I've learned has been from trial and error. I love experimenting with technique and process. I try to get in a headspace that allows me to shed self-doubt and self-criticism so I can make mistakes widely and often. Just on the other side of a mistake, is the really good space of creativity and freedom I crave. So I sort of roll up my sleeves and commit to making a mess.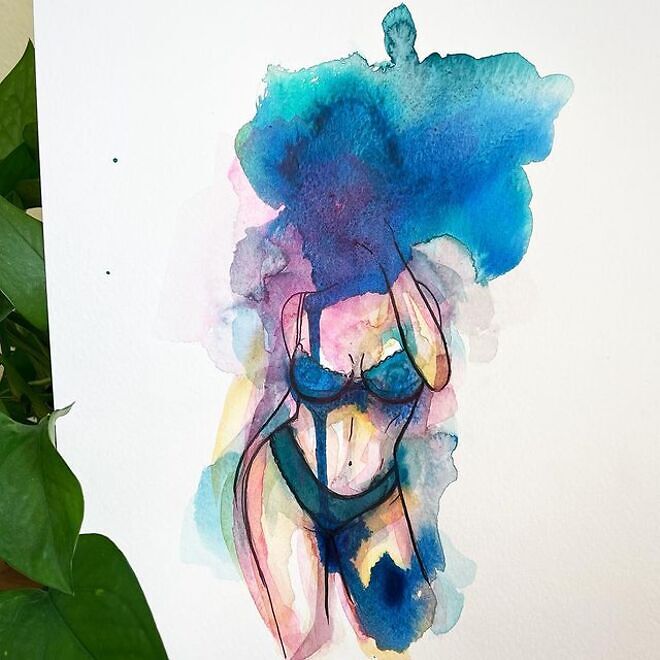 It can be challenging sometimes to get in a zone with the busyness of family life around me, but I love leaving pieces out to walk by and look at throughout the day.
Tell me about your artistic process. What sort of headspace do you find is the most inspiring for you? Do you have any superstitions regarding new pieces?
To expand on what I was saying above; I try to get into a headspace where I'm free to create without the fear of ruining it. That requires me to submit to the idea that it's about the process and not necessarily the end result – that whatever I'm about to make can't be treated as precious or I'm bound to overthink it. I settle into that headspace by putting on some music that feels like the soundtrack of whatever I'm feeling at the moment. Pouring myself some coffee or wine and sinking into it. It feels very meditative once I'm in that place.
Whether it's a custom built art studio or corner of the kitchen, tell me about your work space.
I typically paint at my dining room table. I have a little corner shelf where I store all of my art supplies that way I can put away and pull things out as needed. I like when I can set aside specific time to paint, but that's not always possible. I have a husband and two daughters so I try to steal moments to sketch or paint when we are all together. I remember starting my mushy girl sketch at the breakfast table and asking my kids if I should add mushrooms to her hair. Now when I look at their input it makes me smile. It can be challenging sometimes to get in a zone with the busyness of family life around me, but I love leaving pieces out to walk by and look at throughout the day. Sometimes I sit down for ten minutes and add a detail and then move on. In the evenings I like to put on headphones and get lost in a piece.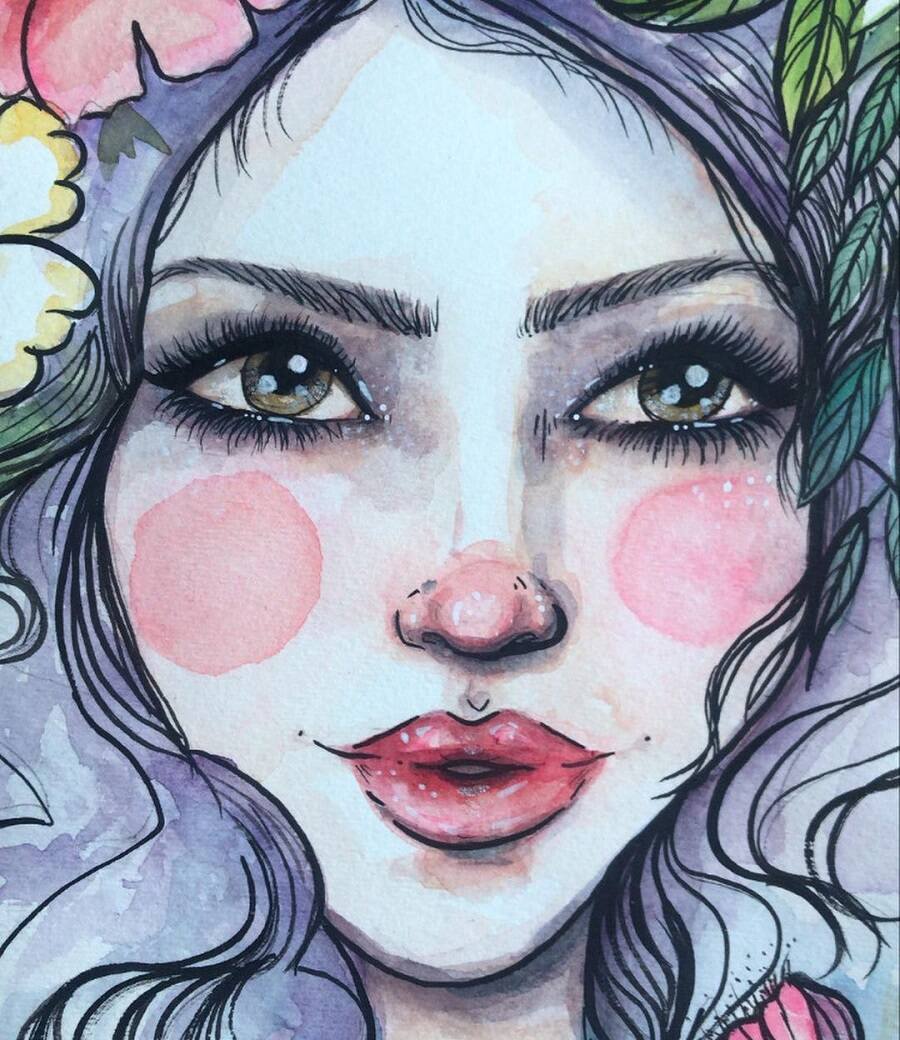 Just on the other side of a mistake, is the really good space of creativity and freedom I crave. So I sort of roll up my sleeves and commit to making a mess.
You incorporate growth in the form of plant life into your figures in a very symbolic way. What else can you tell me about the figures you portray?
When I started the series called 'Thirst Trap", I wanted to use plants and flower to express growth and change in the way we view and appreciate our bodies, especially for women who are taught from birth to find flaws in our bodies. I also love the asymmetry and crooked lines we find in nature that we only see beauty in (unlike what we tend to do when looking at ourselves). I want the figures I paint to feel like an extension of that.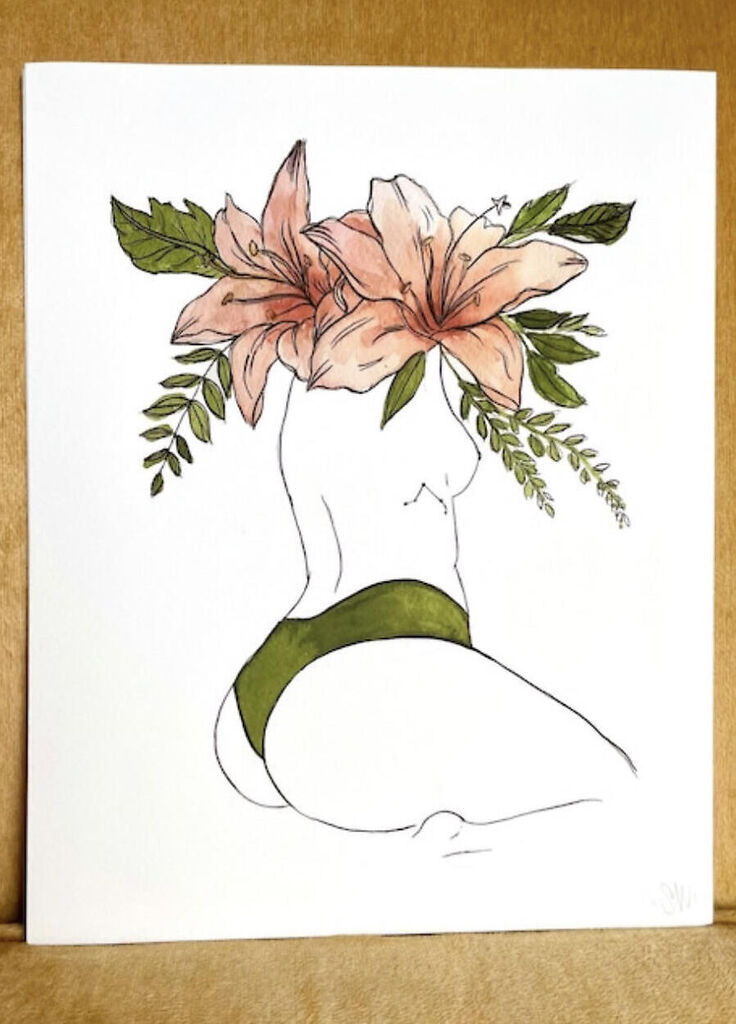 As countless artists over the history of humankind have leaned towards depicting women as an art form, you often leave out the faces/head of your figures and focus more on objectifying features. What can you tell me about this choice?
I am painting portraits from reference photos of real people and I want there to be a little anonymity to the pieces for a few reasons. My goal was to help people see their bodies as art. It can be hard to do when looking in a mirror, or even a photo of ourselves. I was hoping that showing them their own body in watercolour form, without the distraction of their face as their identity, but instead as beautiful flowers it would help them do that. That little bit of distance helps us see our own objective beauty. I know because it started with me taking reference photos of myself and painting them. It was hard not to be tempted to alter my features or change things I don't love about my body, but instead I painted what I actually saw and started working toward accepting and cherishing the unique details of myself. I wanted to share that. The responses I've gotten from people who have struggled with body image issues, divorce, changes in their relationship with their bodies due to breast cancer, pregnancy, or illness telling me how much their portrait meant to them is so amazing. I feel so honoured to be trusted in that way.
Eyes and mouths. Just for fun or is there more of a theme?
So much can be communicated with a mouth. I find them so beautiful. We use them for kissing and talking. We smile and express emotion. It feels so intimate to focus on lips. I worked as a makeup artist for years and I also think some of it is leftover from loving a good lipstick.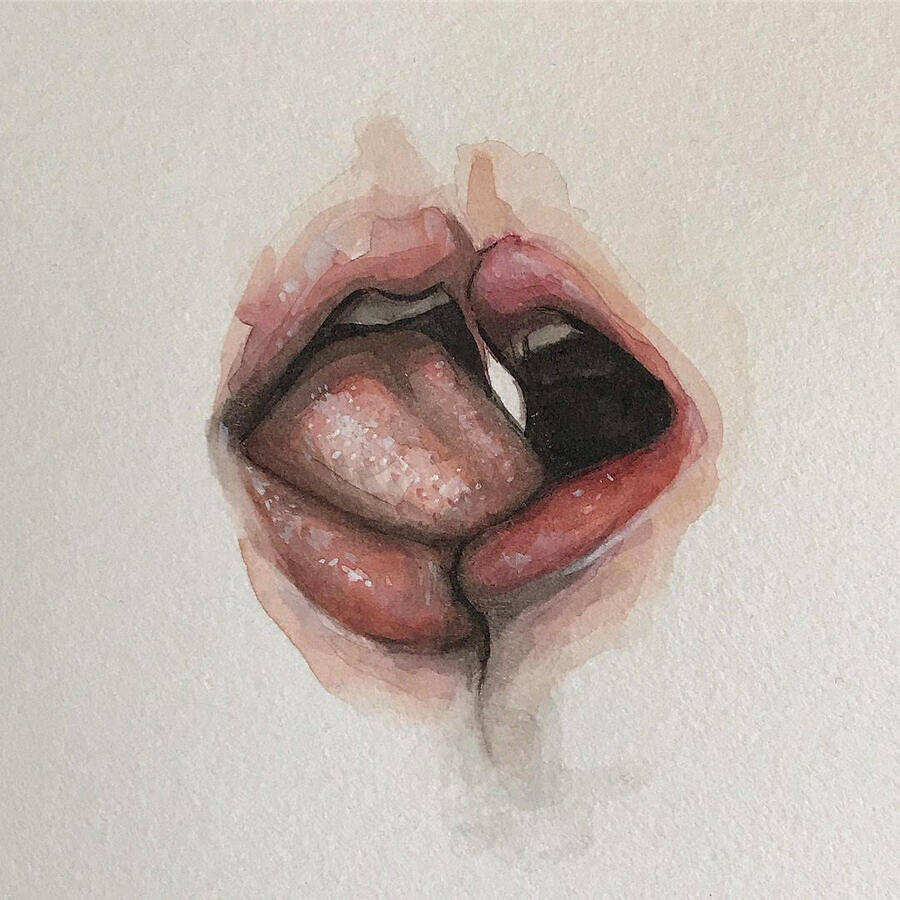 Do you work with other mediums than watercolour?
I also use acrylic and ink. But I love the look and ease of watercolour, it's so fast in terms of layering and drying quickly. I use waterproof ink to line my watercolour pieces and that takes time and a steady hand. I definitely save that stage for when I have some time to make smooth clean lines. 
Other than selling your paintings, it looks like you have done some album art for a music label. What other fun projects occupy your time?
I have! My husband runs an awesome cassette tape label called 'Memorable But Not Honourable' and I've painted his logo and some fun skull designs for stickers and shirts. I've also done some commission work for for a tea company called Tumalo Tea, a skin bar spa called Fleurt, and a handful of tattoo designs that were so fun.
What do you want to accomplish with your art? What influence do you see your work having on the larger art scene, or even your own community?
My hope is that my art will feel like a love letter to women or anyone who has struggled to see the beauty and strength in their body. I want paint people "hot, headless and thriving!" Haha

Sara Weintraub Social Media Account