Any artist will tell you that it is what doesn't make it onto the page that makes or breaks a piece of art as much as that which makes it onto the page. Too much can ruin hours of hard work while not enough, and the work can fall short of its true potential.
Artist Carne Griffiths explores the manipulation of the drawn line, carefully balancing taking away and adding to an image. Removing portions of carefully drawn lines, to later fill with washes of colour and abstract shapes, is an integral part of his process. From flowing lines, eyes and features emerge. Washes of calligraphy ink, vodka, and tea give the work depth, colour, movement, and emotion. The male gaze is not pampered to, instead, embolden females look directly at the viewer and wild animals hold their own.
There is always a ferocity, almost confrontation within the eyes that balances the gentleness of the work in the same way that mark-making has a balance between the delicate and the visceral.
Carne Griffiths' artwork is born from a love of drawing and the journey of creating an image on the page. Working primarily with calligraphy ink, graphite, and liquids such as tea brandy, vodka, and whisky, he draws and then manipulates his intricate yet loose artworks.
After graduating from Maidstone College of Art (England) Carne served an apprenticeship and worked as a gold wire embroidery designer for 12 years, hence floral pattern, repetition, and flow play a large part in his work. During his time here Carne produced intricate designs for the military and the film, theatre, fashion, and advertising industries.
In 2010, Carne's career goals shifted and he established his own studio. Carne's images explore both human and floral forms, figuratively and in an abstract sense. He is fascinated by the flow of lines and the 'invisible lines' that connect us to the natural world. These may be considered lines of energy or spiritual connections between ourselves and our surroundings; his work is often an emotional response to images and situations encountered in daily life.
Carne's work takes us on a journey of escapism, often focusing on scenes of awe and wonderment, they offer a sense of abandonment to the artist and to the viewer an invitation to share and explore this inner realm.
Interview With Carne Griffiths
You've worked in a variety of creative industries including as a gold embroiderer and a costume designer. How did these experiences impact your own practices?
Yes, my initial position was as an embroidery draftsman for gold wire embroidery. I was drawing floral ornaments for a full twelve years which means that this becomes almost like a type of handwriting – the marks and flow are kind of ingrained into your muscle memory which means they become very spontaneous. I normally do not use references for the floral elements in my work for this reason unless there are specific motifs or flowers that need to be represented within the piece. 
The drawing I did, at this time, was very controlled and measured and I felt the constraints of having to work with such tight boundaries, which is probably why when it came to having free rein as an artist I enjoy the spontaneity of chance happenings using the liquids I work with, Although, I also really enjoy the combination of those carefully considered and detailed lines with visceral marks and chance happenings!
Your work mainly uses a mixture of mediums including tea, vodka, calligraphy ink, graphite, and more. Can we delve into and discuss your methods; what are your most employed tools? How does a work evolve from an idea to a finished work? Where did the idea of using tea or vodka come from?
I really like to use materials I have lying around. My earlier work, and work from college, was very linear and limited in colour employing washes of clear water to create subtle shadow areas. My focus has always been on drawing rather than painting and I use a variety of methods to push paint around but never actually feel like I am painting! The introduction of teas and alcohols, which happened purely by chance, really gave me confidence using colour. Although, I still work with a very restricted palette.  
Most of my paintings are anchored by a theme but I do not have a particular vision or image of a piece until well into the painting. My paintings are my ideas and sketches in one. There is something I love about discovering within the piece that becomes lost if it is separated into a sketch and then the final painting.
My process normally involves a pencil drawing that starts as detailed and considered and becomes more visceral and gestural toward the end. My final step before introducing inks, teas and other liquids is to attack the pencil drawing with an eraser – slashing clear lines through the drawing to give movement and energy to the piece. This is all in the build-up to adding colour and liquids where things then become very spontaneous. This is generally the point where I see where the image will head.
I don't mix colour in a palette and prefer to use the painting itself to create colours through layering and the natural dispersion of liquids on the page. A bit like alchemy, the painting at this stage is a living breathing thing that is constantly in flux and I enjoy the lack of full control I have over the materials despite constantly manipulating using air, breath, tilting to form the basis of the piece.

You've also created the occasional work in acrylic yet still managed to maintain your own unique style and looseness. How do you decide which work to create in acrylic instead of the mediums you are more recognised for? What challenges does working in acrylic create for you that working with tea, vodka, etc don't?
I always feel I am in a constant battle with acrylics! I love the permanence and also the ability to lay light colour over dark but at the same time, this makes it a very different approach to my works on paper where this level of editing is just not possible. I try to limit myself though and give these paintings the same immediacy as the works in ink and tea on paper but knowing that things can be rectified and changed allows me to meddle too much! The decision to paint in acrylic is usually based on size or sometimes the desired end result which will be to achieve a crisper brighter palette. I recently discovered brushes that create a very linear type feel, and especially in the Frida piece gave a feel similar to the linear work I create using fountain pen on paper.
Acrylics are definitely a work in progress for me though!

Many of your portraits feature strong female figures. They have an aura of confidence and poise. They often look directly at the viewer instead of averting their eyes as often seen in female portraits. How important is it for you to create powerful females and what draws you to them? Did this inspire your series of role models including Greta Thunberg, Frida Kahlo, and Anna Lee Fisher
I am really drawn to the sacred feminine as a powerful source for my work, and being in tune with this inner energy also leads me to depict female characters within my work. The connection between nature and this divine feminine is a really powerful element and I think of the characters in my work as channeling these elements from nature. I see the subjects in my work as challenging the viewer and trying to bring them into the work to share that experience.  There is always a ferocity, almost confrontation within the eyes that balances the gentleness of the work in the same way that mark-making has a balance between the delicate and the visceral.
Normally, I try to capture the essence of these qualities in my work but being able to paint these women as recognisable figures, for me solidified what I am trying to achieve through my paintings.

I painted Greta, Frida and Anna Lee portraits to show the embodiment of the spirit that my work represents – each of the subjects having overcome adversity but also with extraordinary qualities of resilience, self-confidence and strength of identity.

You show a number of different ethnicities in your artwork. How important do you feel it is to showcase diversity in your artwork and do so in a way that is natural, not exploitive?
I think for a painter it is about an honest connection with your work, about respect and about what you are trying to communicate. I created a series of work called Origins. At the time, I discovered myself and my wife were having twins. My wife is of Honduran origin with Mayan ancestry and I was intrigued about the connections that our own children would have. This series of work was really exciting for me both in terms of research and imagery, the research also considered the passing down of tradition through generations, in much the same way that skills and trades are passed down and this related strongly to my interest in embroidery which is why so many of the pieces contained embroidered elements.  

You take great care to produce quality prints choosing particularly heavy paper and raw edges for the majority of your prints with hand embellishments (on some prints) and low edition numbers. How important is it to you that your prints are as well produced as your original works?
In a way, I am very lucky that my chosen method of printing, as archival giclée prints, lends itself so perfectly to recreating my original work. This is probably because in essence both are ink on paper and it allows me to accurately recreate the original work. I do like to hand embellish the prints too, normally to achieve effects that aren't possible through the printing process such as gold leafing details, varnishes and occasional uses of embroidery.

You've employed the use of VR to create interactive works, including a collaborative piece for Adidas. For people like myself that are completely unaware of how VR can be utilised to view and interact with work how does embracing new technology and techniques challenge you as an artist and help you showcase your work?
VR has been a really great discovery for me. Generally speaking, I am interested in technology within my work so long as it serves to bring something new. Painting in VR allows me to create sculpturally what would not be possible in the physical world as it has that weightless quality. It also allows you to bring a more tangible experience to the idea of an inner realm and to allow you to share that.
The work with Adidas was a great way to allow people not only to view your work in three dimensions but to interact and add to the experience. It was a lot of fun and people's reactions to VR for the first time are always brilliant! I use tilt brush to create my pieces and normally start by importing a traditional painting into the space. This really helps keep that feel of the traditional as tilt brush really has only basic painting tools in terms of recreating marks you would normally make as an artist. I will be really interested to see where VR goes but as a tool for expanding and visualising an artist's ideas, it really allows you to create an immersive experience.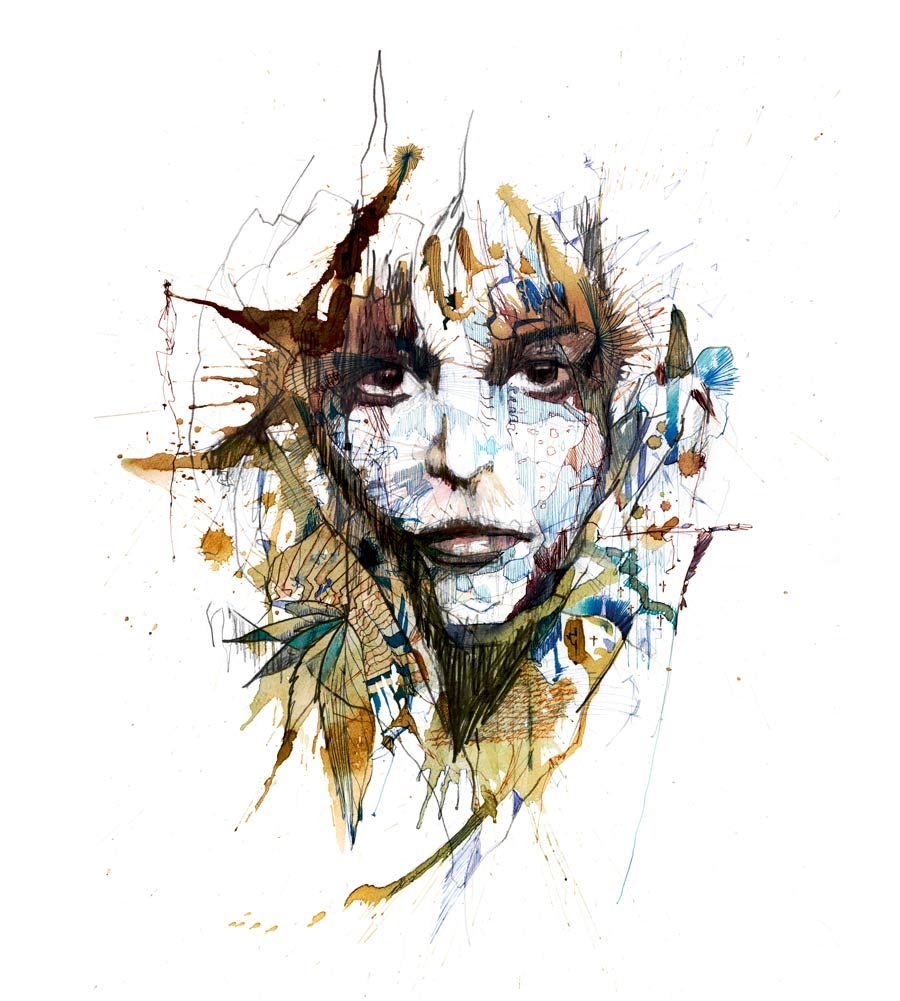 Are you able to share with us what's on the horizon for you? Any upcoming projects or exhibitions?
I have just completed an animation project which is a first for me and I really enjoyed it but it has made me so hungry to return to painting again! So, now, I plan to keep things simple and just paint for a while – when I emerge from this I will be looking for a gallery to show the new works, rather than creating for a specific exhibition. I have missed the freedom of just painting and I'm really looking forward to immersing myself in just being creative and allowing a new body of work to take its own direction.
Carne Griffiths Social Media Accounts