Take a peek into Karina Kalvaitis' house and you will see the evidence of a true creative soul. With a self-confessed "DIY mentality" mixed with a bountiful imagination, her love for creating has pushed her to try hundreds of projects. "I own far too many art materials!" she laughs. Peek in her wardrobes and you will find DIY silk-screened clothes and bags; step outside and enjoy her unique hand-built plant pots made from concrete. When you wander back into the living room, be sure to enjoy her chairs lovingly upholstered by her own hands. The list goes on, and in truth there is nothing more joyful to me than a living space which has the owner's personality imbued into it – especially when they have the gift to create all of this themselves.
With this in mind, what could be better than such an artist transferring this creative energy into their own collectable works? Karina's hand-felted creatures have enamoured hearts around the world, often selling out as fast as she can make them. They are a true labour of love, each sculpture overwhelmingly adorable and never to be created again. Lately, Karina creates limited editions of three or four, each slightly different due to their handmade nature. Occasionally they are unique creatures of one. These delightful creatures of whimsy are the product of her many years of learning and experimenting – and the road has been a captivating journey.
Lighting the creative spark
Karina Kalvaitis studied at the Alberta College of Art and Design, now known as Alberta University of the Arts. It may surprise you to learn that when she first enrolled, her intent was to be a photographer. But an intriguing notion came over her; a wistfully brave decision which forever changed her life:
When it [was] time to pick a major, I went with sculpture because it scared me. Particularly the idea of learning to weld and use power tools. I felt I would regret it if I didn't pursue this and conquer those fears.
This decision cracked wide open Karina's creative world. While there, she took courses in as many art forms as possible, from jewellery making to fibre arts. "Those skills were invaluable, and the deep immersion in art-making helped me to develop my own visual vocabulary and the themes that still interest me today. It was also great to be challenged in critiques; I think that helps artists to make more deliberate and thoughtful choices."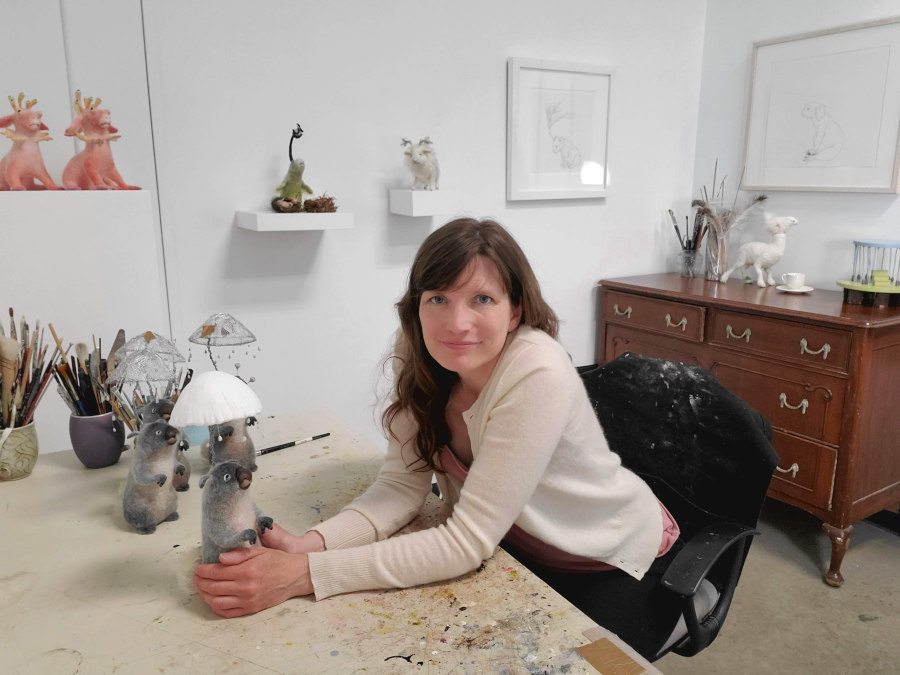 I asked her what it was about felting which had drawn her to this principal technique. "The surface of the creatures' bodies is quite like a pelt or skin or fur, which really appeals to me." She muses. Karina became interested in felting when she had a series of imaginary animal drawings that she wanted to turn into sculptures. "I wanted the sculptures to be soft and tactile, so I was thinking of fabric. However, I didn't want them to have seams, but more of a pelt." And so her relationship with felting solidified. Indeed, it is this soft and animal-like texture which further brings her creatures to life, helping us to connect even deeper to her works.
Trial and error: honing the felting craft
What is just as fascinating is how Karina's processes have evolved alongside her growing confidence and experience. "In the beginning," she tells me, "I was making the creatures like a stuffed animal – sewing the shapes and stuffing them, then needle felting over the seams. I was probably making the process more difficult than it needed to be, but it was a good way to control the shapes I ended up with." As she became more skilled with felting, Karina began using an armature as the base. The wool was then felted directly onto this, instead of sewing and stuffing the body.
These days, Karina begins with an armature which acts like a skeleton, allowing her to better control the overall form. She also adds in a pouch of glass beads within each torso. "I like how the weight makes them feel more substantial, like real animals" she explains. The beads are also helpful to balance the weight of the heads or horns, ensuring the sculptures don't topple over.
Additionally, while the majority of her creatures are hand-felted, she does use epoxy clay to make the heads and feet. This allows her to create much finer detail than the felt allows. "Making tiny grooves in the hooves, curving an eyelid, or texturing a nose is easier in clay. I feel like I can have more control over the expressions of the animals that way. Making their eyes out of glass eyes really works to make them 'real' too. I also really like the different textures of smooth and woolly working together."
On average, it takes around 40 hours to create a single creature.
What makes a Karina Kalvaitis creature?
We spoke about the key components which Karina feels are at the heart of her sculptures. The concept of mystery was predominant ("I think I like the mystery of the creatures too much to write a story about them – that would pin them down too much" she muses). The exploration of emotions and hidden worlds came about, as well as sharing the concepts of gentleness, curiosity, the strange and unusual.
Sometimes I keep [a sculpture] for myself if it really speaks to me. For instance, I have one of the Pronged Pupae, which is a cocooned creature with horns.

Something about its expression reminds me of myself in a way that I can't really explain.
Multidisciplinary artist: multidisciplinary universe
Though her predominant career is in sculpting, she also occasionally works in the theatre world, both painting sets and building props. Naturally, the two avenues lend a hand to support each other. I asked her what her most unusual project had been to date. She told me about a large installation that she had created at Open Space Gallery in Victoria, BC, Canada, which had consisted of full-sized striped circus tents made of organza. The tents housed sculptures which were retro/futuristic reproduction appliances. "One was a sperm-making table, and another was an ovulation device. The show was called Domestic Bliss." she recalls with a smile.
For Karina, paying attention to the smallest of details and crafting things well is incredibly important – and her drive to try new materials promises an exciting future for her creatures and other sculptural concepts to come to life.
I always want to continue exploring, I don't want to repeat myself or copy anyone else.

I don't seem to ever run out of new ideas so I would rather keep filling up this imaginary world of mine with something new.
"Personally, I wouldn't say I'm married to the idea of using felt forever, but I chose it deliberately because the results are so immediate, and it is non-toxic. I do love ceramics as well and recently took a course at a community centre to refresh my skills. I'd love to be better at wood working too."
Future releases and exhibitions
To finish, I wanted to learn about Karina's plans for future exhibitions. With her animal sculptures in hot demand internationally, I know many people are eager to see them in person! She smiles:
"I would definitely love to have another solo gallery show but that is difficult because the felt sculptures take me so long to make, and they often sell out as soon they are available. It's hard to hold back enough to fill a whole gallery space. So, I have this idea to make large floating imaginary animals using lantern-making supplies and techniques. They would be hollow and balloon-like – a thin skin over a lightweight frame, and they would seem to float in the gallery."
From tiny, felted creatures to floating animals, Karina's imagination continues to inspire. Her ambition to keep creating ensures that her magical universe will only expand. Currently, Karina is preparing for her next release, when her latest small batch of creatures will go live for sale on her website. The release will occur on 9 a.m. Saturday, July 3rd pacific time.
For more information, follow Karina's socials and sign up to her newsletter!
Karina Kalvaitis Social Media Accounts