Creativity is an inherent part of what makes us human. And just as we learn how to communicate through speech, we can also learn how to communicate through art. Italian-born artist Antonio Del Prete has spent his life exploring creativity in its many forms. Utilising the different ways that he can share his personal experiences and celebrate the wonders of beauty, Antonio's repertoire of creations is as vibrant and deep as his personality.
You may recognise Antonio for his most recent 'Masters Remixed' series. Here, he has taught himself the foundations of classical art painting and formulating new parallels with a contemporary twist. Often, these paintings merge humour and modern political comments within gloriously Baroque portraitures. This latest evolution of his artistry has certainly become a solid signature style. Yet the journey that has led him here is just as fascinating.
A youth steeped in the creative arts
When Antonio Del Prete was a mere 12 years old, his life changed drastically. His mother's career in fashion blossomed copiously, and suddenly he found himself travelling the world with his parents. His father, an Art History teacher and classical painter, was also on hand to teach Antonio the multi-layered realms of creativity. The overall experience immersed him in many different cultures and instilled into him the relevance of curiosity and observation.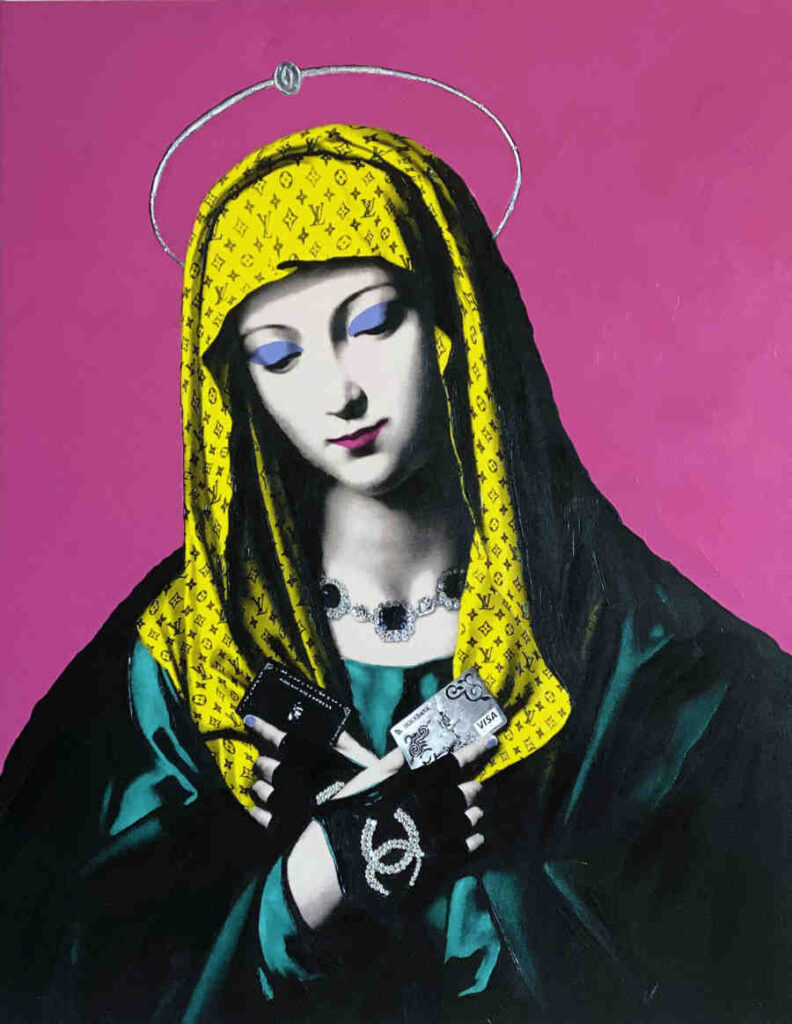 "Most of my childhood was spent in Naples and this city built the foundation of who I am. But we travelled a lot, and visited all of Europe, Africa, Egypt, Madagascar, South America, the Caribbean islands and Canada." He shares.
Paris: Art, Fashion and Theatre
At 17, Antonio studied at École Supérieure des Arts et techniques de la Mode (ESMOD) in Paris, as part of a fashion and arts programme. He still remembers the experience fondly:
It was really a beautiful time for me; I was switching from making clothes to art, or I could say they both were walking together with me. I was catapulted completely into the arts in Paris and so I decided to study theatre too, in order to complete the circle.

When I graduated from fashion school, I had the chance to apprentice at Chanel under the direction of Karl Lagerfeld. During these times Chanel was researching and working with street artists for one of their collections, so that's when I first started paying attention at that kind of art.
The Underground Masterpieces of Street Art
"In the early 90's, Paris was starting to pay a lot of attention to the street art scene." Explains Antonio. "We had incredible artists, like Ernest Pignon (one of my favourites) and Blek le Rat. I was fascinated by the simplicity of the compositions and the strong messages behind them.
Right there, when you take a little street in Paris during your night walk, you are suddenly faced with a masterpiece in front of you… it's so touching. I fell in love and I started joining this underground movement at the time.

I just absorbed the techniques and the way to do it by watching it. Learned how to make stencils, one layer, two layers, three, four and the next thing you know you are making very complex pieces of work. Fascinating.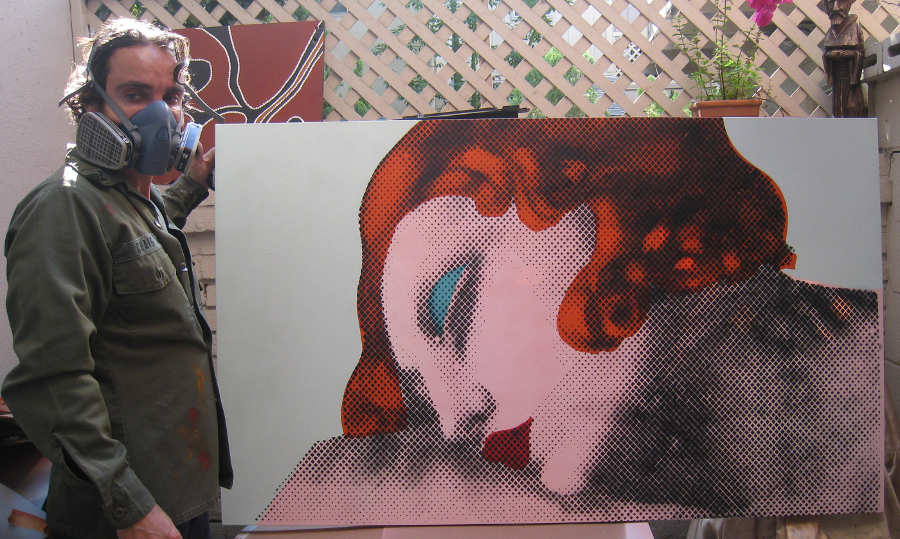 The practice of Street Art taught Antonio Del Prete how to be free as an artist, pushing him out of his comfort zone: "You need to be fast, precise and not get caught!" he laughs. Before he delved into this underground movement, he has spent his time making art at home. Suddenly, his world had cracked wide open. "I never thought that my work could be on walls for everyone to see like that. I guess when you are 18, it boosts your ego to see your work in the streets of Paris. Now I wouldn't dare doing it – except with a permit!"
From street art to Aboriginal Australian culture
One of the things I find most interesting about Antonio is his abundance of curiosity. Perhaps his earlier experiences travelling helped to teach him the value of communication with others, and how to absorb and learn from the ever-changing world around him. Just as street art had taken a hold on his creative soul, another object was about to turn him on a new path. That object was a didgeridoo.
"I was walking by a used instruments store and I saw a didgeridoo in the window: I asked the owner what it was, and he gave me a quick explanation – and that was it! I bought it and went home. Quickly, I become obsessed with playing it and mastering circular breathing."
It's very mystical, this part of my life. I was so intrigued by the didgeridoo that I started digging in its origins. That led me to Aboriginal Australian culture. What an extraordinary culture! I fell in love. I started studying the meanings and the techniques of the paintings. Dream Painting. What a beautiful term.

I felt like I could read those dots. I couldn't stop. So, for the first two and half years when I moved to Los Angeles, I was making my own didgeridoos and I was completely devoted to their art. So, my first paintings here in America were Aboriginal Australian Dream Paintings.
The Fate of two paths crossing
"One day while I was walking in Beverly Hills, I noticed three Black men standing at the newsstand, buying cigarettes. I thought they must be foreigners as no one smokes in BH! I noticed that they looked Aboriginal Australian; one of them had what appeared to be a didgeridoo in a bag slung over his shoulder. So, I asked where they were coming from and why they were in town. Turns out that they were part of a dance troupe called "Descendance" and were in Beverly Hills for three weeks as part of "Australia Week" celebrations.
"I asked them if that was a didgeridoo and surprised, they wanted to know how I knew what a didgeridoo was. I told them I could play it and the next thing you know, I was playing it for them in the middle of Beverly Hills. That was the beginning of a long friendship. Also, as artists and musicians, I invited them to my place. That's where the magic took form. We end up playing and painting together. I never knew exactly how good or how meaningful was my work until then. They were astonished to know that on the other side of the world, here was this kid [creating] Aboriginal artwork. And it was a revelation for me too as, finally, I fully understood the meaning behind the images and the music.
"From my time with my Aboriginal Australian friends, I understood that their culture is so specific and so strong that it belongs only to them. They should be the only ones to create it. And so, as a form of respect, I decided to not do dream painting anymore. But I still play didgeridoo!"

All art is interconnected
Antonio continued to evolve as a creator. As well as painting, Antonio has also tried his hand (rather successfully) at sculpture and photography too. "My work evolves constantly because the world changes constantly." Antonio muses. "We grow and so our visions and our perceptions change. I [also] like to do things that I've never done before."
One example is his version of the 'Exploded Skull' that Antonio first saw in the National Museum of Natural History in Paris. "I was so completely fascinated by what I saw, that 20 years later, I decided to recreate it with the same forgotten, undocumented technique – but presented as a contemporary piece of art. I made one in 24 karat gold and two other versions. It got so much attention that they published the piece in a medical book."
Another piece that Antonio Del Prete is particularly proud of is his sculpture 'Seeking Rebirth'. Jesus Christ lays without a cross, instead surrounded by a bed of spikes which pulse out like waves. "I made that sculpture thinking about blind people, imagining them interpreting the crucifixion of Christ though touch, like braille. 'Seeking Rebirth' was shown to Pope Francis and as a consequence I was invited to Vatican City to meet him. He kindly congratulated me on the sculpture, and we had a wonderful chat."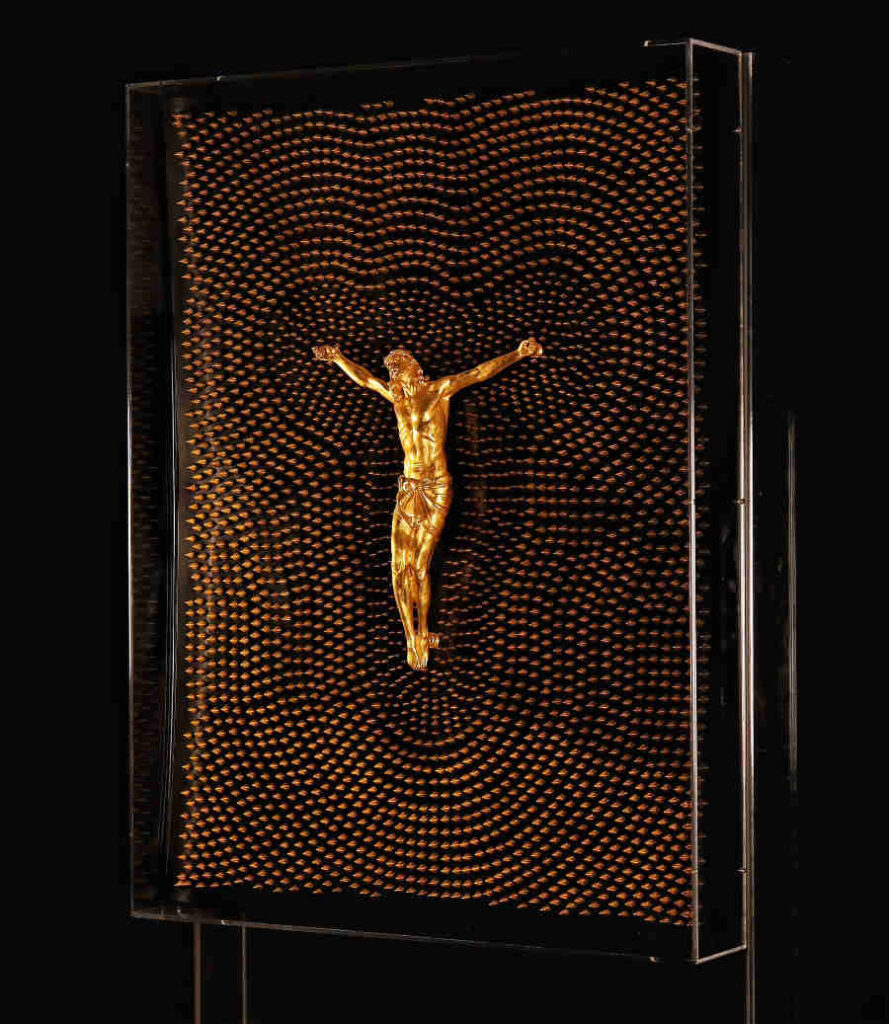 Masters Remixed
This journey brings Antonio to his 'Masters Remixed' series. Filled with impeccably dressed characters swathed in rich textures and colours, you can certainly feel that Antonio has travelled full circle back to his classical Naples roots. You can also appreciate that his years in fashion hold fast as a primary influence. Antonio reimagines his figures, dressed to impressed, but within our contemporary world.
But the elaborate fineries don't end there. His 'Masters Remixed' series takes portrait painting to the next level, imbuing the canvasses with three dimensional elements. Look closely and you will see 24 karat gold leaf, pearls and Swarovski crystals embedded within his subject's attire. The effect is magnificent. Undeniably, it makes it all the more impressive that Antonio has taught himself all of these different styles and techniques.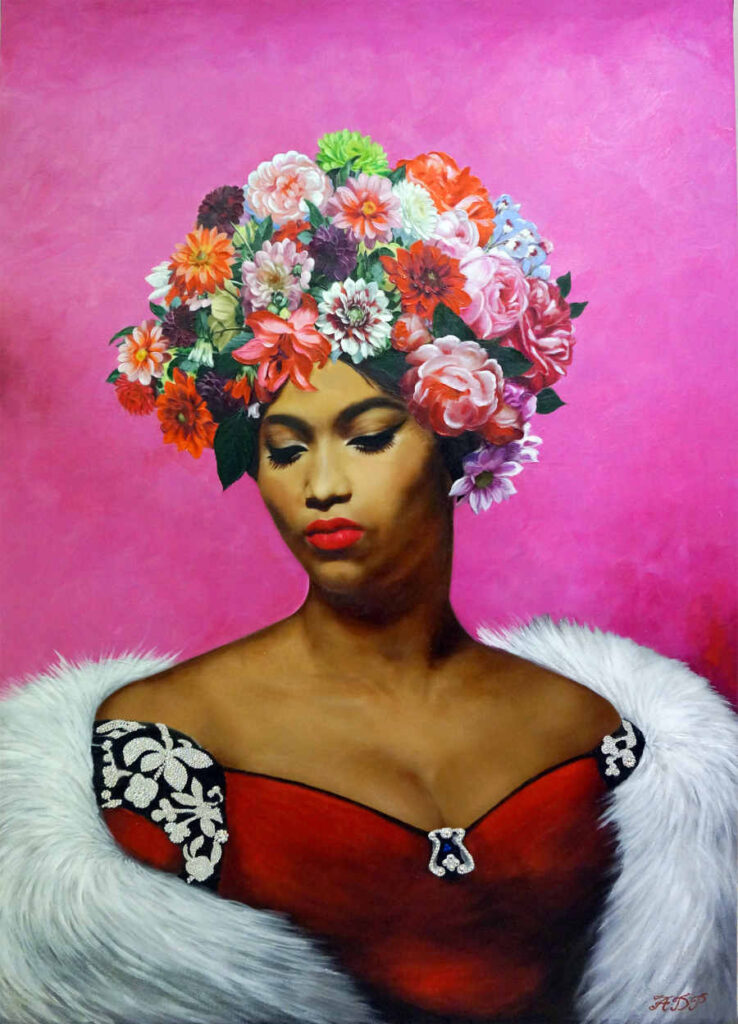 I think it makes the painting feel almost alive with the 3-dimensional elements. I want to show everything that I've learned in my art and give you a complete experience.
Antonio Del Prete's latest series is gaining him a new horde of followers, but the road hasn't been easy, even with his natural talent.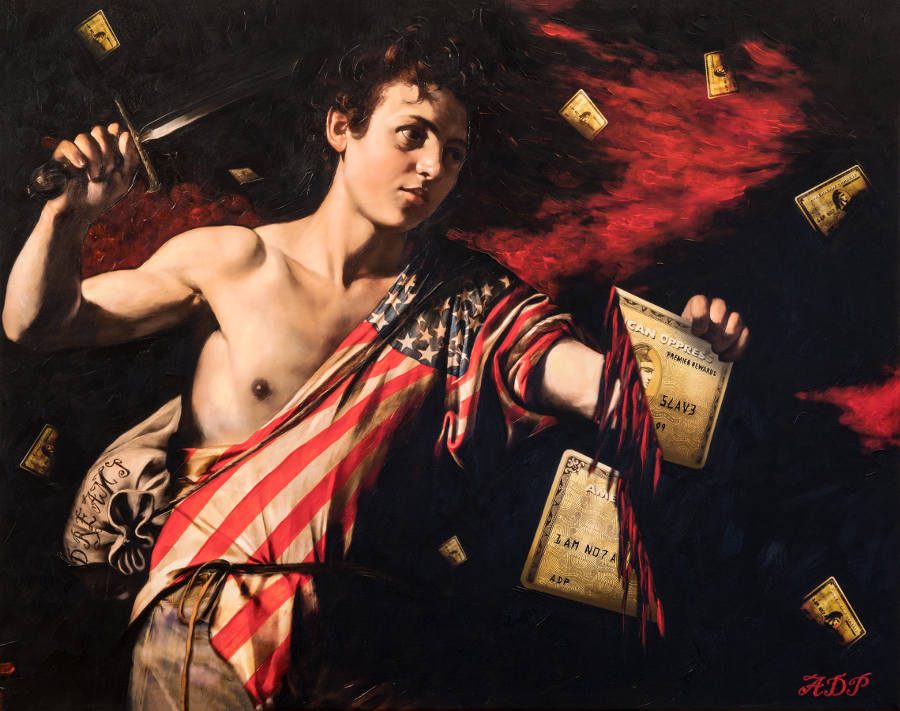 "What is the most difficult part about being an artist? It takes guts and strength when you decide to take it seriously. You are completely alone in this. Rejections, indifference, non-responses are all a receipt for losing your self-trust. It can sometimes be a challenge to trust your talent and find inspiration and creativity. But we always overcome everything by making more art; so, there is no such thing as success for an artist.
"Who buys or who rejects your work does not make you better or worse than any other artist. In both cases, you have triggered a reaction from the viewer, and so you have fulfilled your purpose as an artist."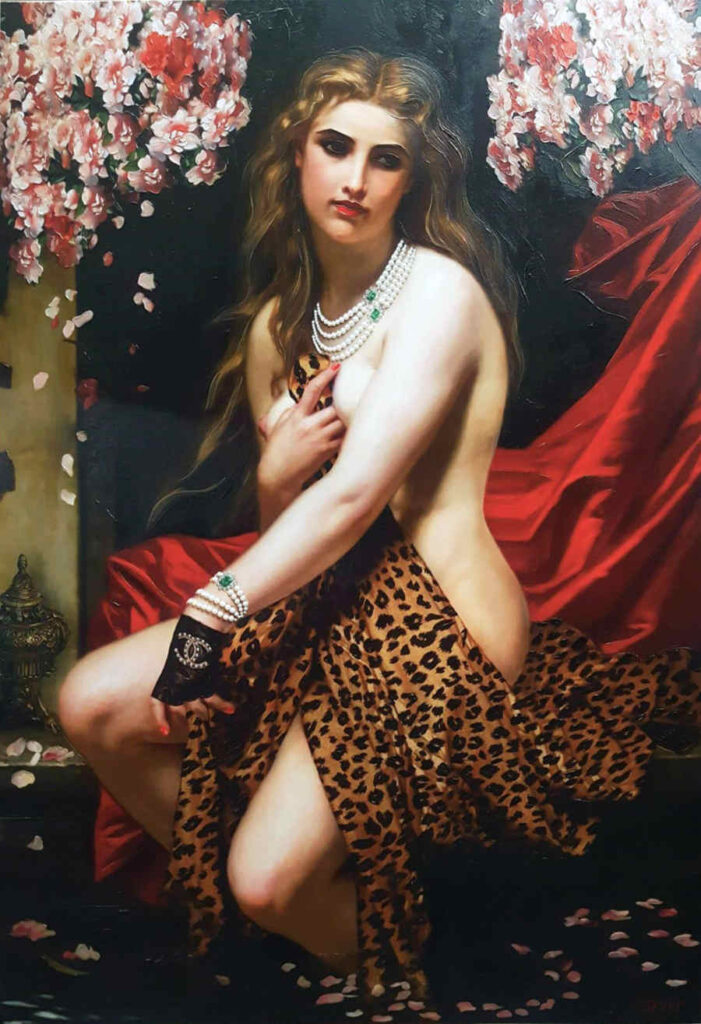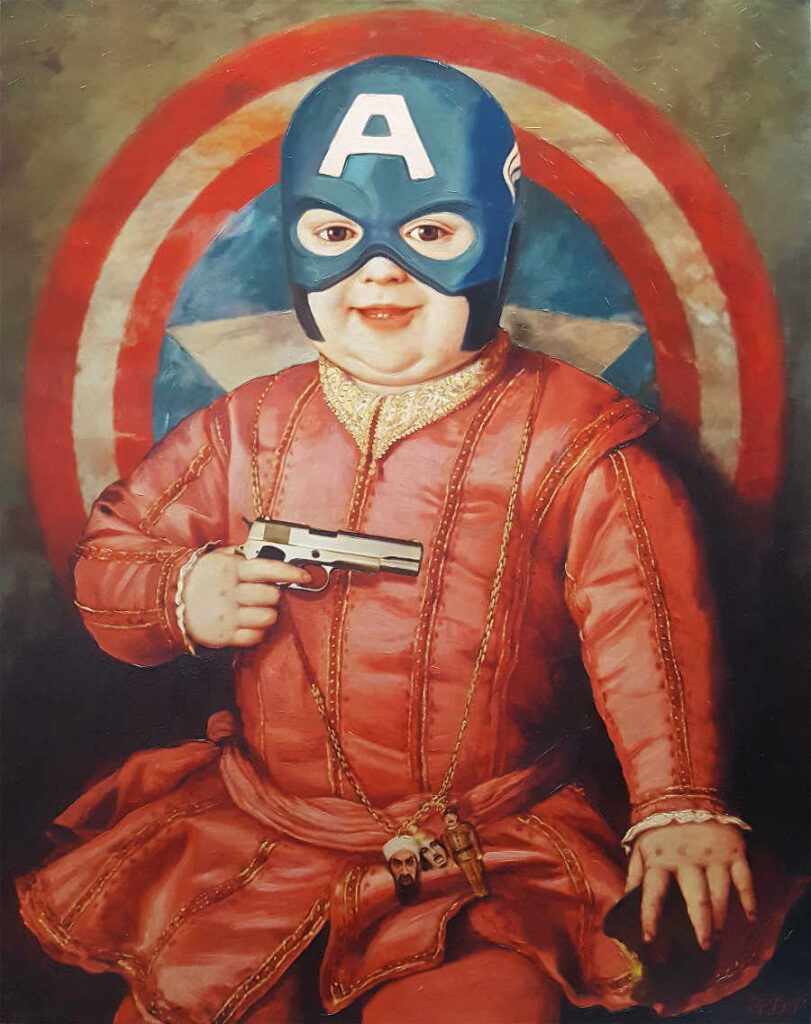 Antonio Del Prete Social Media Accounts