Are you prepared to travel down the dark, seductive and surreal corridors of Adam McCarthy's "Dark Beauty" & A Travesty's "Godcomplexxx"? The Dark Art Emporium is celebrating two incredible bodies of work that are going to pique your wildest curiosities. Let them inspire your artistic appetite and ensnare your secret fetish fantasy with their unapologetic aesthetics.
To view all available artworks, visit the The Dark Art Emporium online store! If you haven't discovered The Art Pit DAE Podcast, now's the time. The Jeremys (as in Jeremy Schott – Owner and Jeremy Cross – Assistant Director) discuss all things art, music, movies, and more. You can stream episodes using Soundcloud via The Dark Art Emporium website or subscribe to their YouTube channel.
Did you know DAE is now open by appointment Tue-Sat 11-7pm?! Schedule yours via their website. If you're not in the area or feel like staying home, be sure to check out the virtual tours of both exhibitions!
The Dark Art Emporium
121 W. 4th Street, Long Beach, California 90802
Located in Downtown Long Beach within The 4th Horseman
For additional information and purchase availability please contact: [email protected]
Adam McCarthy "Dark Beauty"
DAE Press // Powerful, and Beautiful Femme Fatales are the muse that drives Adam's work. Rendered in a painterly realism using both oils and charcoal, we are drawn in to lustful admiration for these stunning women. Whether covered in ink or dripping in blood, each is a devotional act.
A Travesty "Godcomplexxx
DAE Press // In 8 new paintings. A Travesty explores Sexuality, Religion & Bondage. An intertwining of conflicting images that, once bound together, create a complex and tantalizing synthesis. In his viscerally photo-realistic style, these images reach a deep level of reverence, as if each is the central icon in a new church that we only wished existed.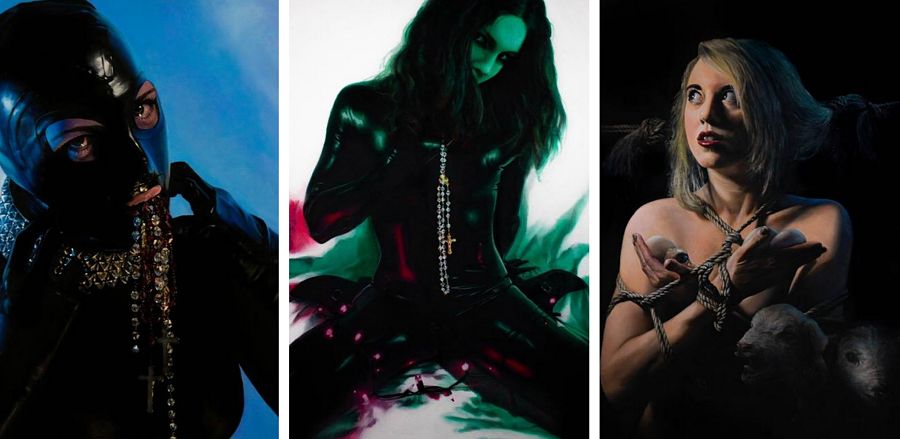 The Dark Art Emporium Social Media Accounts