Latvian-born artist Ilze Cant has always been fascinated with portraits, and her journey has seen many enticing experiments through the weaving roads of this genre. Each new style has reflected her changing pathways through her own life, a visual diary of altering events and self-perceptions. Her most recent development towards ink pen drawings only further develops her artistic style.
Her influences range from the orthodox religious icons of her childhood to the intricacies of handmade lace lingerie. Everything can be a muse, and Ilze Cant's journey has taken her from one side of the world to the other. In my interview with her, we discuss how it was later in life that she finally turned to her artistic calling as she fought against the encounters stopping her, as well as her engaging journey from Latvia to Australia and the new challenges arising as a result.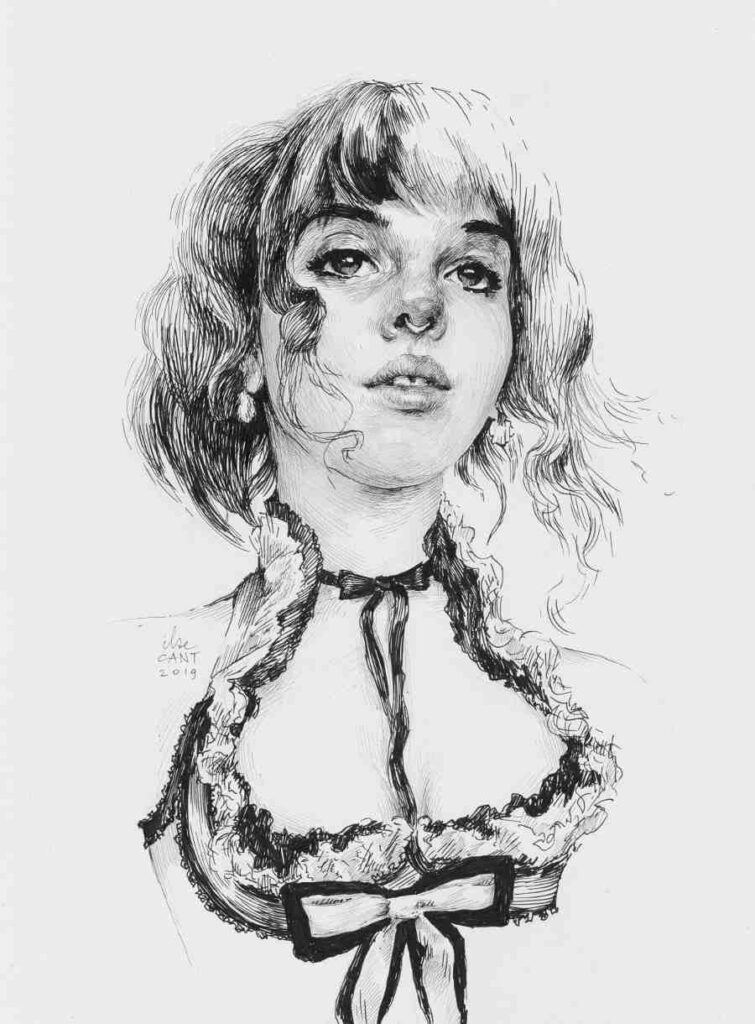 Interview with Ilze Cant
You started creating art more seriously in 2001, after your first daughter was born. Had you painted before or was this completely new for you?
I remember myself, maybe 4 years old, my mom gave me a sheet of paper and a little old pencil and I found deep satisfaction working with those two materials. Since then I've been pulled to drawing. People recognised my gift, I wanted to learn more, but it didn't go that smoothly. I attended Art School for a few years and did lots of learning myself to try and find my sweet spot in art. I was always drawn to portraits and liked to copy pictures, but people told me it wasn't really art that it was just copying, and my passion was set back. It took me many years to let myself accept again my own calling as an artist, and to consider this with my own originality.
A teacher, myself, later in life, I saw how important it is to learn from copying. Artworks, masters, nature, photos – styles you find likable and interesting, to learn the way you as an artist want to talk with your audience, the way you can best express your emotions.
I clearly knew I wanted to continue with the arts somehow, but I couldn't find that grounding with my surroundings. Art was a part of me.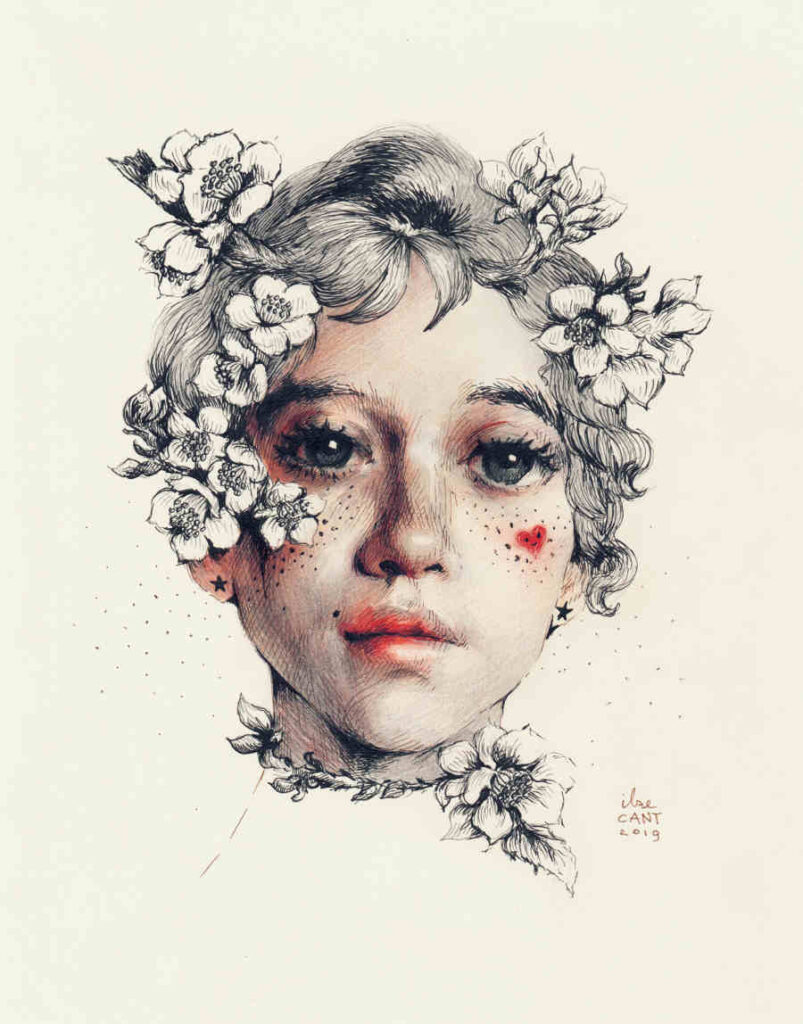 In my early life, I dreamed of being a fashion designer. I was inspired by John Galliano's extravagant fashion designs. I liked his style of models, his rococo influence in make-up, hairstyle and designs. I applied for Design College in Riga, Latvia (my big dream at the time), but I didn't get in. I spent two years in Riga Fashion School, but I didn't find my calling there… it was quite a messy time then. I clearly knew I wanted to continue with the arts somehow, but I couldn't find that grounding with my surroundings. Art was a part of me. I wanted to understand and explore, through practice and study. I had lots of WHYs then and very little understanding of myself in it. While my peers were concentrating on career goals at the time, I wanted children more than anything else; my eldest daughter was born in 2001 and since then, both daughters been very transformative life experience for me.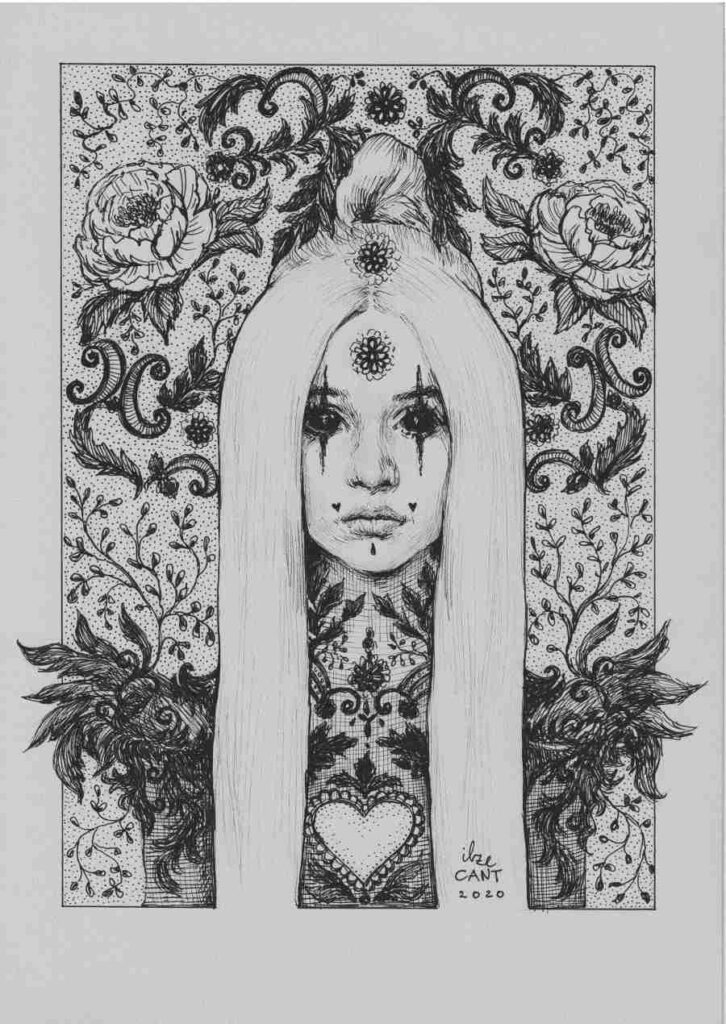 Ilze Cant: mother and artist
What encouraged you to move back to painting after becoming a mother?
While pregnant, I started to study art at the Latvian Christian Academy where I met amazing art teachers whose influence changed my perspective. I found my lifelong urge for academic drawing and love towards classical oil painting. I studied icon painting, which was an exceptional experience and I really enjoyed it. With my baby daughter in one hand and a paint brush the other, I found new calling in arts. Russian painter Ilya Repin was my ultimate inspiration and 19th century art is still my favourite.
From 2007-2012 your style changed, becoming more realistic. Tell me more about these 5 years of education and practice.
In 2005, I transferred to the prestigious Art Academy of Latvia, Fine Arts department. I had given birth to my second daughter and had lots of new challenges with my personal and arts life. I was ready for new growth; that all led to the next step.
In 2007, I had the opportunity to attend a classic oil portrait painting workshop in New York City by the amazing arts master and great teacher, Marvin Mattelson. In those few weeks, I had a life changing arts experience. I learned a lot and came home with a totally new vision for my personal growth. I pursued my Masters Degree in painting from Arts Academy of Latvia, attended another great American classical painter Daniel E.Greene's oil painting workshop in Spain. Working full-time as an art teacher in Saldus Art School with kids and adults, I also created workshops in portrait drawing and painting, making lots of progress in arts for local community. For this I was awarded with J. Rozentals Arts Award. Teaching arts, transferring my inspiration to students, was very interesting growth for me also.
Moving across the oceans
How did you feel when you moved to Australia? Did this new country open you up to new ideas creatively?
After moving to Australia, and finishing the exotic 'honeymoon' period of months in awe of this country and its nature, setting back to reality wasn't easy. I found many new challenges I wasn't expecting. I didn't know it would be so hard to settle in a new country, to learn a new culture and to adapt. It felt like starting my life from scratch again, trying to find my purpose. It felt like I lost everything I gained back at home, all my self confidence in arts and life.
It felt like starting my life from scratch again, trying to find my purpose. It felt like I lost everything I gained back at home, all my self confidence in arts and life.
Do you think this is why your painting changed from colour to black and white after you moved?
Looking back, no wonder my art expression changed from colours to black and white considering that challenging time settling in! At the time, I couldn't see that; I even found it weird because Australia is such a sunny, friendly country and I was expecting more colourful expression. Needless to say, I found it hard to paint. It didn't come that easily to me; it was very challenging, filled with inner dilemmas. But everything has a purpose; everything that hasn't killed us makes us stronger. And through that time growing again as an artist from the very bottom, well it taught me a lot about myself.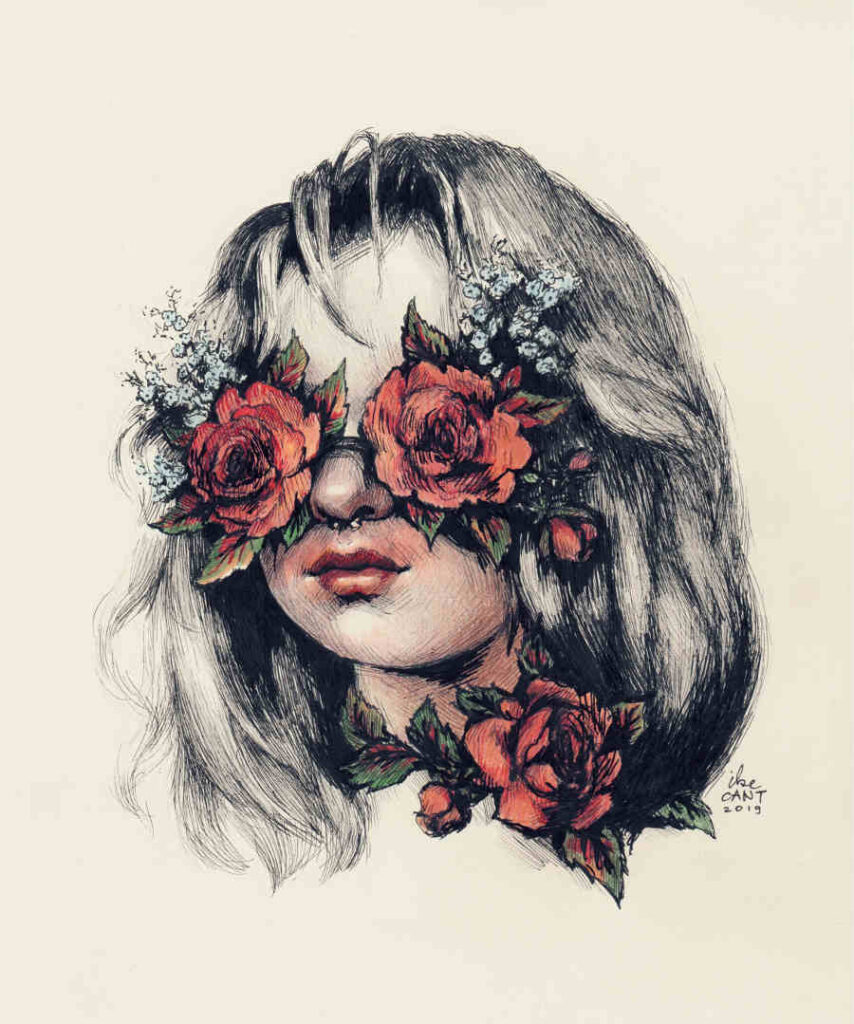 Highs and lows
Even so, you were a semi-finalist for the Lester Prize in 2019, the biggest portraiture art prize in Western Australia! How does this feel?
Being a semi-finalist was such an honour. My self-portrait "39" acknowledged a very important point in myself, a point where I felt my strength again. Working on this portrait was a very special experience for me: it came out unconsciously, very quick and harmonious. Working on artwork is always a very personal experience, as an artist you tell your story through every single artwork. It meant a lot to be selected for The Lester Prize with my self-portrait; this event matched many important points in myself.
Has your journey as an artist been difficult?
Yes and no. It depends how we value our experience and what is the goal in all of this. I think the hardest bit is to find your calling and trust it, go for it no matter what. I have been wasting a lot of time on unnecessary self-doubt, listening to other opinions about my art and myself, and that's what made me stuck in constant dilemmas. But looking from a positive side, I always knew I wanted to be an artist. It's a part of me I can't deny. It was very important to pursue this journey no matter how people around me tried to stop me by saying that I won't be able to live from art, but I didn't care. To be an artist is not an easy path, it's difficult but worth living.
I have been wasting a lot of time on unnecessary self-doubt, listening to other opinions about my art and myself, and that's what made me stuck in constant dilemmas.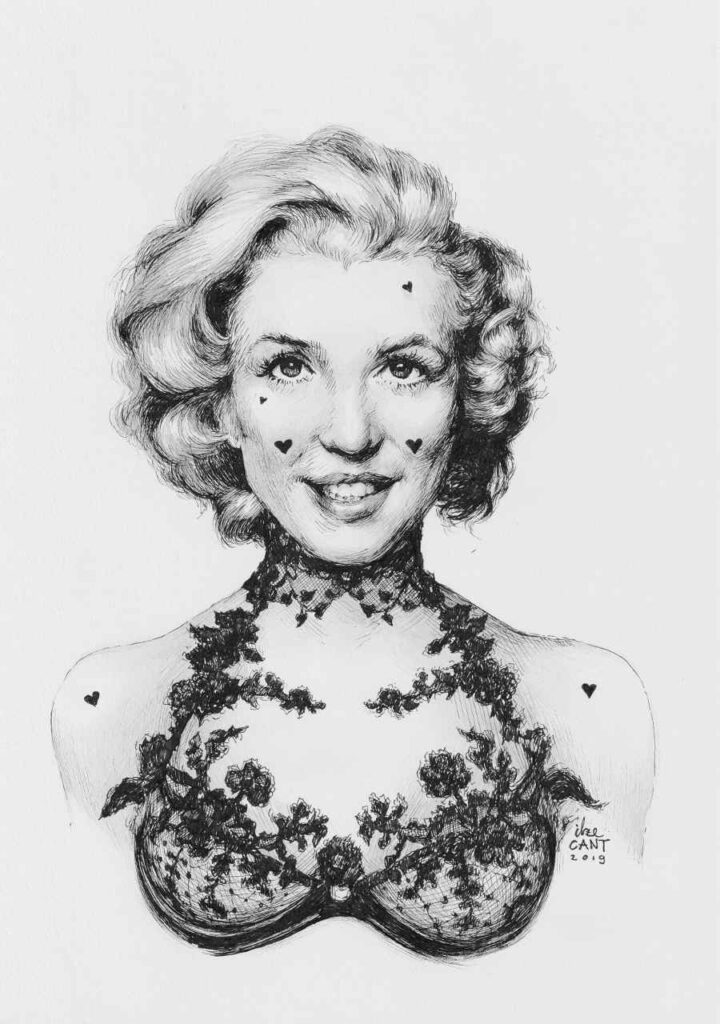 The entire universe, within one face
Recently you've focused on ink pen. Do different mediums encourage you to explore different styles of art?
Hmm, it's interesting how life goes. When I was a teenager in art school I had to learn about Latvian classical painters. I failed an exam about that, and I said to my teacher that I will never in my life need that information. Guess what, that exact painter years later became my most loved Latvian classic artist and 10 years later! I won his Art Prize!
When I became interested in painting and worked only with oil paint, I was 100% sure you couldn't create fine paintings with acrylic. But as the years passed, I found out you can. So in my experience: just go with the flow and do whatever you want at the moment.
I've always been into realism. I like to learn, explore, copy, work and follow through small details. When I was younger, getting comments that real artists don't use references and that they draw from their heads, set me back a lot from this exploration. I've been discussing this subject in my head for years (what a waste of time). We don't expect a surgeon to operate surgery or an architect to build a house out of their head. They use knowledge, lots of instruments to do their job right. My question is: why do some people have the perception that artists can create things without references? If I was an abstract artist I wouldn't be criticised, but I am a realism artist. Even if I try to challenge myself with abstract, I end up with a portrait in the end.
When I look at a person's face, I see a whole universe, it speaks to me strongly. I feel inspired by different faces and their expressions. And at the moment, my expression speaks through ink-pen drawing. I like drawing with ink-pen because you can't erase or overpaint if you make a mistake. It's there and you have to make it right. I do freehand drawing from my reference materials. To make the proportions right and match it together is great adrenalin for me.
Lace, sex and powerful women
Your recent ink pen portraits feature a lot of lace, sexual connotations, and powerful women. Can you share more about this series of portraits and how they started?
I moved to Melbourne 3 years ago. This amazing city gave me lots of new inspiration and I started to experiment with my drawing. A year ago, I found this satisfaction with ink pen. I liked the expression, contrast, the way the drawing builds, so I moved towards it more and more. I own several beautiful ornamental books and have been playing with ornamental stuff. My first ink pen drawing where I put together portrait with ornamental design was called "Sleeping Beauty", and that led me to explore black lace fashion more. After sharing a few drawings with lace designs, I received an unexpected response, which gave me an extra boost to keep exploring this.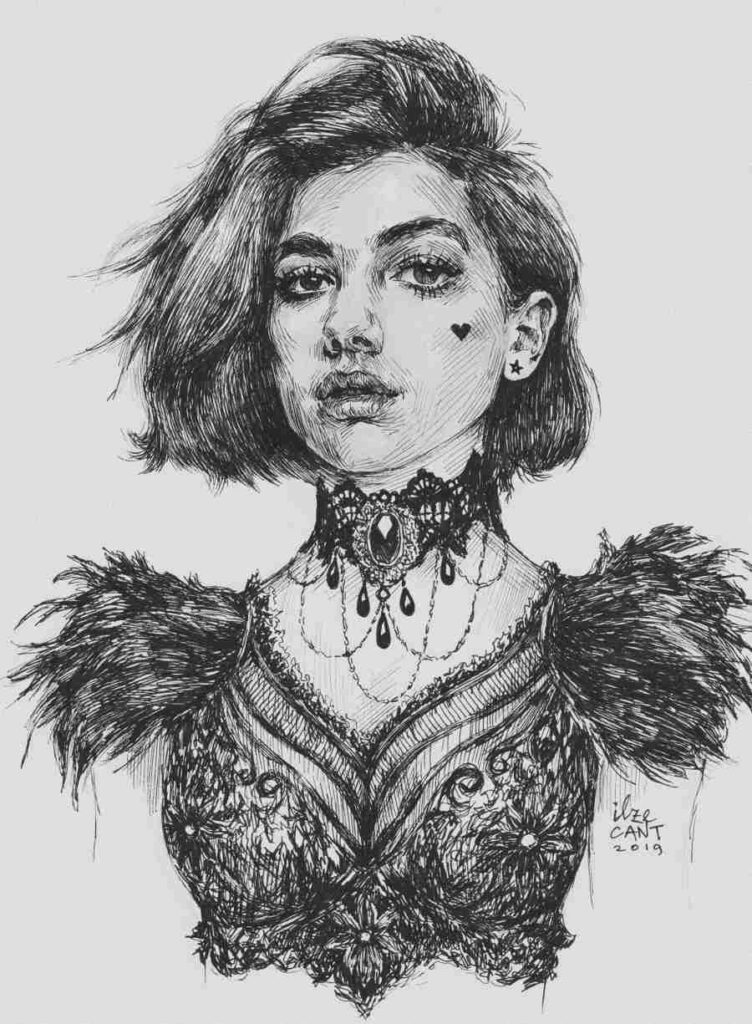 And with these series, I'm kind of replaying my dream. I'm fascinated with the amount of new handmade lingerie brands via social media. When fashion is slow and handmade, it is original, careful artwork by those makers. I really hope it's the future that more care and appreciation grows for handmade work, instead of fast fashion for one season alone.
I as a person am quite opposite to the drawings I make.
On another note, I, as a person am quite opposite to the drawings I make. I love pure nature and simplicity, but drawings let me go into my extravagant self, my alter ego which is full of expression and fanciness.
Moving Forward
Art certainly provides a wonderful opportunity for escapism and self-discovery! Looking forward, what is next for you in 2020?
I love working with ink pen and I think I will keep delving into this technique. Last year I was experimenting with my "Bloom" series, which took me to my "Lace Warrior" series. I started to explore with wings and angels, modern day icons, and I'm turning it into my new art series "Fallen Angel". I like to jump between subjects, and I will hop through few different series. I have several unfinished paintings and projects in my list. I plan ahead but I like to be open, to see where my inspiration will take me. Whatever direction I would explore, one thing is for sure: I will keep being devoted to portrait.
Looking back on your journey as an artist, is there any advice you would give to your younger self, or would you do everything again the same?
At this moment in life, everything has led me back to when I was at four years old, with my old little pencil in my hand and a blank paper in front of me.
Learning process never takes straight pathways, that windy road is a part of the journey I couldn't promise for my younger self to avoid. However, I could encourage my younger self to not be afraid of it and always to self-believe; that inner strength will help me to keep going no matter what life throws at me.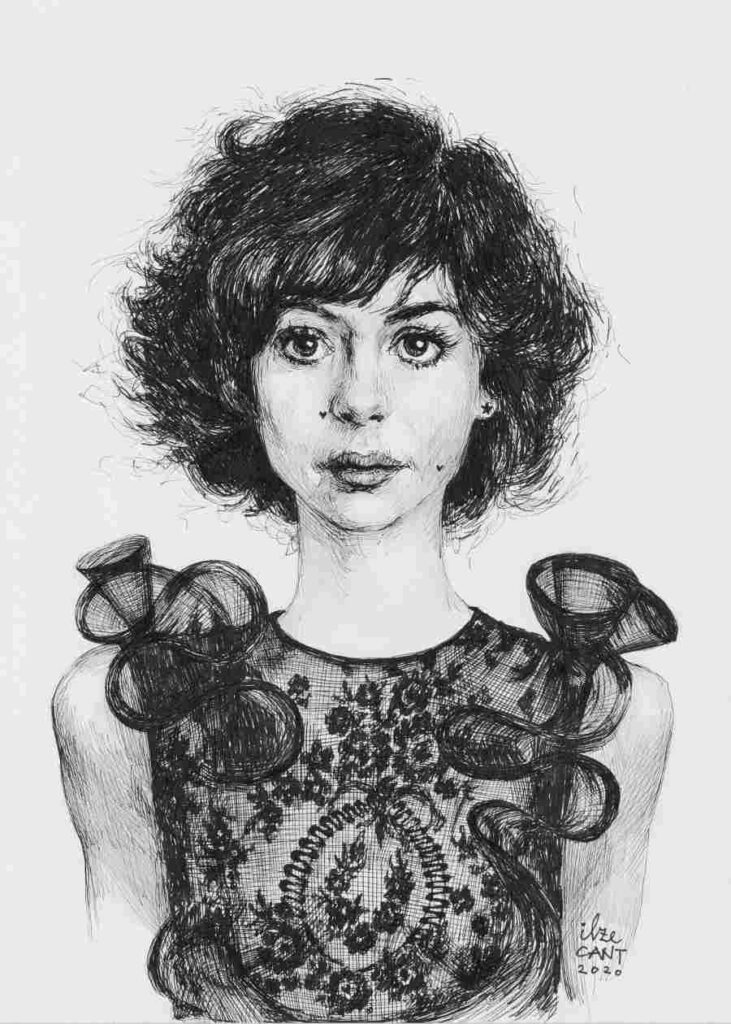 Ilze Cant Social Media Accounts