Barnaby Whitfield's pulse-quickening portfolio of acid trip oil and pastel treats is like giving the carb-free diet that you've fastidiously adhered to one final double finger salute. Relief washes over you, followed by triumphant liberation. You feel as though you are once again walking among the living. Colors look brighter. Your heart feels lighter. Life is happiness, indeed! Now please pass the potatoes. And two slices of bread. Do I look like I'm kidding?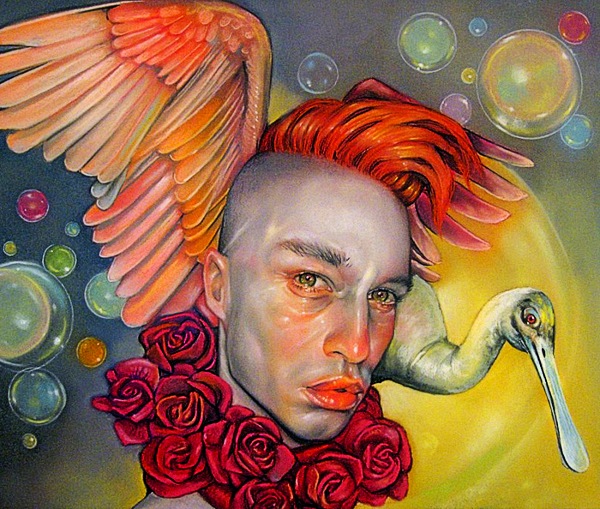 You hear stories about the bittersweet nostalgia that surfaces for some former drug addicts who recount the (apparently sublime?) physical sensation of their very first hit. For so many of life's firsts, though, the same kind of "never as good as the first time" reminiscence can apply. That's precisely where all of us are in this very moment that we're sharing… right here and right now. Those who are new to Barnaby Whitfield's works will likely feel as though 1,000,000,000 joules of energy is zapping through their entire corporeal networks. The rest of us are nodding in wistful recognition, thinking, "Yeah, seeing my first Whitfield portrait made my brain do backflips, too. Good times, good times…"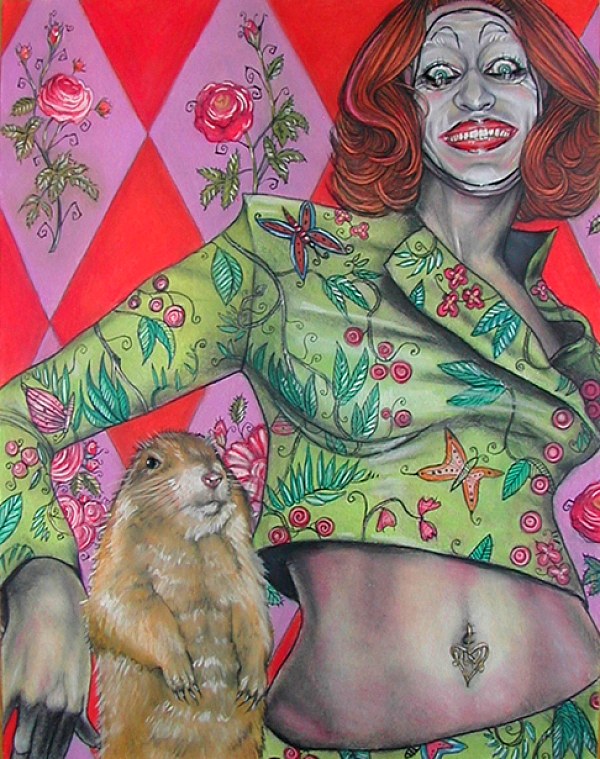 In this Whitfieldian through the looking glass world, relatable windows to the soul countenances are juxtaposed against radioactive, three-ring circus backdrops. Strapping on a seat belt or helmet for this journey is pointless because extraneous gear like that will spontaneously combust. Somehow, the visual elation of this artistic experience never wanes, whether you're gazing at your very first Whitfield original or your fiftieth. Right-brained souls know what I'm talking about. There are so many compelling "ah ha!" technique/execution revelations alone that you just sit there slack-jawed and blissed out while drawing in one dizzying breath after another.
Barnaby Whitfield's utterly prototypical portraiture perspective is pretty special, indeed. Have you EVER seen your fellow humans depicted quite like this? With as much joie de vivre and mirth? Cool, collected sense of self? Depressive despondency? Maximum security clown lunacy? Glassy-eyed uncertainty? Seemingly puritanical superiority? Haunting emptiness? No way, no how!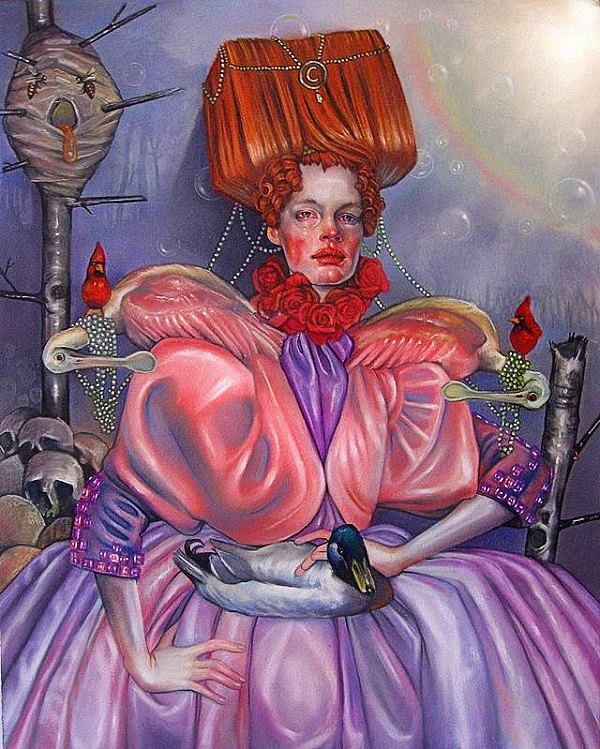 In this plane of existence, peg-legged cherubs are the rule rather than the exception. So, too, are ab-tastically cut devil's spawn triplets and fornicating rabbit wallpaper. Bauble draping pelicans? Sure! Sloth-kerchief fashion statements? You betcha! A bee catching a free ride inside a shimmering soap bubble? Like you really need to ask. Even Whitfield's resplendent, bodaciously boobalicious babes are a riotous wonder to behold.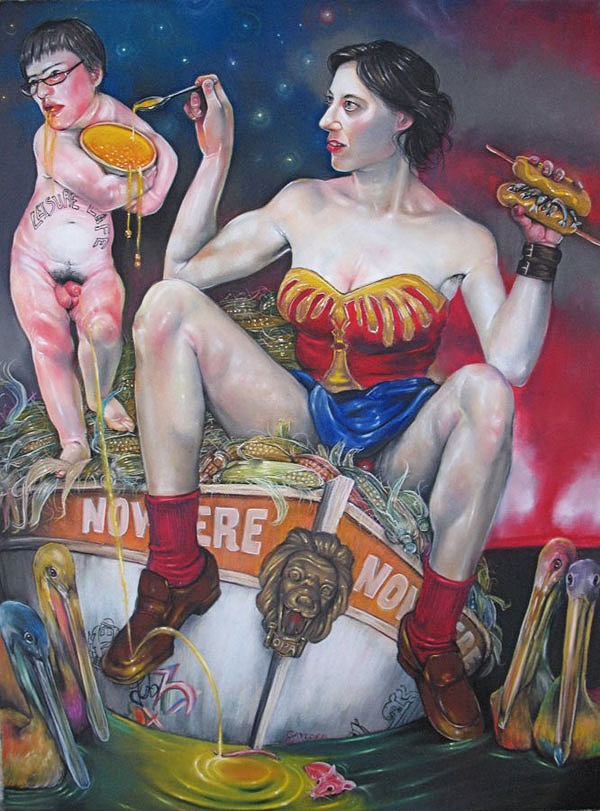 These distinctive ornamentations lay waste to all cookie cutter, trend-chasing art aesthetics. Instead of heeding the monotone bleating of the sheep, the portraitist bangs his own drum with reality-skewering sticks of dynamite, treating us to the visual equivalent of what a boom shakalaka hail Mary! must feel like.
Magnificently magnetic color palettes only heighten the thrill of willingly drowning in Whitfield's endlessly arresting array of oils, pastels, and drawings. Each is somehow more compelling and exceedingly seductive than the next. It wouldn't be unreasonable to presume that he's whipped up his very own bespoke color matching system. Pantone, eat your heart out! How else can you explain why so many chaotic tones seamlessly melt into homogenized happiness? Don't you just want to chomp off a bitty corner of each of his works just to experience what all of the creamy dreaminess tastes like?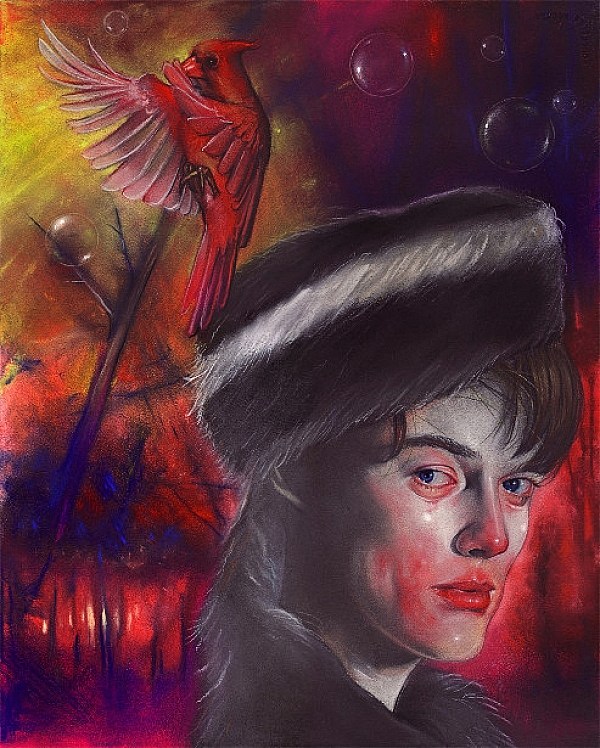 Whitfield's scenes are frequently hijacked by exotic wildlife, insects, sumptuous blossoms and other equally dazzling botanical elements (both living and decaying). Soap bubbles in various stages of flight can be found here, there and everywhere. Oh my. You haven't seen a luminescent bubble halo levitating above a person's head before? Well, now's your chance! Beauteous birds of a feather stand guard while impending doom percolates in the distance. Voguing squirrels show up to the party, as do meercats, the occasional prairie dog, and hyenas…because of course they do!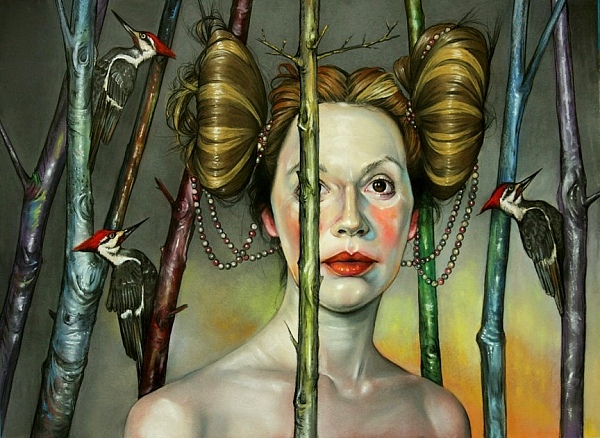 You've got to love Barnaby Whitfield's slick fashion model-like compositions, too, which fête the inherent drama and artistic resplendence of haute couture. His portrait stars quite often rock bespoke, bejeweled, bewitching looks with regal assuredness (at least those who are dressed — ha!). Peruse his plentiful pastel paintings and you'll see a marine creature brassiere or tutti-frutti choker glam-tastically adorning his muse du jour.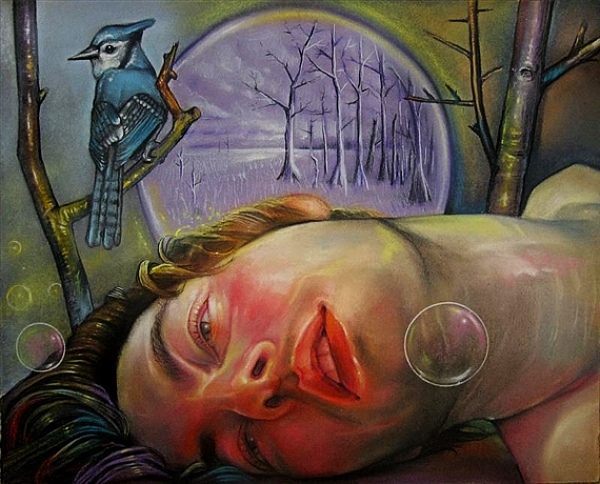 Don't miss out on his crown studded with animal teeth or his pearl-adorned lobster headpiece. Fabulous over-the-top hairstyles like retro victory rolls, gravity-defying space girl buns, oompa loompa locks, and rainbow bright cheerleader pigtail-poms provide further fashionista amusement. Spicy sweet umami eye candy like this tastes, smells and feels like the greatest all-night rager that you never want to end. Personally, I'll have a heaping portion of whatever he's having.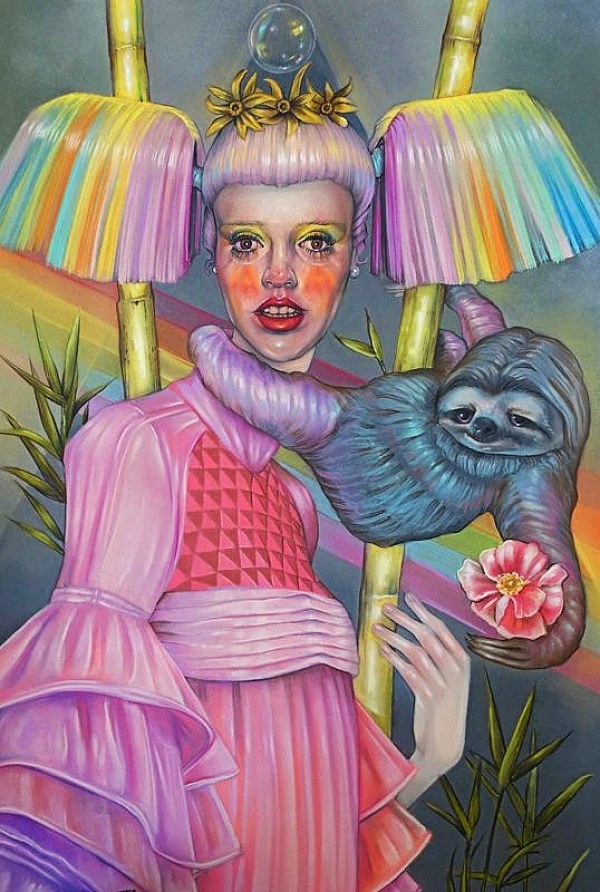 The luminescence of Sir Whitfield's portrait subjects, though. Whoo-eee! What kind of arrangement did this artiste extraordinaire make with the devil in order to imbue his faces with such hair-raising realism? Sure, his portfolio is peppered with intentionally ostentatious pieces that always manage to stir a smile or full-belly guffaw. Those works, commonly injected with cheeky frivolity, tend to be surrealistically yet still divinely rendered.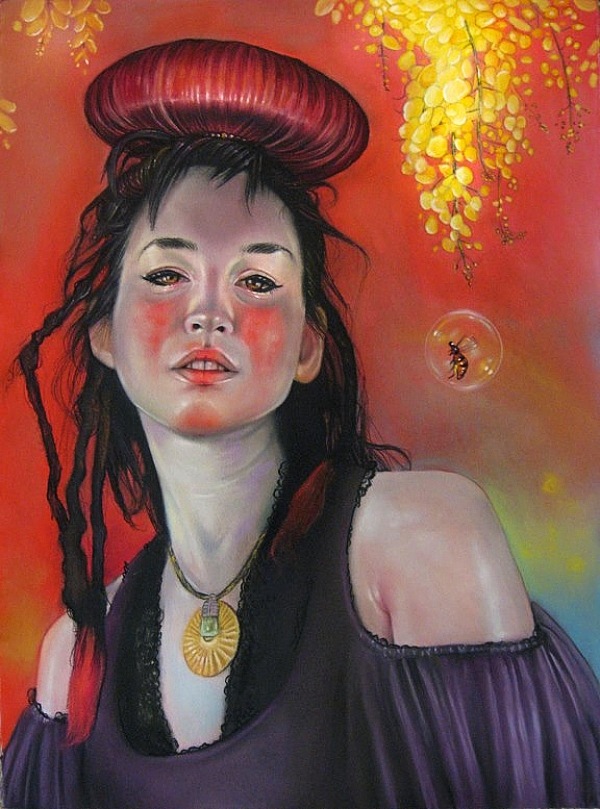 Whitfield's no-frills oil, pastel and pencil studies, however, explore the human visage in ways that positively rock your world. Beguiling eyes are framed with assertive brows. Ruddy cheeks appear to be stained with raining-down-from-the-heavens tears. Ship sinking, pillowy vermilion pouts runneth over. Crystal clear Cleopatra complexions beckon from every port. All are exquisite, seemingly fragile, and astoundingly believable. They appear to be lifting off of their respective canvases in search of the three dimensional world that they truly belong in. And that is how it's done, folks.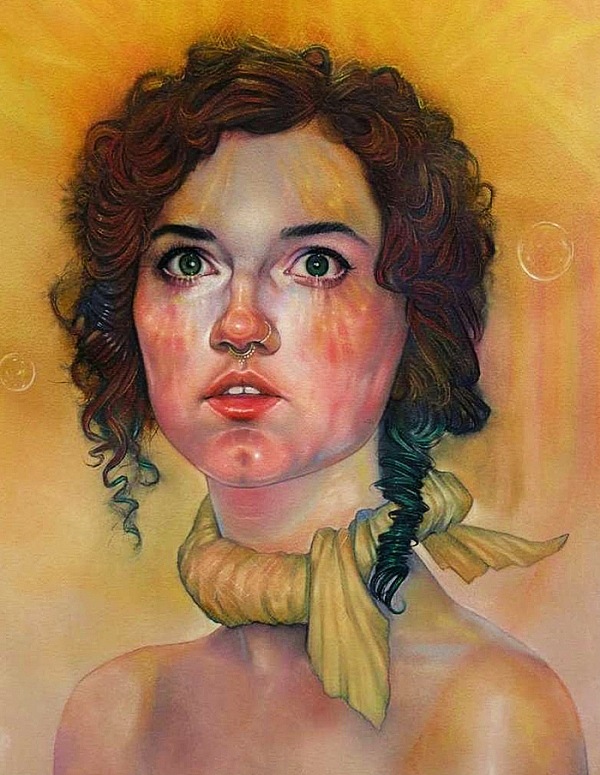 This is the point in the article where I might normally regale you with biographical insight into the mad color wielding genius known as Barnaby Whitfield. Come again? Of course that's his real name. In fact, it's almost as if his parents had a hunch that anointing their son with that very fitting, old-world bit of frippery was their crystal ball-gazing duty.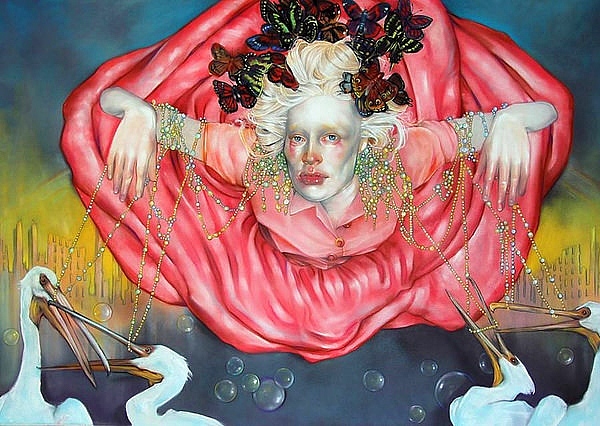 An artist who consistently conjures up such waking, nightmar-ish thrill rides is either a supreme dreamer or they actually draw from very personal, often uncomfortable experiences. In Whitfield's case, his vibrant, pedal-to-the-metal existence easily rivals what plays out on his canvases. Splashes of searing, throbbing, emotive color have made an indelible imprint upon his life lens. As such, his works of art most definitely reflect an omnipresent, larger than life quest for relationship reparation, soul-searching, and inner peace. Plus his whip smart humor zings right out of left field with a bang and a crash!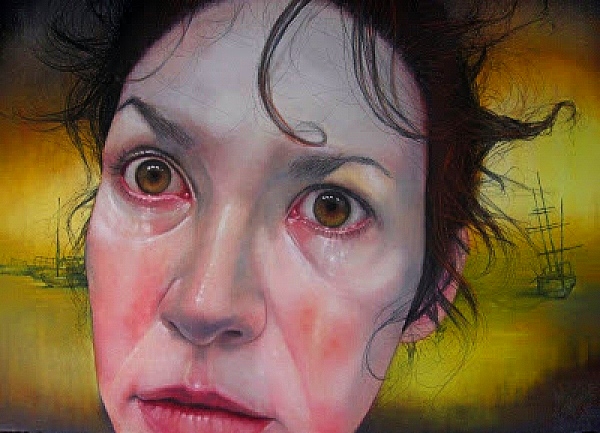 Just because this already legendary color mixing wonder has achieved well-deserved public acclaim doesn't mean that his personal deets should be systematically catalogued for all to see. Artistically speaking, however, Barnaby Whitfield's erstwhile Ivy league-educated, cat walk strutting roots may easily explain his fondness for cerebrally stimulating social commentary and symbology tempered by high-gloss, flight-of-fancy irreverence. That may also be why, upon deeper study of his artworks, you can peel back so many fascinating, ever engrossing layers. He's a heady kind of right-brainer who just so happens to live and die by evocative mise-en-scène finery.
Since inquiring minds want to know, Whitfield very commonly uses his very own facial structure as the jumping off point for many of his portraits, male or female. I know, I know…pretty cool. Just one more scrap of junk food gossip that might make even the most prized stallion blush. Many of the au naturel studies that the artist himself features so, ahem, prominently within come courtesy of internet-sourced penile-spiration. You know…sexcaliber doubles. Don't you just love the fact that this information came straight from the horse's, erhm …mouth?
It is so very clear that Whitfield's art babies contain his DNA — his frustrations, fears, and even his life-affirming revelations. At the very least, you owe it to yourself to make a sizzling hot date with Whitfield's Instagram account. This contemporary artist stands out as a rare jewel who dispenses all of the feels, all of the hilarity, and absolutely all of the gut churning loopdeeloops of life with one mighty flick of his pigment-melding thumb. Got a Barnaby art crush to the nth degree? Step to the back of the line!
Barnaby Whitfield's Social Media Accounts
Related Articles