Let's dive right into Tomohide Ikeya's edgy and, at times, deeply disquieting marine microcosm, shall we? The tempestuous excursion we're about to embark upon is one that will surely quicken the pulse, prompting you to cease all multi-tasking so that these arresting images receive your undivided attention.
Soak it all up. The deep plunge. A gasp for air. The dizzying disorientation. Oceanic suffocation? A tentative solace. Perhaps a miraculous resurrection? The stirring intimacy of two expired lovers, eternally entwined. A hopeful beacon of light streaming from above. A return to womb-like serenity? A terrifying descent into the depths of oblivion. A watery grave, devoid of any sort of eleventh-hour light or mystifyingly magical resurrection.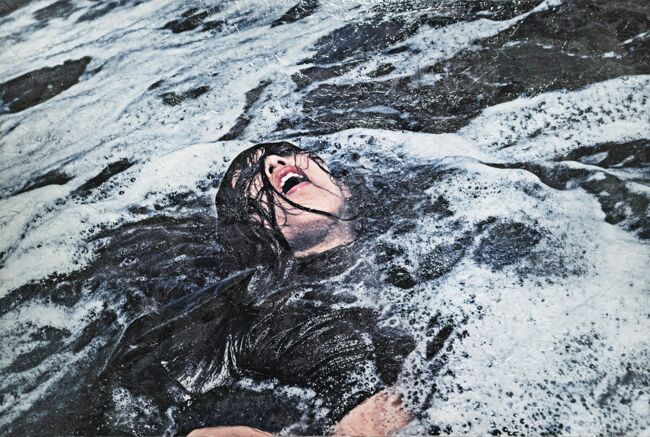 Do human beings ever really have control over Mother Nature or is she the one who truly wields the sword of our imminent fates? Ikeya's strikingly melancholic photographic works straddle a very iffy precipice between dream and nightmare. In certain cases, those who relish being among the living — members of the feminine persuasion, especially — might easily experience an entire roller coaster range of human emotions while contemplating his imagery.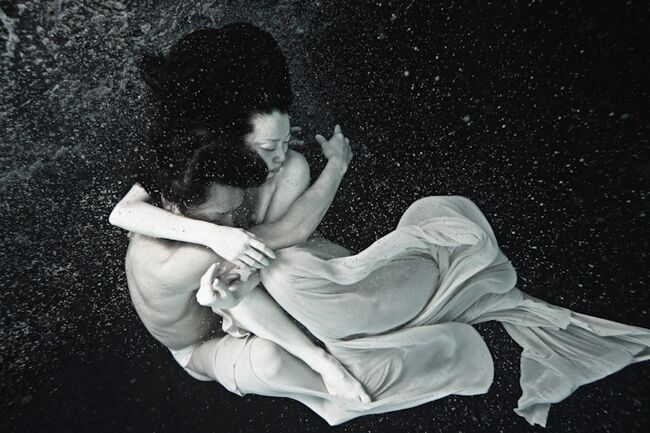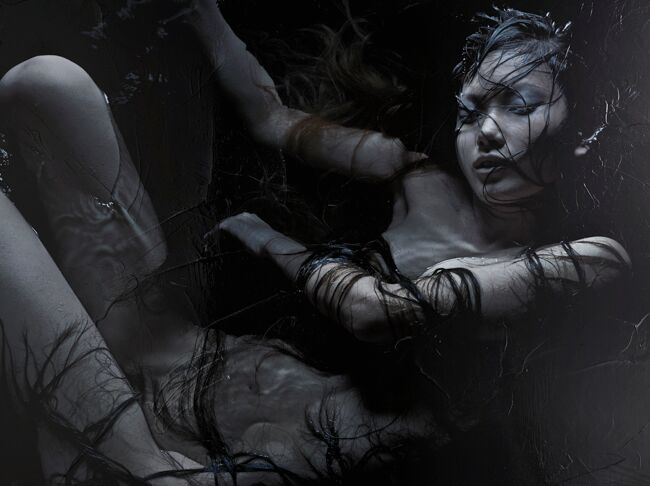 Among the most confusingly obtrusive feelings that rise to the surface:
Should I triple check the locks on my doors?
Neck hairs – I command thee to lay down at once!!
One of the hallmarks of an intoxicating artist, however, is when they generate soul-stirring, emotion-triggering visuals capable of making the beholder…well…squirm.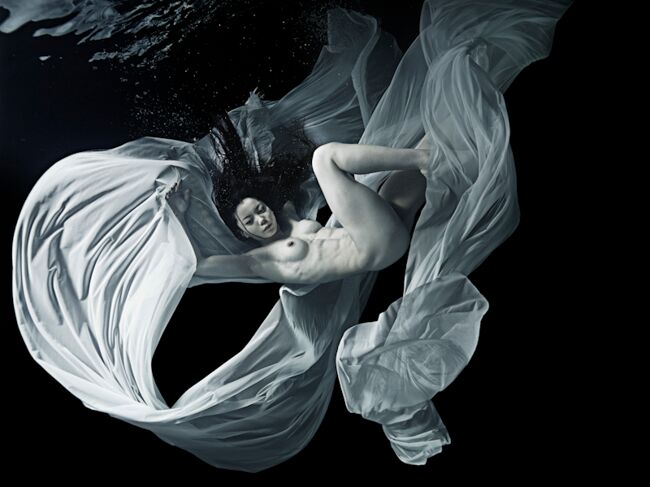 Tomohide Ikeya's intriguing thematic explorations serve as a bold reminder that it is a tremendous privilege to be ALIVE in spite of endlessly conspiring anti-life forces. There is absolutely no guarantee that any of us will see tomorrow, nor do we have a clue what our own personal longevity is. Those stark realities are pretty tough to reconcile within the mind.
Such a delicate dance exists between life and death. The almighty yin and yang. To truly grasp Ikeya's artistic motivation, it's helpful to remember that life on planet earth requires water. Just as essential to the existence of all living creatures great and small. The simple act of drawing in one breath, and then another, and another. To be sustained along this unpredictable journey called life, we require both — no ifs, ands, or buts.
Ikeya knows this all too well given his fascination with the formidable force of one of Mother Nature's most compelling creations – the ocean. The Japanese-born artist was initially introduced to diving several decades ago, a hobby that he embraced with great zeal. What emerged from that fortuitous experience was a life-long enchantment with what lies below the surface.
Upon witnessing what professional marine photographers do firsthand to capture their images, the former goth band guitar player and Italian restaurant chef's appetite for photographic art was fully awakened. Ikeya attended the Tokyo College of Photography and also served as a photography assistant for 2 years. By 2002, he was armed with the skills and confidence necessary to pursue the medium on a full-time basis. In the past decade plus, he has been fortunate enough to shoot editorial and advertising campaigns while also seeing his personal artistic projects to fruition.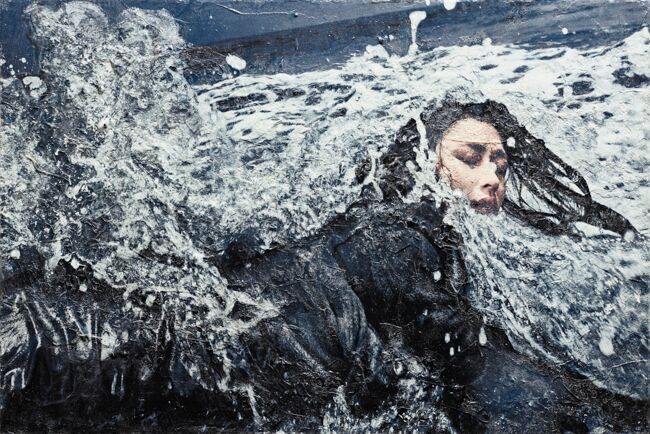 The overarching themes that the multi-award winning lensman explores in his four multi-sensory photographic series — Ocean, Wave, Moon and Breath — can be likened to that of the magnetic ebb and flow of life's essence. Ikeya is quick to acknowledge that life, with its many facets, requires a bright side as well as a dark side. Similarly, oceanic tides require lunar and solar alchemy to come to fruition. They exist due to each other's existence, not unlike love and hate… hope and despair… creation and destruction. Along these lines, without the fear of death, human beings would likely not squeeze the marrow out of life. We live, knowing full well that death is part of the package.
It is interesting, then, to learn that the majority of the corporeal stars of Tomohide Ikeya's photos happen to be professional dancers – a fact that, admittedly, might be easy to guess in light of their enviable physiques. Despite Ikeya's ongoing depiction of the tentative nature of the human condition, the chosen profession of his highly photogenic troupe embodies the life spirit in all of its poetic glory.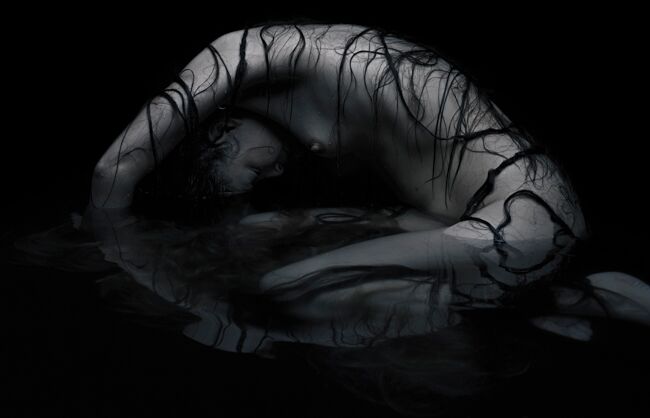 This is one of the many underlying machinations that pave the way for such irresistibly gripping shots. These frozen moments in time and space – as disconcerting as many of them are to behold – still force you to pause, evaluate, and even macerate… repeatedly. Ikeya's body of work grabs hold of your retinas and lenses, taking them on a wild life-or-death ride. Humanity's fixation with controlling the natural environment is deeply ensconced within his creative approach.
The sweeping, horizon-hugging seascapes showcased in Ikeya's Ocean and Wave-themed photo series, with their gasping sense of palpable tension, both take on greater textural intrigue with the addition of three-dimensional elements such as stucco, grass, acrylic paint and varnish. What takes the Wave collection to the next level is the incorporation of expertly hand-applied sea foam-esque layers crowned with artfully crackled, semi-opaque heat-bonded veneers.
For all of the art technique geeks out there, here is a breezy little demonstration of his photographic augmentation process that just may prompt you to use and abuse that dusty old iron of yours. Just in case you were wondering, the photographer is currently in the process of exploring more diverse ways to anoint his prints with palpable panache, plus he's even transitioned into the video art realm.
Ready to get your squirm on? Captured between 2010 and 2012, behold one of Tomohide Ikeya's most impressive crown jewels, otherwise known as Moon. Glugging a generous shot of Everclear prior to viewing them is optional yet highly advisable. Tangled tumbleweed tresses offer minimal modesty for unclad beauties who are perpetually frozen in time. Downcast eyes suggest a life force that has long since crossed over to another plane of existence. Many of the limber ladies featured in these photos appear inexplicably winsome, seductively vulnerable, astoundingly fragile.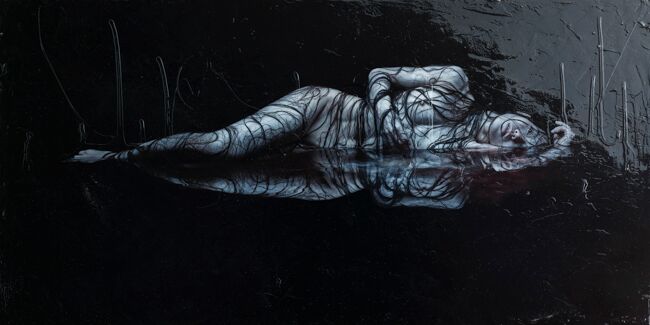 In some cases, they seem as dead as a doornail. Viewing them can be likened to that of an invasion of privacy… an exercise in voyeuristic deviance. Anyone with an internal morality compass might easily feel as though they are stumbling upon a serial murderer's precious "kills", lovingly cataloged for posterity. One casualty of the sea already appears to be on an autopsy table…. or is that just the product of my ocular anguish?
Dramatic imagery is this artist's specialty. Even in his Breath series, Tomohide Ikeya knocks it out of the park. Gracefully billowing textiles serenely undulate in the great abyss, seemingly offering shelter to a woman who has already lost her fight.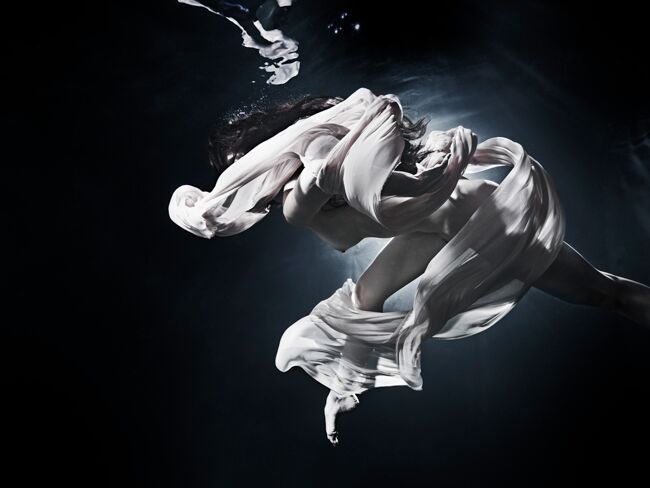 Is that a mulberry funeral shroud paying its final respects to the human vessel it clings to?
Millions and billions of air bubbles hover, propel, cascade and even appear to nestle the human organisms in their midst. Poring over each image, you cannot help but feel 33% invigorated, 33% dazed-and-confused, and 33% mortality-obsessed.
Tomohide Ikeya's water-based images — shot with a PhaseOne IQ100M and a PhaseOneXF — are a constantly evolving creative pursuit. There is nothing lazy about his photo-crafting process. He explained that he draws thematic elements just as much from documentaries as he does from real life experiences. Furthermore, Ikeya often requires well over a year to complete a series of photos. That includes brainstorming concepts, thoroughly planning his project steps, scouting talent, shooting, printing, etc. His life blood, he says, is making new discoveries that facilitate artistic revelations.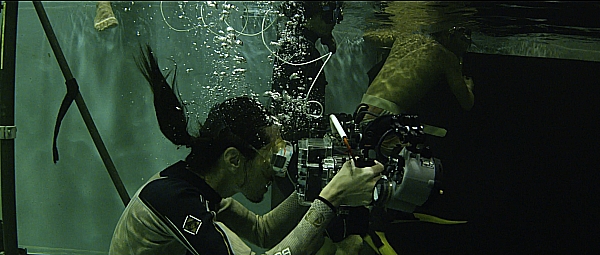 We so frequently regard the ocean as a source of life, spiritual cleansing and pure recreation but there is a formidable dark side, as well. Below the surface lurks a great abyss of unrelenting uncertainty. Ikeya's photographic journey explores Mother Nature's mighty power to giveth — and just as swiftly — to taketh away. This is heady stuff. The dazzling story that unfolds through each print seeps ever-so-steadily into the deepest recesses of your mind, haunting you… beckoning you… compelling you marvel at the inexplicable beauty… commanding you to take just one more look. Upon viewing this extraordinary photographer's intriguing series, even the most happy-go-lucky among us might easily be inspired to carpe diem like our life depends on it. Because, in fact, it does.
Upcoming Exhibition:
Japan Museum Siebold House presents Japanese Nudes from March 15, 2019 to September 8, 2019.
Tomohide Ikeya's Social Media Accounts: