Roq La Rue is coming back to life in the Seattle art scene and set to open its doors once again, in its new Capitol Hill location with the continuation of the 'Lush Life' exhibitions. On the eve of 'Lush Life 6' and the gallery's opening I talked to Kirsten Anderson about the history of Roq La Rue and her role as a gallerist and curator.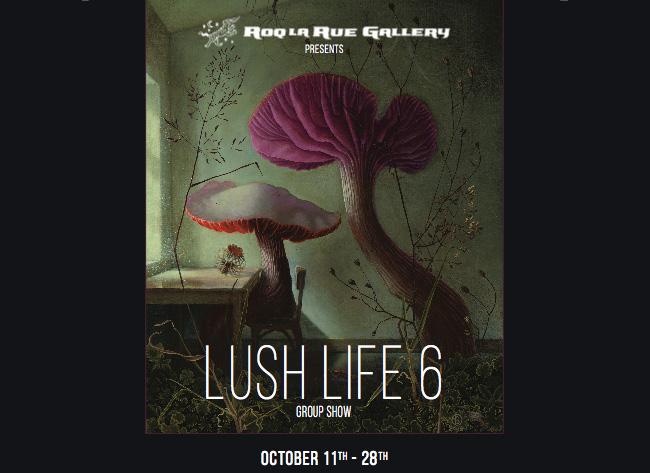 Lush Life 6
Exhibition Dates
October 11th – October 28th
Roq La Rue Gallery
Website | Facebook | Instagram
La Rue gallery opened in 1998. It was the creation of Kirsten Anderson as a reaction to the then lack of alternative art spaces. It made its reputation by taking risks and showing the very best of cutting edge pop culture. Through Roq La Rue Kirsten, as a curator and gallerist, responded to the growing interest in Lowbrow and Pop Surrealism. With only a handful of galleries willing to show this art it quickly gained notoriety and respect, and became a significant force within the genre and the wider art world. Collectors quickly picked up on Kirsten's curatorial vision and the gallery's aesthetic with its diverse mix of artists. When, after operating for 18 years, the gallery closed its doors some two years ago, I must admit that for me, even though I never made it to Seattle to see it, it was a 'Bye Bye Miss American Pie' moment and I felt quite sad to see the end of an institution that was so integral in the support of the genre. So I am beyond excited that the iconic gallery will reopen and once again exhibit and promote outstanding art.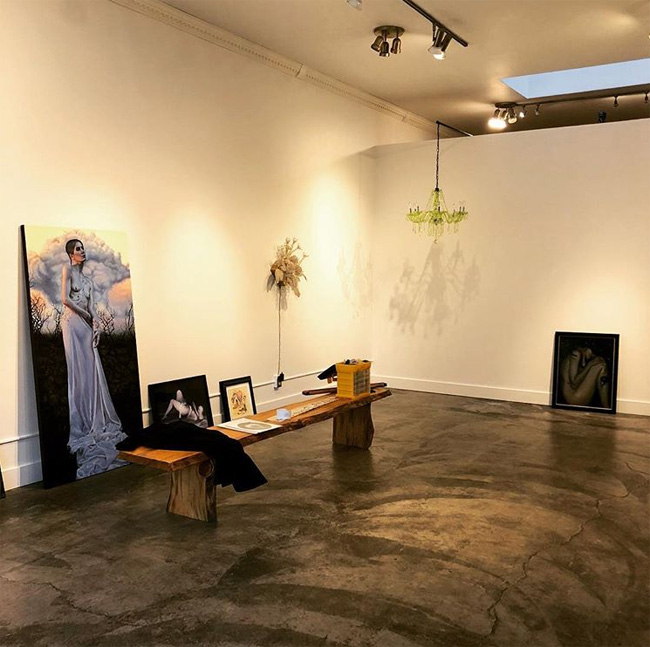 Above : The new gallery space
Can you give us a little background to Kirsten Anderson and her journey to becoming a gallerist, owning a 'cutting edge' and highly regarded gallery with an artist roster that read like a who's who of the Lowbrow and Pop Surrealist genre? How did you come to open Roq La Rue and what was your vision for the gallery in those early days? What were some of the highlights of that period in the gallery?
I started Roq La Rue in 1998 with no money and no real idea of what I was doing. I had discovered Juxtapoz magazine (very different back then) and the Lowbrow art scene and it was just a combination of everything I loved- art and counterculture – it was just really exciting to me seeing this new way of looking at art making. I wanted it in Seattle so I just worked out how to do it. Back then I was really into Lowbrow in its true sense- I loved kitsch culture (big eye art / tiki / hotrod ect) and the whole community involved in it. I picked up on it really in time to surf the whole wave of the movement- I had a voracious interest and love for it. As time went on and the art started to change and become a little more about exploring inward and using weird imagery to explore various themes, not just the shock and awe of early Lowbrow, I felt a big resonance with it as well. I grew up loving not only Warhol's Factory scene and the impact that had on the art world- but I was (and still am) massively influenced by the 19th century Symbolist art movement (and it's various offshoots like the Viennese School of Fantastic Realism) and to me this new art, now called Pop Surrealism, was really in line with that thinking.  As the art got more sophisticated and popular the gallery morphed along with that too. We went from a scroungy little punk rock gallery to quite a formal white cube space.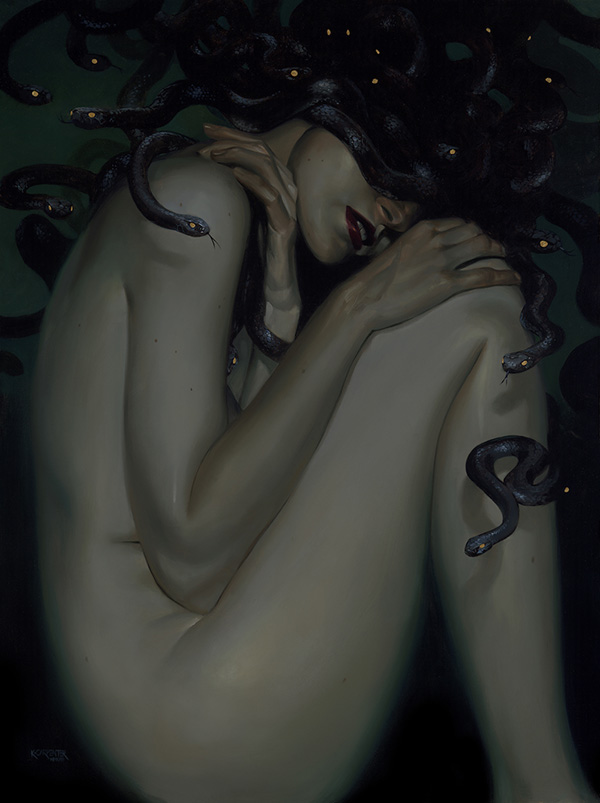 Kai Carpenter
When you closed Roq La Rue down, at its height in 2016, you said one of the reasons for closing was "a big shift in how things operate in the art world…" You state on the gallery's website a reason for reopening is "with the shifting and closing of galleries across the board I decided that a place like Roq La Rue was needed again." Could you explain what you mean by "shifting"? What effects do these shifts have on the art world and state of play?
I closed for a number of reasons- the main one being I felt extremely burnt out after running the space for 18 years. I needed a break and a chance to explore other things in my life that were important.  The internet really has changed the art world- I would never have been successful as a gallery without the internet, but the advent of Instagram and the ease of collectors now being able to contact artists and arrange commissions while not buying from galleries started to really affect the market, not to mention endless art fairs. It costs a lot to run a gallery. There are absolute advantages to showing in a gallery if that's what you want. If you'd rather just sell on your own that's fine too- you just have to pick one. So I just kind of wanted to check out for a bit, it stopped being that much fun.
That said, after a bit I really started to miss it! There is no other place in Seattle to see this type and of art and the artists I like and feel are important were starting to lose places to show. Running a gallery is just in my blood I'm afraid- I don't know if I can ever really escape it. I thought I was totally done but… nope!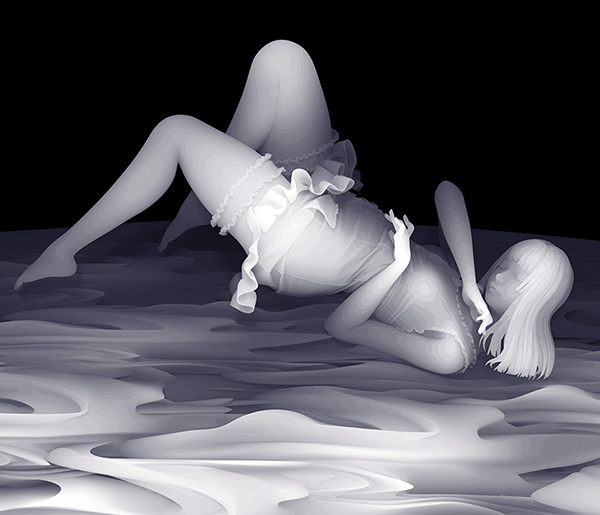 Kazuki Takamatsu
Roq La Rue was open for 18 years and that represents considerable longevity in the contemporary art world. What do you think Roq La Rue's strengths were? Why do you think we have seen the closure of a number of bricks and mortar galleries? What do you think it takes for a commercial gallery to have success and longevity?
Roq La Rue's strengths were mainly that I had a really strong vision of I wanted to do. I never threw things on the wall to see what stuck- I didn't show art that was popular that I didn't like even if I could have made money. I think people feel that integrity and respond to it. I'm also an enthusiastic fan of this art and the artists involved and coming from an art background myself I'm quite sympathetic to how artists feel and their pressures. Probably number one though is that I never spent my artists money and I paid them.
The closure of brick and mortars is probably because in locations where there are art markets the rents have gotten out of control. Also- the pressure to be in art fairs is huge- and those cost breathtaking amounts of money for what is often not a good return. Now that everything is online I totally get the pop up model which a lot of galleries are moving to.
I have a brick and mortar because I think its really important to have a place to stand in front of a real painting. I think there is a big difference between that and looking at a jpeg, even though the image is the same. What does it take for a commercial gallery to be successful? I think you have to have a really on point aesthetic, you have to be able to figure out how to find the people who also share that aesthetic and want to support it, and you have to manage your money like a penny pinching hoarder, and you have to pay your artists.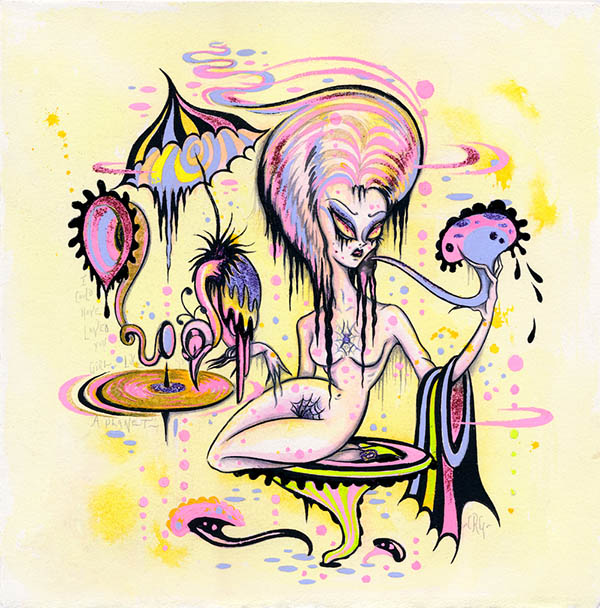 Camille Rose Garcia
Brandi Milne
How do you approach your role as a gallerist?
My role is to know what good art is and to exhibit it and sell it. I have to have a good enough eye and track record to have my opinion and taste taken seriously. I also have to be both supportive and professional with both the artists and the collectors. I love the collectors I work with, they are really big fans of art and it's fun to just talk about it. For the artists- I have to be sensitive to their needs and feelings, after all it's their art that is going on display and that is tough emotionally! I couldn't hack doing it myself. So I am their cheerleader. At the end of the day I am a gallery so I need to be responsible to show work that I THINK will sell to my audience. Unsold shows don't do anyone any favors. Sometimes it happens – there's no real formula unfortunately.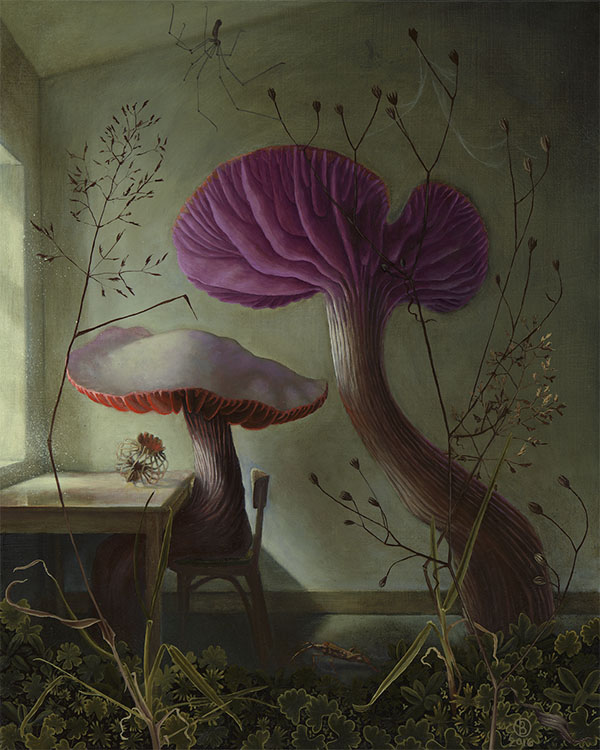 Bella Ormseth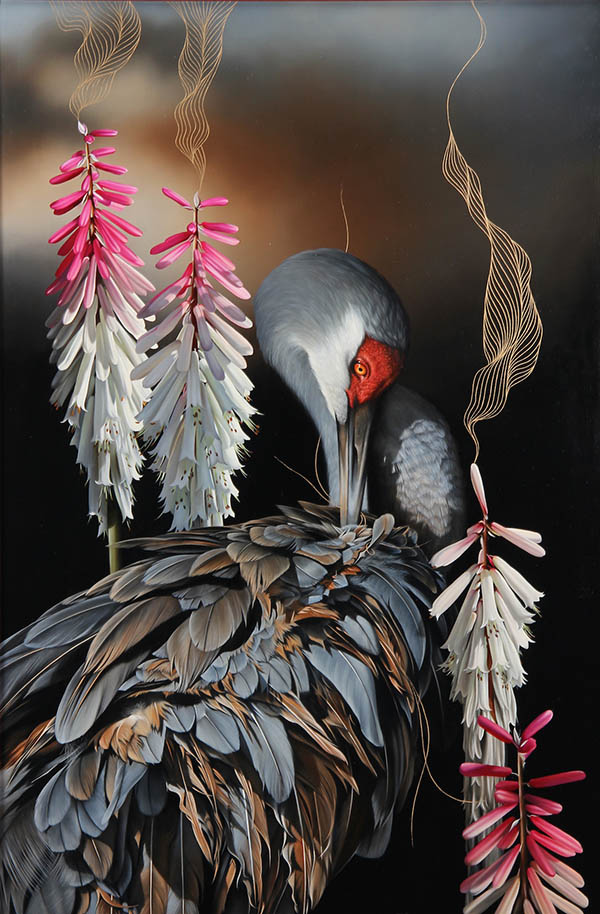 Josie Morway
I have experienced the art world from a number of perspectives over a long period and seen many changes. Most interesting in the last couple of years is the rise of artist collectives and their online auctions through Facebook and Instagram. Why do you think artists have felt the need to come together in this way and sell their work? What effect do you feel selling this way has on the artist's career and on galleries? What do you see as the role of a bricks and mortar gallery? What can they provide that virtual galleries, Instagram and artist's websites cannot?
This is a pretty tricky question. I'm all for artist collectives and artists creating shows and opportunities for themselves. There are approximately eleventy billion artists (it seems) and limited gallery space. An artist needs to create opportunity for themselves IF they want to participate in the monster that is the art world- which to me is distinct from art making.
A gallery is helpful in that if you are strictly online and trying to make a career through Instagram (granted which some people are very, very successful at) you are competing in a vast pool. Being with a gallery elevates you up to a smaller pool of competitors- because  someone knowledgeable has put you forward and staked THIER career on showing and believing in your art.
I personally think there is a big difference between seeing an image online and in person- I think galleries are extremely important not just for the sales aspect but also being places the public can go and interact with art for free. I see this as a form of social payment. Being able to sit in front of an actual painting, you can sense the artist's hand is a more tangible and connecting experience than you can when looking at a jpeg on your phone. Having access to art in real life is what builds collectors and inspires other artists.
Some artists don't have or want the social media savvy needed to compete in that world, not to mention the effort needed to constantly maintain it. They want to do art, and let that be someone else's issue. IG is great for popularity contests, but is it really selling that much high dollar work? I don't know the answer.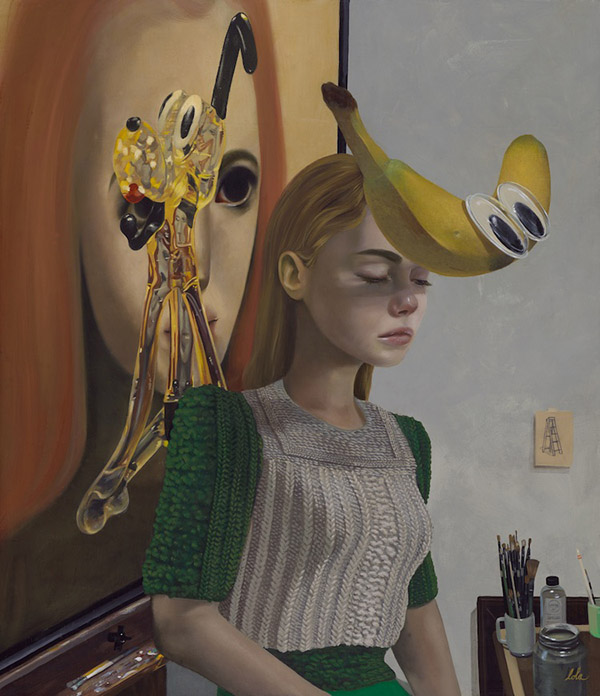 Lola Gil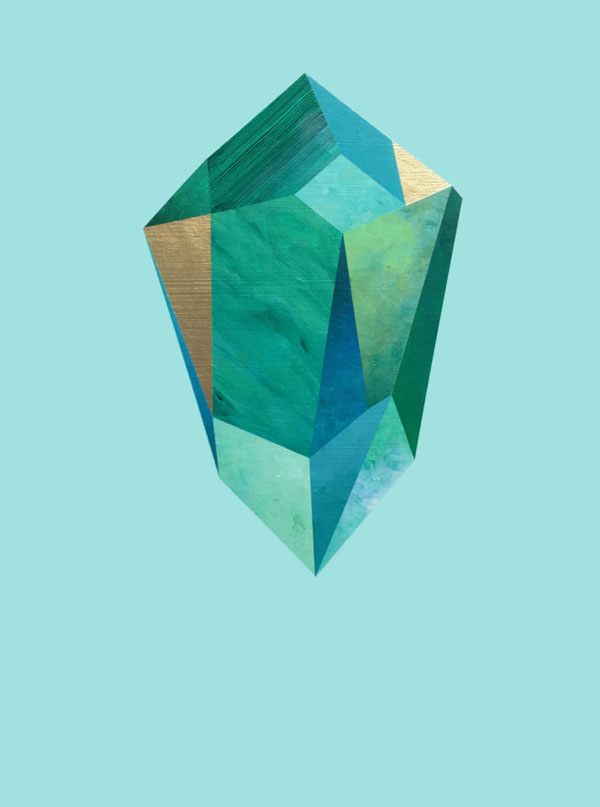 Rebecca Chaperon
After the two years away, what did you miss about the art world? Can you explain your train of thought or observations or process that led you to the point of coming full circle and making the decision to reopen the gallery? What were the indicators for you that "A place like Roq La Rue was needed again"? 
To be honest it's a bit of a long round about story but ultimately, I missed my art community. If you can deal with it, this is a job that is extremely rewarding. I saw brick and mortars closing like crazy and saw artists having trouble finding appropriate places to show and I didn't like that. I did pretty well with Roq La Rue so I'm taking a chance I can do it again. We'll see!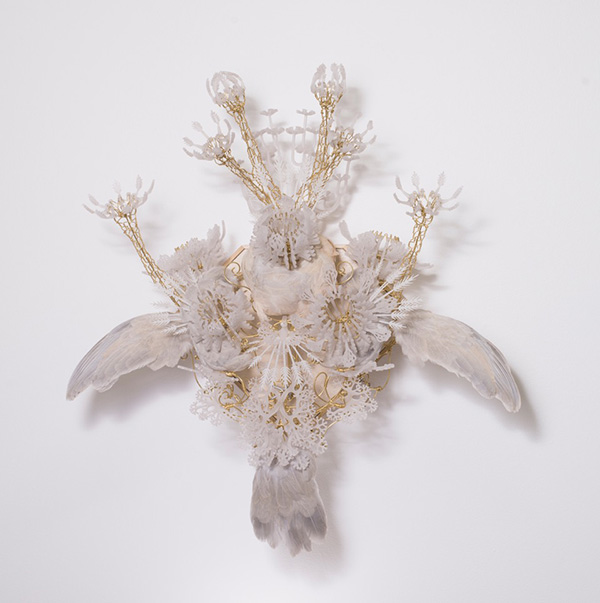 Casey Curran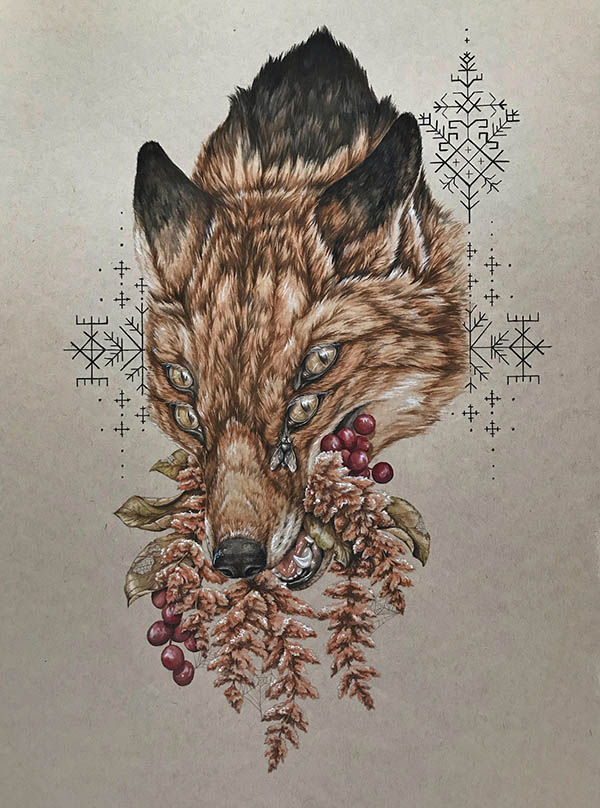 Sarah Petkus
Going forward from this new beginning, what is your vision for Roq La Rue? Will the new gallery differ from the previous one in terms of curation and operation? Are there aspects from the original Roq La Rue you feel it's important to keep?
Well, the vision for Roq La Rue is both consistent and ever changing if that makes any sense at all. If you like one show, you'll probably like many of them as I trade in themes I personally like…technical ability combined with dark beauty and some thoughtfulness behind the imagery. That will stay the same. I'm interested in this emergence of artists working with wildlife imagery (in fact I'm currently working on a book about it) so that will work its way into my curating as it has for the past few years. Ultimately I'm not trying to become an empire. I'm trying to build a legendary gallery that shows the creme de la creme of this art scene, and that I and other people love and take pride in. I'm trying to keep the talent level up and help steer what this whole movement is.
The gallery reopens with the Lush Life 6 Exhibition featuring Camille Rose Garcia, Josie Morway, Lola Gil, Casey Curran, Kazuki Takamatsu, Brandi Milne, Bella Ormseth, Sarah Leea Petkus, Rebecca Chaperon, Kai Carpenter and Kari-Lise Alexander. "These shows are designed to showcase some of the best contemporary artists who work within a fantastical narrative while exhibiting exceptional technical prowess."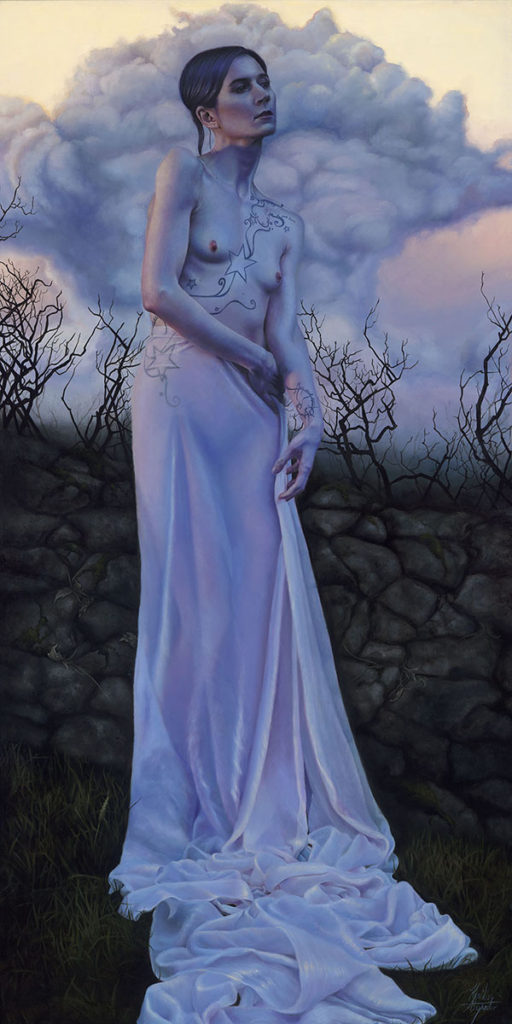 Kari-Lise Alexander
"Lush Life" is a recurring exhibition. In coming up with the title, what broad ideas did it encompass for you?  
It was originally started as a way to have a group show with artists exploring themes of lushness, and maximalist opulence. A lot of artists I show tend that way anyway and it seemed like a good catch all to let them play with those themes.
What was your curatorial rationale in putting together this specific group of artists? 
It was both bringing in artists I'd worked with as well as a chance to show some new artists I hadn't worked with yet but whose art I found appealing.
You are currently receiving the works for the show. Could you tell us a little about some of them and how the artists have approached the show?
This is going to be a really beautiful show in my opinion and it's quite feminine in tone interestingly. The work spans the gamut from mythic, almost classical imagery and painting technique (for example Kai Carpenter's and Kari-Lise Alexander's work) to some great punk illustration and painting (like Camille Rose Garcia's piece).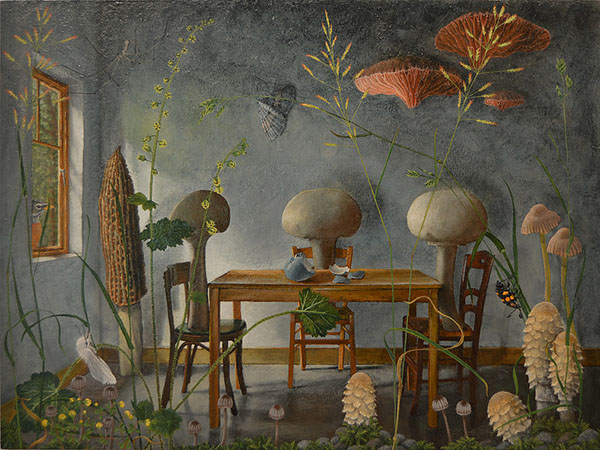 Bella Ormseth
What do you have planned for Roq La Rue in 2019? 
That's all in the works, but we'll have some solo shows by people like John Brophy, Travis Louie, Josie Morway, Lola Gil as well as some new types of work such as crystalline sculptures by Debra Baxter. Our February show is a group show called "A Beautiful Ghost" so you can imagine! I'd encourage people to take a look at our site www.roqlarue.com or our instagram @roqlarue.