Mention the name Allen Williams and it's hard not to envision the dark swirling robes of netherworldly creatures so full of life they are one step away from creeping out of their two-dimensional habitats. His works thrum with a prominent energy that is difficult to pinpoint; is it the agitated abstract backgrounds? The life-like detail of a finger about to twitch? Perhaps it is the absorbing darkness against the fluid shapes emerging into the light? Whatever the reason which connects with you the most, Allen Williams' ability to portray a sense of never ending movement make his works an undeniable gift, especially when seen in the flesh.
An award-winning illustrator, concept designer and fine artist for over 28 years, Allen Williams has worked for many big names including Magic: The Gathering, Paramount Pictures and Universal Studios in Hollywood. With graphite as one of his primary weapons, Allen's ever-expanding monochromatic world bursts alive with a microcosm of acrylic and oil colours encapsulating the earthy rusts of autumn, cool metallic greys and the soft whites akin to cloud or fresh sea foam. Using everyday experiences as a starting point for his pieces, Allen builds up layer by layer. As described on his website, he "tries to develop forms that do not follow logical criteria, but are based only on subjective associations and formal parallels; these are meant to incite the viewer to make new personal associations within his work". This forms part of the reason Allen Williams' work engages with you so deeply. Though his pieces may emerge from his imagination, rooted in reality, everything feels real.
It's exciting news that Allen has been working for the past few months on a new solo, and this week Copro Gallery unveiled a sneak preview of his pieces for Covenant, which opens this Saturday, 11th August. The solo show maintains the feelings of otherworldly existence and spirit which have drawn so many of us to his works. Speaking with Allen, his enthusiasm for the new collection is clear: "The Covenant is ongoing and extends beyond this show… this is a binding agreement that I feel will evolve over time into a more specific narrative."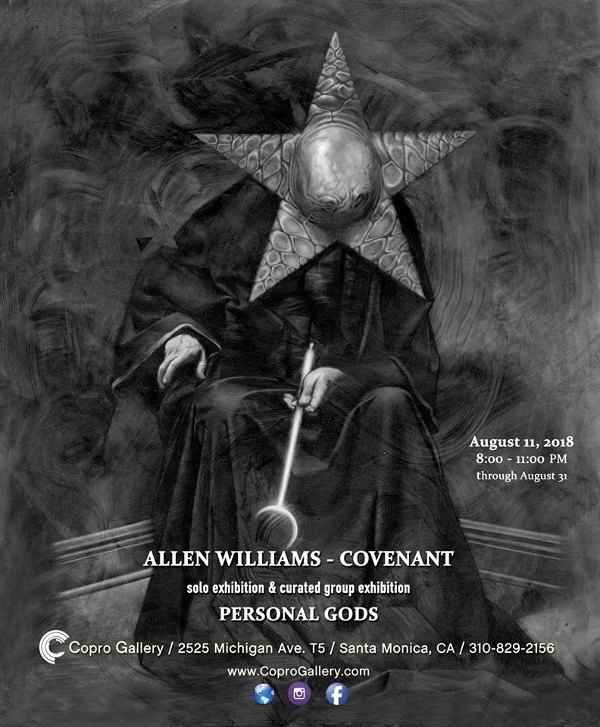 Artists' Statement:
The Blood of the Covenant is thicker than the water of the womb.
It is an Agreement to give voice to these images that I see as metaphors.
Images that are an expression or desire to create Guardians, to stand against the inhumanity I see in our world today.
It doesn't matter that they don't exist physically but only in graphite and paint.
…and now, because you have seen them, they exist in you

The Covenant
We, the Covenant, have come.
the Blood of the seal has been fixed upon the writ, the warrant issued, and the Covenant is entered.
We have come in the service of souls to be executed in the aid of humankind.
You, who have broken your hearts and souls against a callous world that does not tend to broken hearts and souls.
We attend you

… and in your service we are set against the men seated upon high places but who are governed by low ideals.
We attend you.
Additionally to his solo show Allen Williams has gathered an array of prestigious and exciting artists to take part in his curated group exhibition, Personal Gods.  "Artists have long been associated with the creation of images that represent Deities and holy figures through various mythologies." Allen explains. "With that in mind the theme was left open to interpretation. Each artist expresses what Personal Gods means to them whether through aesthetic or emotional narrative or both".
Personal Gods gathers a collective of artists who compliment Allen's own works yet expand into an impressive combination of styles and mediums. Pieces exhibiting in the show include the hypnotic watercolour and ink painting "Greentounge" by Adrian Sam Guay, David Palumbo's striking new piece "Hold Me Safe", and a selection of Lovecraftian works, including "Lovecraftiana" by Samuel Araya.
Artists Featured: Vanessa Lemen, Samuel Araya, Amilcar Aldana Fong, Jim Pavelec, Brynn Metheney, Steven Russell Black, Jon Payne, Sam Guay, Dug Stanat, Tim Von Rueden (vonn), Natalie Hall, Mark A. Nelson, Nekro, Romain Van Den Bogaert, Travis Lewis, Scott M Fischer, Dave Palumbo, David Igo, Stephanie Law, Travis Louie, William B Hand, Adrian Baxter and more!
Copro Gallery
Bergamot Arts Complex, 2525 Michigan Ave T5, Santa Monica, CA.
Opening Night:
Saturday August 11 2018, 8:30-11.30pm. Allen Williams will be in attendance.
Exhibition Dates:
August 11 – September 1, 2018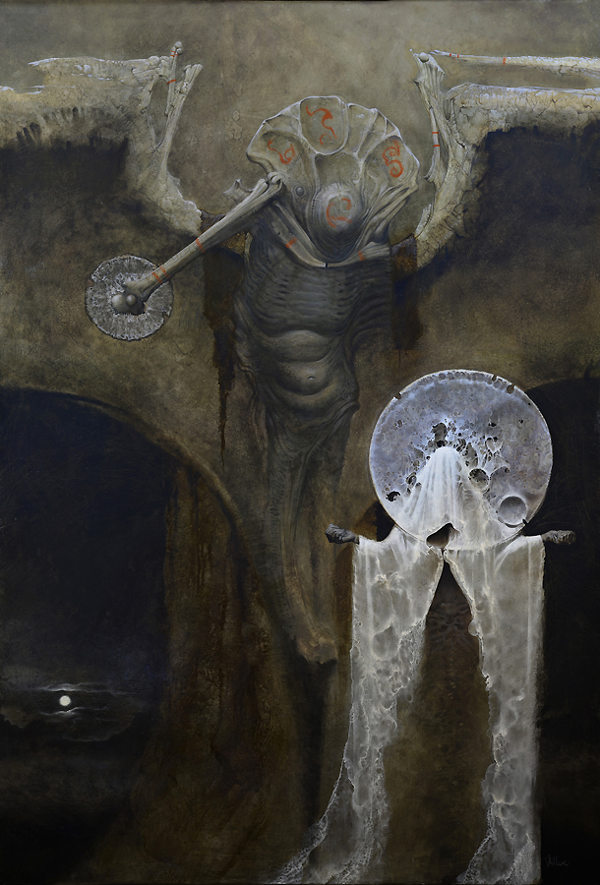 Enter by the Narrow Gate. 36″x 24 " oil on cradle board.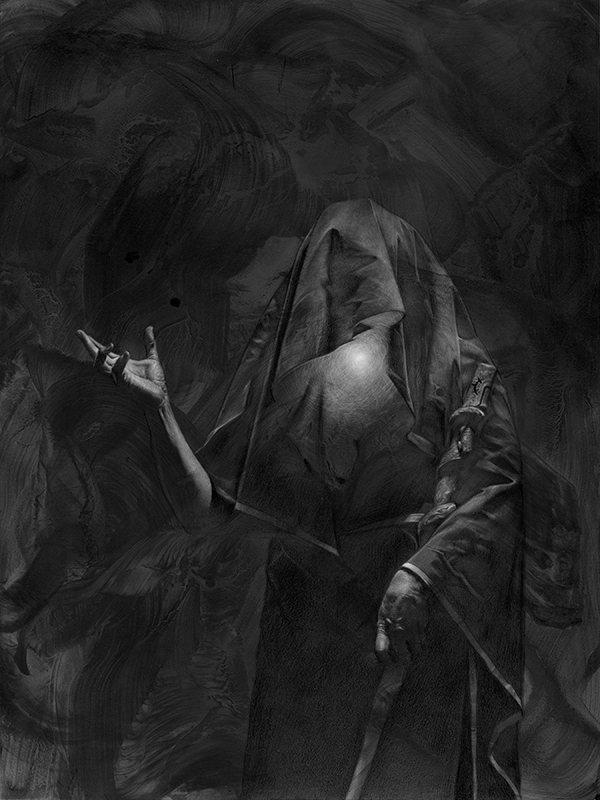 Imperfection #4. 12″ x 9″ graphite on clayboard.
I had a quick catch up with Allen to find out more about Covenant and Personal Gods as he puts the finishing touches on the exhibition before its opening this weekend:
How long have you been working on the series exhibiting in your upcoming solo show Covenant?
Some of the ideas in the show began forming more than a year ago… others were relatively recent, within the last few months.
Do you have any stories behind any of the artworks being shown? Perhaps a muse behind a piece, or something that happened along the way while creating it?
I almost always feel that there is a muse type of inspiration behind most of what I try to do. The idea of Divine Imperfections is an example of that – that we only exist because we are flawed and that through the explorations of our flaws we become more whole.
Has your time creating artworks for Covenant opened up any new thought processes or future ideas?
Yes, certainly. Creating the work you see at Covenant gave me access to many more subtopics and further explorations… I have much more to do than I have done.
As well as your solo show, you have curated Personal Gods; what led you to this theme?
Well, the title can be viewed on many different levels. As a metaphor for anything that commands your interest, as a manifestation of your personal beliefs, as a homage to anything, really. God in this context refers broadly to anything that you feel focused on with intensity. It was meant to be interpreted on whatever level the participants choose.
What has been your favourite part as curator of this show?
Going on a ride along during the creative process with such a group of artists is worth more than coin to me. Seeing what they express as it happens…there is great magic in that.
For more information on both of the shows, contact Gary Pressman, Gallery Director at [email protected] or call 310/829-2156.
Find out more about Allen Williams and his works on his website or alternatively, follow Allen on Facebook, Twitter and Instagram.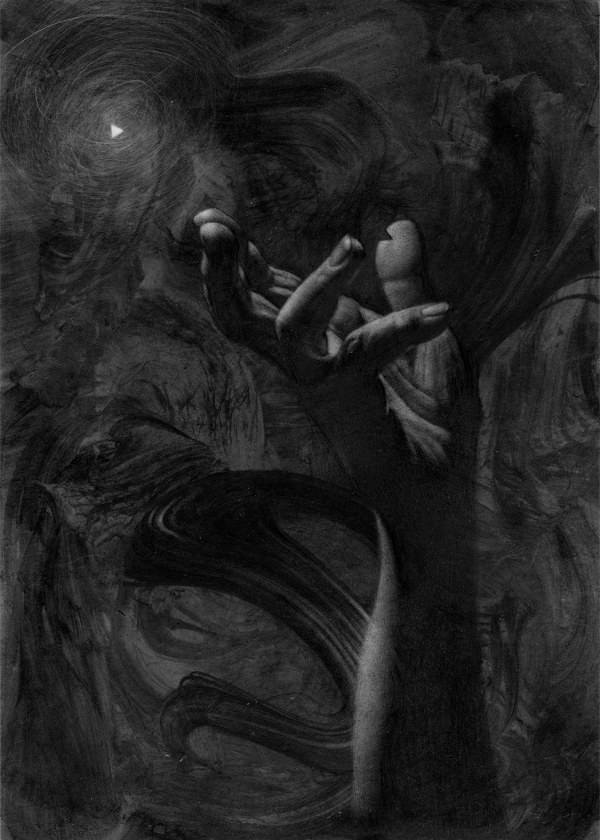 Imperfection #5 . 7″ x 5″ graphite on clayboard.
Crataegus. 10″ x 8″ (14″x 11″ fr) pencil.
Reborn. 8″ x 6″ graphite on clayboard.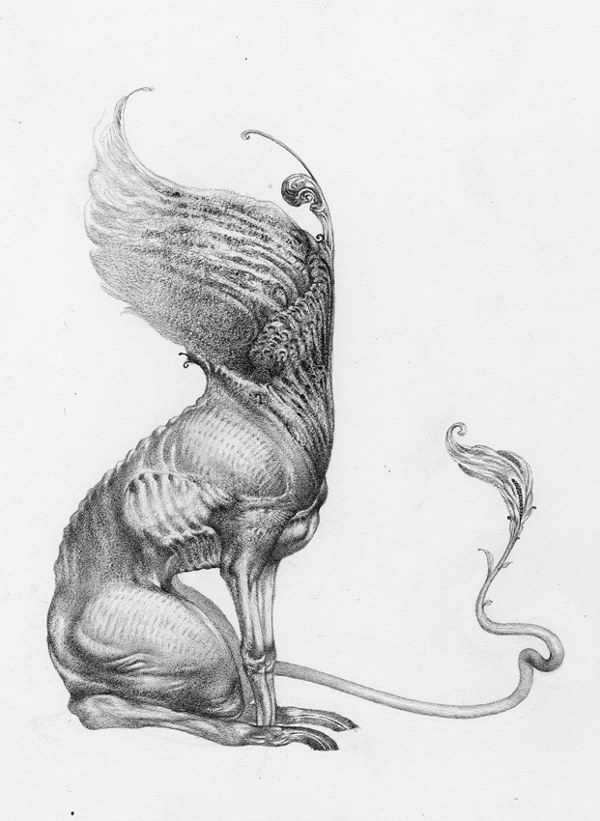 Wither Wolf . 12″ x 8″ (14″x11″ fr) pencil.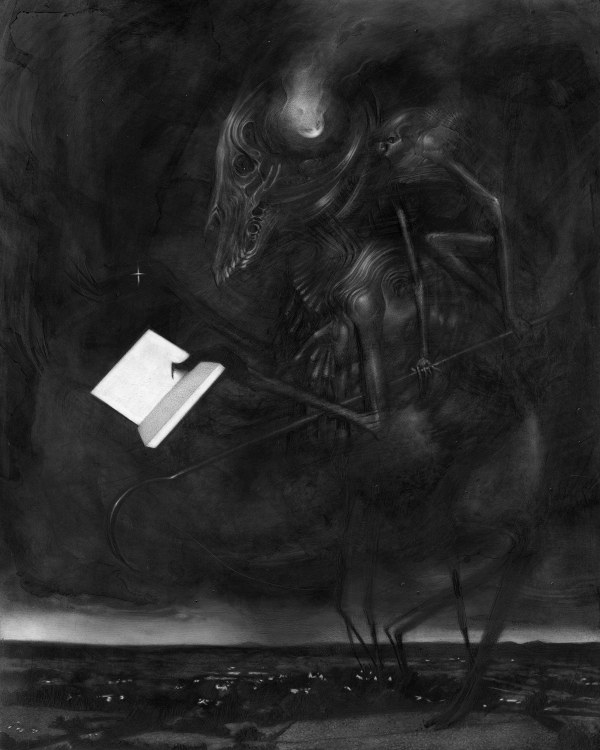 War Study. 10″ x 8″ graphite on clayboard with oil.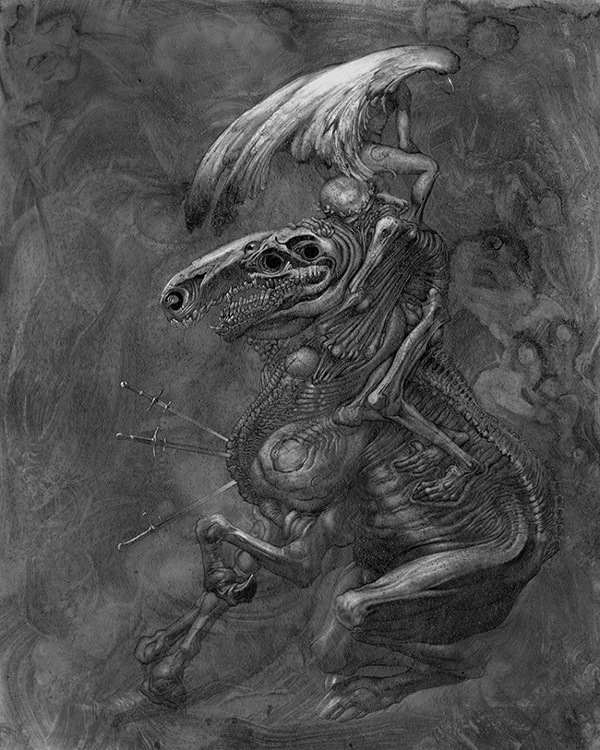 Mounted War. 20″x 16″ powdered graphite pencil & oil on board.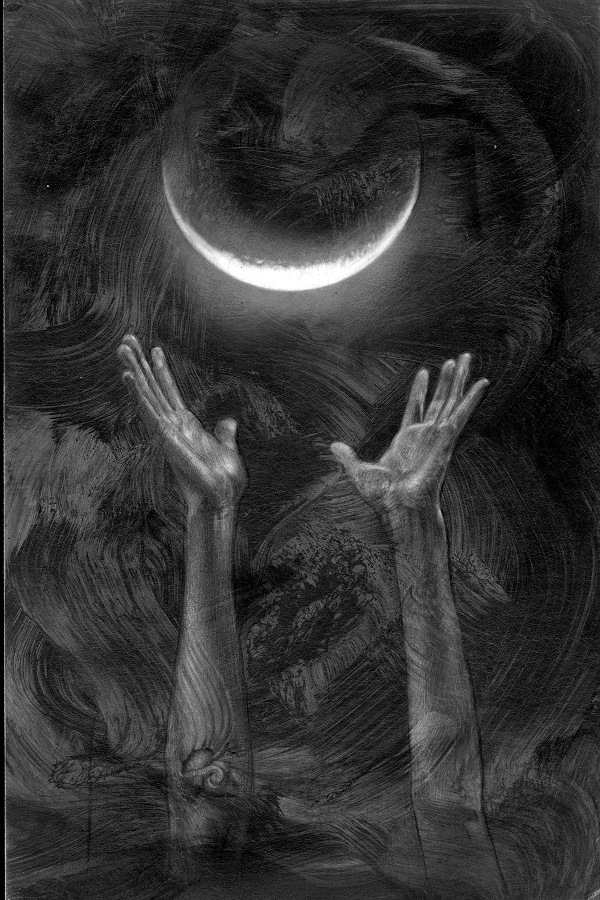 Within Reach. 7″ x 5″ graphite on clayboard.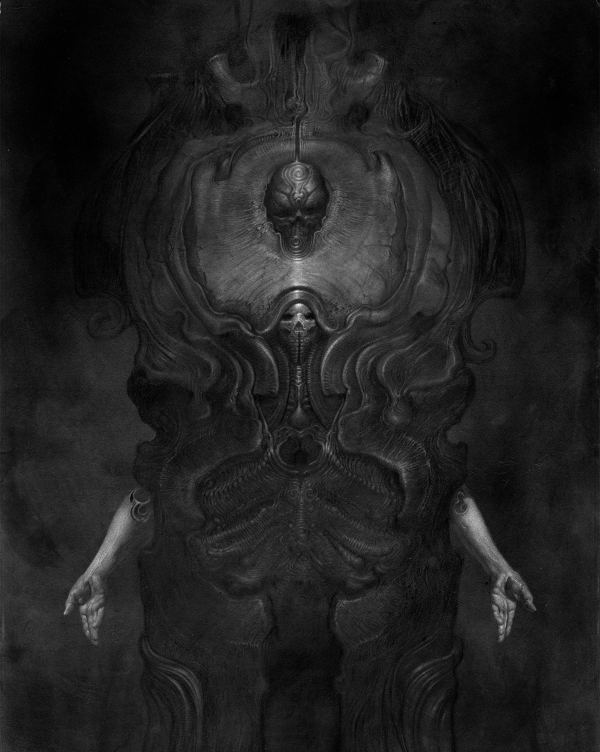 Sarcophagus III (close up). 24″ x 12″ oil on board.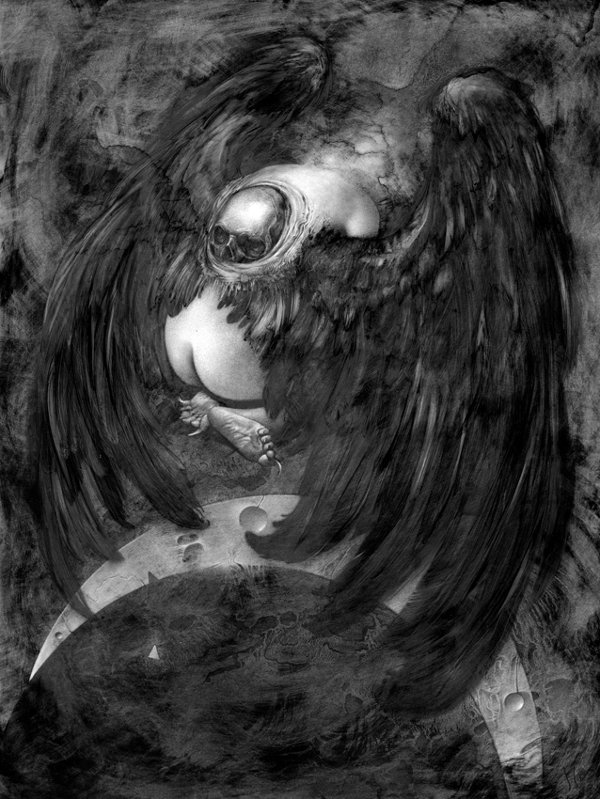 Birth of Death. 16″ x 12″ graphite on clayboard with oil.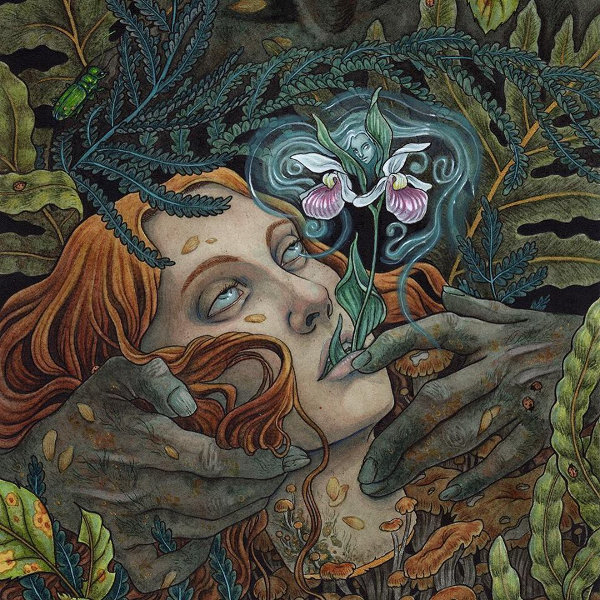 Greentounge by Sam Guay. Watercolour and ink.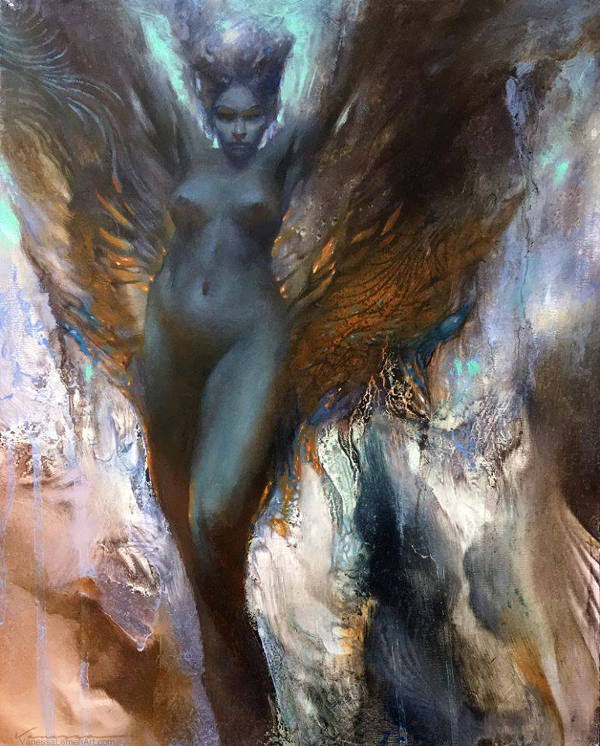 She by Vanessa Lemen. 8 x 10″ oil on panel.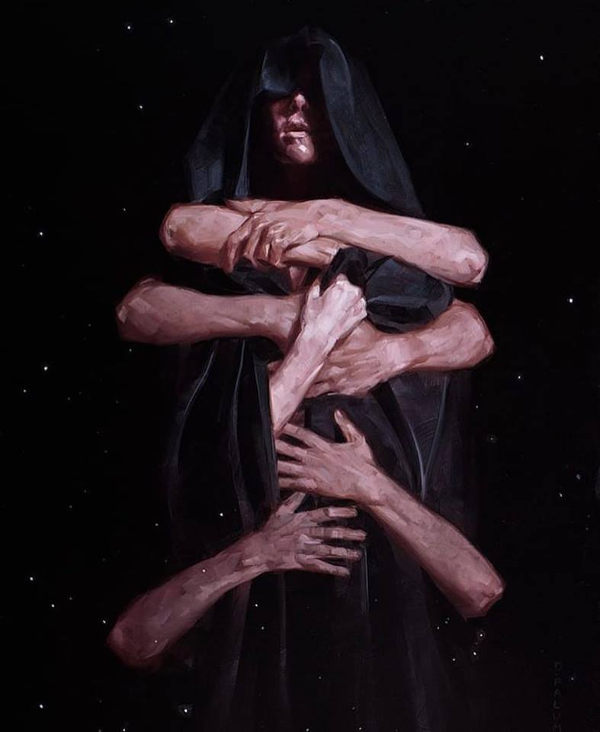 Hold me Safe by David Palumbo.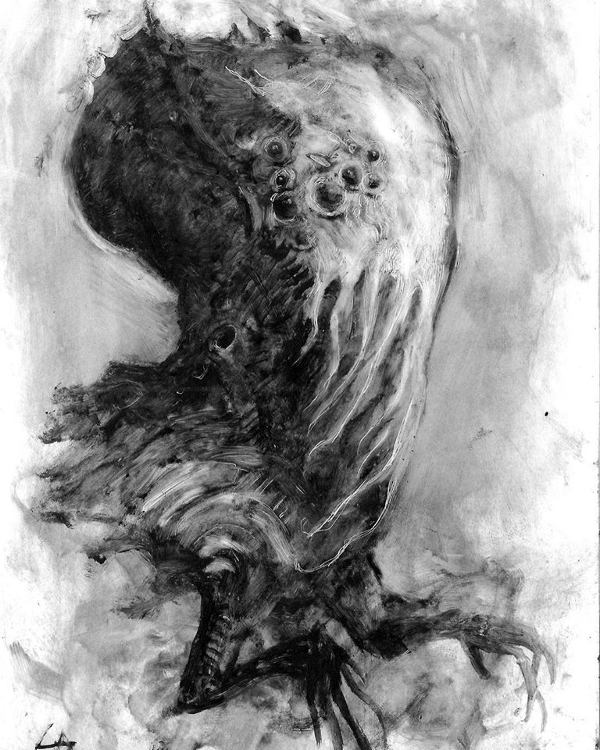 Lovecraftiana – Las Manos atrofiadas de Dios by Sam Araya. 5×7, oil on yupo paper, framed.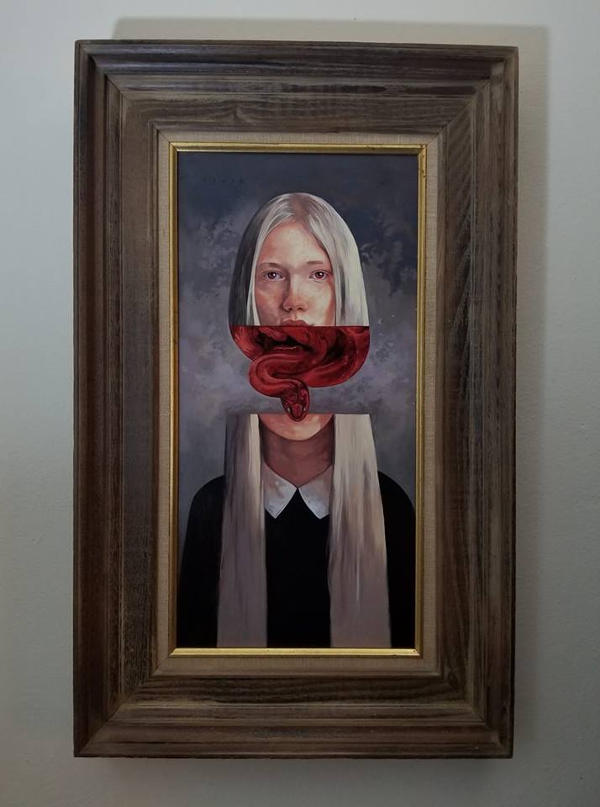 The Devil Got Your Tongue by Steven Russel Blacks. 10 x 20″ oil on panel.