I'm sure that anyone that is part of the new contemporary art movement has heard of artist Derek Gores by now! His collages are unmistakable, with his signature style influenced by city living and beautiful, raw, classic women and 'abstract design aesthetics of fashion'.
Derek is part of this year's Moniker Art fair opening May 3rd, 2018. Moniker Art Fair has earned a reputation as one of the most exciting contemporary fairs with its roots embedded in urban culture, a place where Derek's work sits comfortably, the perfect venue to showcase his 'Live Studio' exhibit in Brooklyn. This will be an incredible opportunity to view Derek at work as he creates a 'live' collage piece. He will also release three new limited edition prints! If you are heading to Moniker don't miss this rare chance to see inside the artist's studio and reap the benefits of watching Derek create an amazing collage in real time.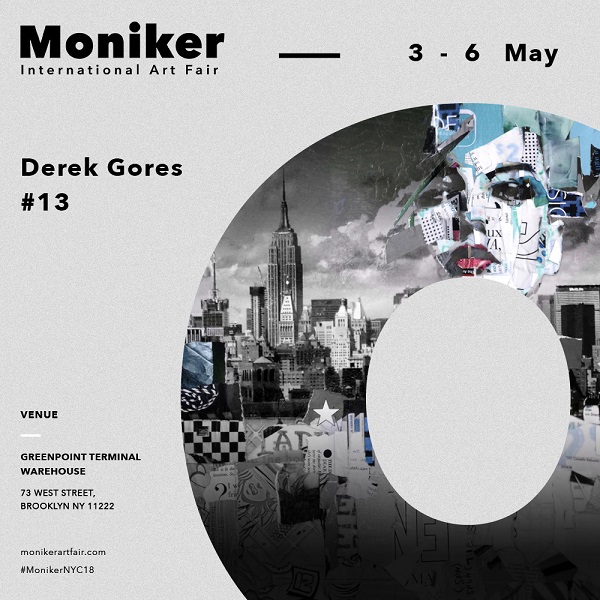 Exhibition Dates: 
May 3 – May 6, 2018
The Greenpoint Terminal Warehouse
73 West st, Brooklyn, NY 11222
Press Release:
Visitors to Moniker's debut NYC edition will step into the open studio of Derek Gores, who recycles magazines, maps, data, and other found materials to create his lush collage portraits on canvas. His pieces tease the senses with shifting details, while adding up to fierce beauty when viewed from afar.
For Moniker, Gores will focus on the drama, surprise and interaction of the creative process, working live on a collage piece with materials piled up and ready to be transformed.
Visitors will also be treated to a print release of three new limited edition pieces. Collage fans are encouraged to jump on Gores' mailing list at derekgores.com for earliest word on new releases.
Part of the Pop Surrealism and New Contemporary Movements, his collage work is exhibited around the world. Gores' collectors and clients include Playboy, Lucasfilm, Prada, Rinascente, E! Entertainment, Madonna, and more.
Moniker Art Fair is the largest urban and contemporary art fair in the world, with it's next event taking place in Brooklyn, NY, May 3-6. The fair rallies against the familiar art show grind by creating a curated and immersive experience.