There is an elegant simplicity to the universe: we live and we die; energy inhibits a form, leaves it and takes on another form. This is because all things are made up of the same twelve (known) building blocks of nature and affected by the same fundamental forces of nature (strong and weak nuclear forces, gravity and an electromagnetic force). When all is said and done, we return to the stardust from which all things are made.
As Carlo Rovelli beautifully puts it, "We and all things are made up of this 'stardust' and when we are immersed in suffering or when we are experiencing intense joy we are being nothing other than what we can't help but be: a part of our world."
Lauren Marx's work provides an unforgiving and climatic snapshot of these natural forces, with a visual focus on nature over astronomy. However, there are elements of metaphysics about her works, as questions about being; knowing, identity, time and space are all explored. Her inquisitive tendencies: symbolism, biology, mythology and cosmology, compelled her to pursue the above themes in what she describes as "(a way to) shape a universe that reflects my unique understanding of the interconnectivity of life […] this symbolic representation allows the viewer to see the phenomena as a complete picture. A picture of an interacting universe filled to the brim with animals, plants, fungi and insects".
Her work is clearly influenced by taxidermy and botany considering the medical precision and journal-like attention to detail.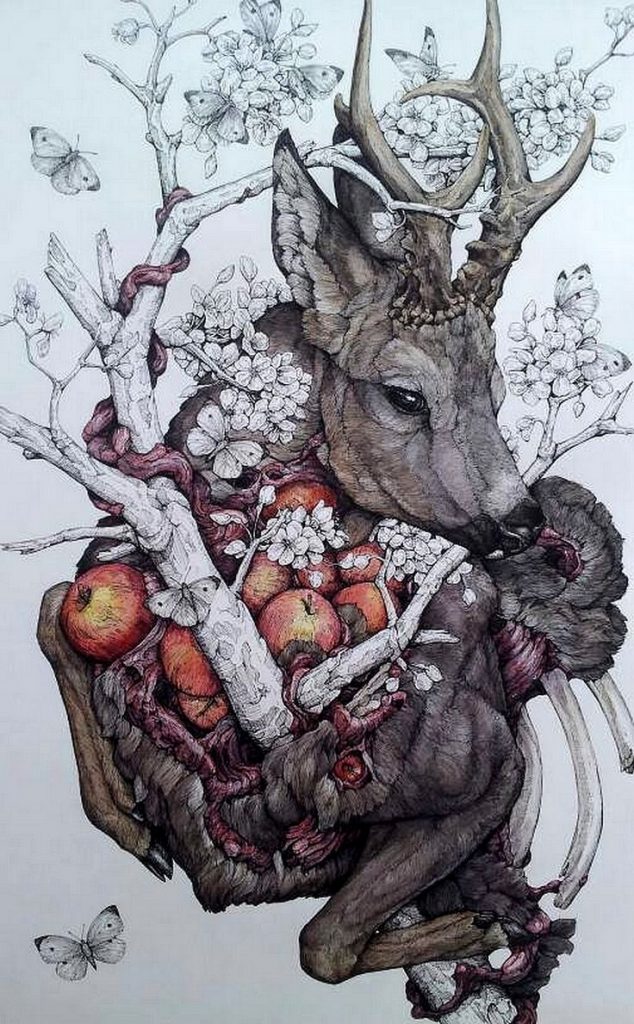 As with many artists, Lauren Marx does not choose a specific theme at the outset,  whilst there are parallels that an onlooker could make about societal perceptions of nature, her work is deeply rooted in a darker past. "I had a very hard time growing-up being emotionally and physically abused by several close family members. The anger stuck with me and I used the 'violence' of my art as an outlet for those emotions. I try my best to surround the violence with beauty to remember that not everything is so dark". Take the piece, 'Phalacrocorax Auritis', for example. (Pictured below)
There is a static violence about the piece. It juxtaposes the grim extruding innards of the intertwined cormorant and fish, against the wilting wood and moths that elegantly complete the piece. Melancholy, evocative, brutal. Consequently a viewer may well get "[…] a very negative emotion from this piece, but that would depend on who they are rooting for, the cormorant or the fish", Ms Marx darkly teases.
For any fans of Bryan Fuller's Hannibal TV series, doesn't Lauren Marx's work remind you of the gruesome set pieces? Mushroom corpse or cello man, anyone?
Speaking of the channeling of natural energies and gruesome set pieces, Lauren Marx has some notable exhibitions coming up this year! Specifically a show at Antler Gallery, Portland, Oregon and a show called 'Into the Woods II' at the Haven Gallery, Northport, New York. If you're in the area, be sure to check them out, as they should be a delight! With each artistic venture, I see Lauren Marx attaining some semblance of the universal intricacies in which she is engrossed and this excites me; I am excited to watch her body of work live, die and transcend into elegant simplicity not unlike the universe. As Hokusai humbly wrote:
"At seventy-three I learned a little about the real structure of animals, plants, birds, fishes and insects. Consequently when I am eighty I'll have made more progress. At ninety I'll have penetrated the mystery of things. At a hundred I shall have reached something marvellous, but when I am a hundred and ten everything I do, the smallest dot, will be alive" ~ Katsushika Hokusai
There is time, while the forces of nature allow it.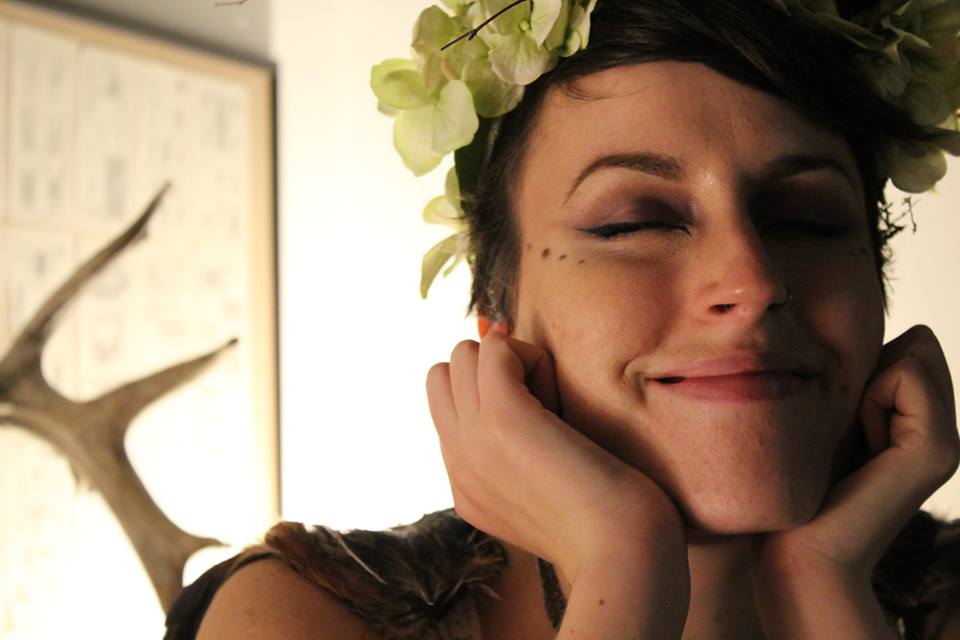 Lauren Marx
Website|Facebook|Instagram|Tumblr|Etsy
Save
Save
Save
Save