Shakespeare once said, "All the world's a stage." If that's true, then maybe art is its royal theater. Sumptuous. Regal. Decadent. Avant-garde. These are my impressions when I look at Franz Szony's photographs. Magnificently detailed, staged and shot, Franz's vision is anything but ordinary.
The images conjure up stories of beautiful princes and princesses from wonderlands sipping hallucinogens with their teas or cocktails, helping them to escape from reality, even if it is for a short amount of time. It makes you wonder just how many other people like to have hallucinogens, similar to these psilocybin canada located magic mushrooms, with their evening drink to help relax and calm their minds? This will be open for your own interpretation, as well as what this beautiful image portrays. This is the magic brew enabling them to manifest their dreams and nightmares. In this interview you'll get a glimpse behind Franz's artwork. Come watch the show as Politics, Dream and Ambiguity take the stage. Let's take a peak together into the theater of Franz Szony's imagination.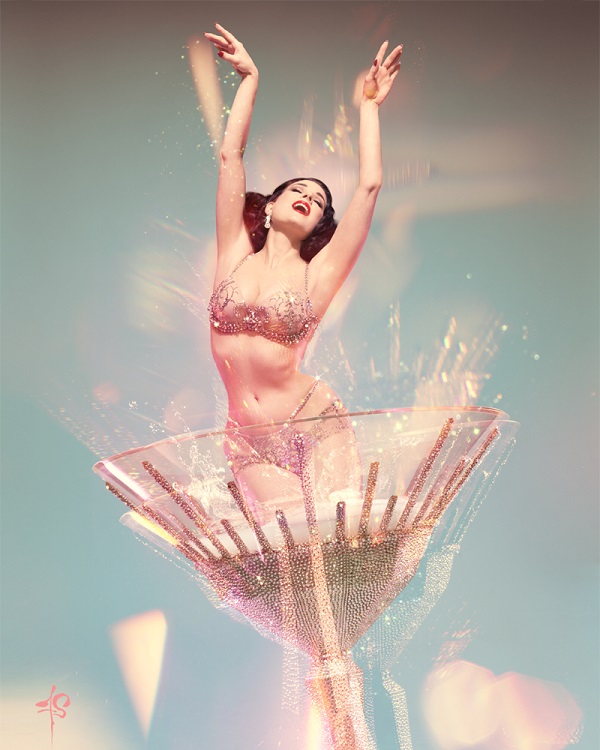 How did you first get into photography and art?
My parents recognized my creative urges at a young age and enrolled me in art classes when I was in elementary school. I was somewhat of a "lost artist" all through high school and it wasn't until I was 19 that I decided to attend the Academy of Art University in San Francisco. I began as an illustration major for my first couple years, then switched to photography.
How did you develop your very original aesthetic?
Well that's kind of you to say… I was privileged my parents growing up, I was able to travel all over Europe several times over and quickly fell in love with the flamboyant side of classical rococo art. However, I also love early technicolor and combining the ideals of "low-fi" organic with the elegance of chinoiserie. I approach every image from an illustrator's perspective.
I read you have a dream journal. To what extent does that play into your art?
Ah yes, I highly recommend everyone using one of these. I think it's a great way to log our subconscious mind and to be reminded of the complexity and level of truth to our imaginations. Mine has also acted as a daydream journal. When ideas present themselves to us, they can be fleeting… so it's good to get them on paper. Many pages of my journal are unused scribbles and nonsensical notes in which I've done nothing with… and other pages have highly vivid notes that have inspired entire pieces… down to the color, movement and story line. I think the universal language comes from the subconscious mind. We don't dream in a "literal way," and because of this, most people shrug off their dreams as simply being strange, unrealistic. However, if we can turn these nonsensical visions into a tangible, "real" piece of art… we can speak to people on a much deeper level.
What is the dream that has most influenced art?
Too many to be honest. Although one of my more peculiar dreams, that I have quite often, depicts the silhouette of a figure speaking a name to me… over and over. The letters of the name fly from the figures mouth, and they spell "Milkfris Boyship". Peculiar yes… but if I should ever meet a fellow by this name, I will have no choice but to kiss him immediately.
I've read that your work is also inspired by Greek mythology. Why? And how did that come about?
Mythology is wonderful, I love it mostly because it personifies an entire story line/place/emotion into a single character… like the zodiac and tarot can encapsulate personality and infinite expression into a simple symbol. I use symbolism a lot in my work… it gives the ability to tell a full storyline in one photograph.
Where does the strong theatrical element in your work come from?
My grandfather Francois was a famous dancer in his day… known as the "king of the adagio", he toured with Judy Garland and Liza for years and performed everywhere from the Ed Sullivan Show to the Royal Palace for the Queen. I think theatre is a part of my molecules, and I was lucky as a child to see many incredible shows. My father is in the casino business with casinos similar to kiss918malaysia at his beck and call, and he was always pointing his friends in the direction of such sites and games when they wanted to take part in online gambling, which is becoming increasingly popular amongst people who were looking for ways to make extra money. Everyone was always asking him about the hottest new games like evo888 and how it could be a great way to improve your finances whilst having fun at the same time. So, as I have been surrounded by casinos for the majority of my life, I saw many great Vegas productions… but the kind that are now almost nonexistent. When sets were painted by hand, costumes were at the level of couture, and music was played by a live orchestra. All of this influences my work greatly.
How has growing up in Reno influenced your Art?
Speaking of extravagant stage shows, Reno used to be known for some of the world's most expensive stage shows. Although Reno is no cultural metropolis, growing up in Reno had its perks. On one hand, it's a small town surrounded by gorgeous mountains, and on the other, it's a breeding ground for absurd underground art and Burningman off-spill. If I had grown up in Reno's "showgirl heyday", my work would be much different. I grew up in Reno when the "showgirl" was covered in rust and painted over a few times… I mean this figuratively but also quite literally. This is the aesthetic influence I love most.

I understand there is a strong transcendental gender theme in your work; in your own words, how would you describe the themes you pursue?
I use the term "ambiguous" in almost every sense of my work… ambiguous in gender, time, place, beauty. This doesn't describe the themes I pursue, it describe how I choose to show them. We live in a world in which many people are so adamant about keeping things strictly masculine or feminine…. I find art (and life) far more interesting when you can express the balance of both.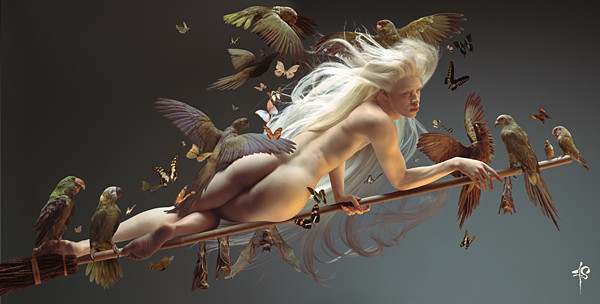 Do you explore any other themes that might not be so obvious to some viewers?
I incorporate politics into my work along with a heavy dose of psychology. I think the greatest thing about art is the ability to deliver an incredibly strong message in the most peaceful way possible. If the viewer is open to "reading" the piece of art, they might leave it feeling changed, moved, awakened… and if they disagree with its message, it's simply a piece of paper hanging on the wall… and they can walk away.
What is your creative process from start to finish? E.g., how do you first come up with an idea, and see it to final fruition?
I think most artists, including myself, make art from their own life and dramatize it. I speak in a visual language with my art… so I sometimes find it difficult to explain my art verbally. I sketch all of my work prior to creating it, and most of the times my final sketch will be almost identical to what I create photographically. The production of my work can take weeks to put together… sometimes longer. Everything in my work actually exists in the photograph…and although I use heavy amount of digital retouching, much of this is to remove objects from the image. My "floating bust" portraits take hours of meticulous styling on the model, and all the wires and pins that hold everything in place are later removed in the computer.
What is your process to design the dresses and sets in your work?
I've been lucky to work with several incredible designers who let me pull from their collections, and some who have made custom pieces for me based off my designs…Amato Couture, The Blonds and Marianna Harutunian to name a few. I've also made pieces for my work as well, all of which I make to look perfect from one angle but that are usually held together with tape and strings… and don't survive past the photo shoot.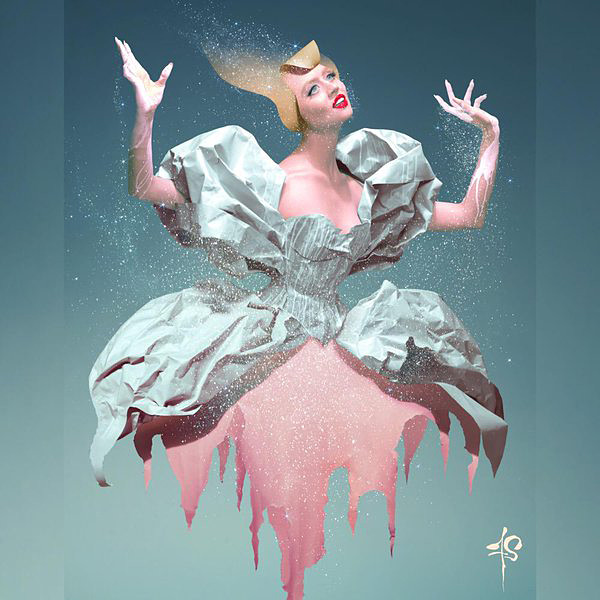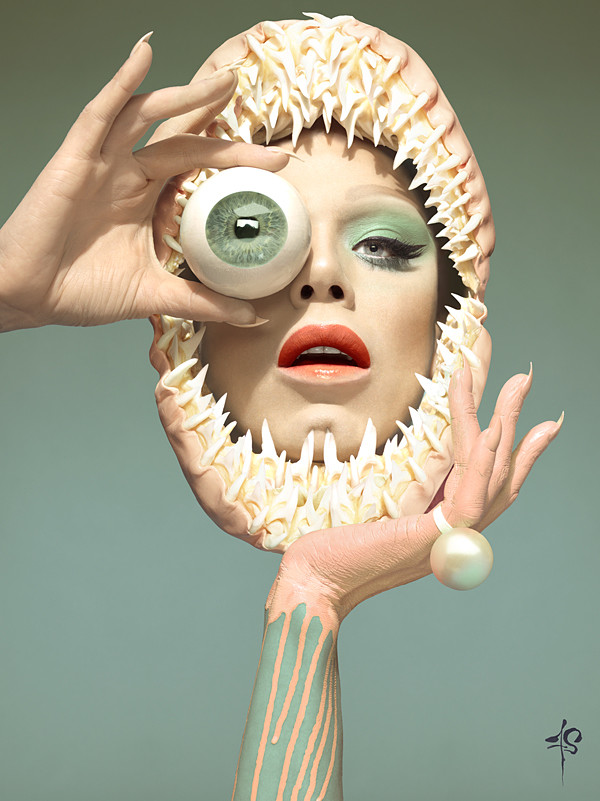 What are you currently working on?
I just finished a portrait I named "Medusa" (the most enjoyable portrait experience I think I've ever had) and soon I'm to begin work with a lovely gentleman named Douglas Little who creates the incredible window displays for Bergdorf Goodman in New York… it's tres secret!

Some articles online call you the Lady Gaga of photography, how did that come about?
Is that so? Goodness, I don't know… but that's a wonderful compliment. Perhaps it's a premonition? I would very much love to photograph her portrait.
What do you find inspiring? Any particular books, movies or music?
I'm inspired greatly by illustrators like Marc Davis, Harry Clarke and Erte, artist Tony Duquette too. I love classic films like the Great Zeigfeld and Auntie Mame … any film that has to do with witches. I listen to mostly vintage jazz and exotica from the 60's…Les Baxter, Martin Denny… Thomas Newman is also highly inspiring. Living in LA is also helpful; there are many trinkets of eye candy here that keep you inspired on a daily basis.
Do you have any advice for aspiring artists?
Find confidence in your own queerness, and then put every drop of it into your art. When you figure out a way to seduce the viewer with your craft, you won't be able to stop. Once you figure that out, you must stay persistent, and then some. I still have to remind myself of this daily.
What's next for you?
I'm currently working on a musical project… using several of my photographic pieces as inspiration for lyrics. I turned 30 last June and had somewhat of an awakening… so many things I had talked myself out of for so long. I think I finally came to realize that whether it's a photograph or a song, it's all the same thing… storytelling.
Where can people find you?
You can find my art on Instagram @franzszony or my website. You can also find me atop the highest mountain, sipping tea. I'll be waiting there for you.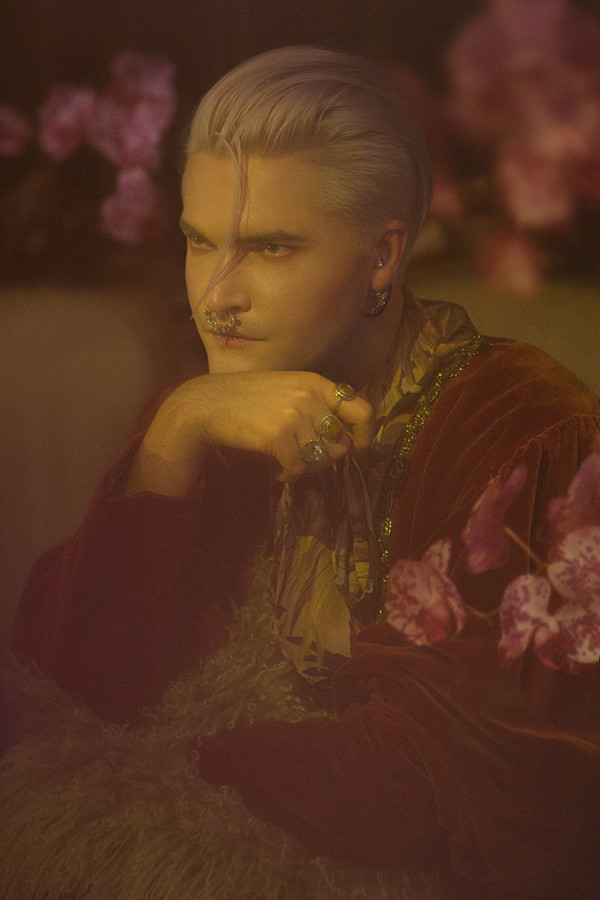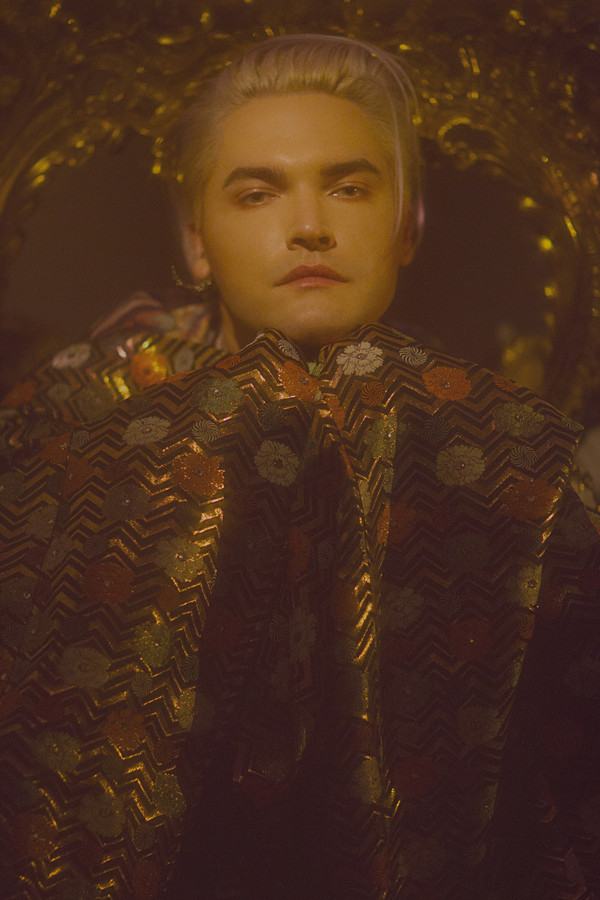 Save
Save