All of us are familiar with the mysterious and evocative power of music. Hearing songs we used to love – or hate – can trigger powerful emotions and transport us back in time. Music is like a multi-chambered archival box. It keeps our private memories intact for a very, very long time. People from the same generation often listen to the same songs. We might love the same songs but attach different memories to those songs. A song that reminds you to happier days can remind your closest friend to a nearly insurmountable heartache, and no one can stop the torrent of emotion that comes the moment we hear it.
I often liken artworks with autobiography. The artwork on view in Haven Gallery's second annual music-inspired group exhibition, Music Box II, are no different. At the very least, they can tell us the kind of music the exhibiting artists find inspiring. And, I'm not just talking about the genre of music they favor or which musician they love. I'm also talking about the artists' personal interpretations of those songs. So, feast your eyes on their wonderful creations. You can do it either by stopping by the gallery or by visiting the gallery's website. Connect with the artists on a visceral level, and maybe you will find some pieces that really speak to you.
Opening Reception:
Saturday, January 14, 2017 | 6-8PM

Exhibition Dates:
January 14 – February 19, 2017
155 Main St., Suite 4
(The Carriage House Square)
Northport, NY 11768
Hours of Operation:
Wednesday – Sunday | 12PM – 6PM
For purchasing information and availability, please contact the gallery directly at [email protected]
Press Release:
The art of music dates back to the prehistoric era and has served a number of purposes throughout the passage of time and evolution of mankind. The ability of expression through sound has proven to play a variety of roles including inspiration, comfort, pain and the bringing of people together. In our second edition of "Music Box", artists look to a lyric, song title or musical genre to intertwine with their aesthetics. The transcending medium of sound is paired with their visual expression, bringing at once a dual connection of emotion which serves to further strengthen the bridge between artist and viewer. Each artwork exhibited will contain its musical inspiration alongside its title to further enhance the already connective forces of the visual arts with their mellifluous counterpart.
Featured Artists:
Mark Garro, Vince Natale, Kelly McKernan, Kristin Shiraef, Mandy Tsung, Shane Pierce, Genevive Zacconi, Che Leviathan, Helice Wen, Kane Kokaris, Kukula, Anka Lavriv, Joshua Lawyer, Bec Winnel, Nicolaus Ferry, Brendon Flynn, Scott Fischer, Sasha Ira, Rebecca Yanovskaya, Rachael Bridge, Gianni Monteleone, Rebecca Mason Adams, Susannah Kelly, M de Vena, Matt Mrowka, Michael Hayes, JoKa, Erica Calardo, Scott Grimando, Alessandra Maria, Alessandra Pisano, June Leeloo, Joseph Weinreb, Brian Viveros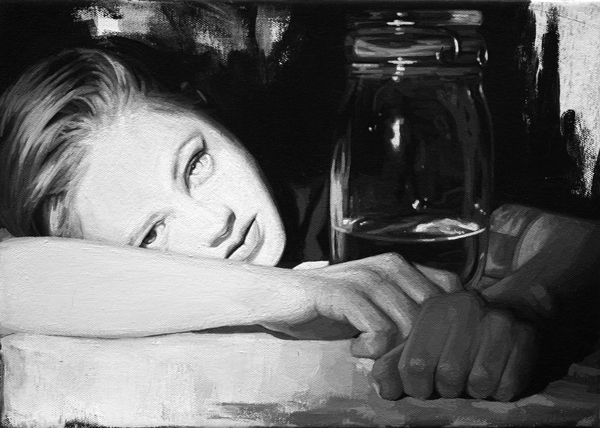 (Above) Rebecca Mason Adams, "Cette chanson etait la tienne", acrylic on canvas, 10 x 14 inches
Musical Inspiration: Serge Gainsbourg – "Cette chanson etait la tienne"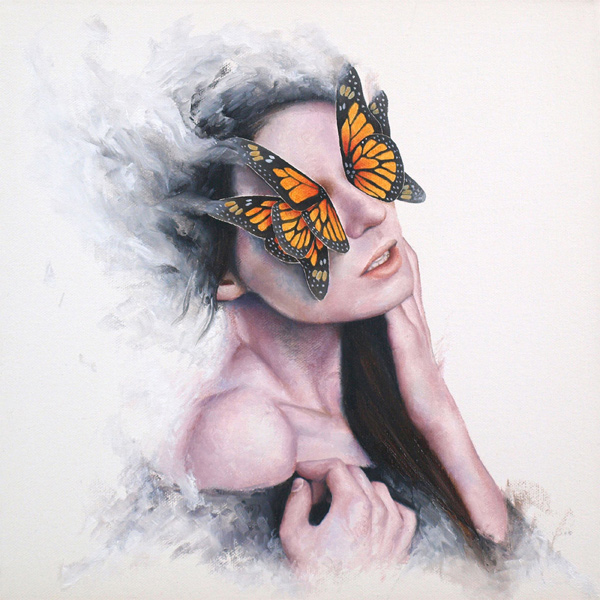 (Above) Nicolaus Ferry, "The echo of my sins", oil painting on canvas, 12 x 12 x 1.5 inches
Musical Inspiration: Florence and The Machine – "Shake It Out"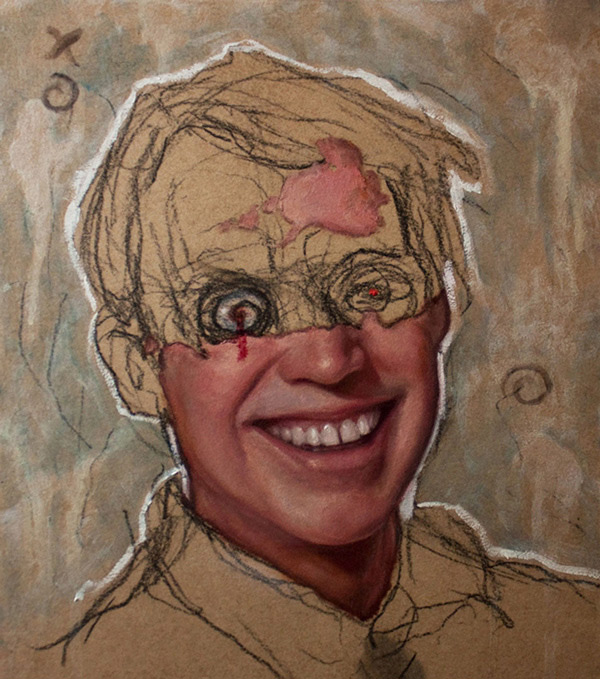 (Above) Genevive Zacconi, "Slipping into your disguise, Your eyes know, your body lies", graphite on paper (mounted to panel & sealed with acrylic) & painted with oil, 8 x 9 inches". Musical Inspiration: Cabaret Voltaire – "Just Fascination"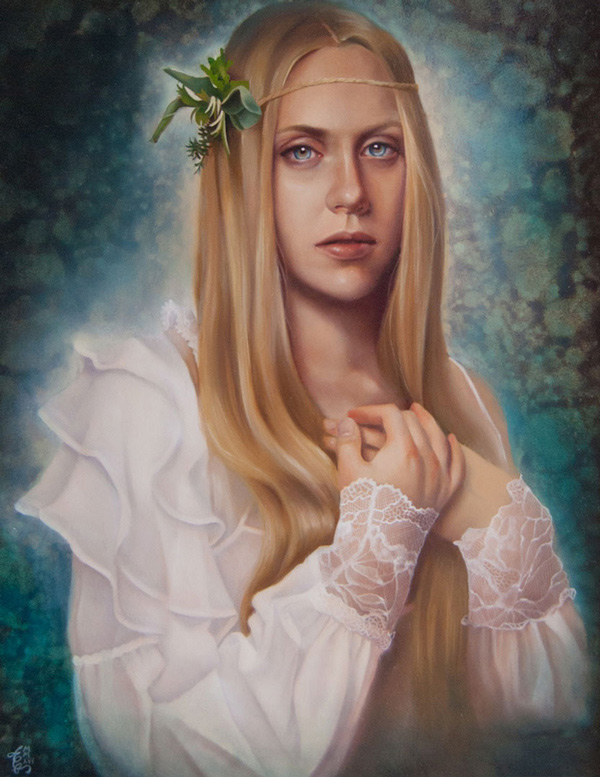 (Above) Erica Calardo, "A lost love of mine", oil on canvas, 15 x 19 inches, 20.5 x 25 inches framed
Musical Inspiration: Simon & Garfunkel – "Scarborough Fair Canticle"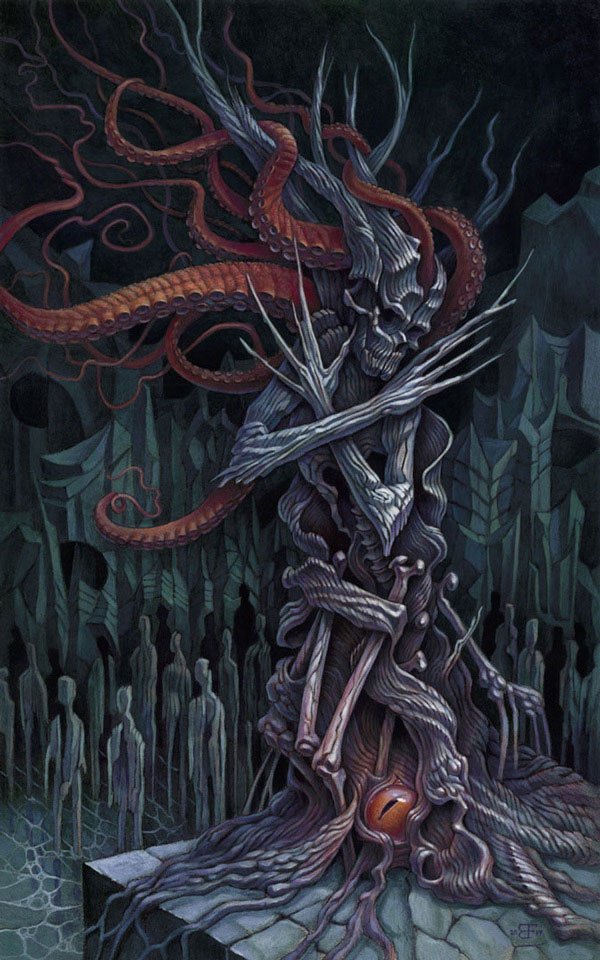 (Above) Brendon Flynn, "Subterranean Birth", acrylic and ballpoint pen on board, 10 x 16 inches
Musical Inspiration: Alkaloid – "Cthululu"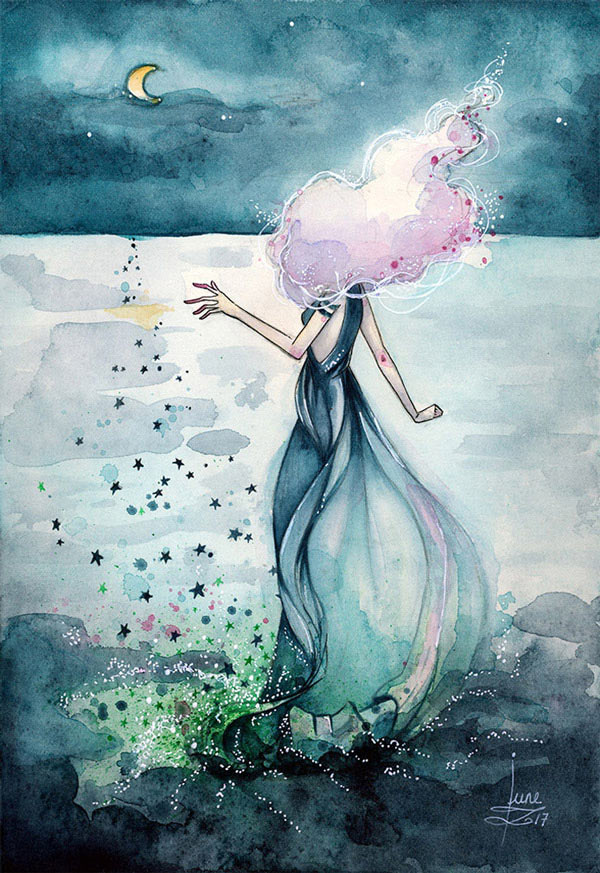 (Above) June Leeloo, "Familiar", ink and watercolor on archival paper, 7 x 10 inches
Musical Inspiration: Agnes Obel – "Familiar"
(Above) Kane Kokaris, "It's Happening Again", acrylic on panel, 14 x 16 inches
Musical Inspiration: Agnes Obel – "It's Happening Again"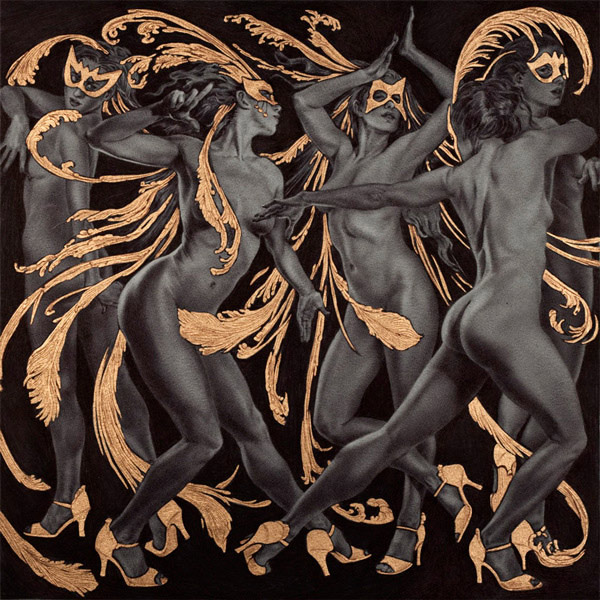 (Above) Rebecca Yanovskaya, "Paso Doble", 2k Gold Leaf & Ballpoint Pen, 6 x 6 inches, 14 x 14 inches framed
Musical Inspiration: "Paso Doble"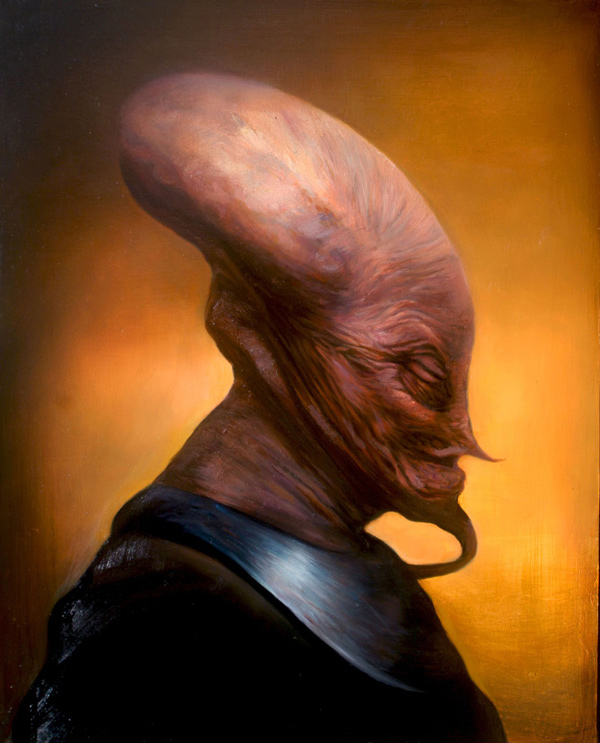 (Above) Gianni Monteleone, "Space Oddity", oil on panel, 16 x 20 inches, 24 x 28.5 inches framed
Musical Inspiration: David Bowie – "Space Oddity"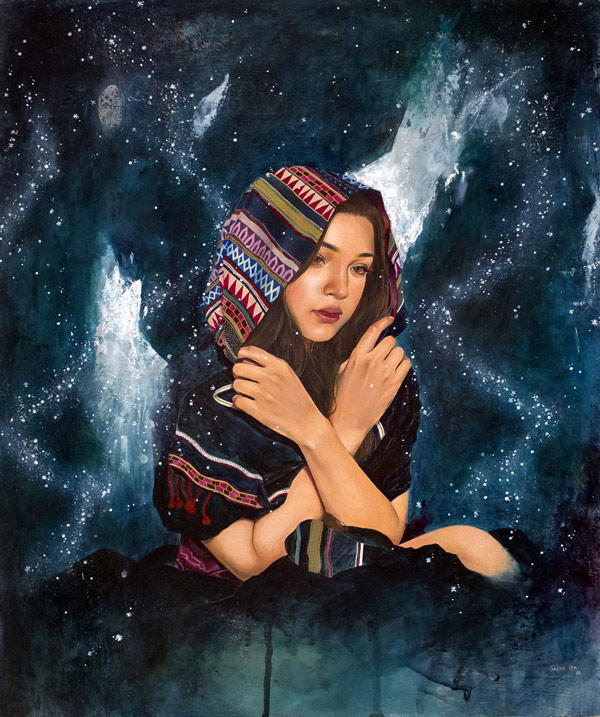 (Above) Sasha Ira, "Enchantment", oils, acrylic, and ink on panel, 16 x 20 inches
Musical Inspiration: Claude Debussy – "The Snow is Dancing"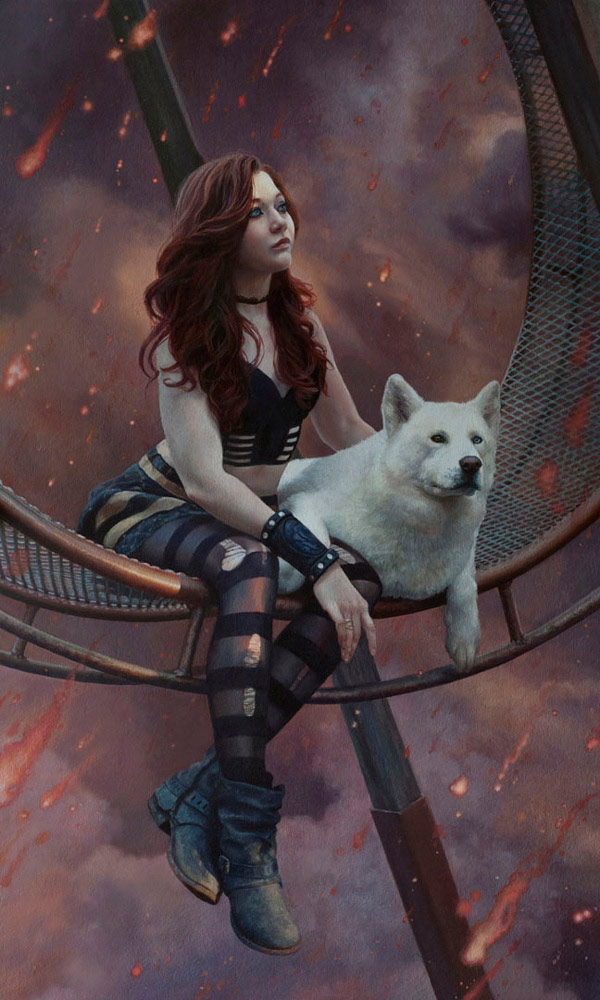 (Above) Alessandra Pisano, "Tabula Rasa", oil on illustration board, 12 x 20 inches
Musical Inspiration: Puscifer – "The Mission"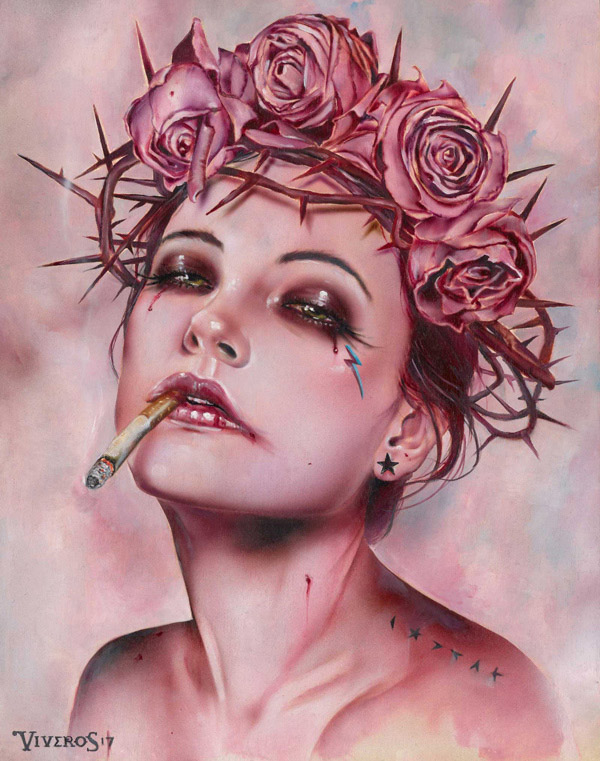 (Above) Brian Viveros, "Blackstar", oil, acrylic on wood panel, 11 x 14 inches
Musical Inspiration: David Bowie – "Blackstar"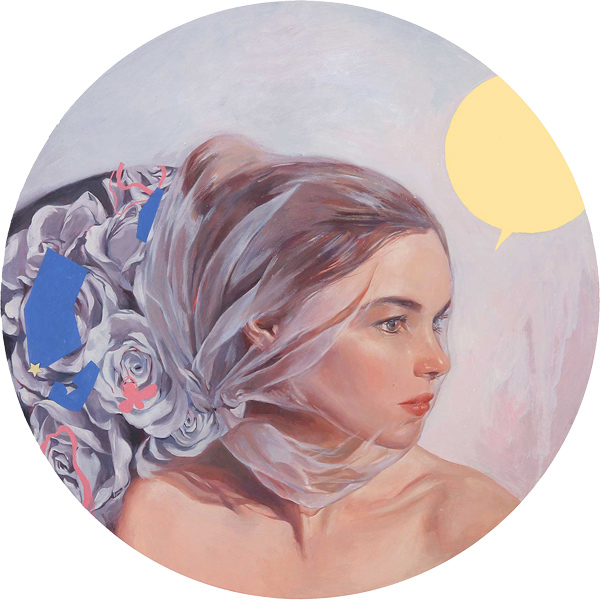 (Above) Helice Wen, "Roses", oil on wood, 16 inch tondo. Musical Inspiration: Electronic Music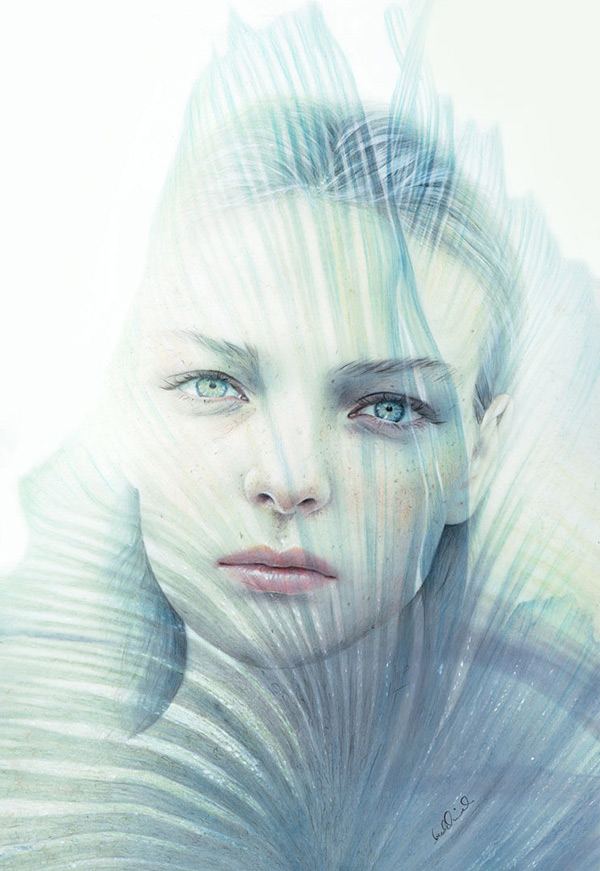 (Above) Bec Winnel, "Falling", pencil, pastel and acrylic on paper, 11.8 x 8.3 inches
Musical Inspiration: Ben Folds Five – "She's a brick and I'm drowning slowly"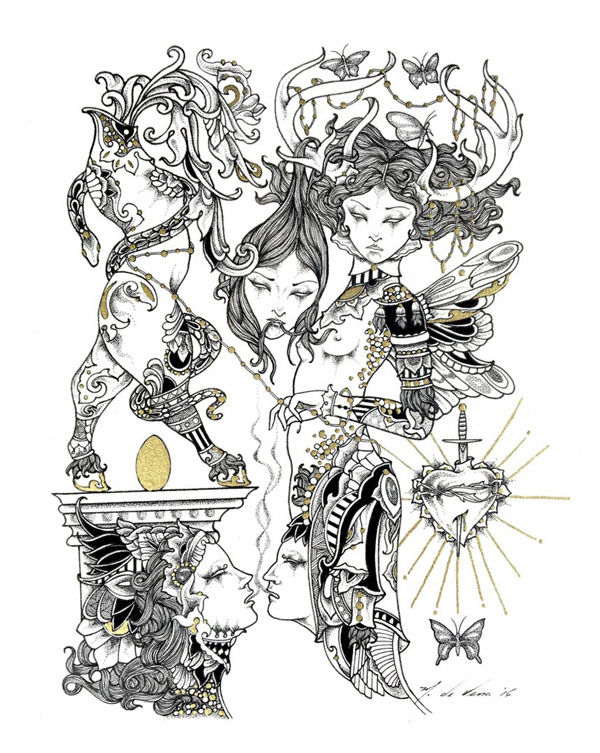 (Above) M de Vena, "The Serpent's Egg", pen and ink, gold ink on Fabriano watercolor paper, 8 x 10 inches, 15 x 16 inches framed). Musical Inspiration: Dead Can Dance – "The Serpent's Egg"
Save
Save
Save
Save
Save
Save
Save
Save
Save