If you are not convinced that knitwear is part of the many splendors of winter, perhaps you never heard of Nanna Van Blaaderen. The work of this Dutch fashion designer struck my eyes years ago when I stumbled upon her sculptural wool creations. Forget all your prejudices about sweaters and knitwear, these creations are the embodiment of grace, purity, and harmony.
Wool is a family tradition for Van Blaaderen, who inherited this obsession from her grandmother. It is shaped like armors, sensually encircling fragile bodies. These 3D textiles are the answer to our vulnerability during winter.
Van Blaaderen's creations are visually comforting, awaking fantasies of cocoon. They are, incidentally, a wonderful alternative to fur.With this material in head, she studied fashion design at the Willem de Kooning Academy, before working with prestigious houses of couture, such as Martin Margiela. This influence is indeed palpable in her first collections.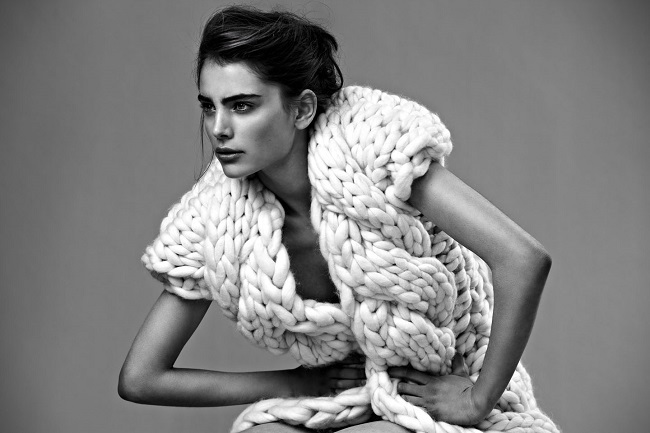 The designer is fascinated by nature, especially animals. This passion is visible in the name of her collections and their aspect. Even in her criterion of selecting material, concerns for animal's well-being is primordial. She only works with merino wool, from farms that respect their sheep and environment. Her knitwear is conceived as a fur for human beings, as gigantic coats, serpentine dresses and oversized sweaters are answers to the ingenuity of the animal kingdom when it comes to protection. They reminds of the camouflage of northern species, as well as the nobility of big cats. Vegetal is also a source of inspiration, for example, cactus.
Nanna Van Blaaderen is also fixated on the color white… snow white, to be exact, increasing the fluffy effect of her textures. The items are also available in black and marine blue for edgier customers. Over time, her aesthetics have become more refined and minimalist. Her last collection reminds of the 60's style of brands such as Courrèges. Yet, her style is still trailblazing. Silhouettes are ethereal, ready for modern fairy tales, and are a true celebration of femininity as a strong part of Nature and a sign of resilience.
The convictions and style of Van Blaaderen have been crowned by the Woolmark Prize 2015/2016, opening new doorways for the artist. She also creates home textiles, and if you are still not bewitched, I should mention that her work is perfectly glorified by superb photography.