Painter Serge Strosberg has teamed up with artist and jewelry designer David Mandel to create a series of luxurious new mixed-media works to bring some decadence to the upcoming art fairs Scope and Context Miami. Strosberg is a painter acclaimed for his ability to capture the essence and character of his subjects in his work. While most fine artists prefer to work alone, Strosberg found an invaluable and symbiotic partnership with David Mandel, whose extensive collection of fine vintage costume jewelry brings new depth to Serge Strosberg's intimate portraiture.
The duo is influenced by the work of Flemish painters such as Jan Van Eyck and Hans Holbein, where the representation of beauty and wealth hides a dark spiritual reality and the fragility of life. In combining Strosberg's elegantly painted compositions with carefully selected textiles and precious stones from Mandel's sprawling personal collection, StrosbergMandel create eye-catching works rife with complex textures and rich colors that allude to the deeper psychology lingering beneath the surface of their subjects.
The collaborative work of StrosbergMandel can be seen from December 1 – 4, 2016 at Satellite Art Show (The Parisian Hotel, 1510 Collins Ave. Miami Beach, FL.) presented by Studio 26 Gallery. Works by Serge Strosberg from the "Agalmatophilia" series will also be shown at Paul Fisher Projects in Jane Holzer's building at 48, NW 25th street in Wynwood, Miami.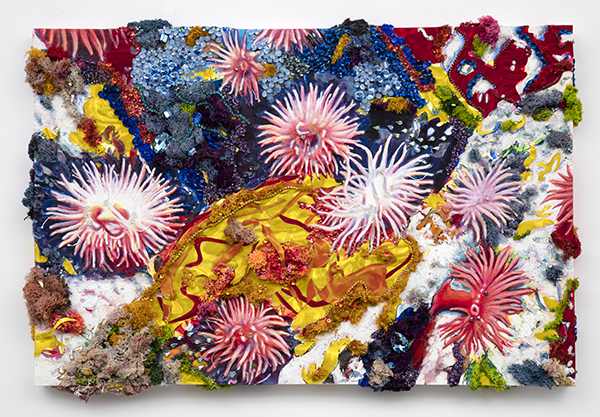 "#Sexy" is a portrait of the late artist Prince, who passed away earlier this year. StrosbergMandel's Prince stares his viewer directly in the eye with a flirtatious tilt of his head. He wears a purple suit embroidered with beads and gems in an intricate floral pattern that would have made the "Purple Rain" singer himself jealous. StrosbergMandel capture both Prince's amorous personality and fabulous signature style with "#Sexy." Prince fans and art enthusiasts alike will rejoice to see such a stunning tribute to the legendary artist.
"You Bet Your Ass They're Real" renders the iconic Elizabeth Taylor with the crown of her skull seemingly removed to reveal a brain exploding with Swarovski crystals and vintage jewels. Strosberg paints Ms. Taylor with a pensive expression, alluding to the creative process and machinations of her mind represented by the burst of jewels coming from her brain. Elizabeth Taylor was more than just a pretty face and a stunning figure; she was an artist, a businesswoman, and a humanitarian. StrosbergMandel glamourize Taylor's brilliant mind as well as her dazzling appearance. The title references an occasion when a fan asked Liz Taylor, "Is this real costume jewelry?" Yes, the jewels are real, but they're not the most valuable thing Liz Taylor had in abundance.
StrosbergMandel play with the dichotomy between life and death, the beautiful and the abject, in their installation "Grade A Mirror" and "Grade A Half Moon." Painted on a mirror frame with the glass removed, the circular canvas of "Grade A Mirror" portrays a piece of raw meat that appears to be roughly carved up, with many jagged and uneven surfaces. The painted carcass is adorned with Swarovski crystals, bringing a conflicting air of opulence to the humble subject matter. The meaty mirror is installed over "Grade A Half Moon," a table in the shape of a half circle covered with slices of bedazzled beef that appear to have been carved off of the mirror piece. The vibrant turquoise background brings out the vivid reds and pinks that comprise the painted meat, and the jewels emphasize the rich textures, giving this dead slab of meat new life.
Serge Strosberg currently lives and works in New York since 2008. He was awarded the Boechout Prize, given by Flor Bex, director of The Museum of Contemporary Art of Antwerp (Muhka). He is the recipient of a grant attributed by The Shanghai Himalayas Art Museum. He participated in "Die Verborgene Spur" at The Felix Nussbaum Museum with Lucian Freud, Soutine, and other prominent exponents of the international art scene. Recent solo exhibitions include GirlsGirlsGirls, Studio 26 Gallery, New York (2015) and Agalmatophilia, Paul Fisher Gallery, West Palm Beach (2014). His work has been displayed by DFN Gallery, Alexandre Gertsman Contemporary, The Lionheart gallery in New York, and in a solo exhibition at The Ann Norton sculpture gardens in West Palm Beach. Strosberg's work can be found in the collections of RXR realty, Mercersburg Academy, executive chief Marcus Samuelsson, film producer Robert Leacock, The Hendels, and The Southern District court of Florida.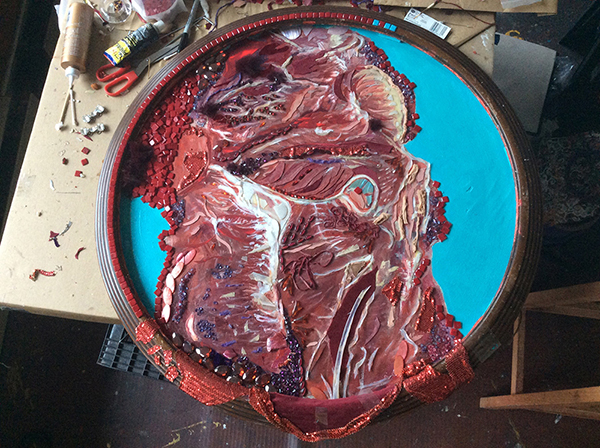 David Mandel was born in New Jersey and has resided in NYC for over 35 years. He participated in a temporary installation at the Whitney Museum Gala in 1989. Mandel has been a member of the Art Students League since 1991 where he received a Revson grant in 1994 and participated in numerous group shows. Fantasy jewelry became his means of expression along with his visual art as part of the exhibit Barbara Berger: Fashion Jewelry Collection at the Museum of Art & Design. He was also an artist-in-residence at the museum in 2013. Mandel exhibited works at the Franz Meyer Museum Mexico 2011, and was part of the exhibition, Iris Apfel; Rare Bird of Fashion the Peabody Essex Museum, Mass. 2010. Diamonds are a Boy's Best Friend, Casa Frela Gallery, NYC in 2010. He was the Swarovski Design Contest winner 2007 & 2008, a member of The Sculptor's Guild, 2013 group show on Governor's Island, contributed looks to Victoria's Secret Fashion Show 2012 & 2013, and is currently producing jewelry looks for the designer, Naeem Khan.
From the beginning, his work has received global editorial coverage and has been included in over a dozen books about jewelry.