Michael C. Hsiung's artwork is embedded in surf and skate culture all over the world. His quirky and strange creature-based artwork is playful and fascinating. Currently working on illustrating a children's book with artist friend Danny Montoya called 'The Lowly Merman', and just having finished the Dew Tour where he contributed both live painting on skateboards as well as some amazing designs for Dew Tour hats, he enjoys the humor and whimsy of life, which is easily seen in his passionate and comical artwork.
His representative style of artwork often surrounds the humorous life of magical and fictitious men, in silly yet innovative designs, adventures and statements. Hsiung's peculiar caricatures have found their way to the surf and skate industry as well as magazine cover art, clothing design, commissioned portraits, album covers, book illustrations and even tattoo art.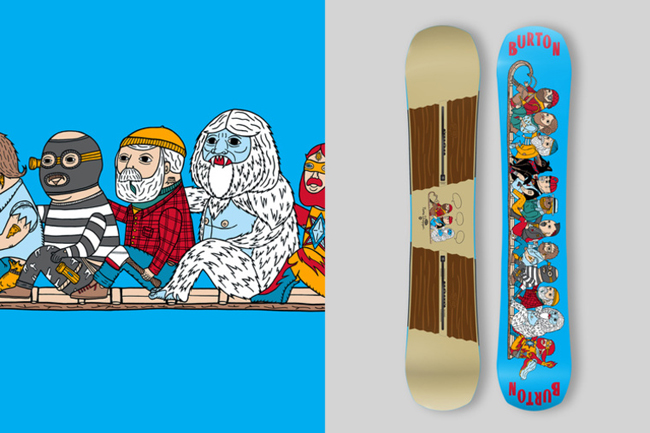 When did you start drawing your characters? How did art play into your life early on?
Art has always been part of my life–from drawing ant wars as a kid to collecting comic books.  I always watched my sister draw and make stuff, growing up.  Also, being a hyper boy I was obsessed with cartoons, comics, and games like Dungeons & Dragons.  It wasn't until I was in college that I started drawing characters more seriously, but they were always me and well, I stopped drawing for a long time after that. I got frustrated with not being able to find my own visual vocabulary and topics I felt passionate about, to draw. It wasn't till I started drawing again later, that I started making character-based art–mostly men fighting animals.
Your artwork has a lot of humor or playfulness it in. Where does that come from for you? 
The humor and playfulness in my art just comes from me, who I am.  But when I first started making drawings, I was really trying to make those around me laugh.  Nowadays, I find that humor adds a level to art that can make it accessible, even if it is obvious.  Sometimes the humor I put in is accidental.
Do you start a new illustration with an exact idea in mind, or are you more instinctual with your practice?
Usually I will sketch with no real plan in mind, maybe just a shape.  Other times, I might have an idea like I did with my set of Mermen Ouroboros drawings, all featuring mermen sucking on their own tails.
Who is your favorite character you've created so far?
My favorite character probably is the merman fellow.  He was probably my first character/mythology I explored.  I did draw him to the point that I tried killing them off in a piece once, but they pop up in my drawings again here and there.
[vimeo 79222497 w=640 h=360]
Your drawings are mostly men. Do you draw women as well as men? 
I have drawn children more than women, for some reason, and the women I generally draw are usually like tough bearded ladies.
What is your favorite kind of baby animal?
Baby Angora Unicorn…it's a fictitious animal I used to draw more, but if we're talking real life animals, then maybe a baby penguin.