I would imagine that upon entering Amanda Louise Spayd's workroom, you would smell cotton candy, spearmint and blue heaven milkshakes. You would hear the pitter patter of tiny eggshell blue feet and maybe catch a glimpse of some adorable but shy creatures hiding behind Amanda's trinkets and memorabilia. How could you not be deliriously happy seeing these odd bunny like creatures adorned with crystals, tree branches and lollipops, all born from Amanda's imagination and that often follow the narrative of her themed shows. It's the cohesion of soft colours that remind us of our childhood, everything that is delightful and fun. Amanda's dust bunnies ache with character, and distort your perception into believing that you may have seen these mystical creatures somewhere before, in folk stories and classic tales from the past.
"Dust Bunnies. True, some are goats, some are bees, and some are unidentified creatures, but in the end…really, they're all "bunnies" to me. That's been what I've always called them, regardless of their specific animal anatomy. So there you have it. I am creator and caretaker for the kingdom of Dust Bunnies" – Amanda Louise Spayd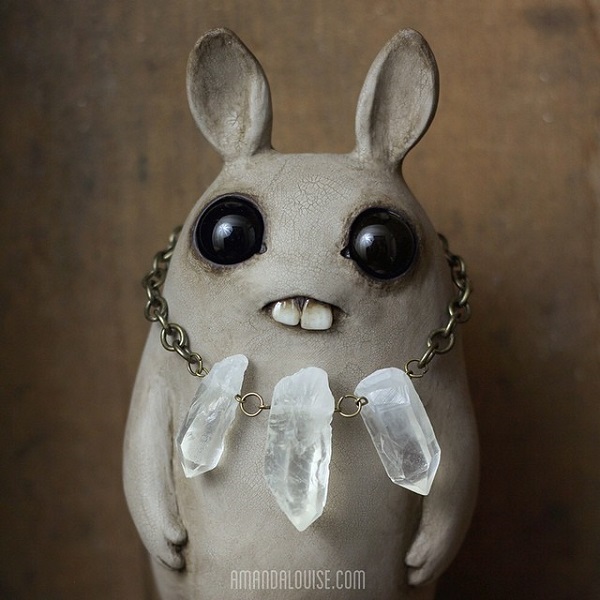 In 2011, Amanda worked with Christopher Kezelos on the film, The Maker. Amanda's dust bunnies were  brought to life in this beautifully animated fantasy short film and this propelled her work into the stardom that they so justifiably deserve. This snaggletooth creature made of cloth and clay told the compelling story of how he (The Maker) raced against time to bring to life a most important creation, in this short 6-minute film. It has the watcher experience purpose, love, loss and loneliness. It is wonderfully beautiful to ride this emotional wave with such an expressive character.
Amanda currently creates her work from her studio in Ohio, a room that Amanda fills with nostalgia, something that she revels in, as her hobbies include antique collecting, with specific interest in paper Ephemera, medical tools, old toys and sewing machines. The perfect home for these dust bunnies to begin their life. Amanda refers to herself as a "true idealist", and I would say that this sort of romantic visionary would attribute to the making of these wonderful creations. Part of that vision, expressed in Amanda's artist bio is the hope that "One is left to wonder about the origin, past experiences and past lives of these creatures. Do they look like this because they were abandoned, or because they were literally loved to pieces. The idea of an unknown past story, combined with possibilities of their future". This is a central theme of Amanda's work.  Of course, their human like teeth aren't real, but let's pretend that they are as this adds to the intrigue and story of these lost and abandoned looking souls.
Amanda has some incredible shows each year, which display both her cloth and clay creatures, dust bunnies and pipsqueaks. Her work is easily as illusive to find as these creatures illusionary origins. Her pieces are highly sought after by collectors all over the World.
You can find more of Amanda's work via Facebook – Instagram – Twitter