Once again, Haven Gallery (Long Island, NY) presents two concurrent spectacular exhibitions: Gustavo Rimada's solo exhibition, as well as a group exhibition featuring the works of 21 artists who created artworks using the timeless and versatile art medium: Ink on paper. The group exhibition boasts an impressive and diverse lineup, including a few unexpected yet brilliantly chosen works. And, those who are familiar with Gustavo Rimada's bold and vibrant paintings can imagine the strong visual impact these exhibitions offer.
Opening Reception:
Saturday, February 20, 2016 | 6 – 8 PM
Exhibition Dates:
February 20 – March 27, 2016
155 Main St., Suite 4
Northport, NY 11768
(Located behind Rockin' Fish restaurant, next to Ameriprise)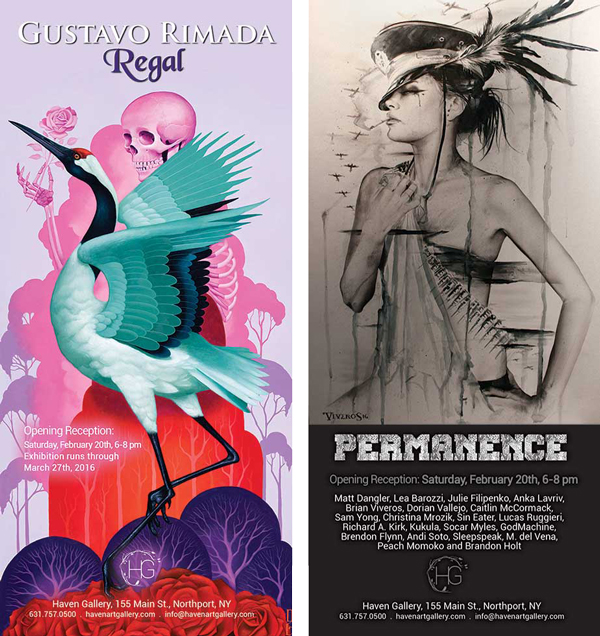 Permanence Group Show
Press Release
The use of ink to document and create art spans land and time. Beginning with the earliest of societies to present day, this art form embraces longevity and supersedes industrial and technological innovation. The permanence and continued tradition of this medium is celebrated in this exhibition.
Participating Artists
Matt Dangler, Lea Barozzi, Julie Filipenko, Anka Lavriv, Brian Viveros, Dorian Vallejo, Caitlin McCormack, Sam Yong, Christina Mrozik, Sin Eater, Lucas Ruggieri, Richard A. Kirk, Kukula, Socar Myles, GodMachine, Brendon Flynn, Andi Soto, Sleepspeak, M. de Vena, Peach Momoko, and Brandon Holt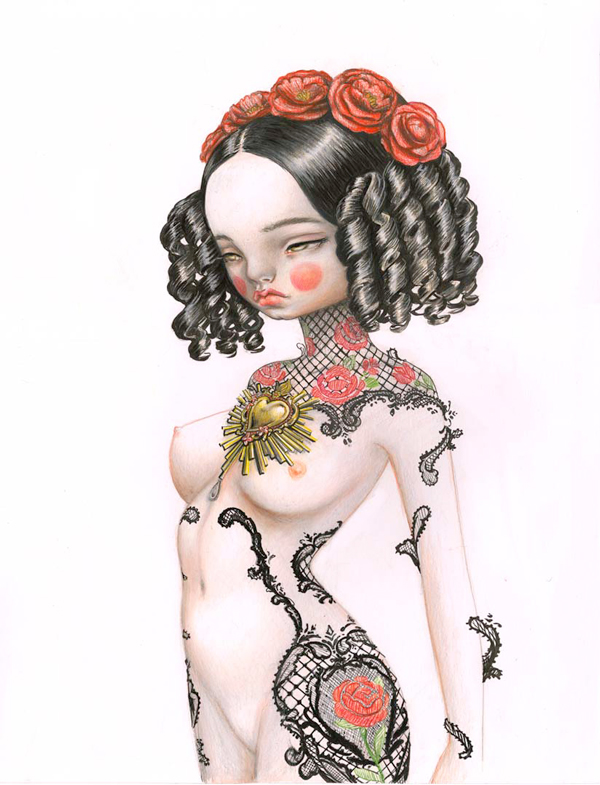 (Above) Kukula, 'Sicille'. Ink and colored pencil on paper, 16″ x 20″
(Above) Dorian Vallejo, 'A Thousand Evenings'. Pen and ink, 12″ x 18″, (25.5″ x 19.75″ framed)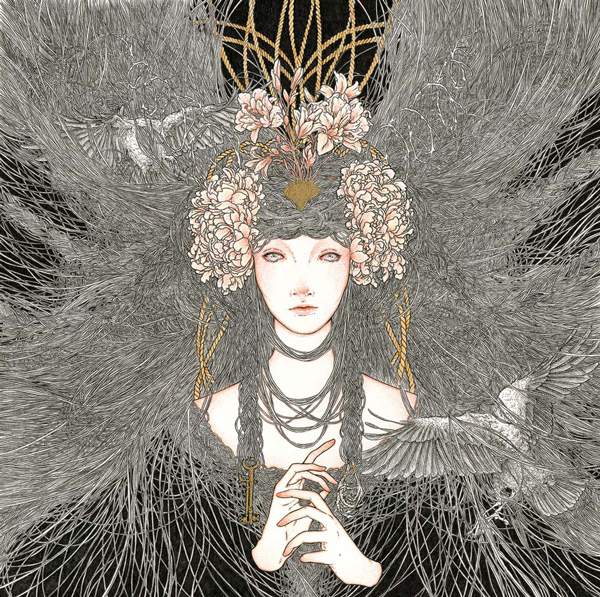 (Above) Andi Soto, 'Permanent State of Dream'. Indian ink, prismacolor pencils, and metallic marker on Strathmore watercolor paper 140lb/300gsm, 8″ x 8″ (10″ x 10″ framed)
(Above) Matt Dangler, :Searching Within'. Ballpoint pen, white oil paint, & acrylic wash on paper, 6″ x 6″ (9.75″ x 9.75″ framed)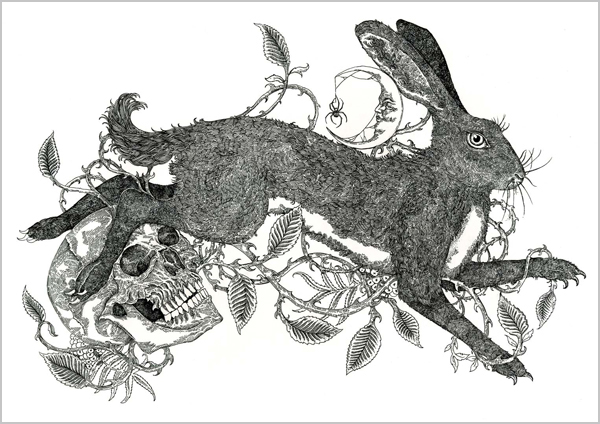 Sineater, 'Brambles, Rowan and The Hare'. Ink, 11.4″ x 16.1″ (16.5″ x 19″)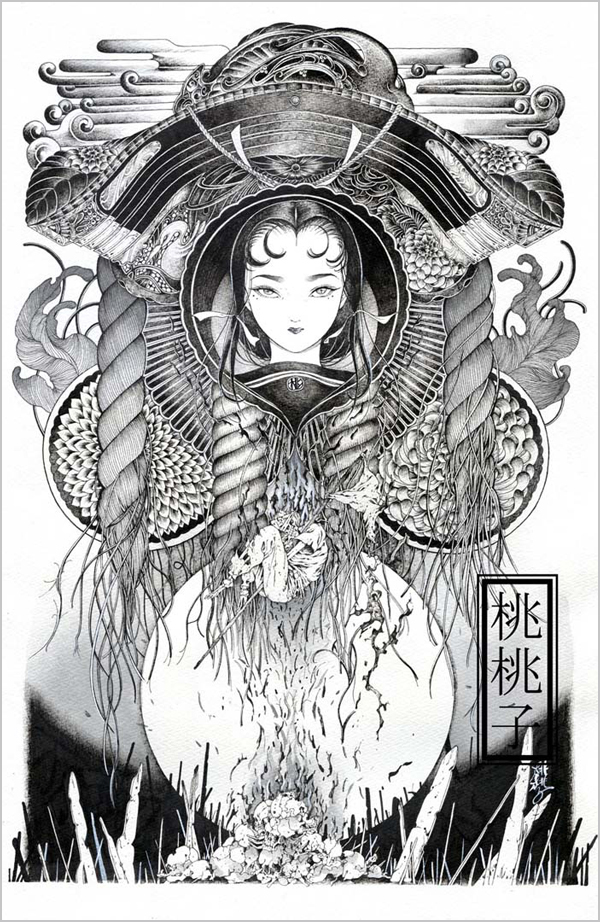 (Above) 'Hakai to Saisei IV, (Destruction and Regeneration IV)'. Ink on paper, 13: x 19″ (15″ x 21 1/8″ framed)
Sam Yong, 'Closer'. Watercolor & Ink on Bristol Paper, 11.69″ x 16.53″
(Above) Richard A. Kirk, "Dawn Botanist, Tears of the Poppy". Ink on paper, 14″ x 10″ (18.5′ x 21.65" framed)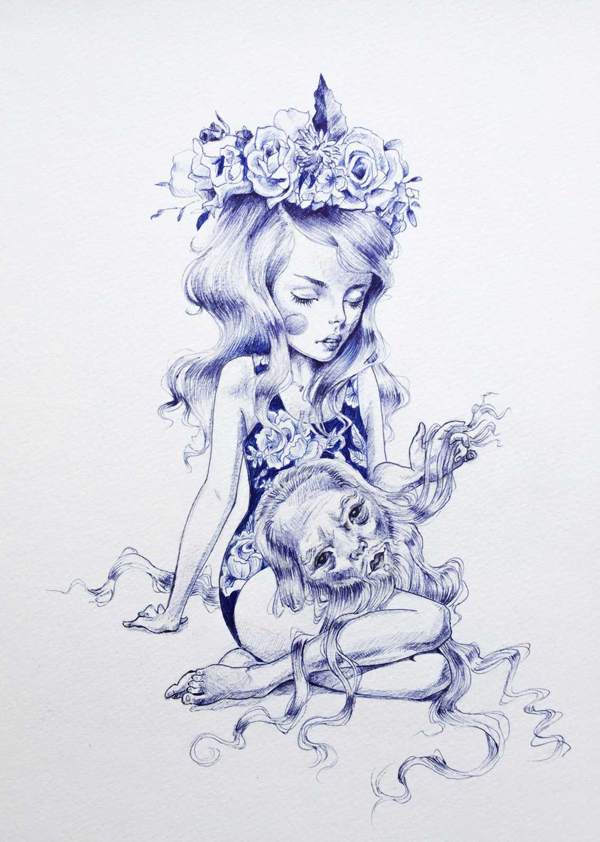 Julie Filipenko, 'Chinese Proverb'. Ballpoint pen, 14″ x 10″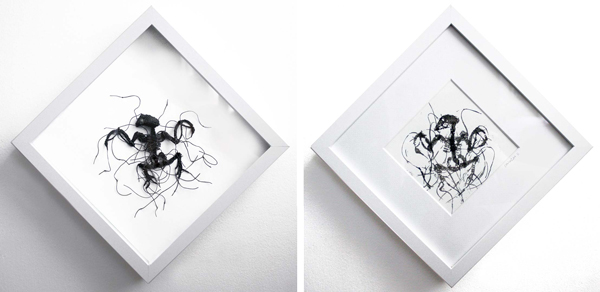 (Above) Caitlin McCormack, R: 'Broken Eggs'. Crocheted cotton string, glue, ink, steel pins 14″ x 14″ x 1.75″ framed,
L: 'Broken Eyes'. Monoprint (ink on Arches), 14″ x 14″ x 1.75″ framed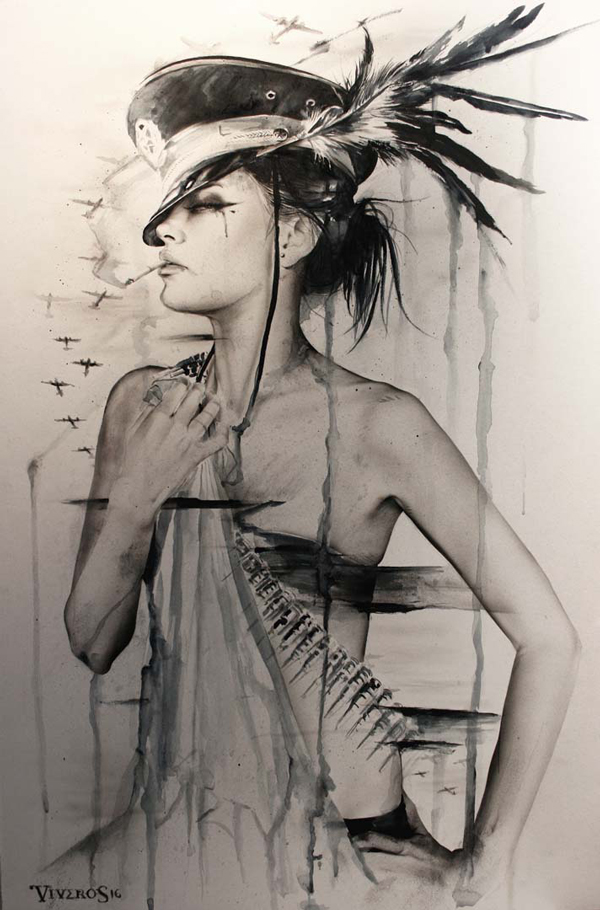 (Above) Brian Viveros, 'Warzone'. Ink and charcoal wash on board, 16.5″ x 24″ (21″ x 29″ custom framed)
Gustavo Rimada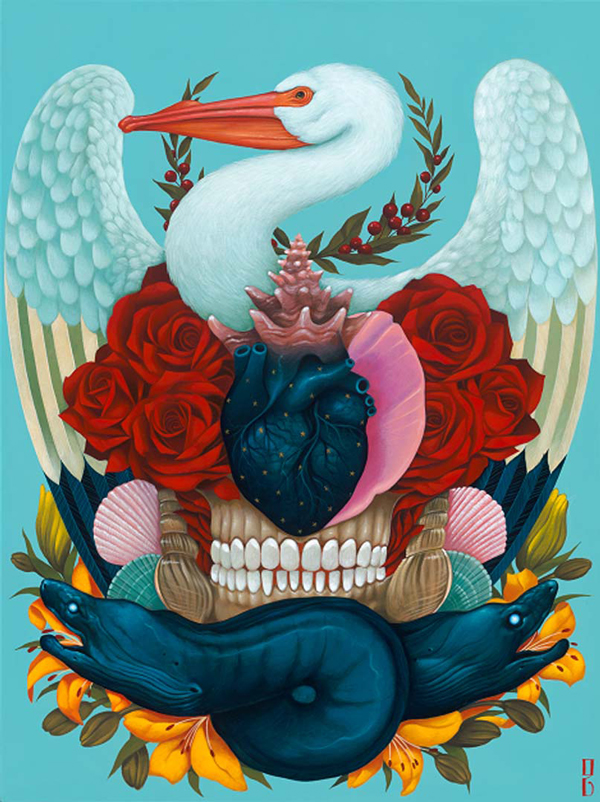 (Above) 'Madre Nuestra'. Acrylic on wood, 18″ x 24″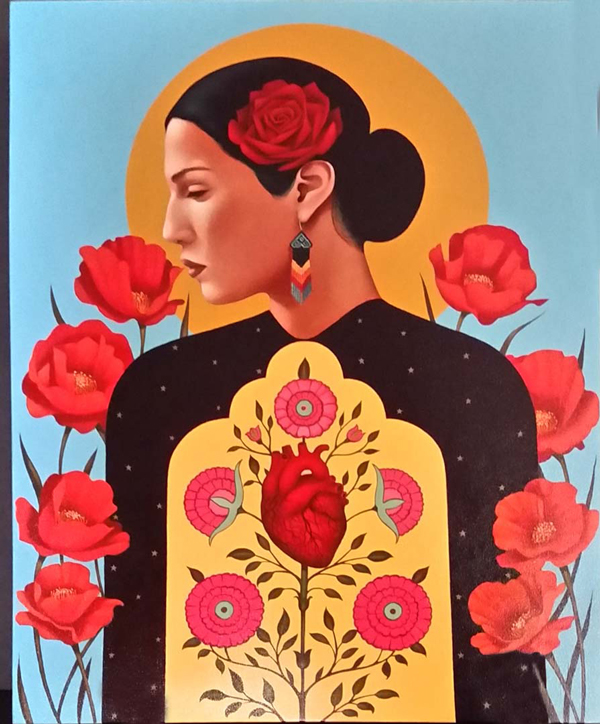 (Above) 'Mother Of The Land'. Acrylic on wood, 14″ x 18″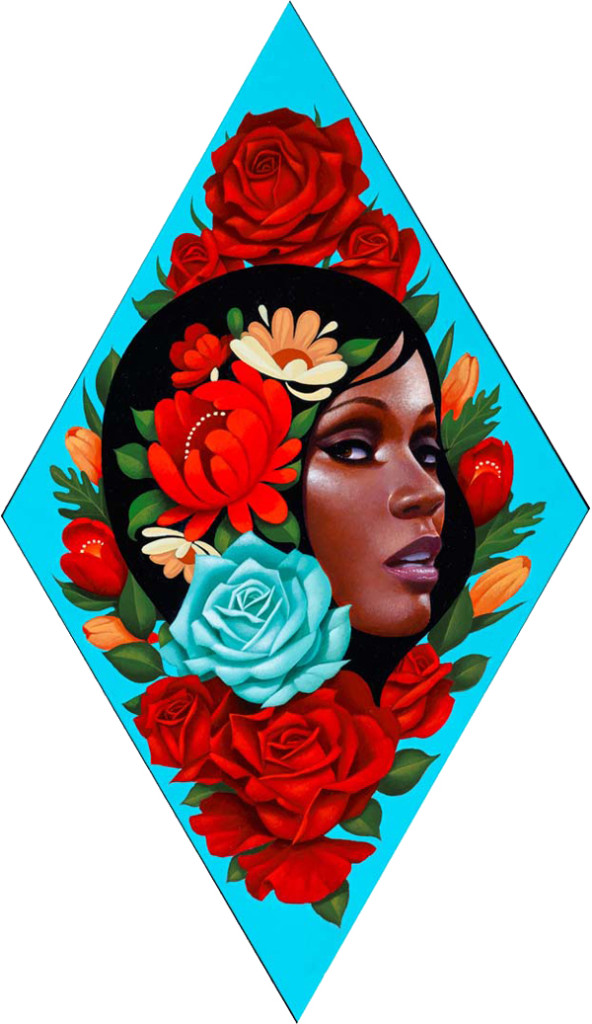 (Above) 'Regal'. Acrylic on wood, 10″ x 17″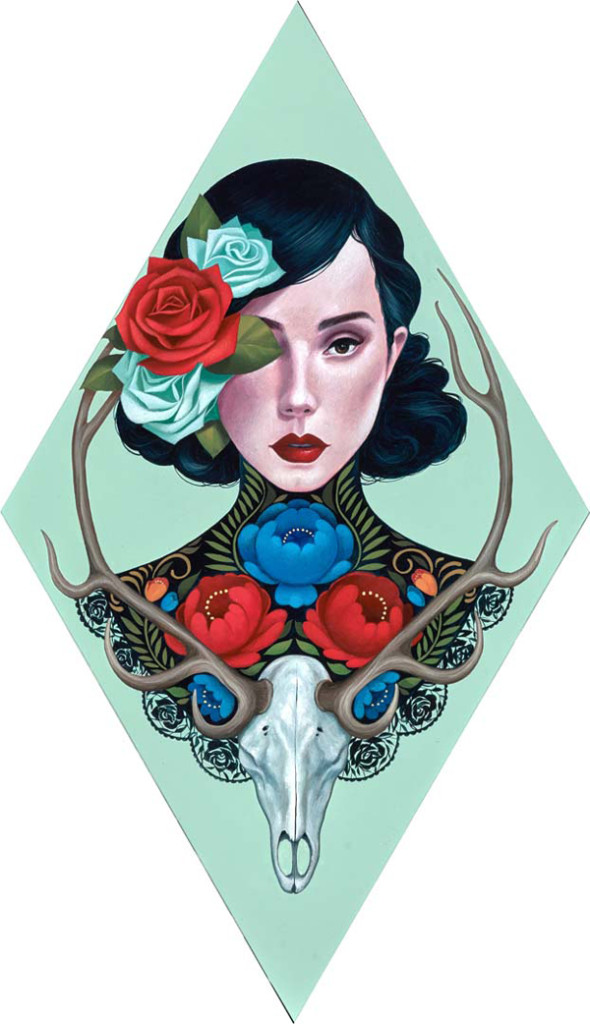 (Above) 'Reina Del Bosque'. Acrylic on wood, 10″ x 17″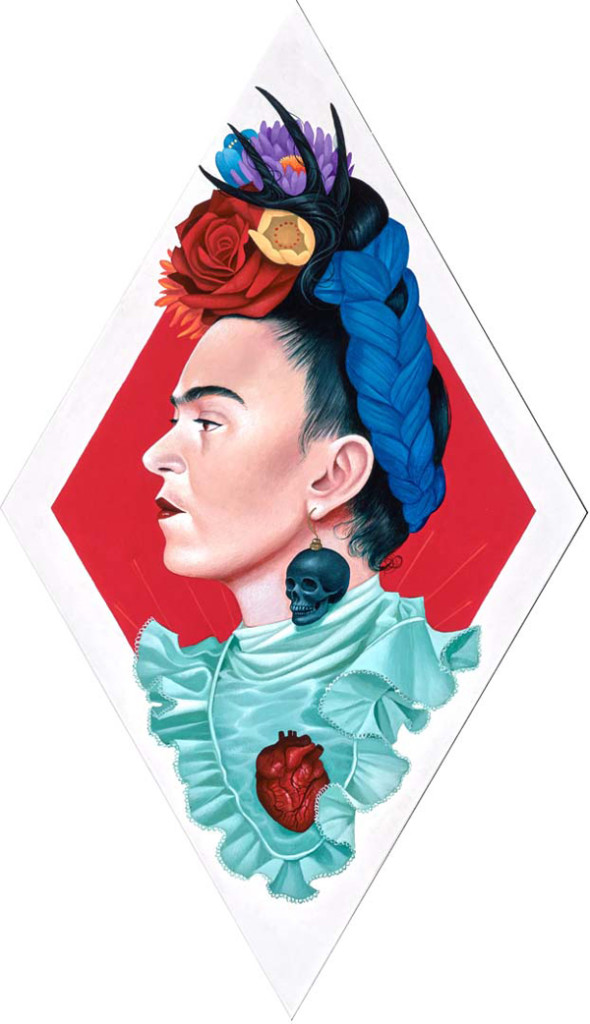 (Above) 'The Royal Deer'. Acrylic on wood, 10″ x 17″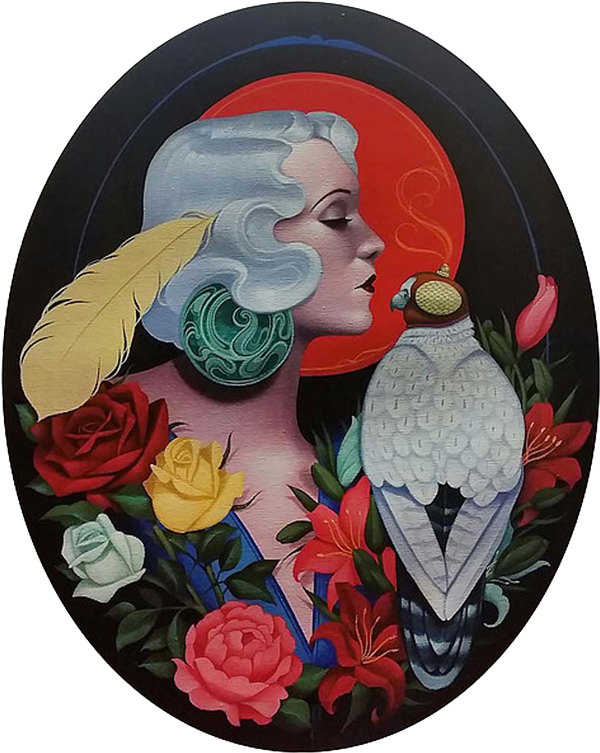 (Above) 'The Falconer'. Acrylic on canvas, 16″ x 20″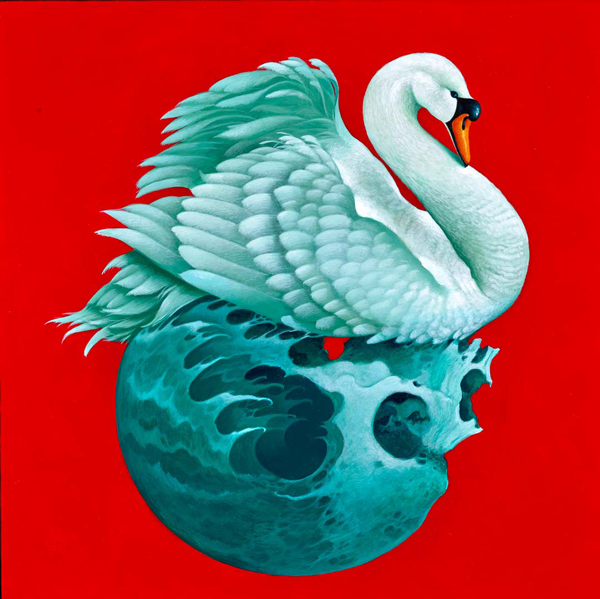 (Above) 'Turbulent Waters'. Acrylic on wood, 12″ x 12″