Vast skies. Vast seas. Solitary creatures wait for the coming tides, triggering a sense of defiance and freedom in the face of new frontiers. It is moments such as these that flourish from Joel Rea's hyperrealistic oil paintings as he puts to paint parallel realities that awaken from within him. This September, Joel will be bringing some of the best in his art to Jonathan LeVine Gallery in his first solo exhibition at the space; come join and witness the 'Beasts of Arcadia'.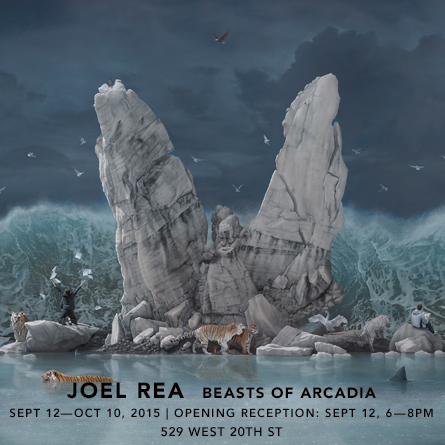 Exhibition Dates:
September 12 – October 10, 2015
Opening Reception:
Saturday, September 12, 2015 | 6—8PM
529 West 20th Street | NY 10011 | USA
For more information on Beasts of Arcadia at Jonathan LeVine Gallery, you can visit their website or call 212.243.3822.
With mesmerizing and skilfully fine detail, Joel's artwork drags you through his landscapes and into the heart of his centre scenes, juxtaposing vast and often abundant powers of nature against characters standing steadfast against all odds. In creating such pieces, Joel aims to reflect the complexity of human emotion as we strive to live in the modern day, often spending more time behind a desk than living symbiotic with Mother Nature. Humanity may have advanced in societies and technology, yet we are still the same species that once existed in much more primal times. Beasts of Arcadia focuses on the duality of the natural world, as Joel's paintings explore the reality of human emotions, reactions and experiences whilst connecting with the sometimes overlooked unlimited power of nature. In light of this, it is hard not to appreciate the concept of being alive as his subjects stare into the face of far more vast and all-consuming scenarios.
"In Beasts of Arcadia, [Joel] celebrates life while simultaneously deconstructing the perfection of its existence." Jonathan LeVine Gallery explains, "Sublimely monstrous animals, tenacious tsunami waves and boundless terrains encompass his subjects, creating an alluring yet treacherous spectacle of unlimited outcomes."
Born in England, Joel Rea moved to Australia at a young age, and his time on these shores provided a perfect setting to flourish the imagination that lead to the large and immersive landscapes he has become so well known for. He graduated from Queensland College of Art with a Bachelor degree of Fine Art, and in 2013 was featured in Art Business News as one of the Top Thirty Artists under Thirty who are revolutionising the world of fine arts. Joel has successfully been exhibiting his spellbinding oil paintings throughout Australia and the US with great success, and his latest endeavour with Jonathan LeVine Gallery proves to be nothing less than cutting edge.
In conjunction with the show, Jonathan LeVine Gallery is also releasing a special, limited edition giclee print of Joel Rea's 'The Other Side'. Only 50 will be made available. If you are interested in collecting one of these prints they will be available from LeVine's website from October 12th at 6pm, NY time, but those who attend the opening night will have a chance to purchase one prior – mark it in your diaries!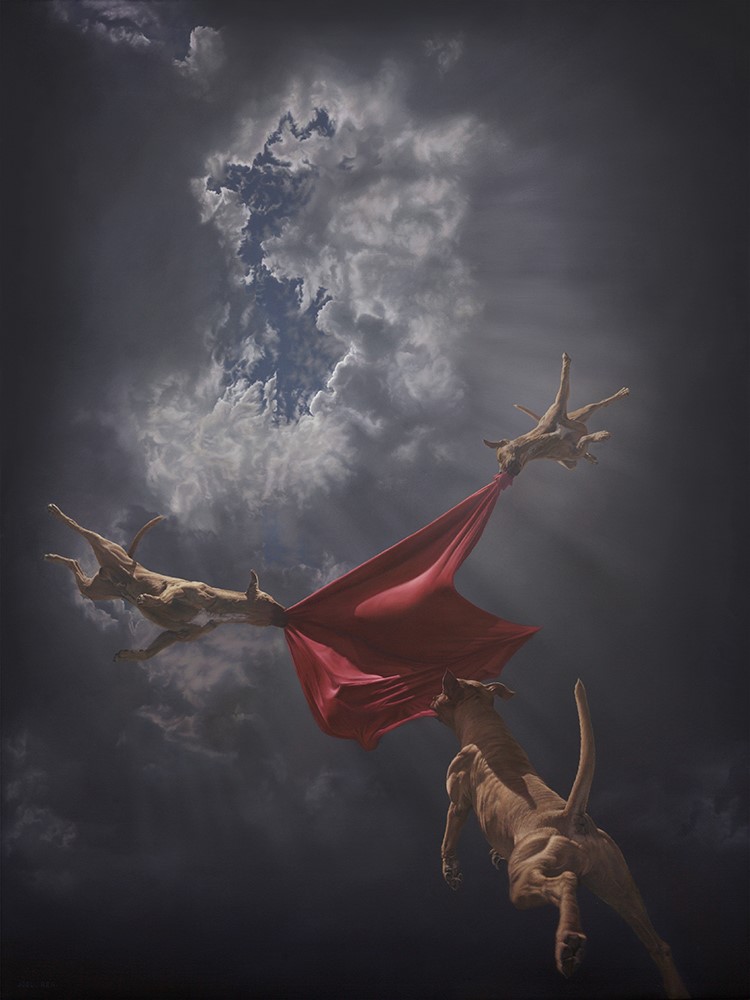 Return to Genesis
The Other Side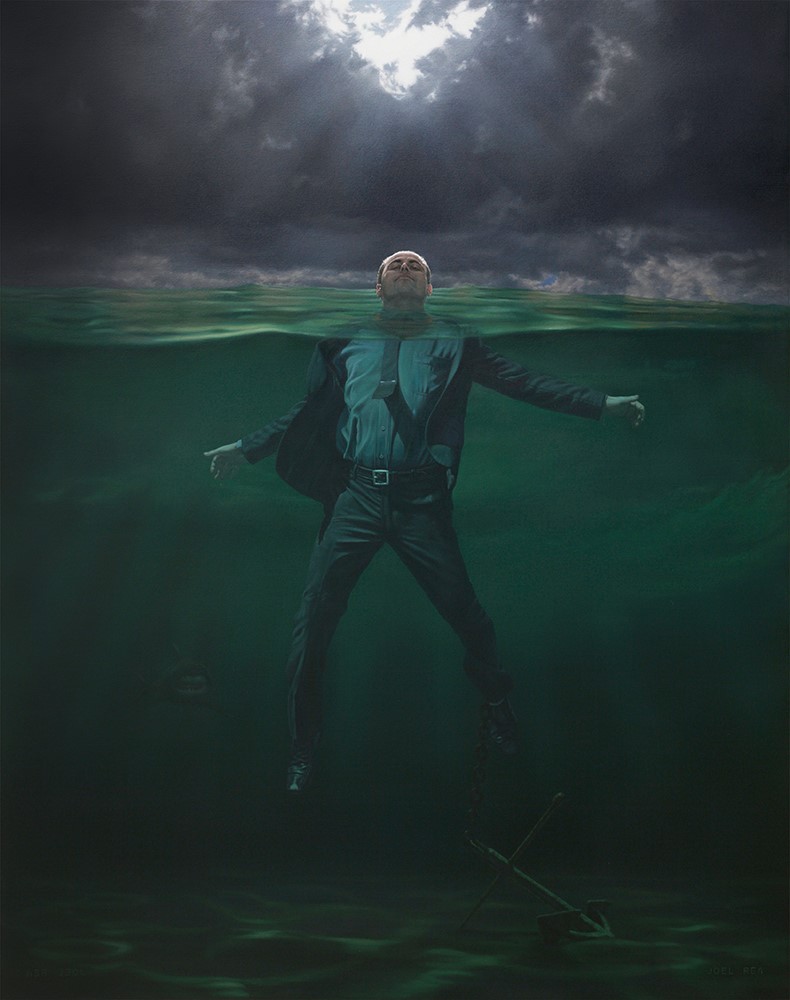 See Me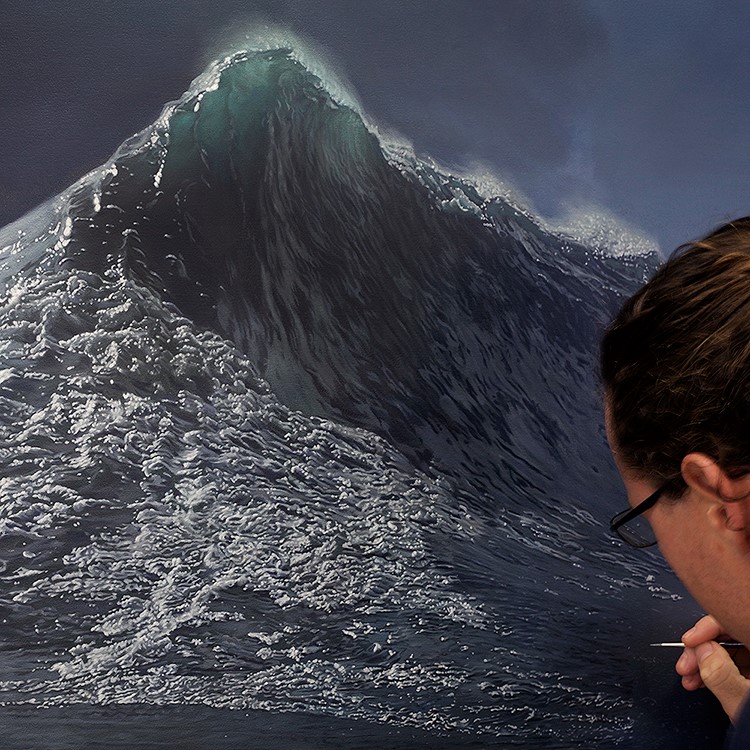 The Precision of Luck – close up WIP
The Precision of Luck