Located in San Francisco's historic North Beach, where the streets flank a nearby Fisherman's Wharf, Modern Eden Gallery sits among the nautical neighborhood like a treasure resting near the water's shore. Rich in personality and artistic diversity, since their June 2010 opening, the gallery continues to establish itself as a significant mainstay in the arts community. With an extensive contemporary aesthetic, Modern Eden features monthly exhibitions of both established and emerging artists working in a variety of media.
Enjoy my exclusive interview and discover what Kim Larson (Director) and Bradley Platz (Curator) said when I asked them what it takes to make it in the art world.
801 Greenwich Street | San Francisco, CA
Ph: (415) 956-3303  | E: info@moderneden.com
Photos by Michael Cuffe; Modern Eden Instagram (first 2 and last images of Dozer)

Upcoming Exhibitions| Instagram | Tumblr | Facebook | Twitter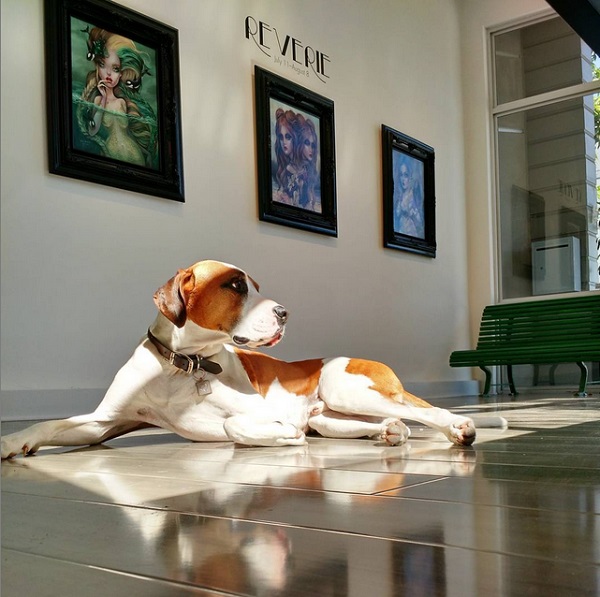 Bella: Let's start with Dozer. Furry. Cute. Friend to all. He's seems to be an ever-present lucky charm at the gallery? Any four-legged funny moments?
Kim: Ah yes, Dozer is definitely a big part of our gallery and family. A month after opening, we decided we needed a gallery dog to keep us company and greet customers but we never imagined he would take on such an important role. He now has a reputation throughout our neighborhood and it seems like everyone knows him. We'll walk down the street and hear "There's Dozer!" and we don't even know who the people are. It's a very surreal experience and a testament to his amazing spirit.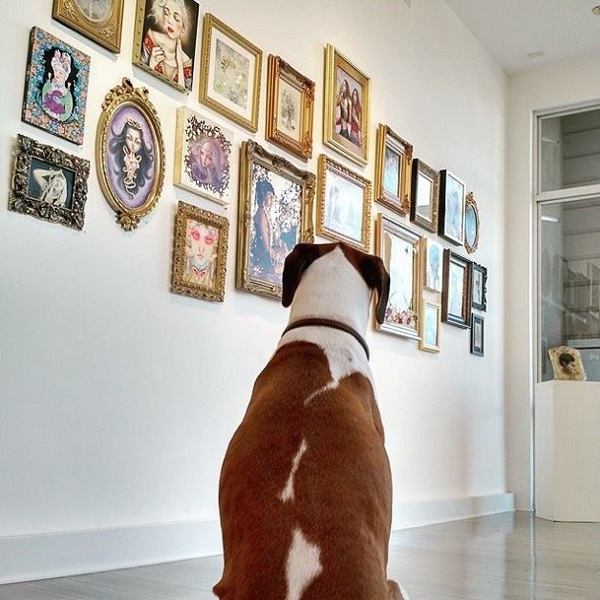 Bella: When patrons visit the gallery, they see a beautiful contemporary space filled with artwork. What are your expectations?
Bradley: We ask that visitors enter the space with an open mind and respect toward the artwork. Beyond that, the experience is wholly personal. People appreciate art for all different reasons.  We want our patrons and visitors to feel comfortable talking about art, engaging with art, and viewing art. Our goal has always been to present the artwork in a way  that is both elegant and elevated, but also accessible and approachable. Over the last five years, we've refined our installation methods, lighting, presentation, and event schedule to help achieve this balance.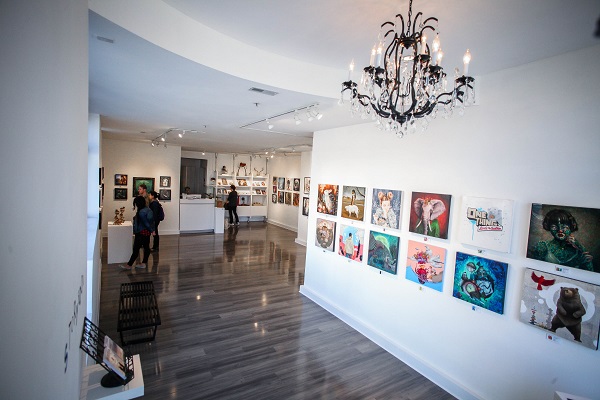 Bella: Speaking of five years, you recently celebrated the gallery's fifth anniversary! That's huge! Definitely a milestone, congratulations!
Kim: Thank you! We celebrated quite appropriately, by working, haha! We had an opening reception the week of our gallery anniversary so we were in the midst of an install and prepping for the show. After the opening, we took ourselves to a nice dinner and toasted to the next 5 years at the gallery.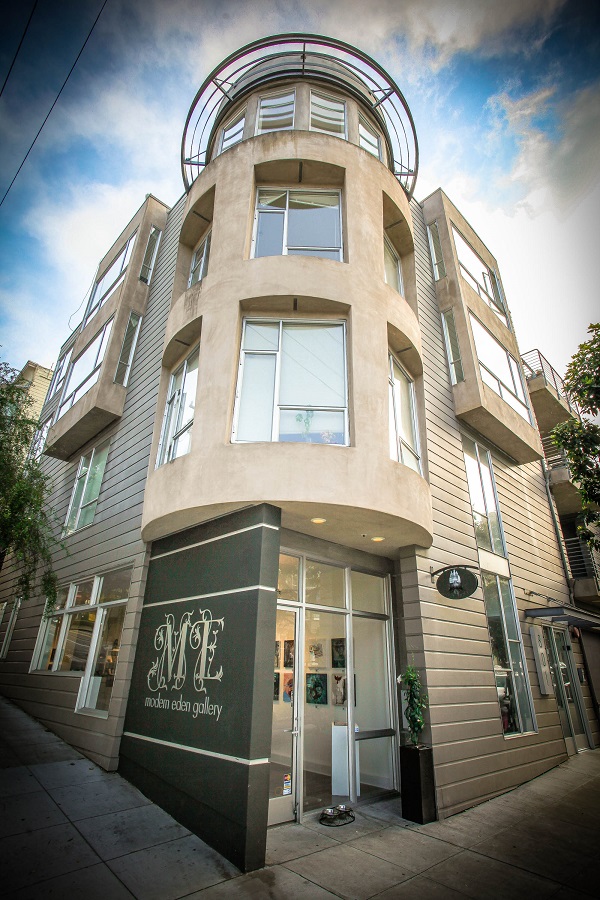 Bella: The name 'Modern Eden' really makes me think of a nouveau Eve, enticing viewers to taste the fruits of labor.
Bradley: Modern Eden started as my artist website back in 2003. I also knew that it had the potential to be something more. When we opened the gallery, the name seemed to be the right symbol for the type of art that we wanted to nurture. I like the parallels to Eve and the fruits of labor, the gallery certainly represent a symbolic garden. It encourages such beautiful opportunity for growth, brilliant displays of color and texture, and requires constant care and encouragement.
Bella: I'm sure I'm not the only one curious about your selection process. You don't need to give away secrets, but how difficult or easy is the submission process in terms of what you feel is best suited for Modern Eden's overall aesthetic.
Bradley: Well, fortunately, we like to look at art, so we do look at all artist submissions. There is a consistent undercurrent to the work that we choose to exhibit. However, our selection process can vary.  As we plan specific shows, we might be looking for a particular style, or artists working in a particular medium. Sometimes it's all about timing.  Group shows are great ways for artists and galleries to get to know each other. Further investiture, features, solo exhibitions, etc. often grow organically out of group exhibitions.
We respect each other's intuition. If one of us likes something, we go with it.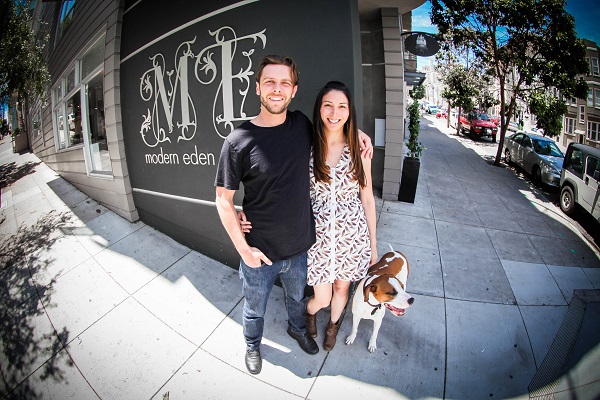 Bella: You wake up, get ready, and head to the gallery. What are your goals?
Kim: As gallery owners, we have learned our success lies in our ability to look into the future for new opportunities and for things that will propel Modern Eden. Every day I like to achieve at least one task that I know will better our future and set us, or our artists, up for something great… even if it is a couple years away.
Bella: Describe the character of the gallery in five words. 
Kim: A welcome place for art.
Bella: It certainly is. Okay, what's next… tell me your most memorable event to date?
Kim: I will never forget our Grand Opening. Seeing all of our family, friends, and even people we didn't know, come through this space that we had put together was a thrill. I'm not sure either of us really knew what to expect going into starting the gallery but that one event really ignited a fire and we saw the potential of what Modern Eden could be.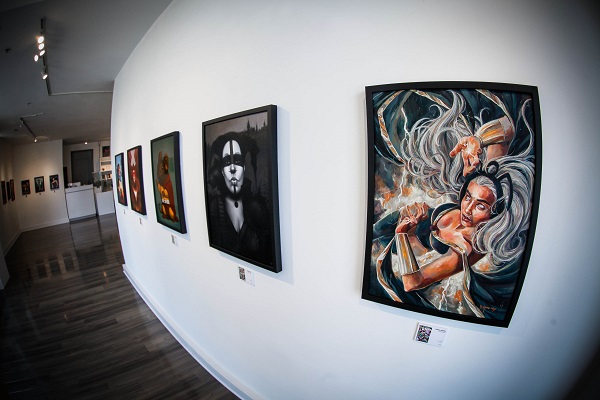 Bella: What do you do after an opening reception… when everyone's gone?
Kim: Well, it's not as glamorous as people probably expect. We typically wake up very early the morning of an opening and we work straight through all day. By the time everyone leaves the gallery, Bradley and I are so exhausted. It's hard to do much. Typically, we'll have a little post-show wrap up over drinks between the two of us. Every opening is an emotional experience, we put a lot of energy and work into the install and prep so it's important for us to hear one another's perspective, learn from each exhibit and take something away for next time.
Bella: Definitely. Sometimes there's a misconception of 'all glamour and little work'… but owning and operating a successful gallery requires effort and perseverance. What can you both tell me that some might not know?
Kim: As a business owner, you do get many glorious moments of praise and recognition but on the day-to-day, you are wearing every hat imaginable. There are times when I am cleaning the toilet or picking up trash outside and not feeling very important but I think to be a successful businessperson, you can't be above anything.
Bradley: The amount of time that goes into each exhibition can often be underestimated. Some exhibitions have developed slowly, over the course of years. It all requires effort and perseverance, but it also requires us to be a bit irrational, to take chances on things we like.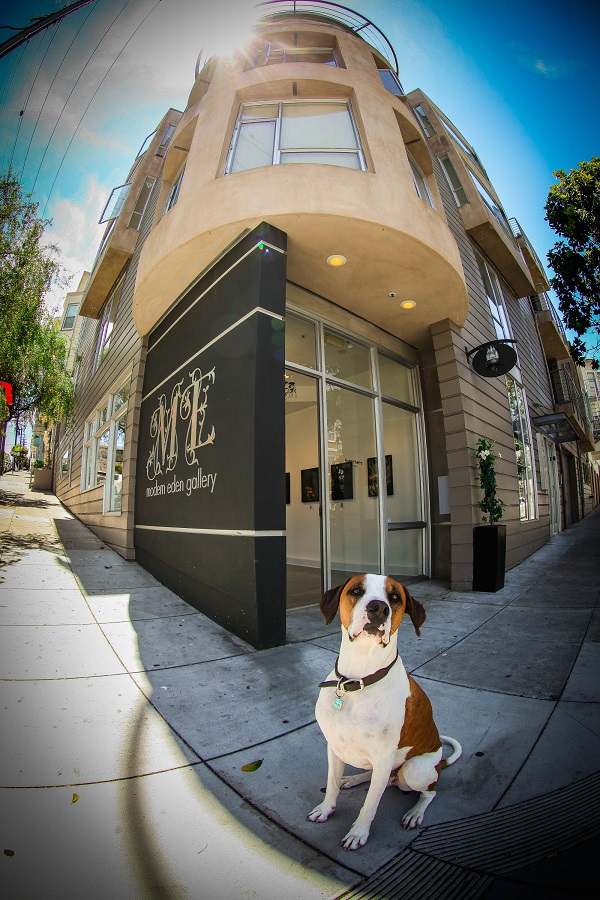 Bella: In that same vein, what is the biggest risk you've taken, surprise you've had, obstacle you've faced, and achievement you've made as an independent gallery owner?
Kim: At the beginning of 2014, the building where our gallery was located, sold and our rent doubled when the new owner took over. Our business had finally reached the success that we worked so hard for and to hear that it was all in jeopardy was crushing. We had the option of paying a lot more money, to move, or to close down the gallery. To be completely honest, we seriously considered all three options before deciding to move the gallery to a new location.
At the time, it felt like we were starting completely over and it was a really hard and frustrating moment. I think the most gratifying achievement of the gallery has been our success after the move. We were very honest with people about our situation and everyone really came forward to lend a hand and also to support the gallery in it's new location. From a business standpoint, we didn't even miss a beat and sales have only gotten stronger at the new location. From a personal angle, there are some lingering emotions and sadness but we are very proud that we overcame something that felt so catastrophic. It's really given us a lot of confidence in our business and partnership.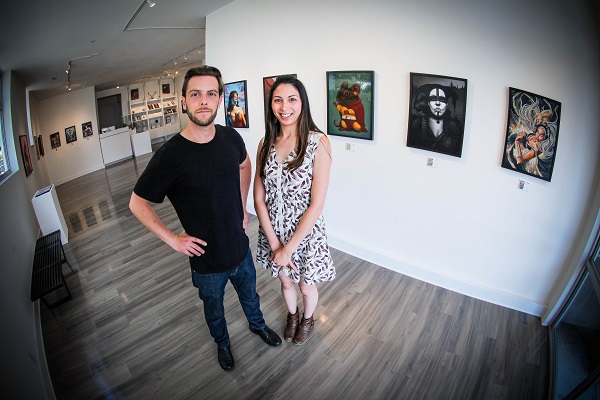 Bella: What's the best advice you were given prior to opening Modern Eden?
Kim: My grandma told us to keep the gallery floor clean and get some lights for outside. It sounds simple but sometimes the small details get overlooked and the finishing touches do make a difference to people's experience. I come from a long line of entrepreneurs in my family and I always listen to what they have to say, they are usually right and serve as an inspiration to me.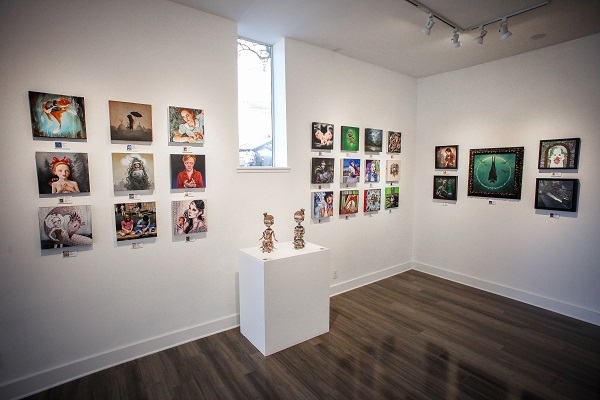 Bella: And what advice would give to someone looking to open his or her own gallery?
Bradley:  People ask us all the time for advice on opening a gallery and we recommend getting involved in your local art scene as much as possible; Curate a show, organize a community event, intern at a gallery, you'd be surprised what certain opportunities can lead to.
Kim: And get a dog!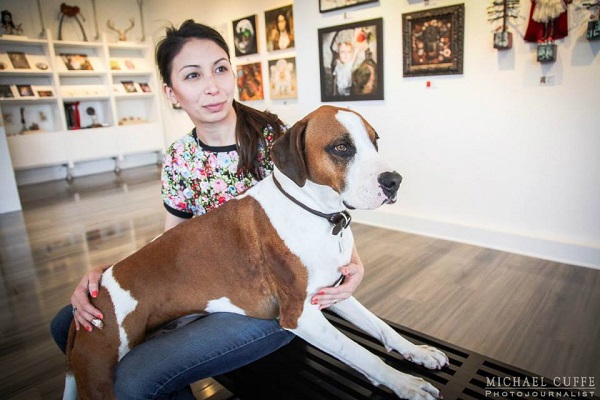 Bella: Hahaha, yep everyone needs a furry little mascot!
Thank you so much for taking time out of your day for this interview. It's truly a pleasure getting to know more about you. But before you go, would you leave our readers with one final thought?
Bradley & Kim: We'd just like to thank everyone for all their support over the years. We have an amazing group of family, friends, artists, patrons, fans, and members of the press who have been so supportive of us. We really would be nowhere without all these amazing people coming together to help create Modern Eden.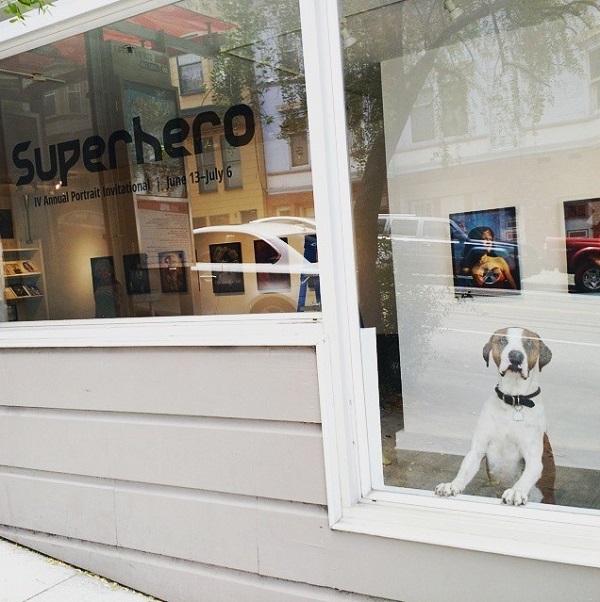 Kim Larson is a small business entrepreneur with a background in jewelry making and sculpture. She is a founding member of North Beach First Fridays and is a proud member of the San Francisco Art Dealers Association. Her passion for art started at a young age and continues today with her private collection. Kim is the Gallery Director at Modern Eden.
Contact: kim@moderneden.com
Bradley Platz is a San Francisco based oil painter with a background in fine art and Art History. Platz has curated and juried shows throughout the Bay Area and exhibited his paintings worldwide. Bradley is the Curator at Modern Eden.
Contact: BPlatz@ModernEden.com
Dozer is the unofficial "Mayor of North Beach" and by far the most popular member of our team. Dozer enjoys the beach, balls that squeak unnaturally loud, and greeting customers at the gallery. Our sweet gallery dog is a Boxer mix and a strong advocate for adopting pets from local shelters and animal welfare organizations.
Instagram: @dozerthedog