In the whimsical animal kingdom of Marc Le Rest, creatures of every species roam the hillsides of imagination…dressed dapper and demure for all to see. Down the painted rabbit hole and to a mad little tea party, his vibrant aesthetic and detailed composition create an unforgettable wildlife wonder.
On May 16, 2015, Modern Eden Gallery celebrated 'The Mad Hatter', a bold new collection of works from French artist, Marc Le Rest. In his debut US exhibition, Le Rest's oil paintings beckon an innocent sense of surprise while integrating a multitude of culturally-rooted frills and fabrics. Having formerly worked as a textile designer to the collections of Hermès, Armani, J.P. Gaultier, and Sonia Rykiel (to name a few) his baroque panache achieves an indisputably elegant 'zoo glam'.
His buoyant representation of high-class and costumed animals is nothing short of fine art couture.
"The Mad Hatter exhibition is developed simultaneously as a haute couture show and portrait exhibition, an artistic attempt to incorporate the artist's three passions for fashion design, animals and historical paintings. This show presents three mini-collections all bound together by inspiration from the whimsy and elegance of Alice in Wonderland. From prey animals wearing their predators to animals in protective helmets adorned in contrastingly delicate lace and pearls, le Rest's imagination and creativity knows no bounds."
Exhibition Dates:
May 16, 2015 – June 6, 2015
801 Greenwich Street | San Francisco, CA
For purchasing information and availability, please contact the gallery directly at [email protected]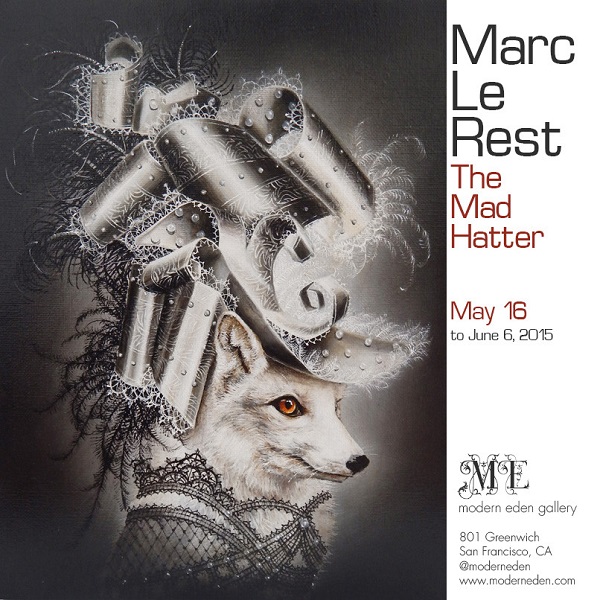 THE MAD HATTER COLLECTION:
OPENING NIGHT: