The mixed media work of Daniel Segrove is impressive, to say the least. Even though this might be a contradictory statement, the work encapsulates an alluring 'refined messiness'. The expressive marks have an emotive quality that is contrasted with serene, nonchalant figures posing in a nondescript space. The combination of these elements join together harmoniously to showcase an intimate connection between subject and viewer. The figures are stripped of detailed ornamentation and are simplified to basic line and shading (with some realism intact), sometimes overlapped with deliberate scribbles, or placed in a space reminiscent of a sketchbook page. Perspective, empathy, identity, consciousness and emotions (like frustration and ecstasy) are common themes presented. The work is typically ambiguous in nature, leaving the viewer with an open-ended narrative to be explored without the confines of preconceived notions.
A full-range of style and technique is displayed in Daniel's work; abstraction, realism, and non-objectivity are all present throughout the body of paintings and works on paper.
"My process is all about experimentation and trying to create expressive images. I have my drawings hanging on my studio wall so I can try and compare my drawings to see what works and what doesn't. I usually work on multiple pieces at a time jumping back and forth from one piece to another. I work with mix media which includes but is not limited to, charcoal, ink, graphite, soot, acrylic paint, and beeswax. I find inspiration from nature, and by artists like Patrick Graham, Cy Twombly, and Nicolai Fechin, as well as the city I live in, San Francisco."
If one were to make a connection to art history, some of the work Daniel has produced could be considered reminiscent of collage artist Robert Rauschenberg. Rauschenberg created a lasting legacy with his "combines", layering prints of found images with expressive applications of paint, the product being a nontraditional exploration of media. The blending of media with various methods was ground-breaking at the time of Rauschenberg's rise, but now the technique is standard in contemporary art. The way images were overlapped and placed on a canvas determined the meaning and reception of the piece. The complexity of a piece is based upon the number of elements added by the artist.
When asked about the possible comparison between Rauschenberg's work and his own, Daniel replied:
"I can see the comparison of my work with Rauschenberg's work alongside other collage artists' work. I definitely take the same approach to composing my artwork like a collage, editing different elements and combining them all to create one cohesive and somewhat cryptic image. Much like Justin Mortimer who will base his paintings on some of his collage work, most of time I will try to figure out exactly how I will edit the figures in my work before I begin creating, but recently I find myself jumping directly into the creative process, adapting with the image along the way."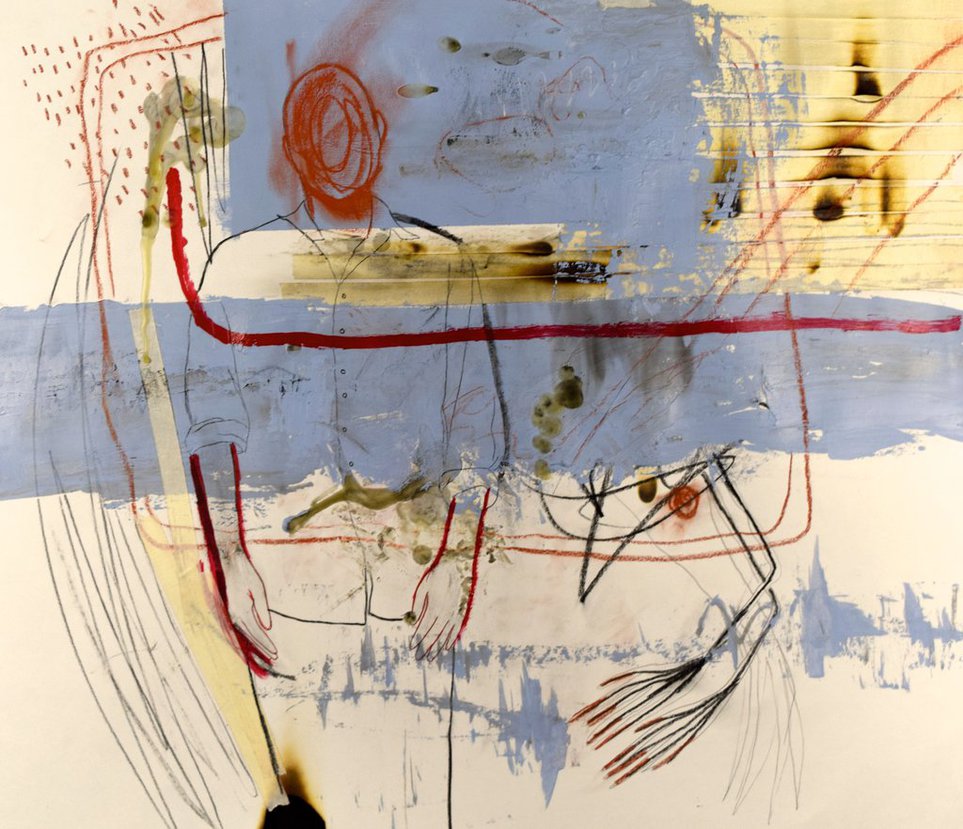 The figurative aspect of Daniel's work is a reflection of many years of meticulous studies and a deep interest in human anatomy and figure drawing. Unlike with strictly non-objective, landscape, or still life, Daniel found himself drawn to artwork displaying figures with an explicit or implicit narrative. "My current work revolves around portraits and figurative narratives to explore ideas about empathy, identity, and consciousness. I am always trying to find a balance of structure and freedom in my work to help create a balance of techniques and an interesting rhythm in my art." The figures Daniel intertwines with his colorful marks are used to "compliment the expressive abstraction and chaos of the background and vice versa."
An interesting aspect of Daniel's work is his age; he is only twenty-three years old, just graduating with his BFA at the Academy of Art University in San Francisco in 2014. Daniel says that his age doesn't actually play a big role in the influence of his artwork, but of course trying to find a solid voice and to learn and grow as an artist while trying to establish a body of work and a career is challenging. Even at his age, he is already conscious of the importance of not falling into a mundane comfort zone and approaches each piece with and uneasiness or apprehension to maintain a level of freshness and spontaneity. Currently he is inspired by work that challenges him to slow down and really think, so he strives to do the same for people who interact with his work, so they can see art differently, feel connected, and be inspired as well.
See more of Daniel's work here: Instagram | Website