Baker Hesseldenz Fine Art (Tucson, Arizona, USA) is hosting their first annual 'Masters of Pop Surrealism" show featuring the paintings of thirteen prominent pop surrealism artists: Michael Hussar, Meg Majewski (Dead Kittie), Hanna Jaeun, J.A.W. Cooper, Mark Elliott, Kathie Olivas, Anthony Ausgang, Brandt Peters, Brian Despain, Naoto Hattori, Tara McPherson, Van Arno, and Nathan Ota.
Scott Baker and Mary Ann Hesseldenz, the gallery's owners and curators, wanted to display a wide spectrum of the pop surrealism artworks, the kind of artworks that are not typically seen in galleries outside of Los Angeles and NYC. "We really wanted to bring the work of these artists to the smaller metropolitan area of Tucson, AZ," stated Hessedenz.
The diverse selection of pop surrealism paintings – covering various subject matters from the dark to the quirky – will be on view from September 23rd through November 29th, 2014. More information about this show is available in the Baker Hesseldenz's website.
(L) Naoto Hattori and (R) Brandt Peters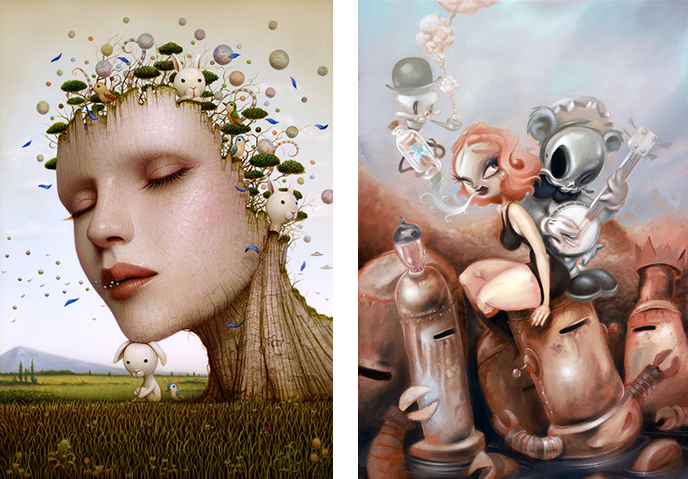 (L) Brandt Peters and Kathie Olivas (Collaboration) and (R) Kathie Olivas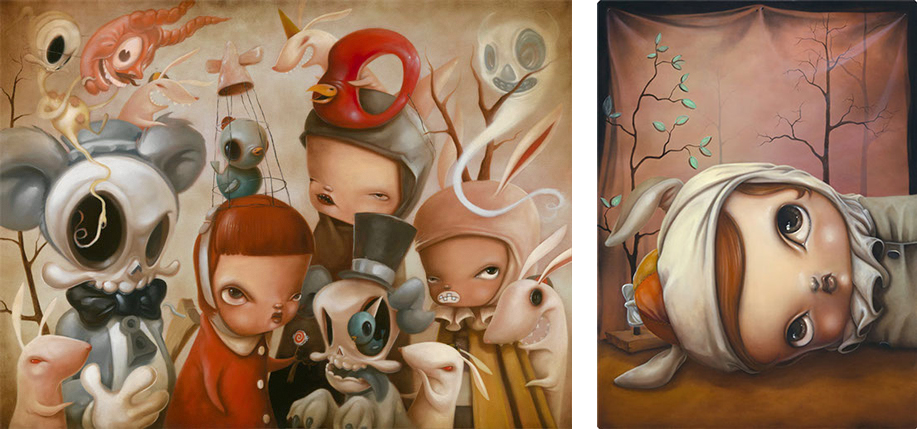 (L) Mark Elliott and (R) J. A. W. Copper