Juliet Schreckinger's current solo exhibition The Ghost Lights at Arch Enemy Arts is a show steeped in history. A spark of wanderlust, kindled with a curious Lighthouse Society passport book, has burned brightly into a series of beautifully melancholic works which honor both creatures and lighthouses from times long gone. Yet endearingly, there are even more layers.
"The main reoccurring thought that I keep having is that this is the show that ten-year-old me would be so proud of and would have been so excited by." Juliet explains. "I thought about how I wanted to include stories along with each of the pieces, as my first memory of really wanting to be an artist was when my father would read stories to me as a young child. The illustrations always mesmerized me, and I thought that there was nothing more magical than a perfectly paired piece of art with a story that really draws you in. Ghost stories were always my favorite, so I figured that it was time to draw and write some of my own."
The inspiration for this series is deeply ingrained in me, and I am forever grateful for those rainy nights when my dad would pull out a book and read scary stories to me by the fire.
Juliet Schreckinger: The Ghost Lights
A series of ghost stories and haunting artworks.
Juliet has decided to donate a portion of the earnings from this exhibition to the United States Lighthouse Society. This contribution is intended to support the preservation of lighthouses as essential habitats for the various different species of birds, seals, and other wildlife call home.
Arch Enemy Arts
109 Arch Street | Philadelphia, PA 19106 USA | (215) 717-7774
For sales or private viewing appointments, please email [email protected]
Dates: October 20th – November 12th, 2023
Opening Reception: Friday, November 3rd from 5pm – 9pm
Regular Gallery Hours:
Monday to Friday, 10:00 am to 4:00 pm
Saturday and Sunday, 11:00 am to 5:00 pm
Interview with Juliet Schreckinger
What made you decide on the theme GHOST LIGHTS?
My partner and I spend our weekends visiting lighthouses. This has always been our favorite way to spend time together; I am able to visit these beautiful lights and get reference photos for my artwork, and he is able to take long road trips and listen to our favorite audiobooks together while exploring new places. A few years back, we joined the United States Lighthouse Society and got lighthouse passport books. Each participating lighthouse has a stamp that you can put in your passport book to mark that you have visited that light. It became a completely enthralling hobby, and Danny and I both agree those passport books are at the heart of our best times together.
One day I saw that the lighthouse society was offering a pack of stamps you could purchase for your passport book called "The Lost Lights", and I was curious as the name really drew me in. I read about how the society made this collection of stamps based on lighthouses that had either fallen or been destroyed by nature due to lack of upkeep. Many of these lighthouses, although manmade, have become home to seabird nesting areas, sea lions, and other animals. As I saw this pack of stamps a spark of inspiration hit and I knew that I had to do a series documenting these lost lights.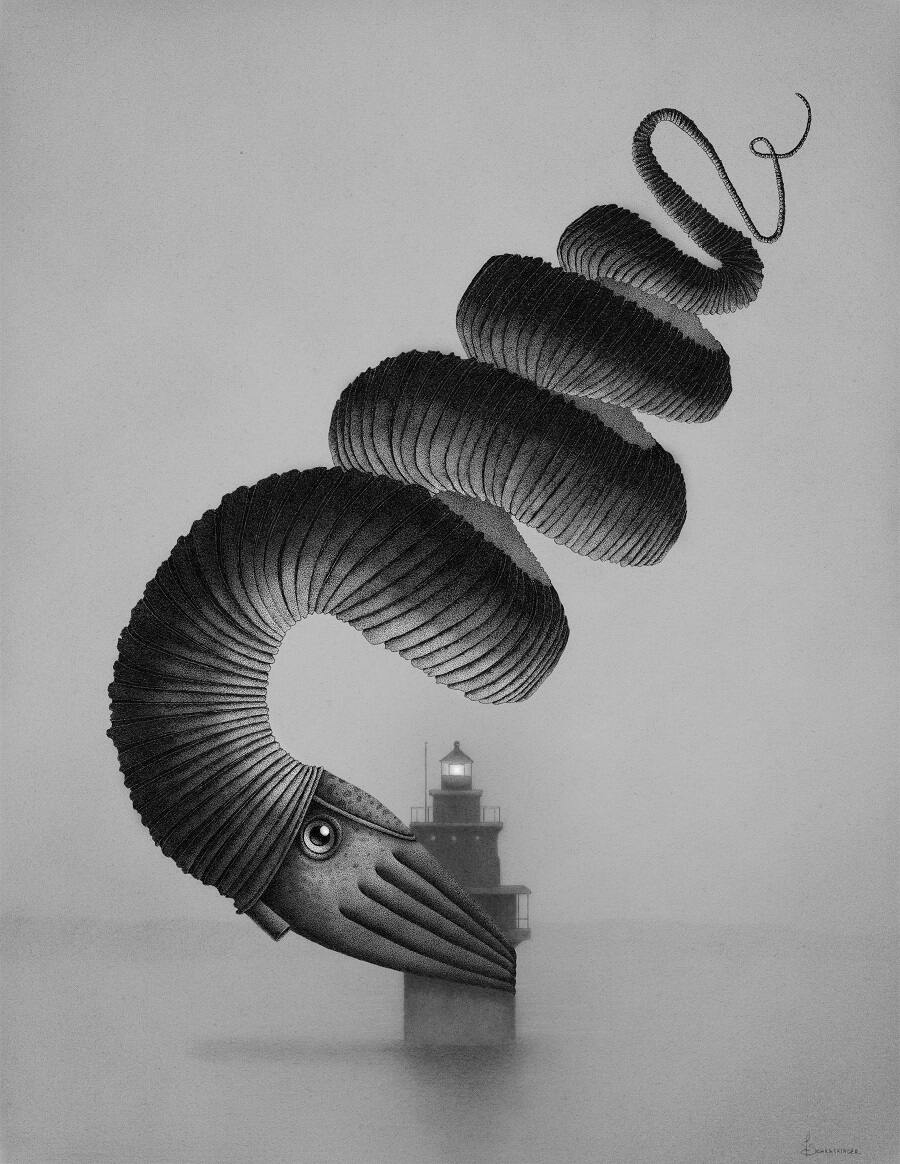 I thought about what inspires me most of all – the protection of the creatures within our world – and how I could incorporate that underlying theme into this series. I rapidly saw the parallel between these lights and so many beloved animals – they are gone, permanently. Yet the ghost of these things, the memory, lives on and inspires us to do better and to protect those that are still here.

Juliet Schreckinger
So, I decided to create this series, where each of the lost lights is paired with an extinct animal. It is a body of work that came from the deepest part of my heart, as it is the two things that I love the most combined. I knew that I wanted to write a ghost story to go along with each piece, as writing has always been a paramount aspect of my artwork. I am so proud to be able to share these eight new drawings and stories through the gallery that first believed in me and, in doing so, made me believe in myself.
How long have you been working on this show?
For the better part of a year. I came up with the title when I was initially formulating the concept for the show, almost exactly a year ago this week. The pieces in the show vary in size drastically, as there are ones as small as 3"x3" and some as large as 18"x18". The larger lighthouse pieces took 40 to over 200 hours to draw, and I loved every minute of it!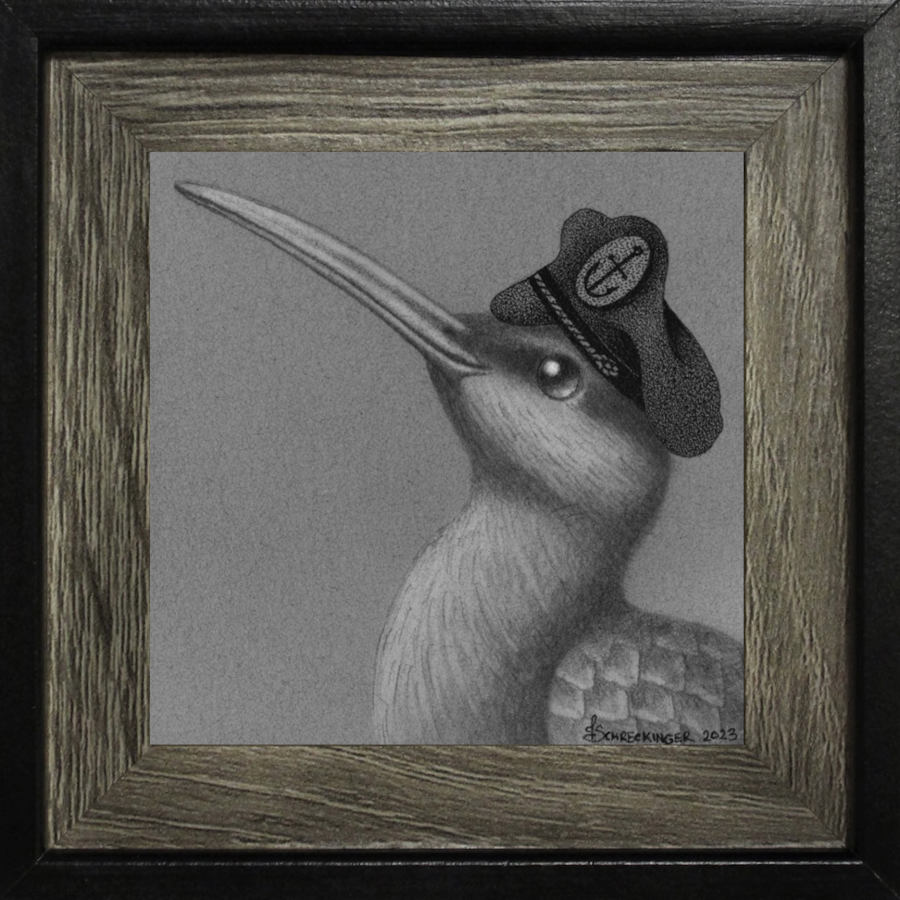 Was it difficult to decide on the animals and lighthouses to partner together?
Surprisingly not! I researched the lighthouses first, and once I had my final list of eight, I began researching extinct animals and they all seemed to fall into place, as if they wanted to be included in the series. It was sort of beautifully sad; there are so many animals I would have loved to include in the series, yet these eight just felt right.
Do any of the works have a particular story you want to share behind their design / creation?
One of the pieces that I really connected with in the show is "Mabel and the Shinnecock Lighthouse". I felt close to every single piece, yet the idea for the design of Mabel came in an interesting way. I first sketched a shark flying over the lighthouse similar to Norton, and liked how it was composed, yet I wasn't sure if it was exactly how I wanted it to be. It was the only piece I was unsure about, so I saved it for the end.
A few nights before I wanted to start the final piece, I had a dream about a giant shark gliding up behind the lighthouse, similar to that famous "Jaws" movie poster shark (which was definitely a movie I loved growing up). I ran to grab my sketchbook in the middle of the night, and was so excited that the next day I started the final piece. Since sharing the collection through the gallery, I have probably had the most positive feedback about that piece specifically, which feels really special.
Focusing on the ghost stories you have written for each – what came first, the story concept or the image?
The idea for the show was always to have ghost stories with accompanying illustrations. The unique thing about the stories is that the characters are aware that these drawings exist – they are not typical illustrations in that way. The stories reference these drawings and explain how they came to be in a sense, which I hoped would be a fresh way to incorporate the artwork into the book that I have made about the series.
I had a general idea of what each story would be, finished the artwork, and then wrote the final drafts of the stories. This was a really fun way to work, as I was constantly using the stories to make the art better, and the artwork to make the final stories more detailed.
Was it more fun to create ghost stories compared to your usual stories?
Although I always love writing stories to accompany my work, I did have the absolute best time writing these stories as they were unique in the sense that they sort of "link". What I mean by this is that they have common elements, and there are small aspects of the "universe" I created here that reappears within multiple stories in the collection.
I have never linked my stories in this way, and had so much fun working out how to make this a cohesive collection of stories. Also, I absolutely love ghost stories and have not ever written about my characters in this ghostly way.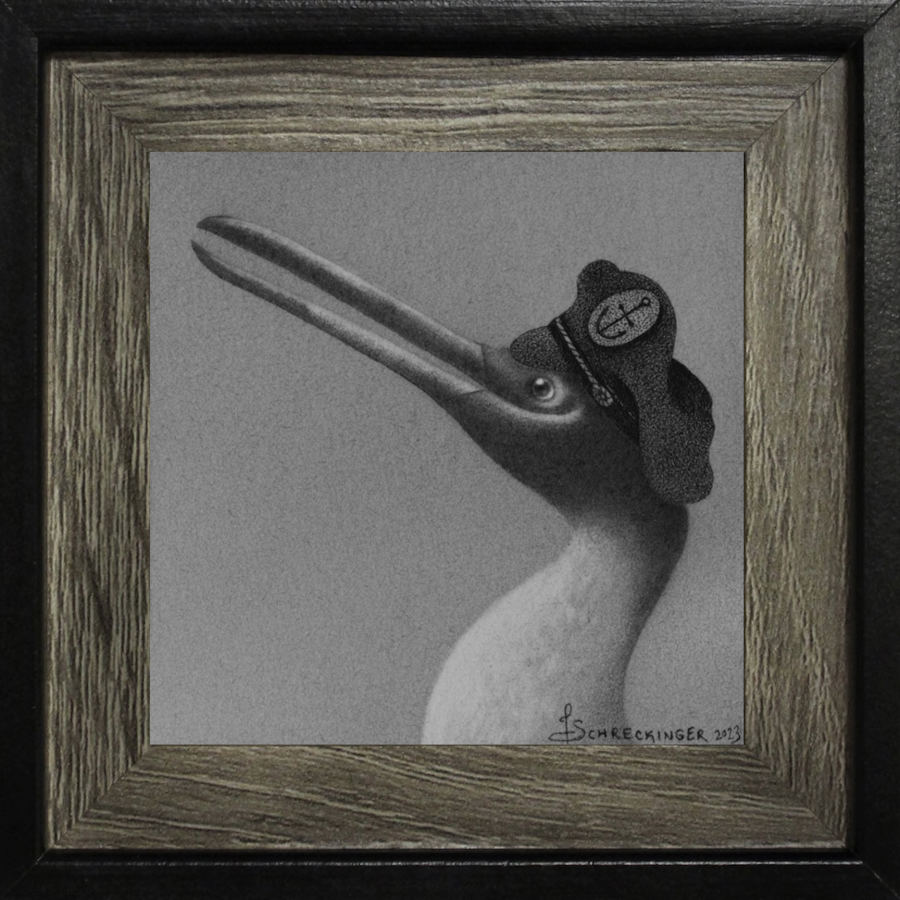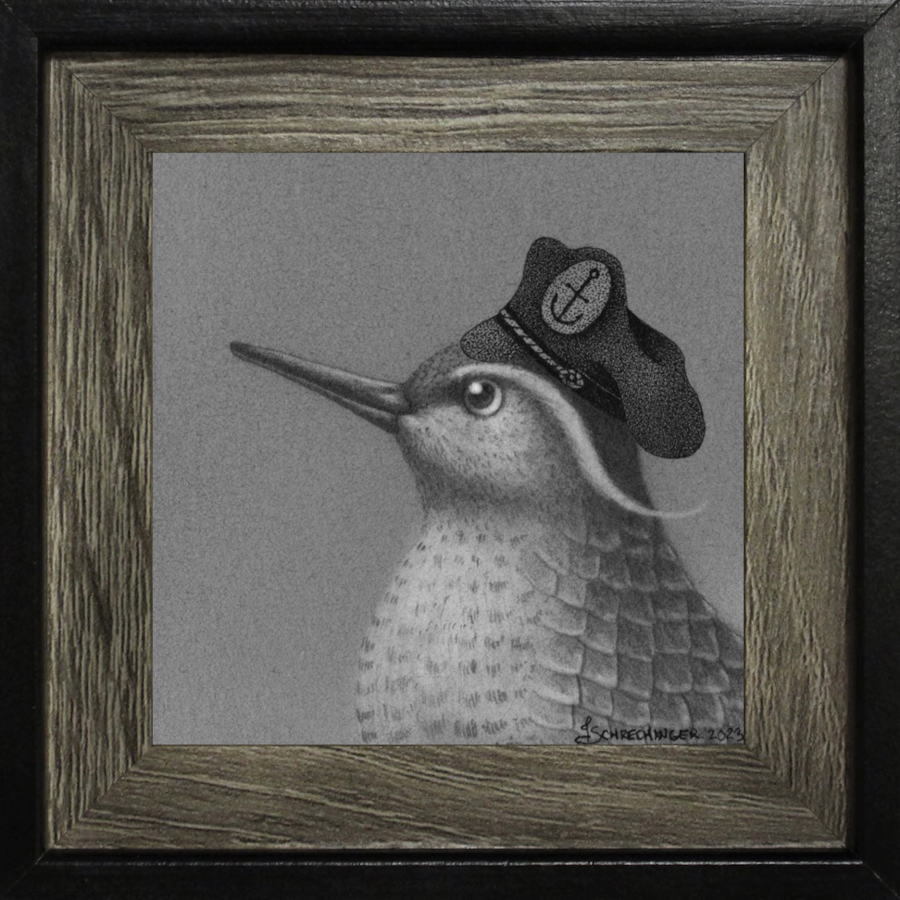 Has this latest series progressed your work in any way?
In my last series at Arch Enemy Arts, I focused on some of my favorite old friends: Oscar the octopus, William the giant squid, Herman the heron, and a few others. It was a series called "Out Of Water", where all of the sea creatures had risen above their usual constraint of being underwater. They visited several places that are particularly special to me, and enjoyed the company of one another.
While that series was more of an ode to my oldest and dearest characters, this series is entirely new. There is no character I have met before in this series. With every piece came the wonderful experience of sitting down and meeting a new friend. It is a show of eight completely new characters, each visiting eight places I wish I could have visited.
I learned so much while making this body of work. It took an extensive amount of time and research to make sure all the details were just right, as these pieces all depict a lighthouse I could not visit and get my own reference of; many of them were destroyed before digital photography was even invented.

Juliet Schreckinger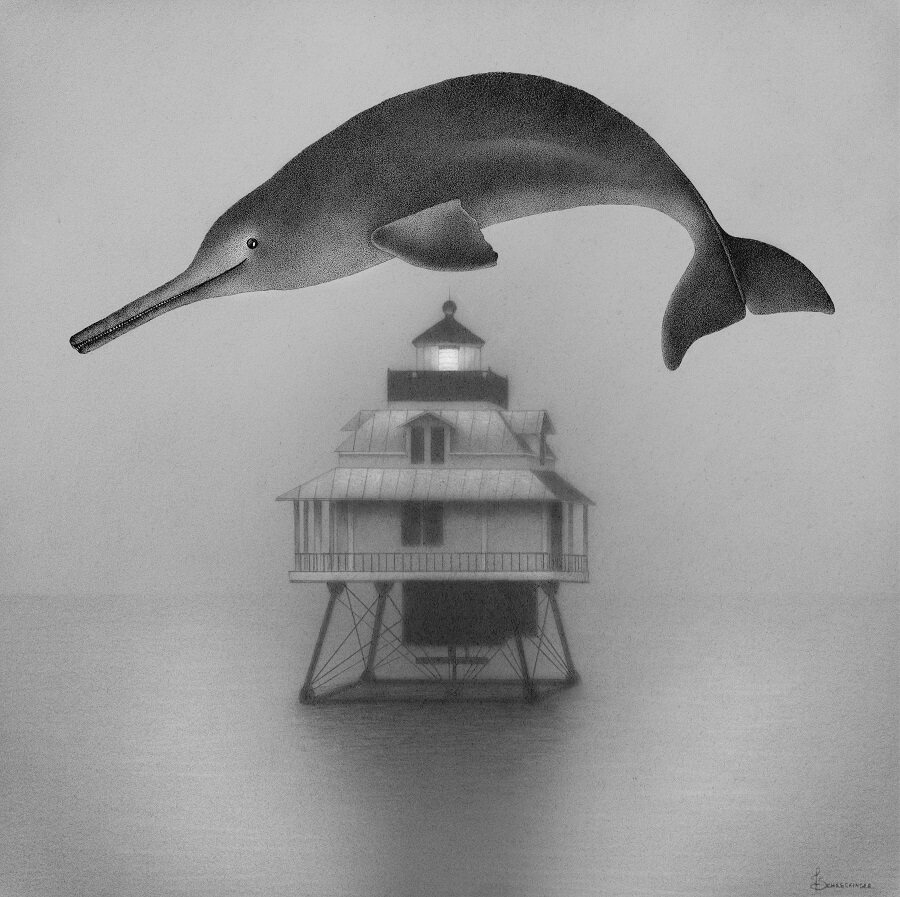 I used old film photographs, text, and some of the published architectural blueprints to build these lighthouses in my series. The same goes for the extinct species; although there was more photography to reference for some of the animals, I had to stitch together many references to create my own original characters that were still anatomically correct. I am still using the same technique as I did for my last series of ink and graphite on paper, yet the pressure of getting these extinct structures and creatures just right really pushed me to better myself.
Another major focus for me since my last solo show was incorporating writing with my work. Creating a visual narrative has always been a goal of mine as an artist, and I made a significant effort since my last show to add more depth to my narratives, which I hope will be reflected in this new body of work.
How will collectors who buy a work receive the accompanying ghost story?
I would love to give a copy of my book "The Ghost Lights: Volume I" to anyone who purchases one of the eight lighthouse pieces in my solo show. I hope to have the book completed before the end of 2023, when it will become available to the public. I have been working very hard on the book, and I am so truly excited to share it with everyone!
I am trying to convey an underlying message of hope throughout this new series. Hope that if enough people care about these beautiful creatures, we as a society can save them from extinction. The animals in this series are gone – permanently.

Juliet Schreckinger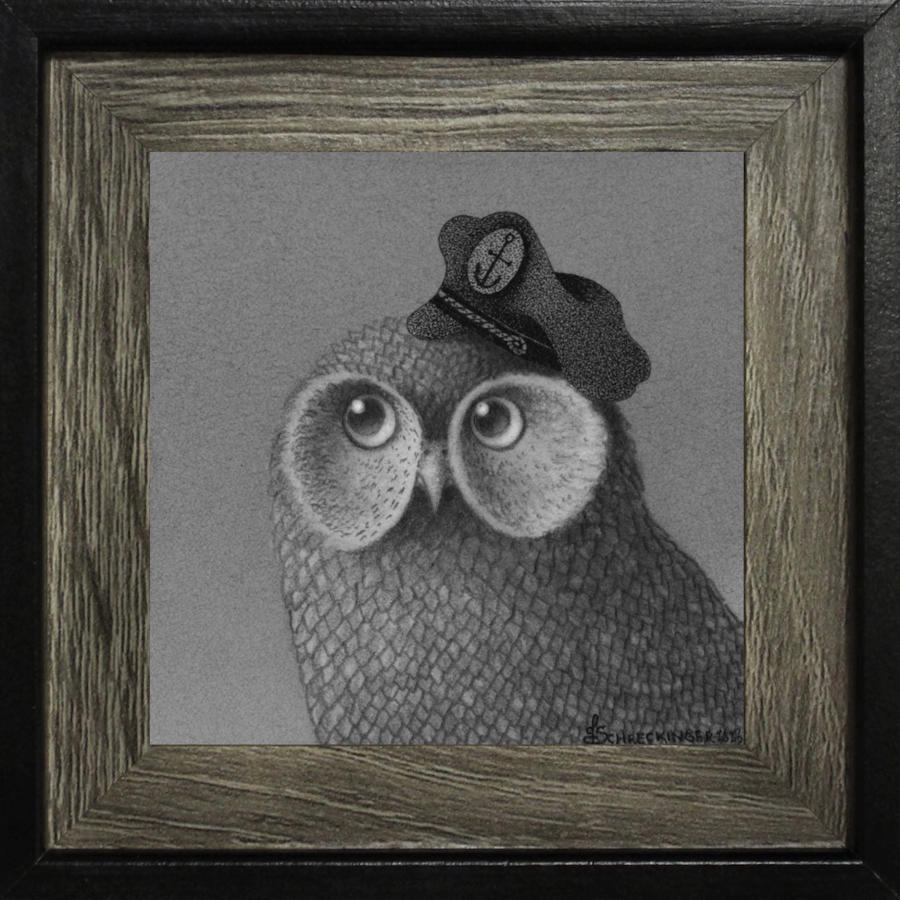 Overall, how do you feel about the works for THE GHOST LIGHTS?
While I made this series, I thought back to a book about protecting the environment that was very influential to me during my childhood, one that my dad had read to me often: The Lorax by Dr. Seuss. In the end, there is a sentence that has always lived in my mind: "UNLESS someone like you cares a whole awful lot, nothing is going to get better – no it will not". I was so taken by this story as a child and have tried to not let that magical feeling slip away into adulthood.
As I mentioned, this is the series that ten-year-old Juliet would be proud of. It is personal and melancholy, and as I reflect on it I feel the same emotions I felt all those years ago when hearing my father recount the words of that special story. It is a series of hope for the future, in looking at what beautiful things we have lost. It is about taking a stand against darkness and looking to nature as a guiding light. The lighthouses stand as symbolic elements of lost light and goodness, with their keepers of the light, the extinct animals, standing by their side as glowing examples for the next generation.
Juliet Schreckinger Social Media Accounts
Arch Enemy Arts Social Media Accounts