Get swept away in the magic of imagination and the power of artistic creation as Arch Enemy Arts celebrates exhibitions by Juliet Schreckinger, Molly Devlin and a dual show by Darla Jackson and Paul Romano. From the dark waters of nature to sculptures and painted symbolic tropes that seep into our thoughts with compositional diversity, we are at once ensnared.
Surrealistic portals and faraway dreamscapes beckon interpretation and we delve further into the creative journey and illustrative wonderland of each artist. Befriended by the wilds, animal symbolism, both real and imagined, awaken a soulful connection. We're reminded of the transformative bond with Mother Earth, our preserving lifecycle, and the human spirit's affinity to embrace nature.
Juliet Schreckinger, Molly Devlin, and Darla Jackson x Paul Romano
Opening Reception: Friday, November 3, 2023 | 5pm – 9pm
On view: October 20 – November 12, 2023
Arch Enemy Arts
109 Arch Street | Philadelphia, PA 19106 USA | (215) 717-7774
For sales or private viewing appointments, please email [email protected]
Regular Gallery Hours:
Monday to Friday, 10:00 am to 4:00 pm
Saturday and Sunday, 11:00 am to 5:00 pm
---
Juliet is absolutely one of our most cherished artists, and having the opportunity to work with her these past few years has been a complete joy and honor. While I could endlessly praise her very clear and obvious talent (the softness in her technique and execution is as delicate as it is mind-blowing), I feel as though it's just as equally important to acknowledge the incredible human that she is.

We've worked with hundreds of artists over the past 12 years, but Juliet shines as a real diamond in the rough. Her incredible professionalism and organization has always inspired us, but what really sets her apart is her infectious and enthusiastic energy that radiates to everyone she meets and spills over into each piece she creates.

Juliet's authenticity is a really rare find, and just knowing her heart of gold and all the care and effort she pours into every character, detail, and story just makes me love her work that much more and root for her success a little harder. She's got a new solo exhibition opening here very soon, and with all the work and dedication I've seen her give to this series, I'm sure it's going to be her best one yet.

Lawren Alice, Arch Enemy Arts
Arch Enemy Arts presents Juliet Schreckinger's 2023 solo exhibition: THE GHOST LIGHTS, twenty-four delicate drawings that capture twenty-two extinct maritime animals, rendered as spirits guarding great American lighthouses of the past.
"What inspires me most of all–the protection of the creatures within our world–is the underlying theme of this series. I'm drawing a parallel between these "Lost Lights" and so many beloved animals. They are gone, permanently. Yet the ghost of these things, the memory, lives on and inspires us to do better and to protect those that are still here." – Juliet Schreckinger
Each of the eight "Lost Lights" depicted in the series, so-named by the United States Lighthouse Society, is relit by Schreckinger's deft hand. Meticulously researched and represented, they provide an accurate archive of watchtowers that once were, shimmering proudly above moonlit waves, tended by creatures with glowing eyes that mirror the beam of the long-extinguished lantern flame.
Whimsical and charming, there is a tender aching to Juliet's work. Her carefully constructed compositions feel monumental. Gently rendered in ink and graphite, they offer an atmospheric sense of loneliness that belongs to the distant realm of endless ocean. Echoing through time, THE GHOST LIGHTS are a haunting testament to the depths of all the species we have lost.
The artist has committed a portion of her profits from this exhibition to the United States Lighthouse Society in an effort to help preserve these lighthouses and the many species of birds, seals and other animals that call them home.
– written by Candice Musher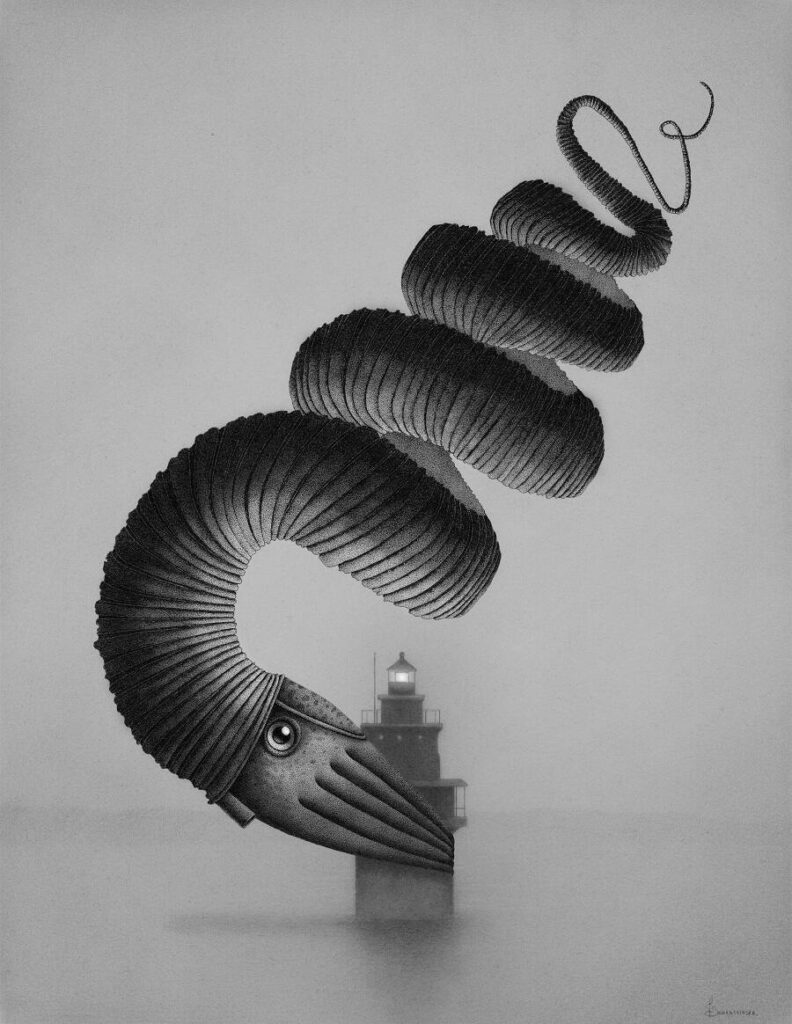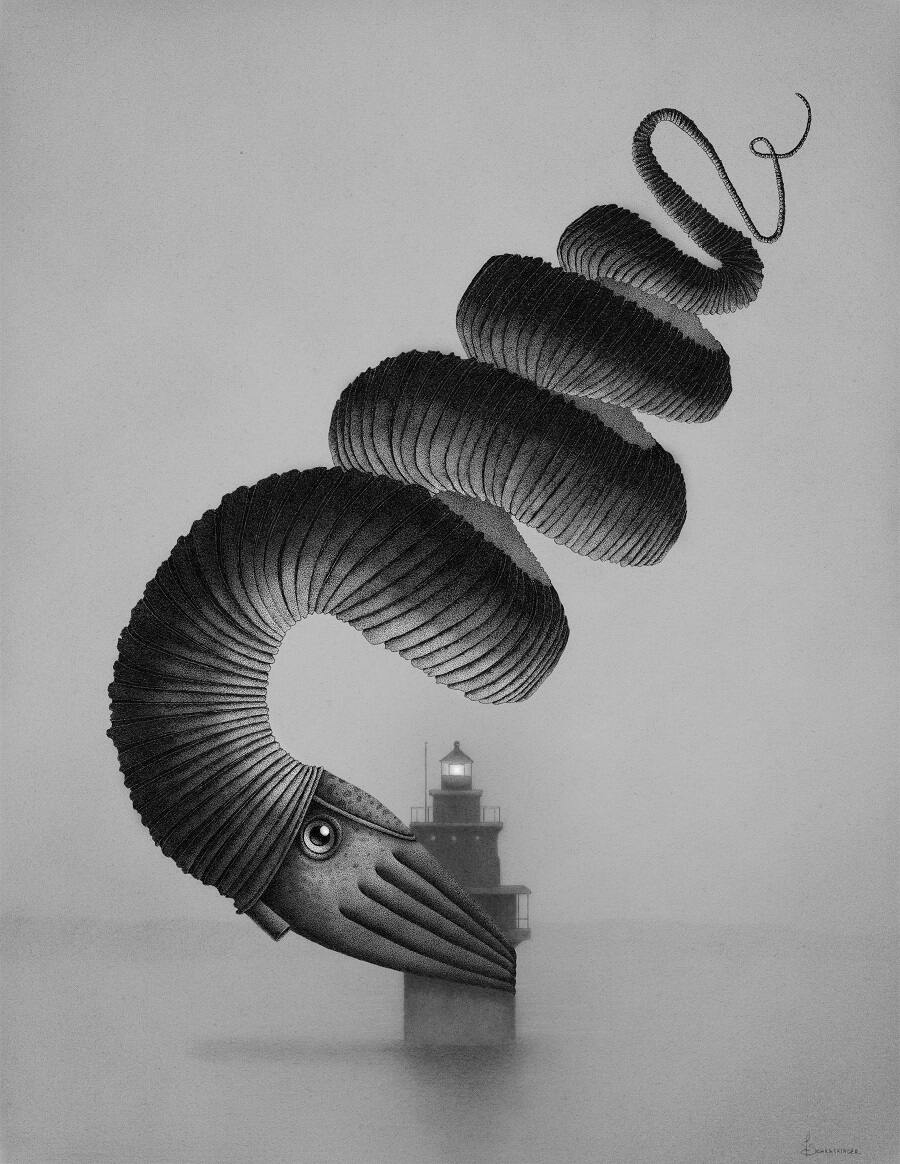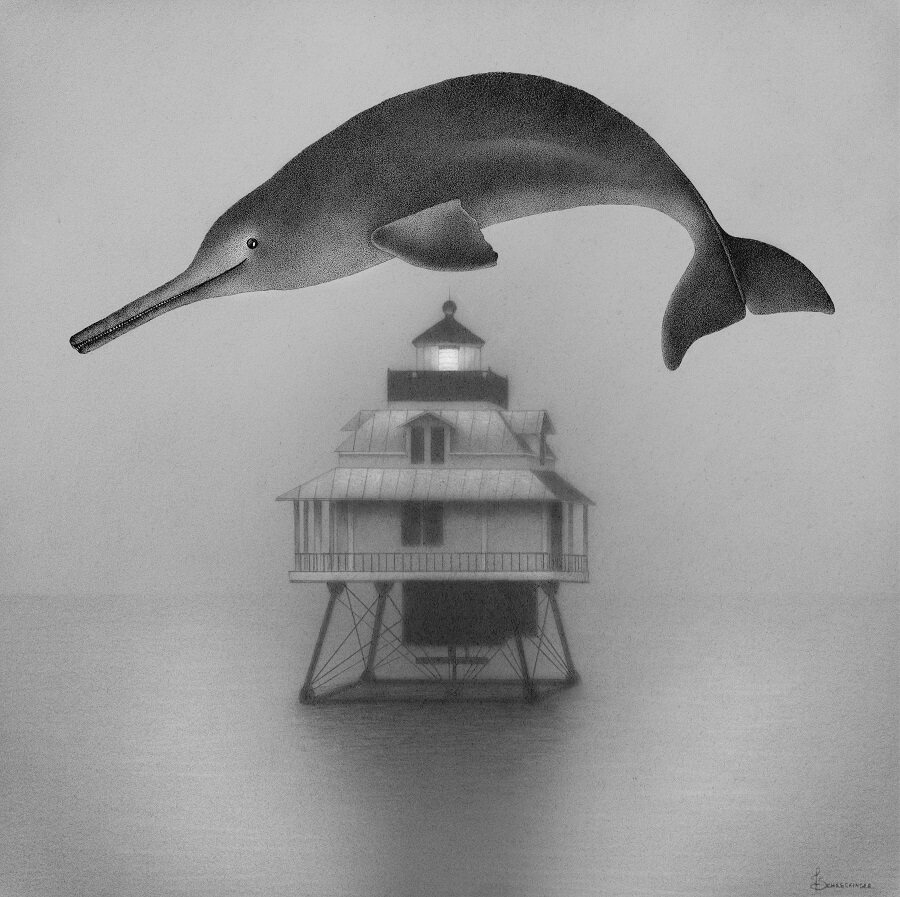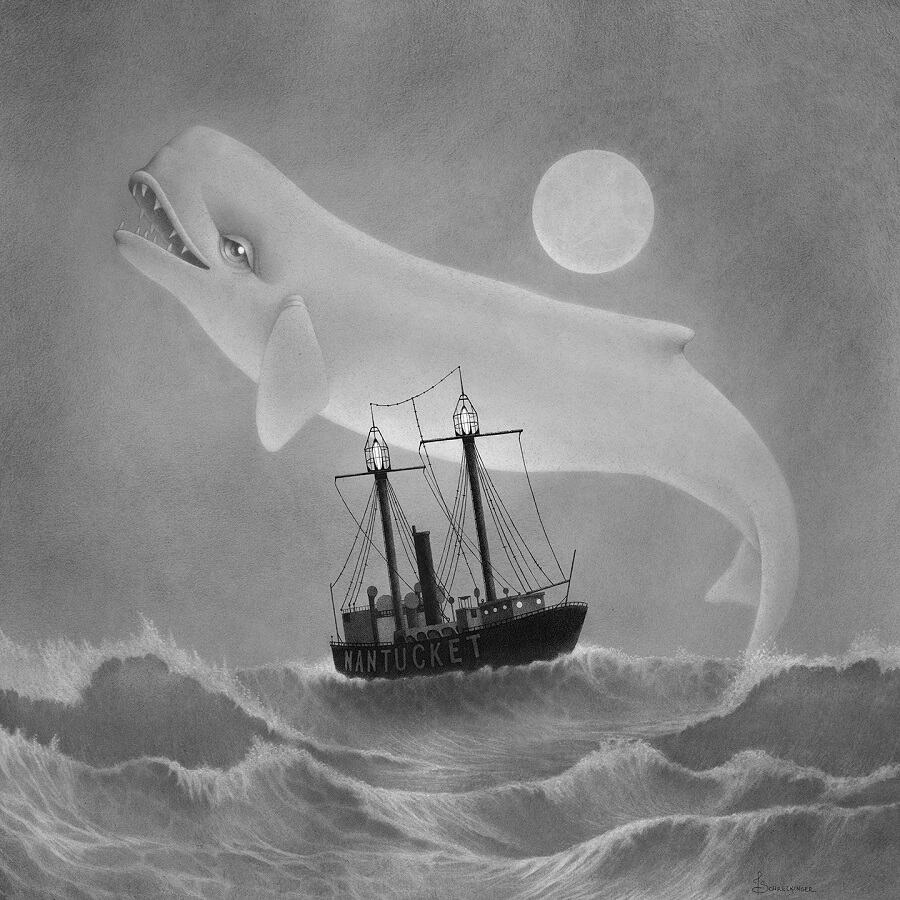 Arch Enemy Arts presents MOUNTAIN MYSTIQUE, a spotlight of five new paintings by Molly Devlin.
Devlin's paintings are like whispers. With translucent layers of organic matter, the artist overlaps glasslike shapes to render surreal yet recognizable forms. In this series, Devlin has used her distinctive painting style to capture the magic of fall in a mountain forest, articulating its flora and fauna with fallen leaves.
I spent some of this year adventuring into the Sierras and Appalachias, places on earth that feel very special and ancient, so I've chosen textures and animals that I encountered in the wilderness, that which I've seen and that which lurks beyond my eye. So much of my inspiration comes from the mountain ranges that linger majestically on the horizon line, holding secrets that we can't begin to comprehend.

Molly Devlin
These paintings seem tinged with the scent of damp earth as Devlin's brush embraces each beautiful creature in the delicate melody of autumnal decay. Through the quiet rustling of entangled leaves, her paintings trace the soul of a forest that exists connected, unknowable, and beyond our understanding.
​- written by Candice Musher
Paul Romano x Darla Jackson
HOLD SACRED, Part I: DELUGE & TEMPEST dual exhibition
Arch Enemy Arts is pleased to present 'Hold Sacred, Part I: Deluge & Tempest', the first of a two-part exhibition showcasing a themed body of work by Darla Jackson and Paul Romano. Visually transcribing the rough storms of the human experience, the couple highlights their collective strength through their individual practices, characteristically presented in sculpture and painting. Here they have crafted a collection that lays their hearts bare as individuals, as a family unit, and as artists finding creative meaning within the throes of emotional chaos.

The pair initially set out to redefine what they had each regarded as having a sense of divinity, that which they as creatives revere– whether in art history, in collective mythos, or within the undisputed bond that they share with each other. Says Romano,

"[We were] thinking about the ideas of the sacred, both in the grand sense of what has come out of the human imagination, but also in what we personally keep for ourselves as sacred."

Through existential circumstances, the show's concept was molded as current issues put things into perspective, challenging what sacred comforts the two previously held. Just as the world was seemingly easing back into the day-to-day, one thing after another seemed to befall them through multiple extenuating factors affecting family and friends.

"Suddenly it was all hitting close to home. People that we loved."
"This is really just about the confusion of it all… the confusion, and the sadness, and the anger."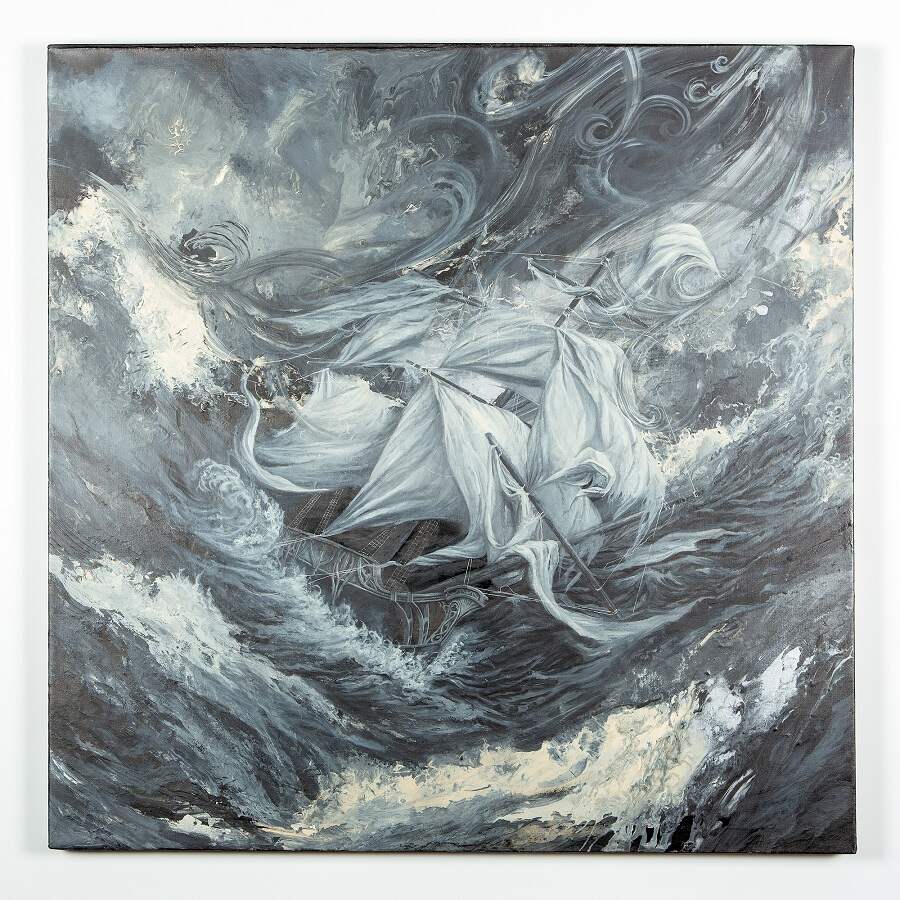 Their productive mettle and emotional dexterities challenged, their contemplations of this sacred theme appear before us now. Darla gives us a cousin to the Catholic "Way of Sorrows" with her allegorical depictions of the stages of grief. Armor, Ember, Offering, and Not ready yet… display a return to familiar practices as a safe place, presenting her emotional portraiture as acquainted expressions anew with raw and recent tumult. Armor conveys denial with protective thorns functioning as a dissociative wall between the tender animal and the harsh pangs of reality. Ember threatens to rekindle in near-passed rage, while Offering bargains for a way to reason with heartache. In Jackson's own words: "They are stand-ins, specters… the ghosts of our feelings." Departing from these we find the link between her and Paul's bodies of work– the ship as allegory for grief itself.

Darla's Wrecked is a portrait of the sculptor transfigured, run aground, replete with gossamer sails and surrounded by ribbons of tears. This idol of sadness echoes the profound sentiment shared within Paul's arresting work, Deluge, itself a reconciliation of pain and material. Having maximized a new technique in rendering and with heart open wide, Paul has given us an image that is identifiable in both feeling and content. Its monochromatism allows subtle temperature variations to lift and obscure the subject within its surroundings, pushing and pulling our view amidst the rocking waves. The work is as animated as it is solemn, beautiful as it is gripping– a touching monument to the loss of his mother. Moving onto the others in this series, we are confronted by figures placed within tortured landscapes or emerging from expanses of color. Crisis Figure and Husk present active and passive destruction, while Ecdysis conveys a hope for renewal after breaching the extremes of experience. Lastly, "- – – . . . – – -" (the title representing S.O.S. in Morse code) pays homage to the martyred figure, one whose pain blossoms into lasting effect beyond the immediate moments of sorrow.

"[We are] speaking from similar places, but saying different things," says Jackson, describing the "emotional trust-fall" that allows their voices as individuals to shine through a studied lexicon of sacred imagery. By allowing life experience to generate the personal symbolism that is integrated with their work, this newly tempered self trust becomes a heart to heart with the show's viewers.

As we brave the Deluge & Tempest together, Romano offers this simple contemplation:

"What's left after the storm?"

Darla Jackson is a sculptor and educator teaching Foundry and Moldmaking at Pennsylvania Academy of Fine Art, as well as various workshops throughout America. She received a BFA in Sculpture from Moore College of Art in 2003 and in the years since, her work has been exhibited in museums and galleries across the country. Paul Romano is a multidisciplinary artist and designer, having developed myriad cover-to-cover album artwork for bands internationally– most notably for the Grammy Award-winning act, Mastodon. Romano studied at the University of the Arts and Pennsylvania Academy of Fine Art. The pair resides in Philadelphia, PA.
– written by Alex Medlin II for Paul and Darla
About the Gallery //
Seeking to fill the need for a centralized hub focused exclusively on new contemporary genres within Philadelphia's already vibrant art scene, Arch Enemy Arts was founded in 2012 and quickly became Philly's freshest new venue dedicated to exhibiting emerging and established artists, both local and international. Located in Philadelphia's Old City District, and with an emphasis on the lowbrow, pop-surrealism, urban, and macabre in a wide range of mediums, Arch Enemy Arts was chosen as Philadelphia Magazine's "Best of Philly"™ Best Art Gallery for its 40th Anniversary issue, voted the "Best Art Gallery in Philadelphia" on Philly HotList in 2013, and in 2012.
Noah Musher // co-founder & owner
Lawren Alice // co-founder & curator
---
Arch Enemy Arts Social Media Accounts