Join Arch Enemy Arts as they celebrate Michael Camarra's NEON DIONYSIA and Allison Reimold's OF SHADOW AND BLOSSOM solo exhibitions alongside Spectrum 4, a group show inspired by individual colors from the ROYGBIV spectrum! From pastel post-apocalyptic themes to grayscale values with springtime ambitions, the diverse narratives let our imagination follow the path directly to the creative ideation of the artist. Ancient ruins, butterfly gardens, and elegant compositions embrace the visual romanticism and we are windswept from one mesmerizing artistic creation to another.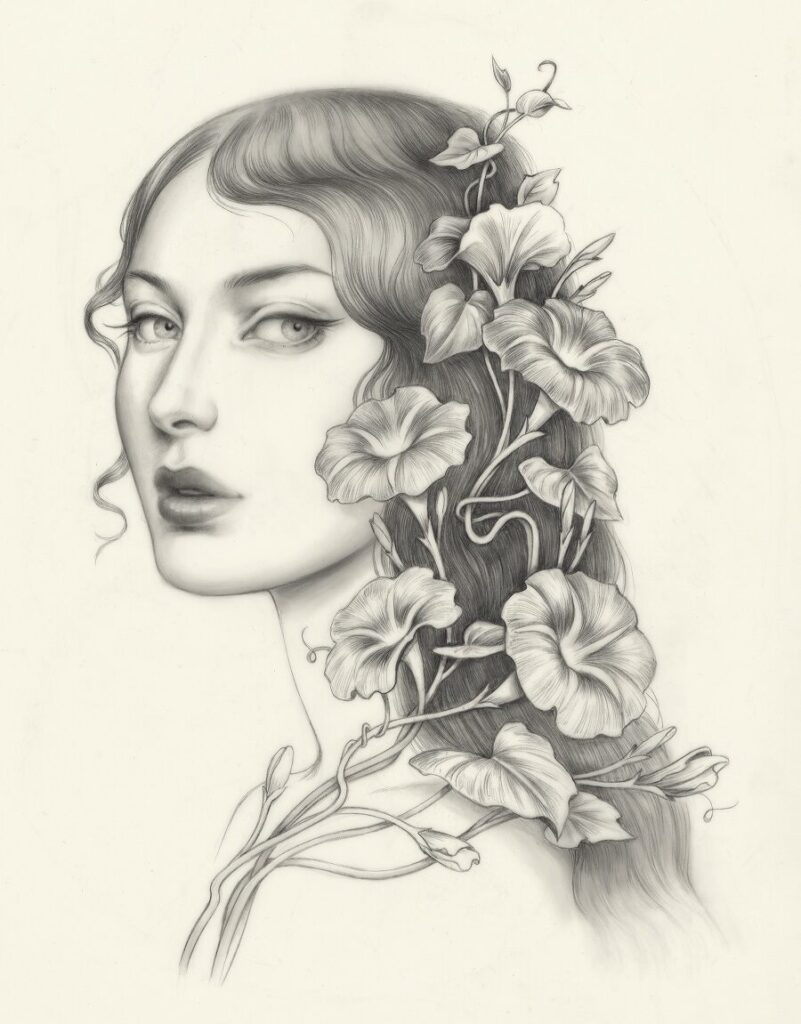 Michael Camarra, Allison Reimold, and Spectrum 4
Arch Enemy Arts
109 Arch Street | Philadelphia, PA 19106 USA | (215) 717-7774
For sales or private viewing appointments, please email [email protected]
Regular Gallery Hours:
Monday to Friday, 10:00 am to 4:00 pm
Saturday and Sunday, 11:00 am to 5:00 pm
Spectrum 4 Gallery Views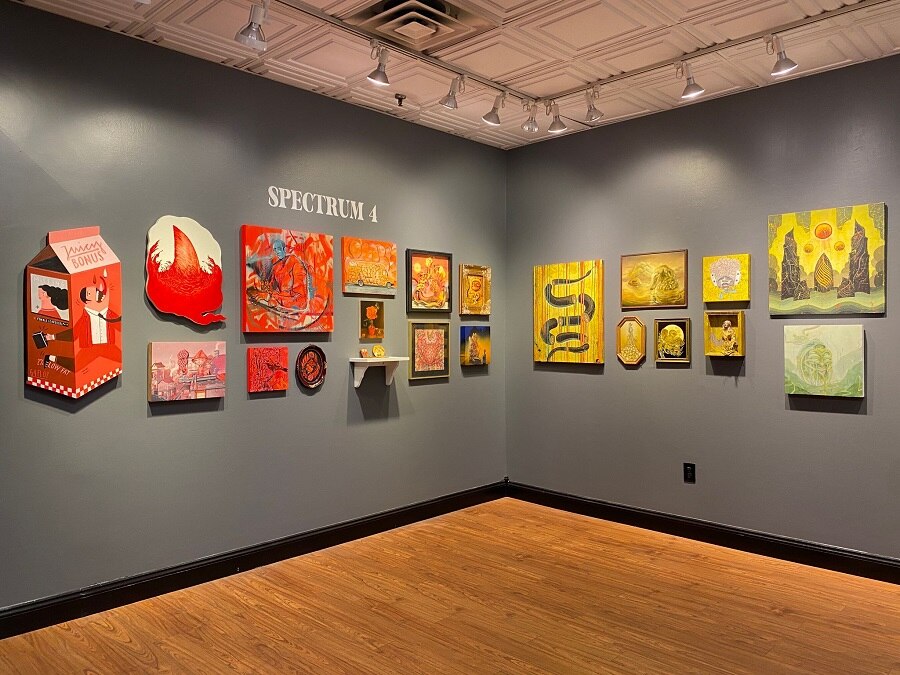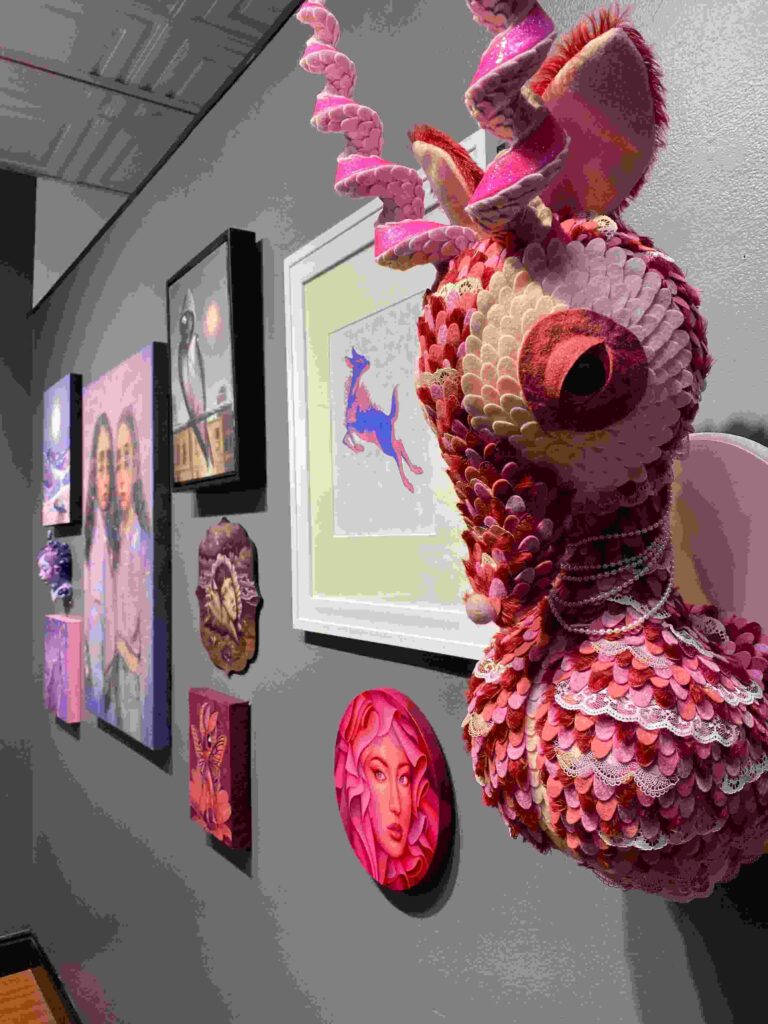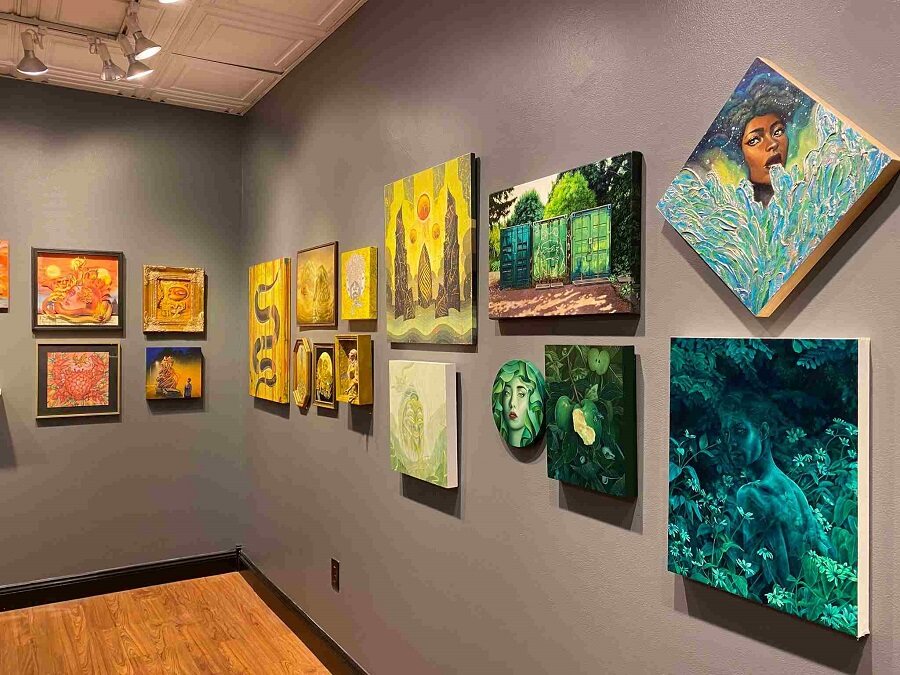 ---
MICHAEL CAMARRA, NEON DIONYSIA
Feature August 18th – September 10th, 2023
Arch Enemy Arts is pleased to present the latest collection of works by New York artist, Michael Camarra, entitled: NEON DIONYSIA. This series of eight captivating acrylic paintings reinterprets neoclassical scenes of mythical reverie amidst Camarra's hallmark atmospheres of post-apocalyptic decay. Igniting the panels with the radiance he is known for, Camarra has bathed his monolithic structures, demigods, and dancers in an ethereal neon-twilight glow. The central figure of the series, Dionysus, Greek god of wine and madness, holds court in accompaniment of Pan and Maenad acolytes.
The figures are adorned with various anachronistic refuse of a seemingly distant technological age– irreverently placed headphones, speaker parts, and electronic hardware are worn as jewelry and headdress alike. The visual narrative is made complete by Camarra's inclusion of classical pottery and architecture, the latter built from reclaimed panels of ribbed and rusted metal, cleverly emulating the fluted columns of ancient Doric constructions.
Creatively grappling with a discomforting present, anticipating what seeds and pantheons may blossom from the potential destruction of tomorrow, Camarra unites these themes of reinvention with clever compositions in a manner that he accurately describes as post-apocalyptic Romanticism.
Of the inspiration behind Neon Dionysia and the subjects portrayed both overtly and subliminal, the artist writes: "There's a general captivation with this grim vision of the future and I saw it as fertile territory to contrast with something much more lighthearted. So I landed on the more celebratory themes of the Dionysia/Bacchanalia that we see in neoclassical art. Despite the outwardly lighter tone in this show, many pieces still have a creeping presence of some sort of cataclysm told in the props and setting. A harp made out of a soldier's helmet. Temples made out of broken pieces of concrete ruins. Thrones made out of decrepit electronic waste."
Michael Camarra received a BFA in 2005 from Pratt Institute in Brooklyn, NY. In the same year, he was a recipient of the Albert Dorne Award from the Society of Illustrators. NEON DIONYSIA is the artist's fourth solo show with Arch Enemy Arts, coming after 2022's Gods of a Broken Land.​
– Alex Medlin II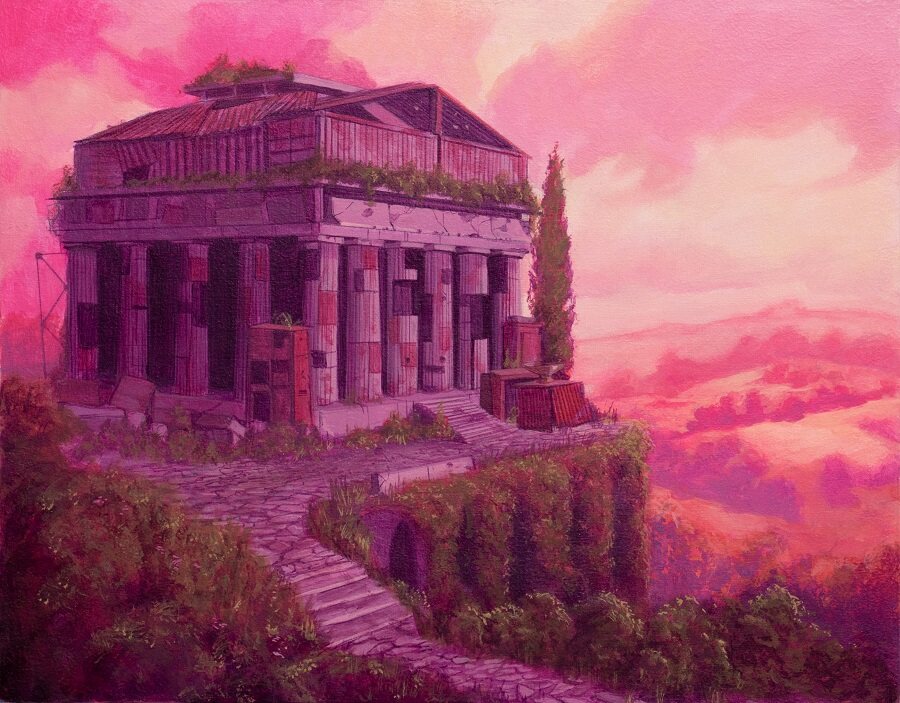 ALLISON REIMOLD, OF SHADOW AND BLOSSOM
Feature August 4th – 27th, 2023
Arch Enemy Arts presents OF SHADOW AND BLOSSOM, a spotlight of five new drawings by L.A.-based artist Allison Reimold. For this series, Reimold's use of graphite on vellum adds a soft, velvety feel to hyper-feminine black-and-white drawn portraits. "It's a very simple series," Reimold told us. "I'm using grayscale values to explore themes of springtime all based in depicting the female form. I find that without placing a female figure in a work, I can't really see myself inside of the world I'm creating."
OF SHADOW AND BLOSSOM pairs the rich elegance of Victorian cameos carved into soft stone with the sumptuousness of the contemporary female gaze. Smoldering and ethereal, these women are smoke and shadow, their grace and allure accentuated by floating butterflies and seductive snakes, opulent flowers and sprawling ivy. They wear nature like jewelry and armor, proud badges that highlight them at the apex of femininity.
An L.A. native and true Angeleno, Reimold graduated from Otis College of Art and Design, and she works full-time illustrating movie posters at one of the leading advertising agencies in the industry. Reimold has been showing her work with Arch Enemy Arts since 2017, and has appeared in multiple group and solo exhibitions with the gallery. ​
– Candice Musher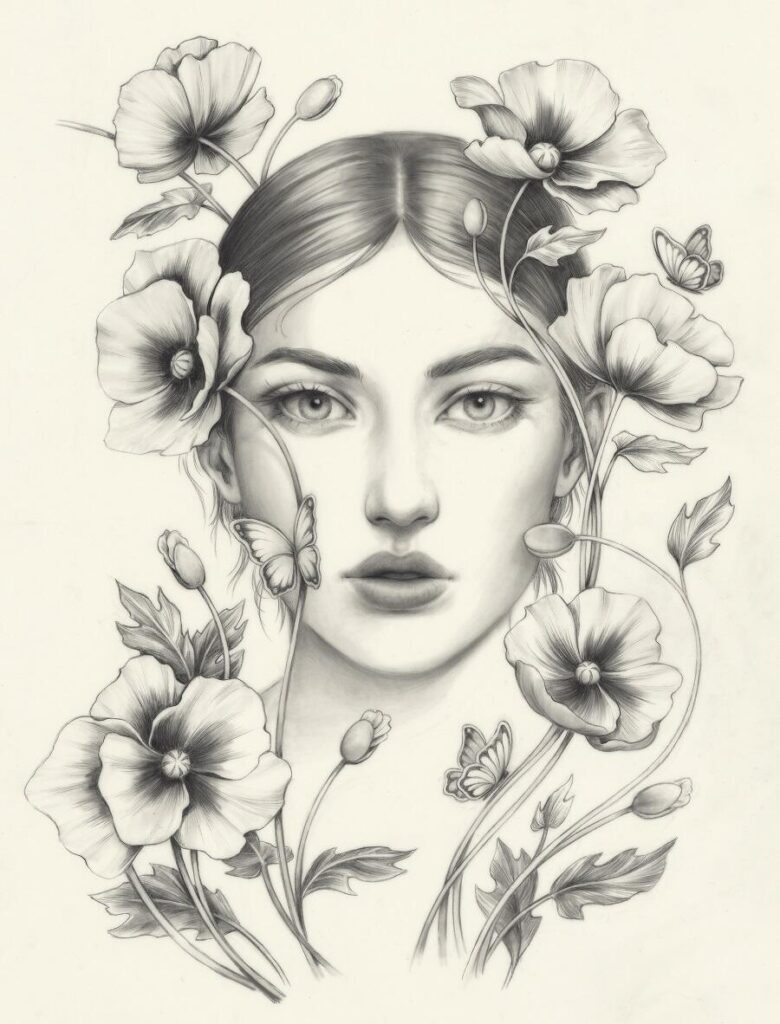 Back in 2020, amidst a prolonged quarantine and escalating anxieties, a new and exciting idea for a group show theme emerged. Seeking to counter the overwhelming melancholy, we envisioned a collection of works that would radiate vibrancy and joy. Participating artists were tasked with creating near-monochromatic pieces, each inspired by a single color from the ROYGBIV spectrum.
As the finished works arrived, we skillfully and carefully arranged them on the wall, orchestrating a breathtaking crescendo of colors that spanned the full spectrum. While each piece is a standout in its own right, together they unite in a harmonious symphony and a vibrant celebration of color and creativity.​ The SPECTRUM series has now been presented as four annual exhibitions since its inception in 2020. On August 18th, we will launch the 4th edition of this series with a brand new and exciting lineup of artists eager to contribute to the ever growing rainbow spectacle that is SPECTRUM.​
View the works from SPECTRUM 1 – 3
View all the works from SPECTRUM 4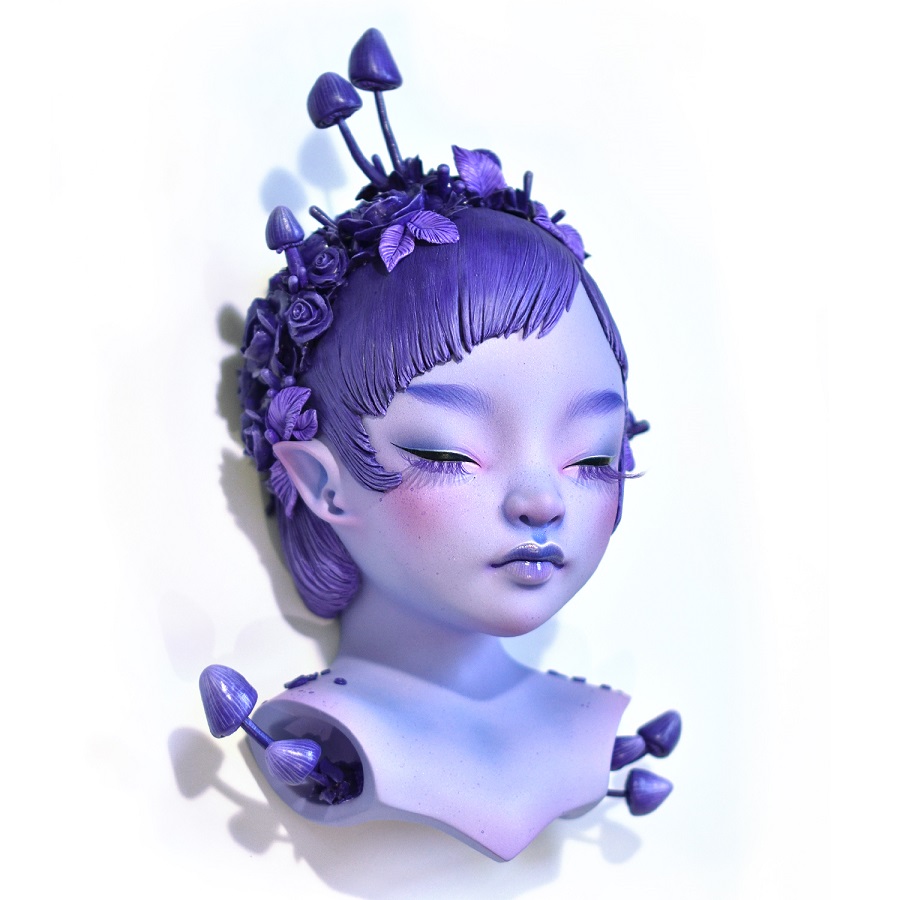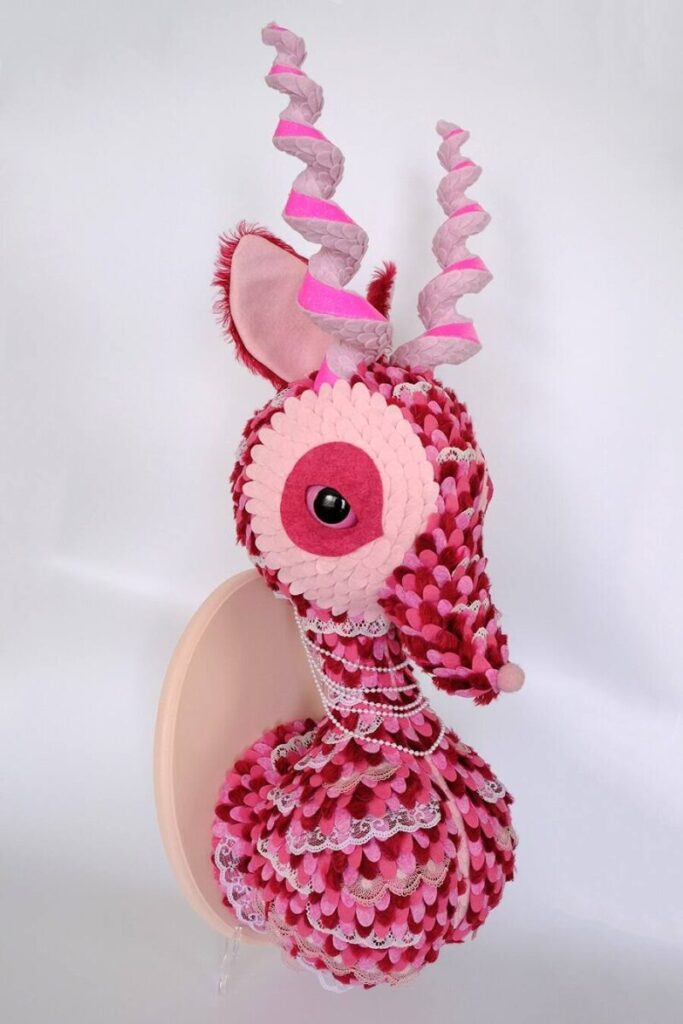 ---
About the Gallery //
Seeking to fill the need for a centralized hub focused exclusively on new contemporary genres within Philadelphia's already vibrant art scene, Arch Enemy Arts was founded in 2012 and quickly became Philly's freshest new venue dedicated to exhibiting emerging and established artists, both local and international. Located in Philadelphia's Old City District, and with an emphasis on the lowbrow, pop-surrealism, urban, and macabre in a wide range of mediums, Arch Enemy Arts was chosen as Philadelphia Magazine's "Best of Philly"™ Best Art Gallery for its 40th Anniversary issue, voted the "Best Art Gallery in Philadelphia" on Philly HotList in 2013, and in 2012.
Noah Musher // co-founder & owner
Lawren Alice // co-founder & curator
---
Arch Enemy Arts Social Media Accounts