For both Lilith Divine and her husband Konan, the need to create art is a never-ending fire that must be continuously stoked. The duo are collectively known under their artistic name The Madness Circus, a hint towards their larger-than-life demeanor when it comes to creating art. Conversely, however, it feels more and more that the domain they create is more grounded than the world outside. In a time when reality slips deeper into the technical realm and disconnects further from nature, the art Lilith Divine and Konan produce is a tonic.
We are left to question: what, fundamentally, is the real "madness" of this world? Is accepting the world as is the true madness, rather than those fighting for a better place?
After learning that Lilith Divine had recently received a Mention of Excellence during a group show at Influx Gallery, I knew it was time to catch up with this artistic duo once again. Read ahead to learn more about Lilith and Konan's wonderfully bizarre adventures from the wilds of Italy, and beyond.
2022: a year of celebration
"We participated in numerous open calls throughout 2022, which thankfully led to a lot of work satisfaction." explains Lilith Divine. Driven by their decision to enter numerous project opportunities, both artists found this mindset helped them to think even further outside of the box; no mean feat, given this duo's wonderfully alternative creations!
Among the many new works, Konan found his carpentry skills pushed to new levels. Admirably, the ethos of reusing and recycling has often been at the heart of his production. As part of his ongoing exploration into sourcing materials, Konan decided to approach some of the large sawmills, where he gathered some of their "processing waste". This "waste" was, in fact, a selection of rare woods.
As well as hand-making a selection of storage boxes and brush holders, these rare woods were used to create something particularly special: "Konan invented a painting easel that rotates 360 degrees and has a lot of additional features that you can't buy in traditional easels!" Lilith shares with pride. The prototype is still being tweaked, but the couple have plans to promote and sell the product once it is ready.
Impressively, he has also celebrated selling his largest steampunk sculpture ever created. In true Konan talent, he upcycled 200kg of scrap metal from a landfill, transforming it into a grandiose statue of brass and copper. The creation was: "Eddie".
For Lilith Divine, 2022 was also a significant year for personal recognition as an artist. She received recognition for her painting "Arthemide", winning the Best in Show award at an exhibition in Milan. "It was in the beautiful setting of the Museo delle Arti e delle Scienze in Milan that I received a beautiful award for my work "Arthemide." Lilith shares. "This was during the group exhibition AQUARS II, curated by the fantastic Eva Amos of Art Space."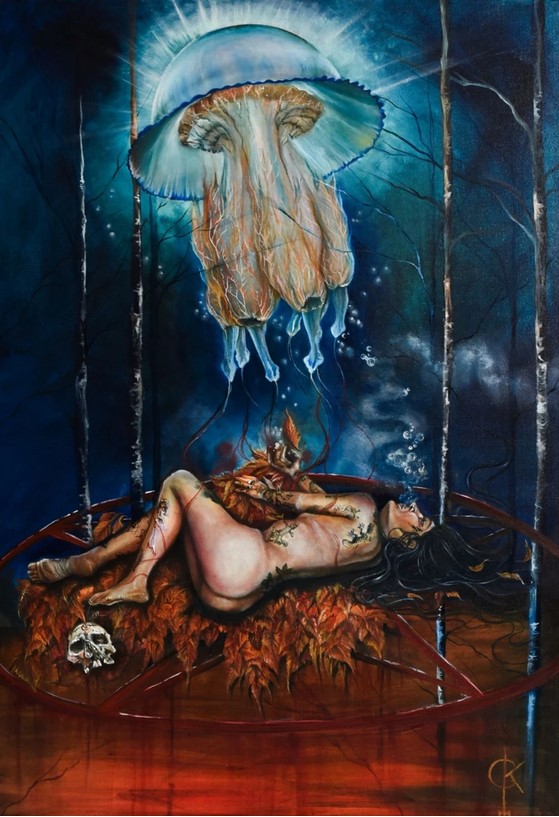 The traps of the "group exhibition" lure
Sadly, it's not all been success and happiness. Lilith has also found herself disappointed by the "trap" of flattery to lure participation into certain art exhibitions. Without naming names, she is eager for other artists not to be taken in by similar practices:
I would like to share my personal anger at certain circles of art exhibitions that exist here in my country, in Italy. I want to tell young artists not to fall into the traps of flattering emails. They encourage you to participate in leading exhibitions, before then asking for a lot of money to create a promotional video. These videos show your work together with anything that anyone, paying, can call a "work of art".

Exhibition themes are often a bait to draw attention to something good, but you're in the middle of a big joke… It's not nice for people like us who really believe in our themes, our narratives, and share visibility on important issues within our works.

Lilith Divine
"I think Italy's concept of "Belle Arti" (fine arts) is a bit lost. But much can be found! Get out of the small shell of your comfort zone. Offer yourself to the four corners of the world by using technology in a clever way until you find those who love your art and you as an artist. It doesn't matter if they're in Tibet or Alaska; the love of art knows no boundaries or languages."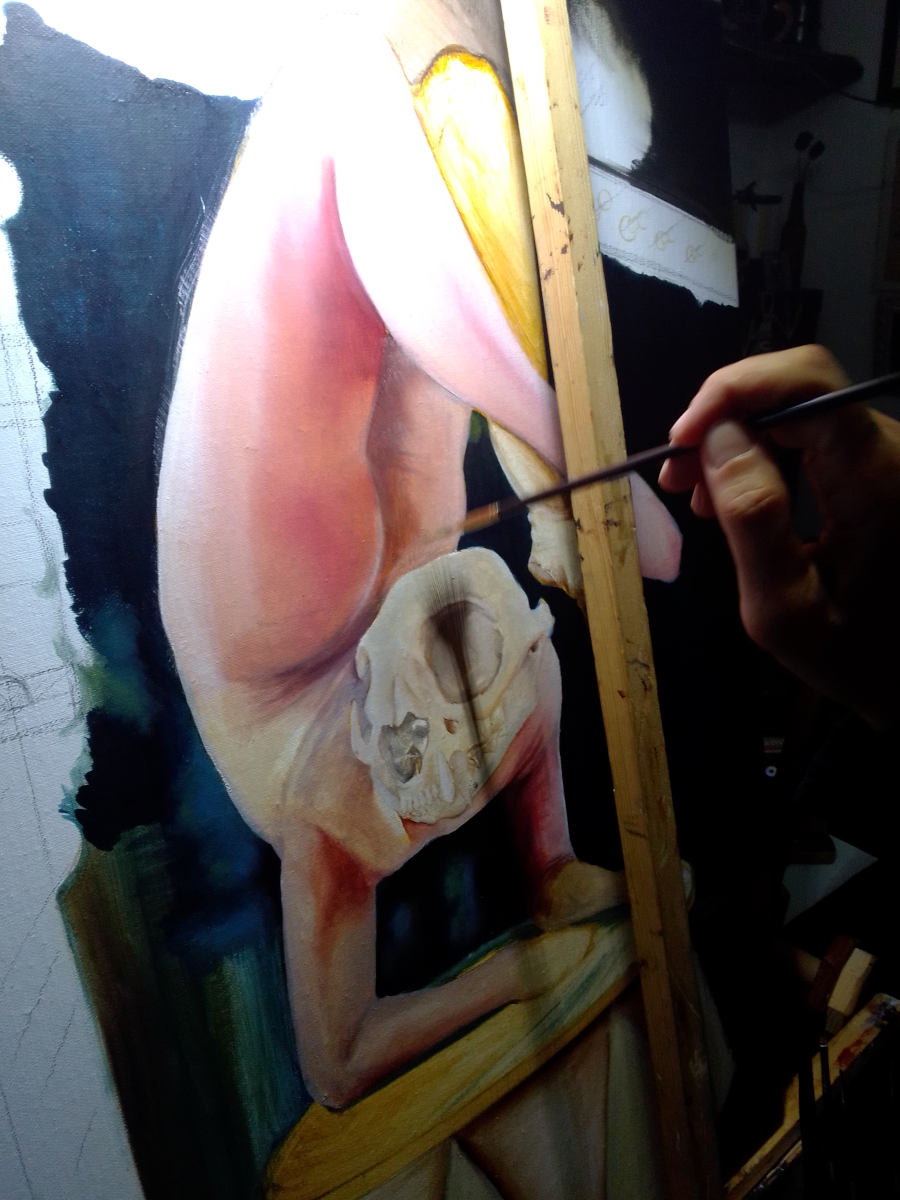 "The Lovers": a work from the heart
The piece in question, which was going to be displayed was "The Lovers", a painting which stirs up many emotions for Lilith Divine. "This painting is an ode to me and my husband. To the immense love that unites us and that every day, grows and ages with us. But what is true love today? We – that is, Konan and I – see ourselves as mythological figures tangled in a gesture of cuteness, gestures now rare to see in a world suffocated by "likes", views, and stories which have so greatly reduced in their very essence…"
"Stories" were once told around the fire – now they represent but a moment to look quickly upon another, hoping to spy on people who throw their private life to the world. I've always hated all this social media culture from the bottom of my wounded heart. And now, Konan and I are legendary figures living how we can amidst all of this crap. As in, true love; we are a living legend.

We feel that we are part of a past age. There will definitely be a "right" way to use all this technology that we have today. But personally, I spend my days removing spam, fighting against algorithms, and all of this is far from right…"

Lilith Divine
Compellingly, Lilith Divine is known for her heartfelt artist statements which frequently coincide with her works. Often, her statements share glimpses into her soul. They represent both her and Konan's deep respect for nature – and their distaste for humanity's collective crimes against it. It is this ability to weave together beauty and darkness which makes her works so stimulating. Overall, they are deeply powerful commentaries. Whether focusing on something as small and private as her own loving relationship, or as comprehensive as ripping open the crimes against animals and the climate the world over, Lilith Divine's paintings are something that we can all relate to.
Be the Change
Speaking about the celebration of Lilith and Konan's loving relationship, the duo has also recently celebrated their first exhibition together. "Finally!" Lilith exclaims with a smile, "We exhibited from 24 January to 3 February always in Milan. It was in a collective exhibition called Be the Change. The exhibition focussed on climate change and nature-based themes that are so close to my heart."
Konan's impressive steampunk sculpture, "The Queen Bee", caught many admirers – made only from recovered pieces of broken clocks, brass and copper, bicycle pieces and much more, all found in local landfill.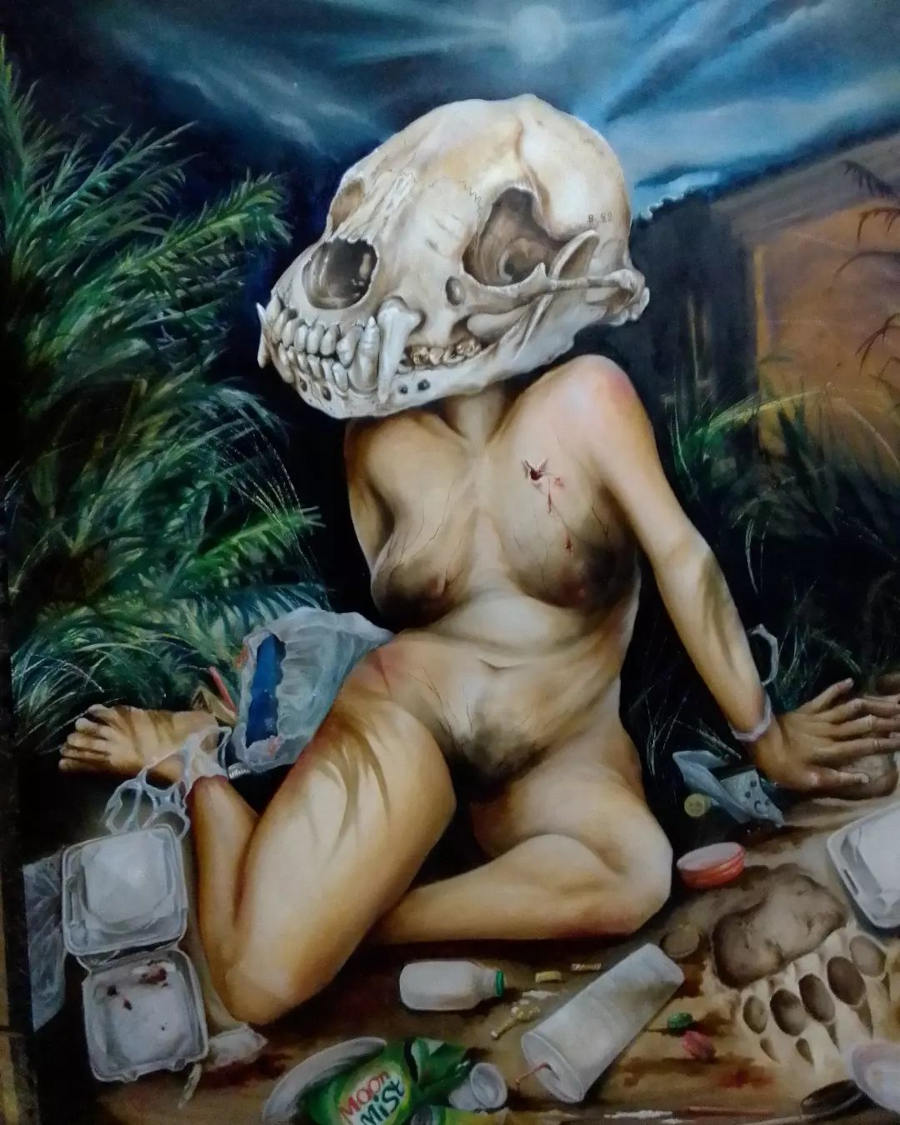 Alongside this, Lilith Divine exhibited "Lady Honey Bear". "This is a painting about the wild animals that we continue to move and remove from their habitat because we need their land and their space. In turn, we fill that space with plastic and garbage, always forgetting what "respect" truly means. We try to humanize wild animals; yet we suffocate them in waste and destroyed the natural habitat for our "Evolution" & "Civilization". But are we really evolved and civil? No: we just suck. Overall, I'm very proud of the pieces we contributed to the show."
We continue to work, and we work hard. Without money (as always), we're happy to have chosen to be artists and to carry on our projects and ideologies. There is too much ugliness and disappointment in life and society. We must concentrate on doing what makes us really happy.
What lies ahead for Lilith Divine and Konan?
In 2023, the couple hope to improve their economic situation by continuing to work "with more imagination and serenity". Lilith Divine will also be exhibiting two of her paintings during the Biennale of Asti in Italy ("this will be in an elegant medieval gallery!" she tells me with excitement), as well as exhibiting in Canada. Additionally, Lilith's works will be exhibiting at Brick Lane Gallery in London in May 2023.
With such a vivid imagination and drive to spread awareness on destruction and love, I see a fruitful future for both artists. After all, they are prime examples of the adventures you can have when you make art with love, passion, and perseverance.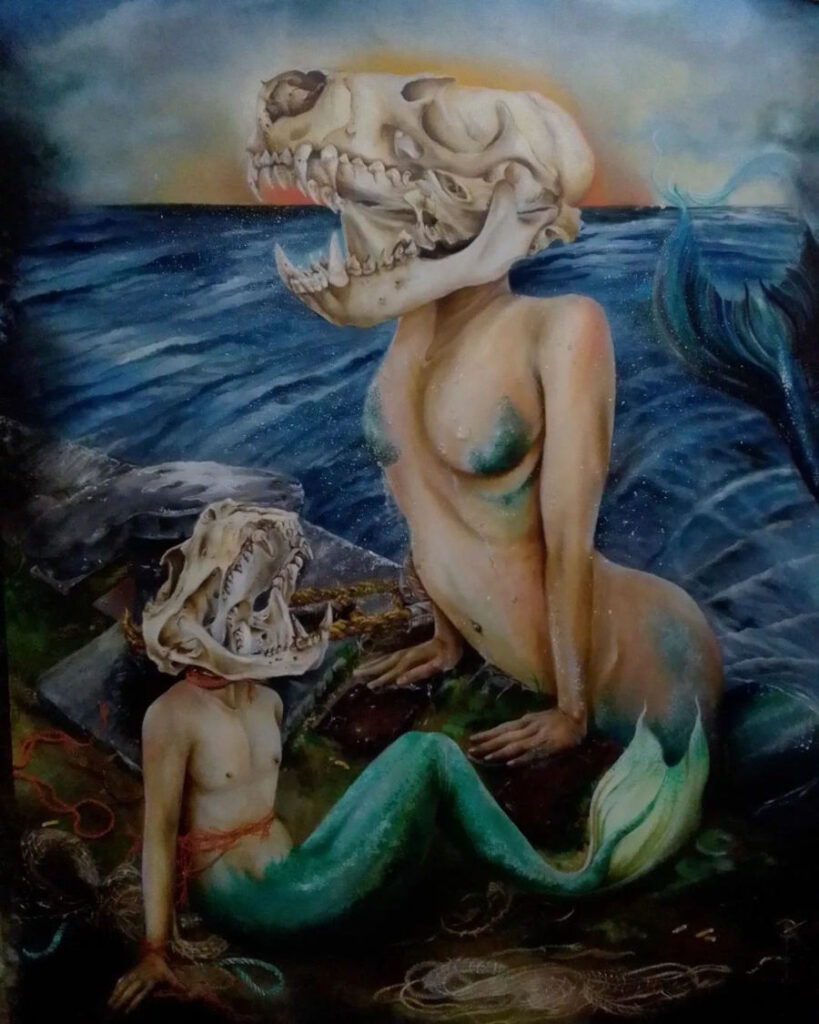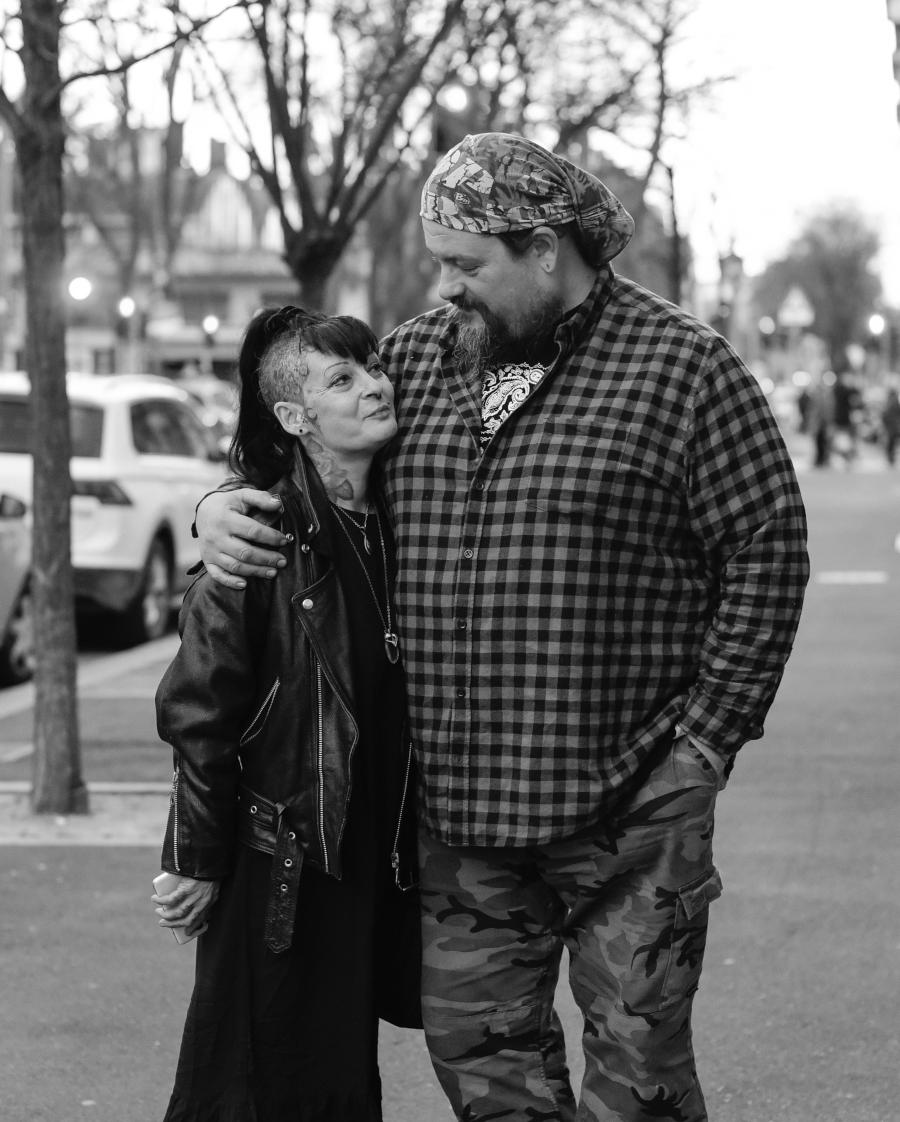 Lilith Divine & Konan: The Madness Circus Social Media Accounts