If you've been eyeing the Arch Enemy Arts Collector's Preview and exhibition lineups, same. Dedicated to fulfilling your artful wanderlust, February jumpstarts our creative love language with solo exhibition SCHISM PRISM, a new body of work by Hallie Packard. Through elements of nature and all that inhabit its nurturing landscape, dare to imagine a world beyond limitation. In a realm where connection and curiosity travel the lengths of mystery effortlessly, subtleties emerge and Hallie Packard takes us there with a touch of magic. Let us waste little time dipping our thoughts in and out of her painted vision and plunge straight into the deep end – hopeful and wanting.
As we continue to make our way into the days of 2023, which seems on a fast-forward mission through time, turning to art and letting it contribute to our growth is a fundamental truth in our community of creatives. Come with us on the journey. From vibrant tones of magical realism and nostalgic heartbeats echoing humanity's earthly incantations – open your mind to imagination. Serving as a catalyst to positivity, join Arch Enemy Arts as they invite us all to celebrate Hallie Packard's exhibition release tonight – Friday, February 17th!
While there will *not* be an opening reception tonight, AEA has one scheduled March 3rd from 5pm – 9pm and Hallie will be in attendance!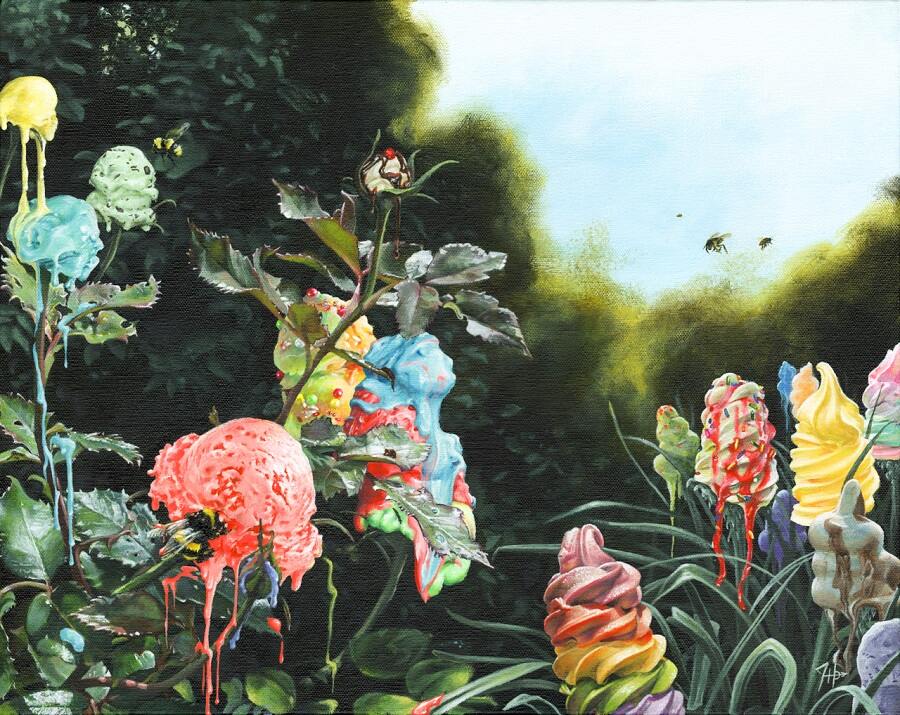 About the Artist //
Hallie Packard's works depict a place nostalgic and foreign—comfortable and untouchable at once. A place through which the presence of humanity echoes, but from a source that has long since expired. Human-made relics interact with the natural world, confirming the question of previous human existence and conforming to—even mutating to become one with—the wildly organic environment surrounding them. As reminders of the wonder that abounds and the respect it deserves, these works are dedicated to rediscovering and cultivating the magic of this world.
Press Release //
Arch Enemy Arts is pleased to present SCHISM PRISM, a solo feature of Brooklyn based artist, Hallie Packard. A dazzling series of 9 original paintings, Hallie excites a sense of enchantment and wonder through fantastical representations in acrylic on canvas. Expressing an optimism and inspired sense of magic, the artist interprets both animal subjects and natural forces as extraordinary displays and surreal events.
Her inventive concepts are entrancing; Packard employs clever usage of juxtaposition and metamorphosis to craft her mind-bending works. This is coupled with an exceptional skill in rendering highly developed and photo realistic subjects. Hum, the artist's personal favorite, captures a hummingbird mid-flight, the vibrational beat of its wings conjures the image of a human eye. Eruptus depicts a volcanic explosion of luminous rainbows while Pollen presents a garden of ice cream flowers.
As they are known to appear after turbulent storms, Hallie speaks of her attraction to the rainbow as allegory and how it has inspired the themes presented in her work:
"There is so much darkness in this world; so much to fret over; so much change that has yet to be made; so much pain. But, there is also light, hope, beauty, magic, and love. THIS is where I believe positive change is born. Nature is where I feel most at peace and closest to my truest self. Our natural world is a truly spectacular place, overflowing with magic. I want to highlight this precious environment of ours, reminding people of the wonder that abounds and the respect and care it deserves. I want to reignite magic, imagination, and hope in the hearts and minds of those viewing my work."
SCHISM PRISM is Hallie Packard's first solo feature with Arch Enemy Arts, following her work being presented in multiple group shows since 2021's Spotlight Showcase.
​– written by Alex Medlin
Arch Enemy Arts Presents
Hallie Packard, SCHISM PRISM
Releasing Date: Friday, February 17, 2023
Opening Reception Event Date: Friday, March 3, 2023 | 5-9pm
Exhibition On view Through: March 12, 2023
Regular Gallery Hours:
Monday to Friday, 10:00 am to 4:00 pm
Saturday and Sunday, 11:00 am to 5:00 pm
Arch Enemy Arts
109 Arch Street | Philadelphia, PA 19106 USA | (215) 717-7774
For sales or private viewing appointments, please email [email protected]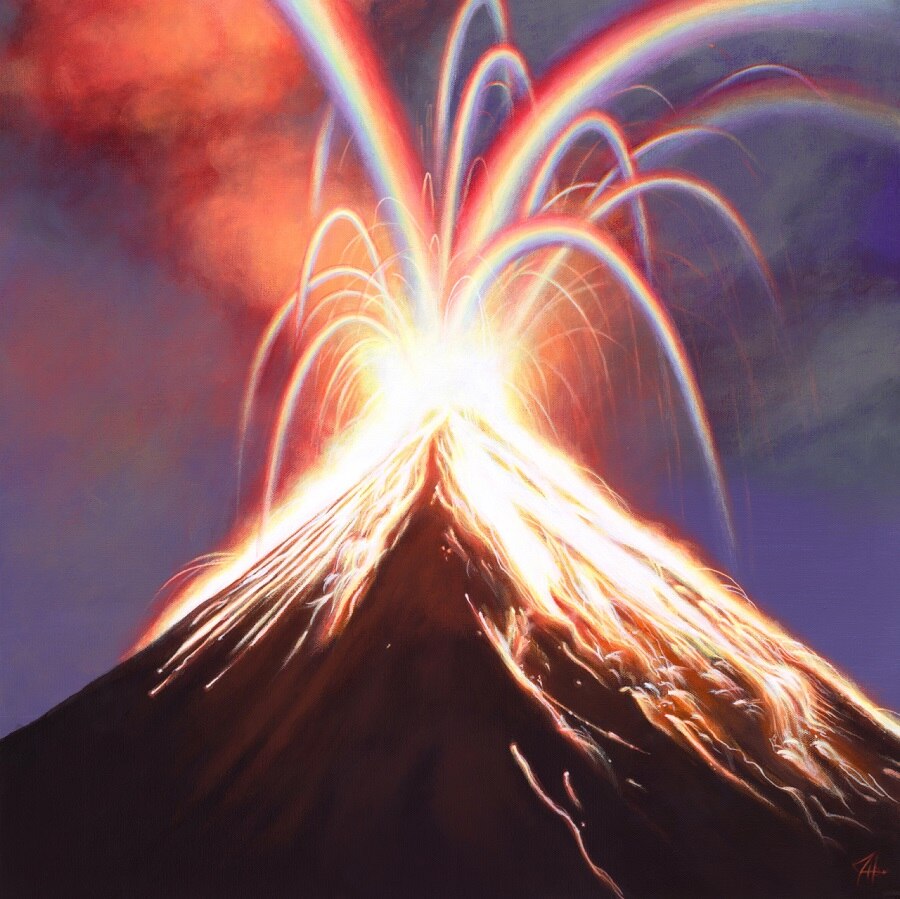 Plus, you don't want to miss Brian Serway's, Wax & Wane and Maryann Held's, Tabernacle exhibitions – released Friday, February 3rd and remain on view through February 26th!
Joe Vollan's, INSIDE THE ACADEMY feature exhibition will release February 17th with WAIT FOR THE MOON II, AEA's Grimm's Fairytale themed group show. Both of these exhibitions, alongside Hallie Packard's, will be on view February 17th – March 12th, 2023.
See all of these collections in their entirety (and so much more) by visiting the gallery in-person or from the comforts of your screen, wherever you are out there.
BRIAN SERWAY, WAX & WANE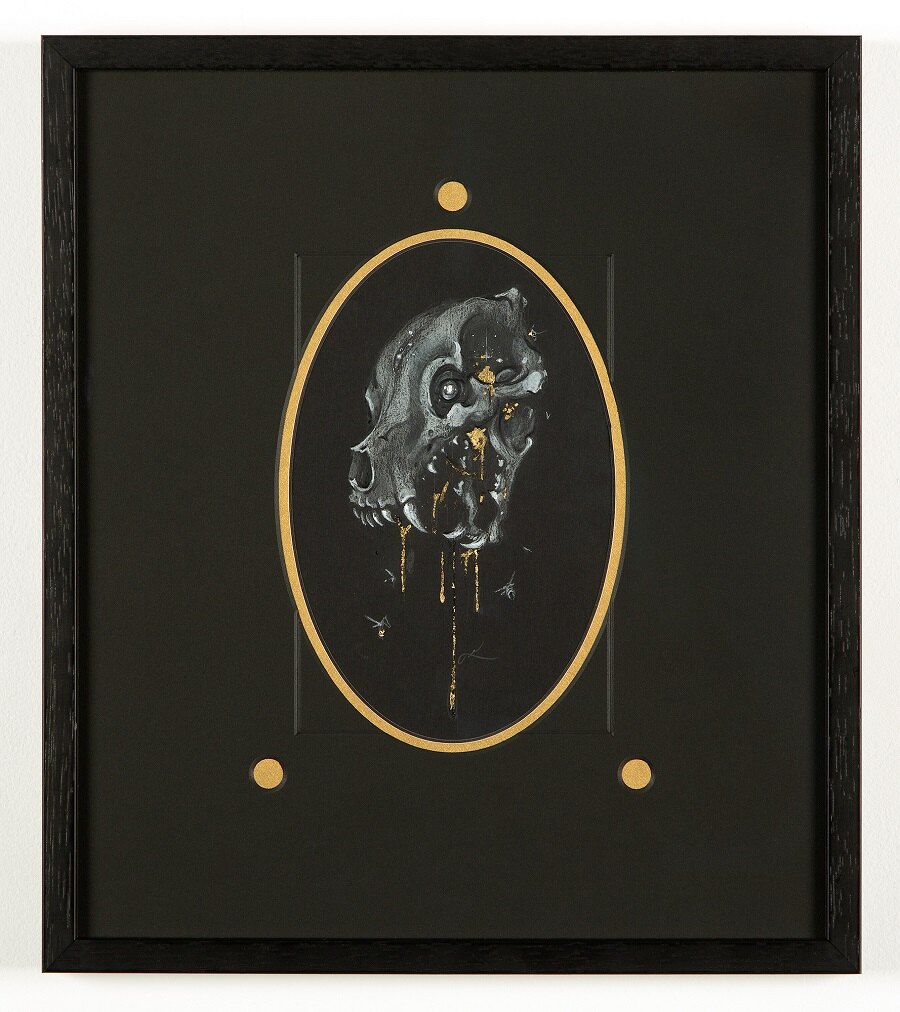 MARYANN HELD, TABERNACLE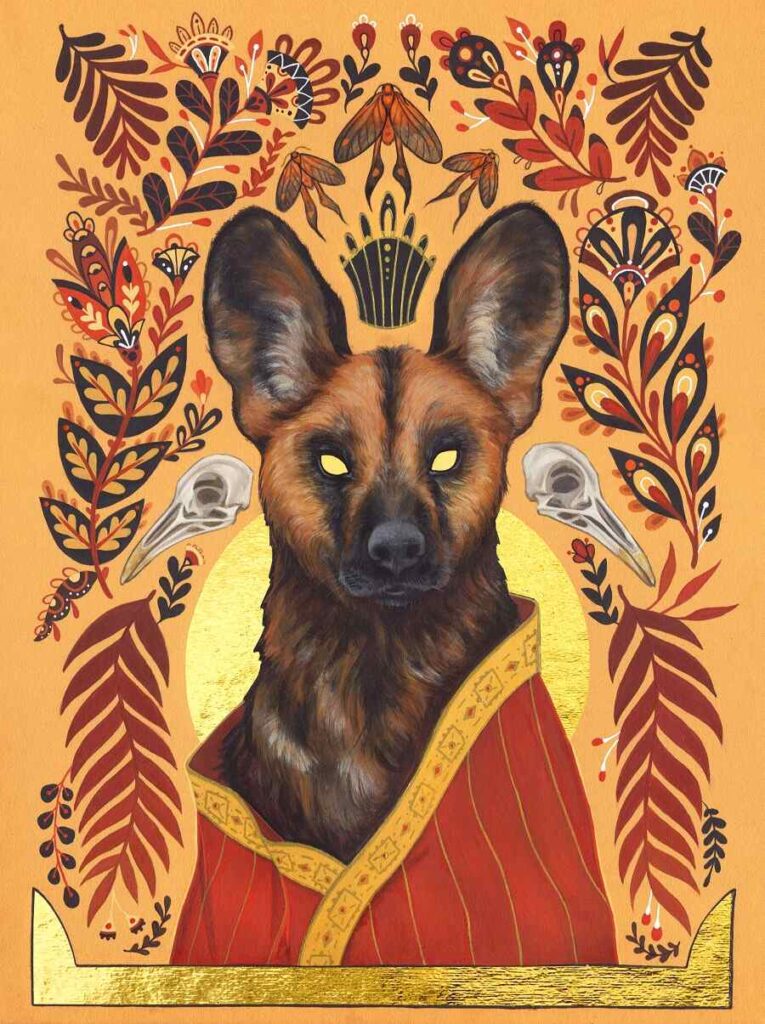 About the Gallery //
Seeking to fill the need for a centralized hub focused exclusively on new contemporary genres within Philadelphia's already vibrant art scene, Arch Enemy Arts was founded in 2012 and quickly became Philly's freshest new venue dedicated to exhibiting emerging and established artists, both local and international. Located in Philadelphia's Old City District, and with an emphasis on the lowbrow, pop-surrealism, urban, and macabre in a wide range of mediums, Arch Enemy Arts was chosen as Philadelphia Magazine's "Best of Philly"™ Best Art Gallery for its 40th Anniversary issue, voted the "Best Art Gallery in Philadelphia" on Philly HotList in 2013, and in 2012.
Noah Musher // co-founder & owner
Lawren Alice // co-founder & curator
Arch Enemy Arts Social Media Accounts
Website | Instagram | Facebook | Twitter
Hallie Packard Social Media Accounts