Thank you & Acknowledgements
Once again, we would like to thank all of the artists that entered, sharing their work and their artistic passion with us. It was such a pleasure to immerse myself in the work of so many creatives from all corners of the globe and read their inspirational stories.
As Beautiful Bizarre Magazine's Editor-in-Chief I have the pleasure and honour of curating each issue of the magazine and our yearly exhibitions. The many wonderful and talented Art Prize entries we received continue to give me a plethora of new ideas and choices to pursue in future. So thank you again for your interest in the Beautiful Bizarre Art Prize, I very much hope to see how your work has grown and developed in next year's Prize.
I would also like to sincerely thank the 2022 Jury Panel, particularly the Sculpture Category Judges Joan Coderch and Javier Malavia of CODERCH & MALAVIA, who gave their time and expertise to the panel. Additionally I warmly thank the other Category Judges: Martin Wittfooth (Traditional Art juror), Bella Kotak [1st Prize winner of the Photography award 2021] (Photography juror), and Dan dos Santos (Digital Art juror), as well as the Directors of Modern Eden Gallery, Kim Larson and Bradley Platz, and Founder of Quirky Fox Gallery, Vicki Fox.
I would also like to thank our major partners: INPRNT, RAYMAR, Yasha Young Projects, iCanvas and ArtStation; the Beautiful Bizarre team for their dedication and hard work on behalf of the prize and winners all-year round, and of course to my partner, Beautiful Bizarre Magazine's Co-Founder Richard Purssey. The judging process was extremely difficult with an incredible amount noteworthy entries, so thank you again!
Our sincere thanks to this year's Sculpture Award sponsors listed below. It is through their generosity that the Sculpture Award Winners will be able to enrich their practice.
Yasha Young Projects Sculpture Award
The Yasha Young Projects Sculpture Award 1st prize winner will receive:
US$3,000 cash, generously donated by Yasha Young Projects, arts philanthropist and Executive Curatorial Director for the FOR_M, a new institution currently being developed in New York city.
US$250 worth of supplies of your choice from Sculpey, making polymer oven-bake clays for over 50 years.
A coupon to enjoy Linktree PRO for free for 12 months.
Receive a beautiful, specially commissioned glass art Award trophy.
The opportunity to exhibit in the prestigious Beautiful Bizarre Magazine exhibition at Modern Eden Gallery, in San Francisco, CA USA, alongside 80+ of the world's best contemporary representational artists.
Exposure to a successful commercial gallery's collector base with the opportunity to sell their work.
3 month social media advertising package (Beautiful Bizarre Magazine: 1 million+ followers across all socials platforms).
Exclusive in-depth interview published on the Beautiful Bizarre Art Prize and Beautiful Bizarre Magazine websites + shared on social media.
A year's worth of inspiration – a print subscription to Beautiful Bizarre Magazine.
+ most importantly, receive worldwide exposure!
2nd and 3rd prize winners will receive:
Congratulations to the 2022 Beautiful Bizarre Art Prize Yasha Young Projects Sculpture Award Winners: Jorge Vascano, Brian Booth Craig, and Chie Shimizu!
3rd Prize Winner: Jorge Vascano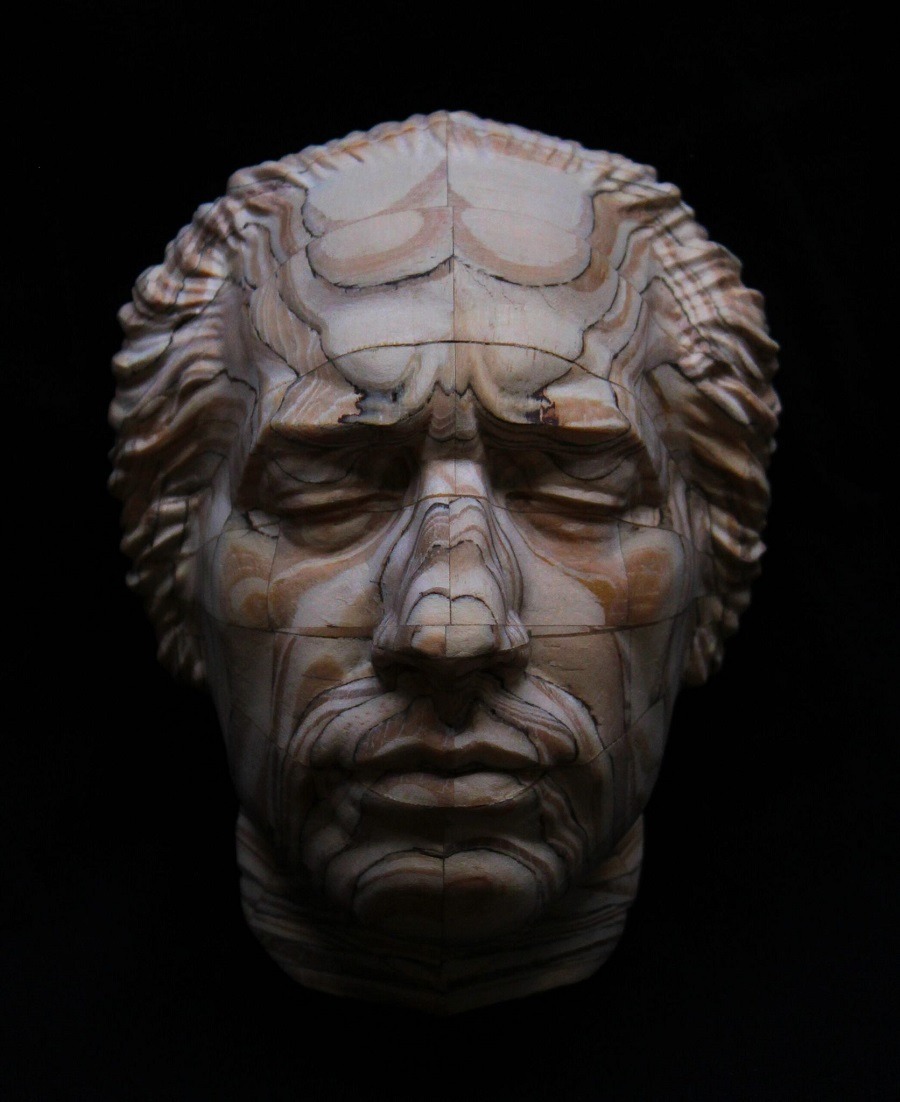 3rd Prize Winner
Jorge Vascano
Born: Peru. Currently resides: USA.
"Silence", Laminated wood, 6″ x 4″ x 3″
Born in 1982, Lima-Peru, Jorge "Vascano" Vasquez-Elescano grew up in the tropical surroundings of Tarapoto where he initially develop his affinity for the arts. It was after moving to the US that he received formal training in various educational institutions such as: Northern Virginia Community College, Corcoran College of Art and Design, Maryland Institute College of Art and The New York Academy of Art, where he received his MFA in 2017. During that time and after, Jorge has had a solo show, and participated in numerous group and international exhibitions as well. Also he's been awarded merit international residencies to Giverny, France, Kylemore, and Ireland in painting, and Carrara, Italy, in stone carving. Moreover, he has been published in literary journals and news articles. Lastly, had his works featured in the Golden Globe and Academy Award nominated motion picture If Beale Street Could Talk. Jorge currently resides in Virginia where he continues developing his professional practice.
"Silence": The piece is about the uncomfortable and overwhelming Silence one can experience in the search for meaning in life. The uneasy feeling of reaching to the universe for answers, but hearing nothing in return without realizing the freedom that lies in Silence.
2nd Prize Winner: Brian Booth Craig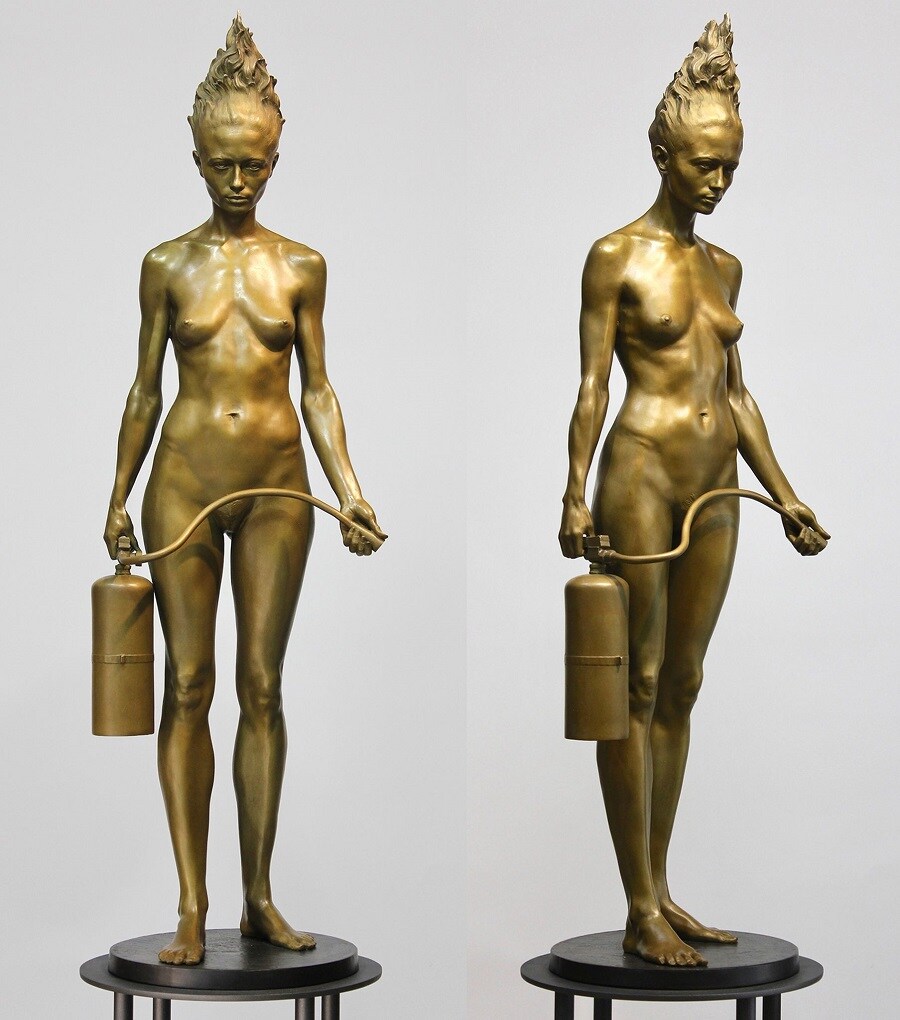 2nd Prize Winner
Brian Booth Craig
Born and currently resides: USA.
"Exotherm", Bronze, 38″ x 12″ x 7″
Brian Booth Craig is a contemporary figurative sculptor who specializes in the bronze medium. Sculpting from life, Booth Craig's work translates traditionally derived figures into contemporary icons. His nudes are imbued with a sense of agency. Mixing 21st century gestures with surprising talismans, his statues are very much of our time, despite the medium's classical origins. Verist in nature, Booth Craig's figures capture moments of individual self-assertion. Booth Craig holds a B.A. from Pennsylvania State University as well as an M.F.A. from the New York Academy of Art, and is an Honorary Member of the International Sculpture Center. He is a former apprentice and assistant of the painter and sculptor Audrey Flack.
"Exotherm": Presents to the viewer a display of equipoised dichotomies: calm against fury, human nakedness against a mechanism of civilization. The pose and demeanor of the subject are intended to confront the viewer and challenge assumptions about representations of the female human form.
1st Prize Winner: Chie Shimizu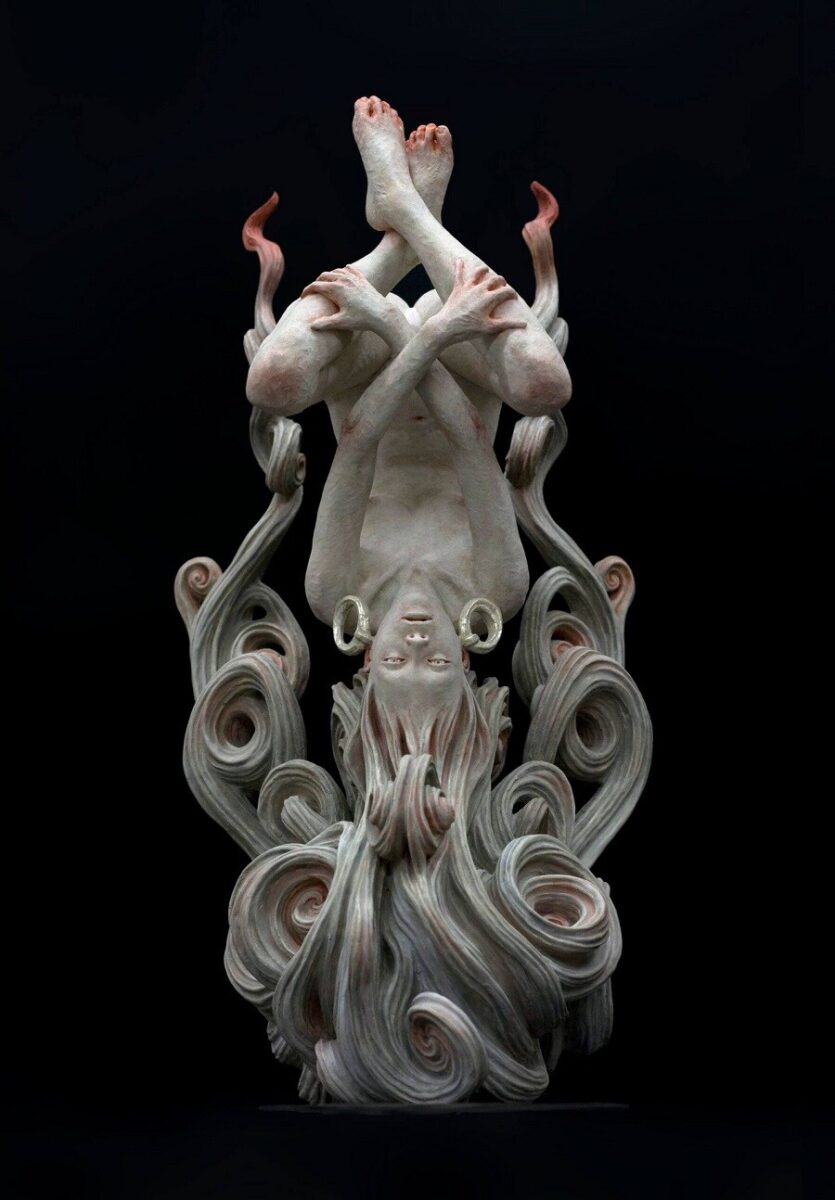 1st Prize Winner
Chie Shimizu
Born: Japan. Currently resides: USA.
"Immovable mind", Ultra-cal, plaster, seashell powder, pigments, white gold leaf, 17″ x 12″ x 12″
Chie Shimizu was born in Japan in 1971. Shimizu's art in the 1990s consisted of metalwork and oil painting. Since the beginning of the new millennium, her work has been predominantly in the medium of realistic figure sculpture with Japanese traditional painting, and partially with metal leaf. Shimizu earned her BFA from Tokyo University of the Arts in 1993 with a major in metal crafts, and received Salon De Printemps Prize at graduation. She had several shows of both metalworks and oil paintings in Japan, before moving to New York in 1996. She earned her MFA in sculpture from the New York Academy of Art in 2001 and received a grant from the HRH Prince of Wales and Forbes Foundation for the artist residency program in France. Her work has been exhibited in numerous venues in New York. Shimizu's work has also been included in private collections worldwide, from the United States to Germany, Turkey, Israel, Peru, and Japan. She currently lives and works in Queens, New York.
"Immovable mind": My oldest memory of the immovable mind is from a painting of Fudo-myo-o I saw in my grandparents' house when I was a child. The hair that stands upward like a fire whirl is inspired by the aureole of Fudo-myo-o, which symbolizes the burning of worldly human desires to free one's mind and body.
The Beautiful Bizarre Art Prize is administered by Australian based, international contemporary art magazine, Beautiful Bizarre Magazine.
The 2022 Beautiful Bizarre Art Prize