Female metalsmith Sloane Adams is building an impressive roster of unique pieces which are capturing the interest of international audiences. In her latest collection, Climate Couture, the American designer focuses on a topic which affects every living being on this planet. Climate Couture is a sculptural fashion line inspired by the global realization that this climate emergency is all around us. "It's affecting so many aspects of our everyday life that it's impossible to ignore any longer." Explains Sloane. "And I truly believe that when we bring that sobering awareness into the passionate aspects of our individual lives, we can really start to imagine and implement new ways to improve the things we love as a whole…to start patching the holes we've made in this boat we're ALL in!"
The entire Climate Couture collection is inherently commanding. Stark, polished bronze entwines neatly around Sloane as she shows off each piece in her collection, somehow resting upon her skin as if a medley of different materials. From soft lace to torn cotton, moulded leather to gently wrapped cord, Sloane Adams' latest collection certainly demands attention. Stories weave between the pieces in place of actual threads: "The "Burnt Crops Top", for instance, was influenced by a few stolen punk T-shirts from a lifelong friend of mine. They were disintegrating from overuse. He is now a farmer on the west coast and has been affected by the overwhelming fire seasons. So, I wanted to send him some healing energies though that bronze top." Says Sloane.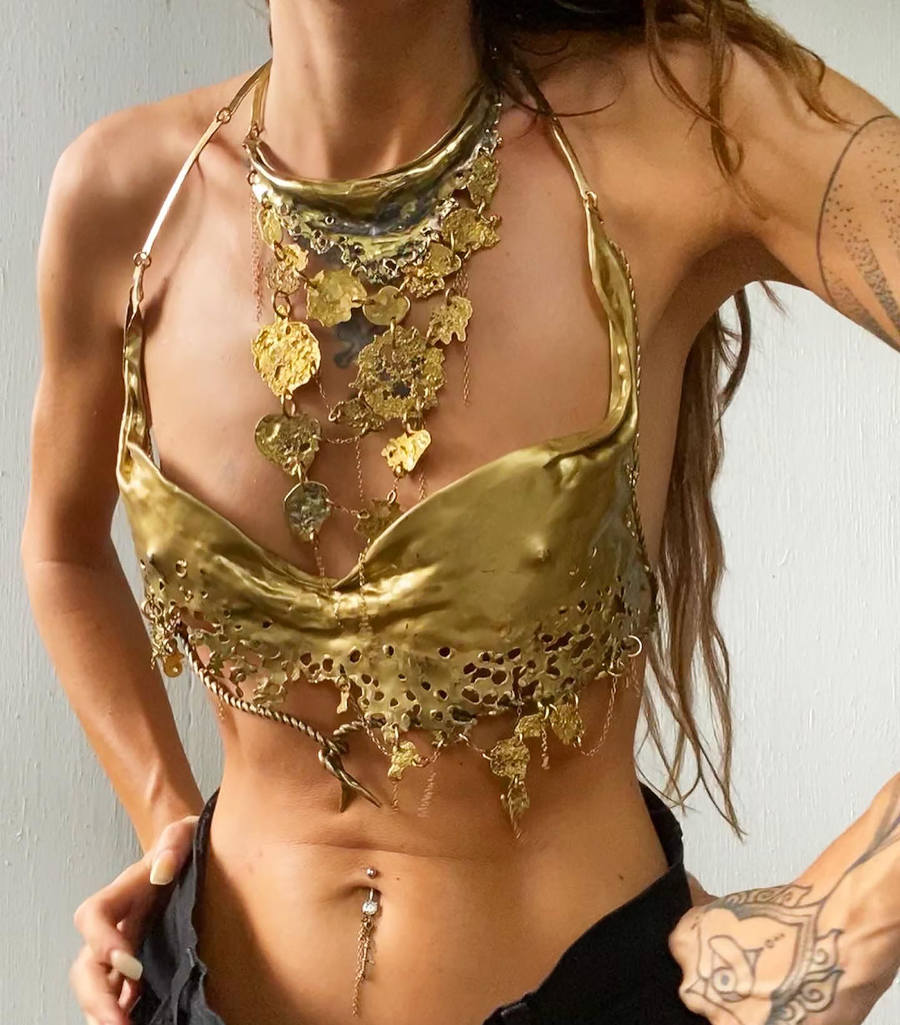 "Another piece (or "look") is the Leopard Skin. I feel very connected to these beautiful beings and in the past, I created a skinned and stretched leopard pelt, that to this day still makes me uncomfortable (mission accomplished I guess!). This time, I really wanted to portray their beauty and power in a more positive and respectful light."
Inspiration and interpretation
It's interesting to learn about the research that Sloane Adams delved into when planning her most recent collection. Gravitating towards podcasts and news articles on the climate and general happenings to our planet, the routine over her morning coffee turned into a process of constant learning. "I did take particular interest in Nisreen Elsaim, a Sudanese youth climate activist, and her 2020 UN Climate Ambition speech." Sloane shares. "She highlighted the disturbing fact that women make up around 80% of people displaced due to climate change. 80%!! This was the direct influence for my High Heels, or "Freedom to Move" piece. These women may never have the privilege, freedom, or safety to wear a fun pair of heels while they're doing all that moving. So, these shoes were made and reserved for them. They were made to shine a light on those who deserve and need our protection."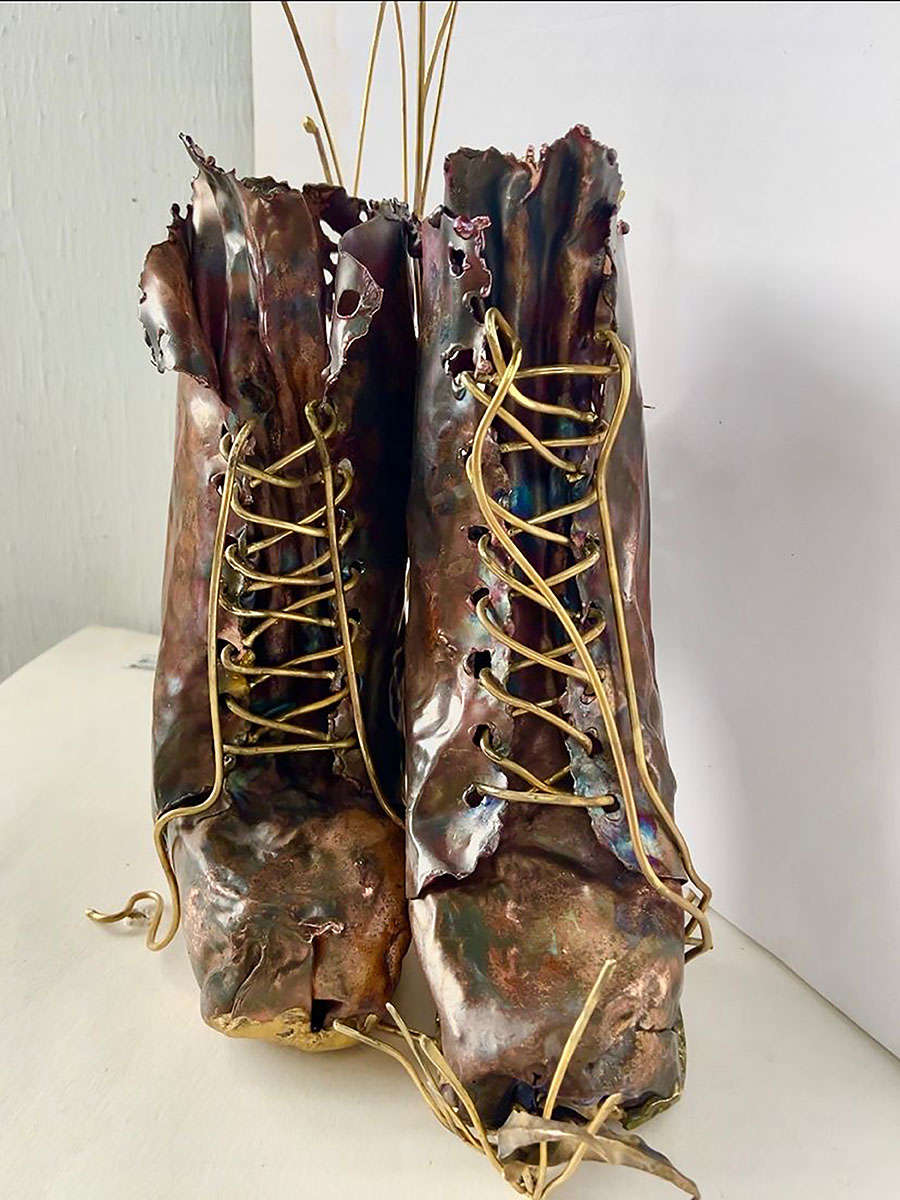 Undeniably, we are living in a time of climate crisis. Our actions now will determine the future of everything – all living species and even the very geographical landscape of Earth. This is an overwhelming concept to wrap one's brain around. Yet interestingly, focusing in such depth on the topic became somewhat healing. Working on Climate Couture helped Sloane Adams to work through some of her own internal feelings about climate change.
I know I'm not the only one feeling this, at times, debilitating anxiety and even anger towards the situation. And in the past, I've created series of works that were rather brutal and reflected that anger. In my eyes, it only perpetuated that negative, low vibration. [So] the past few years I really made an effort to, yes, acknowledge the uncomfortable issues, but also to translate it in a way that will help facilitate the "positivity" change that's needed and a deeper personal engagement with the world itself.

The Climate Couture collection was definitely one of those series. I put so much personal love into the concept creation process while (hopefully) inspiring others to also see this climate crisis as a labour of LOVE. Not just a labour.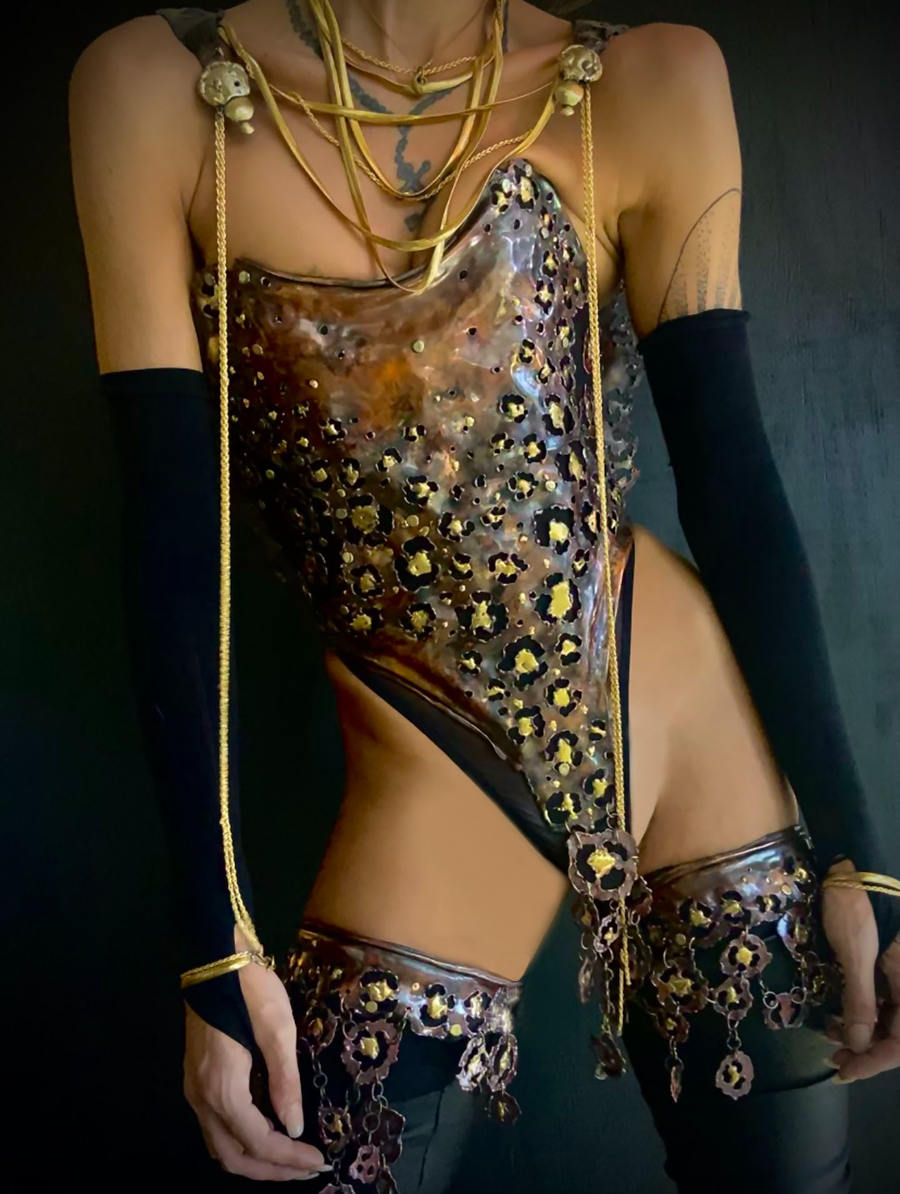 The language of art
In turn, the response has been positive from collectors and viewers. It's no revelation that artists can communicate ideas and emotions which transcend languages and even cultures, and her Climate Couture collection has truly connected with an international audience. This response has humbled Sloane. "The actual physical act of metalsmithing very therapeutic and my own private way of expressing my emotions. Everything from sexy smirks to heavy tears flow freely while creating in the studio."
Seeing such a positive response to her creations has only encouraged Sloane to continue her journey as a modern-day metalsmith. "It's fascinating how artists can take a seemingly unrelated material or tool and use its own given properties, and within the proper guidelines of artistic academics, communicate. Translating those deep emotions and concepts, facilitating a connection, and be able to say so much, sometimes in total silence… After months of working on these particular "translations" in this collection, it was so nice to share it with the world and have such a response of relatability."
Practicing what you preach
It's one thing to preach on a topic, but what about leading by example? At first glance, metalsmithing can be a rather ecologically unfriendly process in itself: there's excess metal waste, and there can be chemicals used and acid waste produced which are bad for the environment if they aren't disposed of properly. However, Sloane Adams stresses her ethos for supporting environmentally-sound practices and sustainability:
"The art of metalsmithing can be extremely primitive and relatively sustainable in its own right. That's why I love it. Imagine the typical blacksmith scenes in any medieval movie: you have a fire pit, an anvil, a few hammers… and a big, rusty, sweaty man (laughs). Replace the man with a smaller, just as rusty woman, and that's my work.
I like to run my studio simply and as self-sufficiently as possible. One of the major platforms of my business will always be: reduce, reuse, refuse, recycle.

I use eco-friendly processing, packaging, and source local materials, preferably recycled metals such as roofing copper and old house pipes. Most of the impact comes from the initial mining of the metals and the transportation of the raw and finished product. Luckily though, the mining and smithing processes can continuously reuse their by-products, and Etsy – my selling platform – has a strong initiative to off-set its own carbon footprint, which is great. That, accompanied with my personal high levels of environmental anxiety, we're always striving to do the right thing in the studio!
Overall, working on the Climate Couture collection has been an incredible journey for Sloane Adams. "I've learned about the relevance of the Butterfly Effect and just how powerful those wing flutters can be. Yes, the ignorance of this concept may have been the reason we are in this mess. BUT I do believe could also be the path of least resistance to our "way out".
"The idea of switching to a completely sustainable world, on an individual or household level can be overwhelming, for sure. But small changes, step by step, will lead to HUGE change."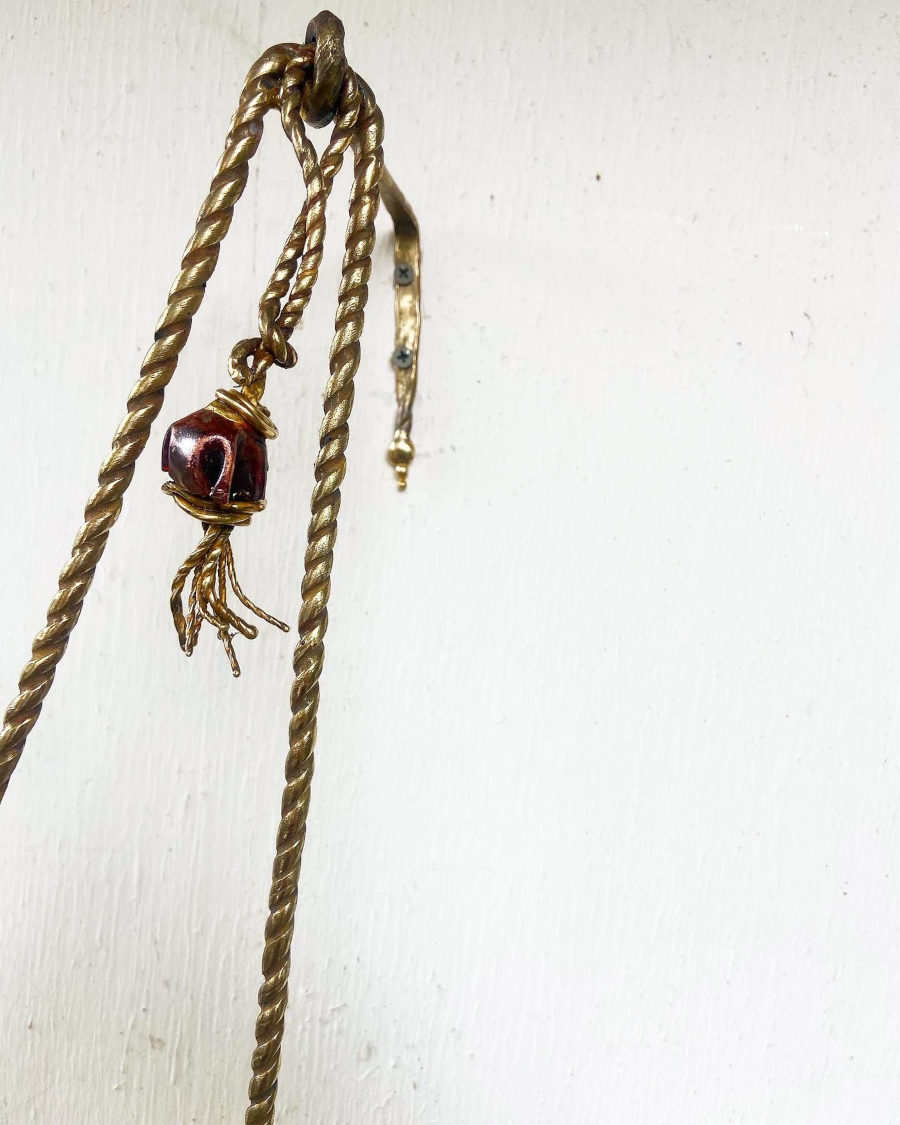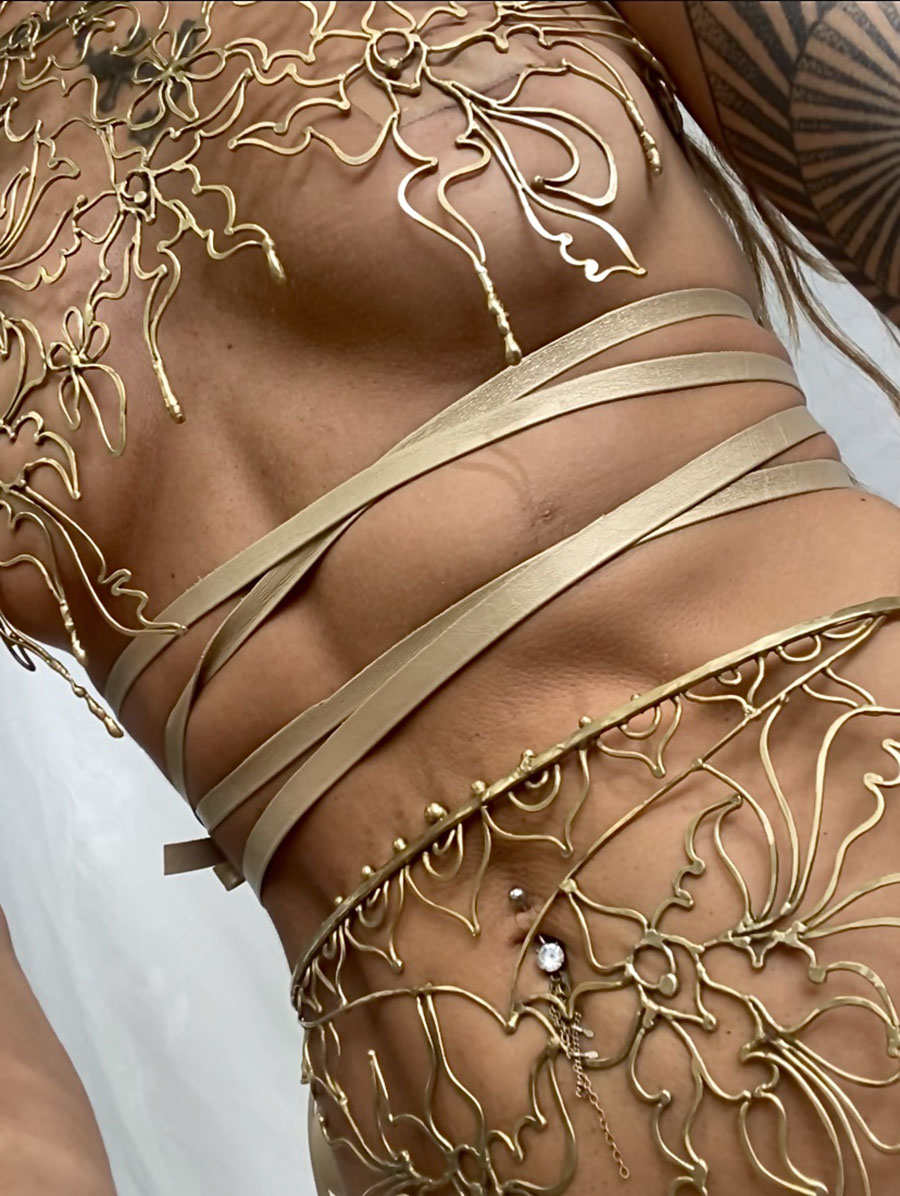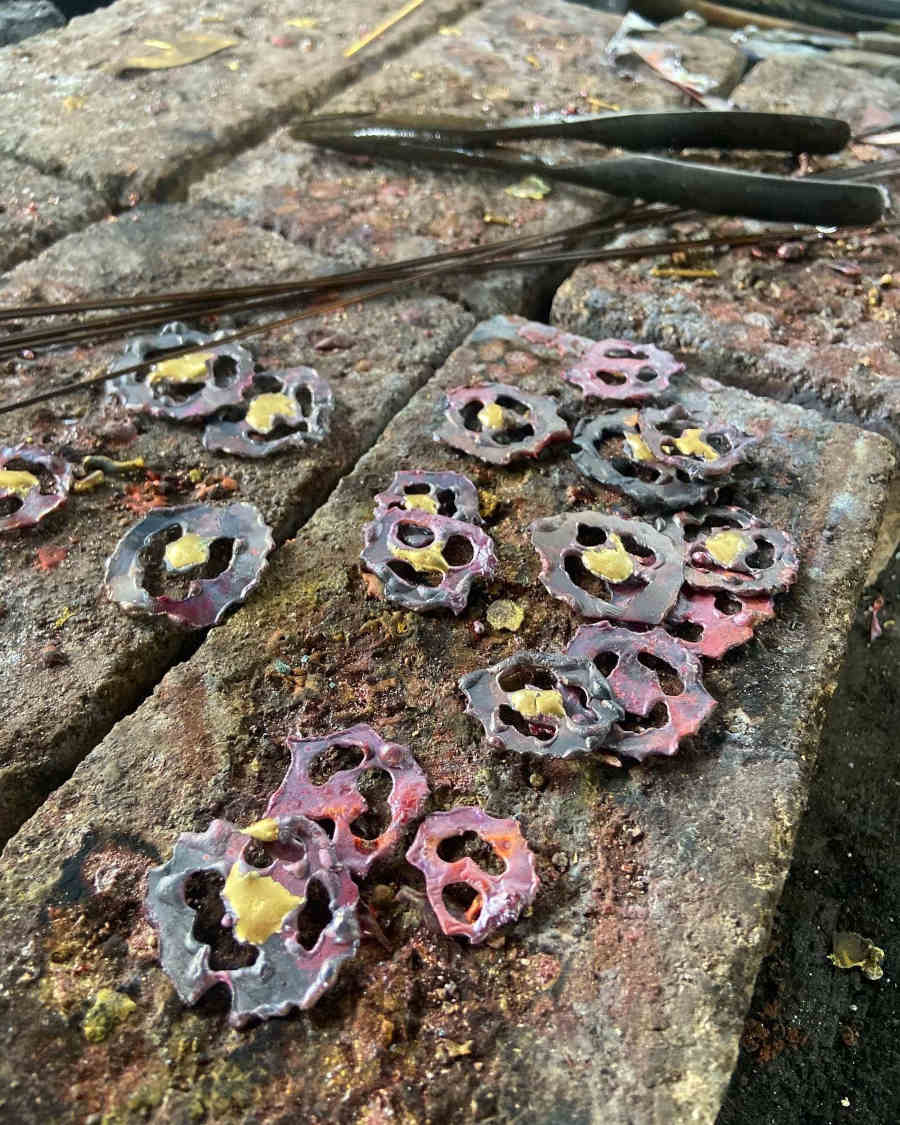 Sloane Adams Social Media Accounts