Exclusive Interview with Bella Kotak, Winner 2021 Beautiful Bizarre Art Prize INPRNT Photography Award
Bella Kotak, winner of the 2021 Beautiful Bizarre Art Prize INPRNT Photography Award, creates enchanting photographs with a cornucopia of sensory details. Evoking the full range of human emotions, Kotak's images pull the viewer into dazzling fantasy realms. Bella Kotak draws on the textures and colors of the natural world, creating imagery alive with color and light. Each image is carefully crafted first in front of a mood board, then behind the lens of a camera, and finally, from behind the screen of a computer where Kotak edits her fairy tale visions to capture their peak vibrancy and wonder.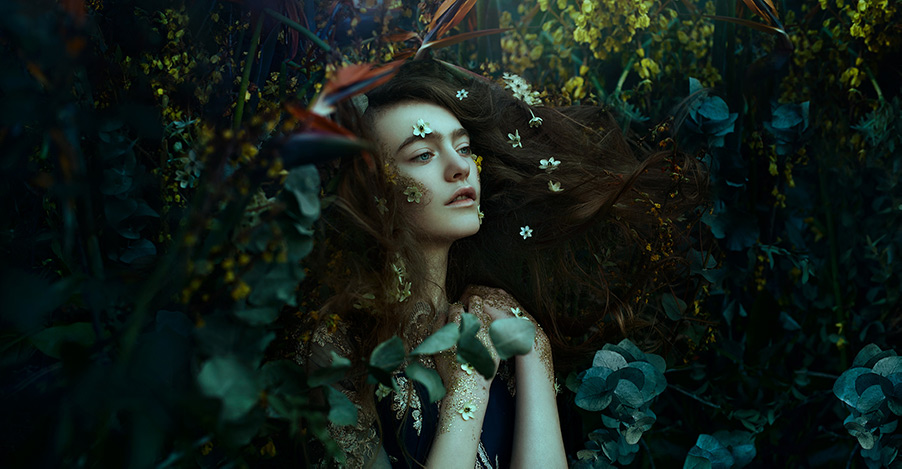 Highly skilled color and editing techniques give Kotak's work their signature enchantment. The thoughtfully crafted color schemes enhance the beauty of Kotak's raw imagery while delivering their own clear message about the emotion or story the photo conveys. Beyond using these techniques in her own work, Bella Kotak shares her passion for fantasy photography via lessons and Photoshop actions from The Color Lab, a resource created in partnership with her partner, high end photo retoucher Pratik Naik. The Color Lab was created to make color toning processes accessible to artists around the world and give aspiring fantasy photographers the tools to create their own ethereal glamour shots.
Bella Kotak's work has been featured in exhibitions in New York, London, and Paris. She's an ambassador for Phase One, SmugMug, Canson Paper, and Vanguard. Her INPRNT Photography Award winning piece, The Kiss, uses the colors and textures of a forest floor contrasted with pops of bright, vivid gold to highlight the intimacy of a tender moment. The elegant surrealist image gives the viewer a sense of romance and intimacy intertwined with fantasy and nature. In this exclusive interview, we explore Kotak's inspirations and process to find out what makes her beguiling imagery a joy to behold.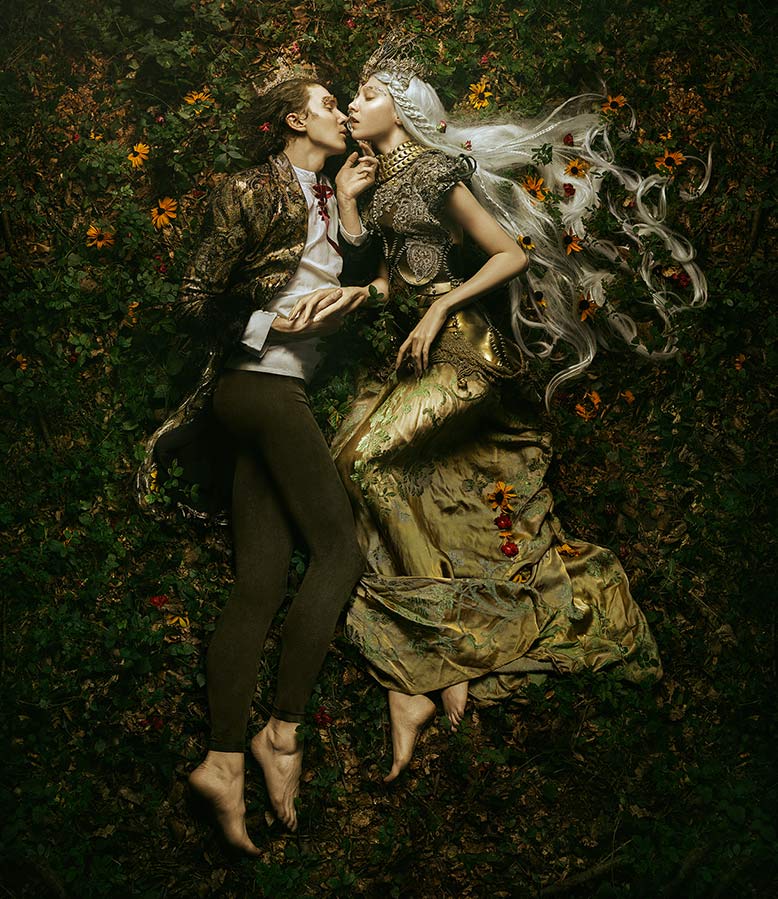 Why did you enter the Beautiful Bizarre Magazine Art Prize?
I'm a huge fan of Beautiful Bizarre Magazine and all that they do to promote the arts and artists themselves. I entered the prize thinking that it would just be a fun thing to do, a way to connect with the BB community. Never would I have imagined to actually win! It was an incredible moment when they told me. I'll never forget that.

What do you feel you have gained from this experience?
To be more confident in my work (and the direction of my life). That my art has value and connects with others.
Would you recommend it and encourage others to enter? If so, why?
I would 100% recommend every artist to enter! You have to be in it to have a chance, so take the leap. It's also a good motivator that can inspire us to push ourselves further.
I use the camera as a tool to bring together all the things I love in life and the results are the images you see.
What inspires your imagery?
Inspiration for me really comes from everywhere, from my wild, barefooted childhood growing up under the african sun to the lush floral gardens, seasons, and soft colors that I discovered when I moved to the English countryside. As an avid reader of high fantasy stories that featured strong women living bravely while on adventures, and a consumer of beautiful drawn anime and manga with ornate costuming, all my passions seemed to finally come together and click when I discovered photography. I use the camera as a tool to bring together all the things I love in life and the results are the images you see.
You work with designers on the outstanding costumes which are featured in your images. What do those collaborations look like? How do you find designers to work with and what is your process when collaborating to create a character?
I usually find designers online via Facebook, Instagram, or Etsy. It's always a joy to collaborate with artists that channel their passions into their designs and craft. Together I feel like our shared passions add and enhance the stories I want to tell. My process of creating is very much like putting together a puzzle. I try to have pieces around me (clothes, headpieces, props) that then come together in interesting ways when it comes to creating a concept or character on shoot days.
What role does nature play in your shoots?
To me nature is everything that's wonderful, free and wild in this world. It can be tamed but give it a moment and it will burst free to live vivaciously. This spirit is something that I'm drawn to as a person and artist and it shows up literally and figuratively in my work. Nature reminds me to check the reins that I've unconsciously placed on myself via societal, peer, or familial pressure. It takes a lot of bravery to look at yourself objectively and release the lease to see who and what you are when you allow yourself to live entirely on your own terms. It's this energy that I channel into the pictures and characters that I create. I explore, play, create freely, while reminding myself (and hopefully others) of the joy of discovering and being entirely yourself.
Shooting in nature, the wild world that we trample and destroy to build buildings and parking lots, is also my way of immortalising this beauty while we have it, reminding people to look up from their phones and look around, notice the beauty around them too and recognise that it is worth protecting
Nature reminds me to check the reins that I've unconsciously placed on myself via societal, peer, or familial pressure. It takes a lot of bravery to look at yourself objectively and release the lease to see who and what you are when you allow yourself to live entirely on your own terms.
What technology do you use to create your images?
I use a Phase One medium format camera to capture my images. For light shaping I'll reach for the Elinchrom One light or the Profoto A1 (both lights are small and portable), I also really enjoy creating with natural light, shooting at twilight time is my favourite. After which I'll process my images in Capture One and later the whole piece will come together often piece by piece in Photoshop.
How much work happens behind the camera at a shoot versus in the editing process using software and a computer?
I'm a very attention to detail driven person when it comes to the creative process so lots of thought is placed on the concept, location, styling, model, color toning, etc prior to the shoot. Once it is captured that is it, so it's important to get it right on the day. My post processing goal is to enhance what I felt and could "see" on the shoot , so I would say there's equal amount of work before and after the shoot.
What stories do you hope to tell through photography?
The stories in my personal art tend to reflect where I usually am at that point in time. Times where I feel a little lost, a little less brave, discovering confidence, owning the power when one comes into their own, I collect those feelings and try my best to translate that into a visual that reflects me but also leaves space for the viewer to imprint their own stories allowing them to create their own connections to the art.
What is your process for creating an image from start to finish?
It usually starts off with a spark of an idea, inspired by either the model, the location, or styling, that then is the center of which the rest of the pieces come together to fit the narrative that I'd like to tell. For me the process is organic and free flowing. I sketch ideas, make props, and try to work quickly before I lose interest and move on from the idea. One of my daily mantras is "done is better than perfect". As a perfectionist I could (and do) easily lose time overthinking and over planning. So reminding myself of this takes the edge of pressure off and allows me to create a space where I can relax, trust the process, and have fun along the way!
…once we're on set the energy of that day, the location, the colors, the lighting would influence and inspire what we capture together.
What are the most challenging aspects of your chosen medium?
The time it takes in post production! I have ADHD which makes it difficult for me to settle and really focus on a task. Photoshopping for hours can be quite difficult to navigate and my mind (and body) tend to wander away a lot! But once it's all done and I look back and see what I've achieved and created, well, there's no greater feeling! It's always worth it.
What kind of preparation is necessary for a successful shoot?
Communication. It's important to me that the model, the team, and I are on the same page and share the same positive creative energy. We would usually have a shared chat either on IG or Whatsapp where inspiration images and ideas would be offered and built on. That way when it comes to shoot day everyone knows what their job is.
When you start a shoot, do you have an idea of the final image in mind or is it shaped by the model and the shots you achieve together?
Often when it comes to a shoot I would have a vague idea of the image I'd like to capture. Nothing concrete as usually once we're on set the energy of that day, the location, the colors, the lighting would influence and inspire what we capture together.
What training have you undergone in photography?
I'm pretty much self taught in photography. The training I have is from all the lessons I've learnt from my photoshoots and the mistakes I've made. With each shoot I grow, as is the way when one practices over and over at their craft. Doing it this way has taken me longer to develop but it's allowed me to grow at my own pace, to learn what I'm naturally drawn to, to develop my style, and bring my incredibly supportive social audience along with me for the ride.
What images have challenged you the most and helped you to expand your skill set?
"Eve" was a challenging piece. It was captured remotely while we were in lockdown here in the UK. I worked closely with model Ivory Flame to set up the idea and concept. Since the camera was on her end it was a little tricky to explore perspectives but overall it was a great experience where I learnt to let go and work within the boundaries that remote shooting set. I'm really proud of what we created together.
What advice would you give to a new photographer who aspires to create fantasy imagery?
Just start! Don't hold yourself back with excuses of lack of models or styling. Just look around and use what you have around you. Learn basic photoshop skills as they will help you go far. There are lots of classes and courses out there but ultimately it's up to you to forge your own path. Keep a book of ideas, be experimental, connect with local creatives, keep shooting and analyse yourself and your shoots to see what you can do better next time. That's how you will grow.
We interviewed you back in 2017. What do you feel you've learned in the years since then? How has your artistic expression grown and changed?
I've learnt that I'm much more knowledgeable and capable than I give myself credit for. It's been a journey to cultivate the inner trust in myself that now allows me to embark on shoots with excitement and a lot less anxiety. Artistically I've always been evolving and it's interesting for me too to see where the art style flows. Right now I'm exploring the empowerment of womanhood, coming into our own, supporting each other, unabashedly bold, unapologetic, and seeing how that translates into a fine art aesthetic.
What can we look forward to seeing from you in the future?
More evolution, I've started to expand into animation and have a collection of art available as NFTs. That's been really inspiring to me lately and I'll be focused on that for a while to come.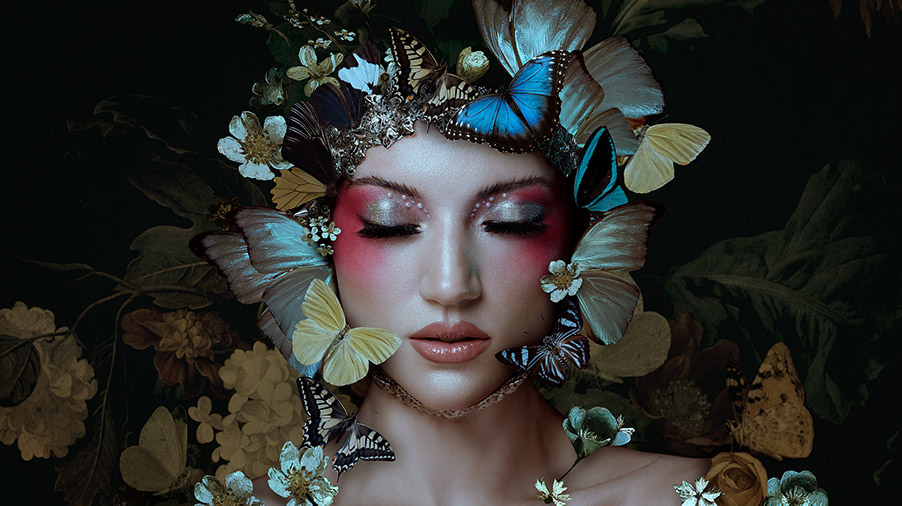 Bella Kotak Social Media Accounts