ONEQ's female-only pin-up paintings are bright and elaborate, featuring voluptuous women in a powerful pose. Concepts for each piece vary greatly, but similar attributes, treatment and techniques make her work easy to recognize. The perfectly melancholy pout, the creepy wicked witch-like hands, the sad but sexy eyes, and the powerful and overwhelming mane of hair make her pin-up creations draw you in.
Japanese artist ONEQ takes classic pin-up art and reinvents the iconic and sensual style of art with modern flair and edge. She grew up on Japanese island Kyushu, isolated from the hustle and bustle of the colorful and vibrant Tokyo, but all that culture influenced her greatly even still. Her love of cats, comics and the ocean keep her grounded, while her creativity and wonder for life and love keep her creativity on the tips of her fingers, and help her inspiration soar even when she cannot. Muralist, painter, illustrator and graffiti artist, ONEQ is passionate, down-to-earth and strong, and her work is vibrant, unique and redefining the modern pin-up.
In preparation for our December issue of Beautiful.Bizarre, we sat down with ONEQ, and chatted about her techniques, her motivation, and her love of cats. To see the full feature, visit our stockists or our webstore to purchase your very own copy of beautiful.bizarre issue 011 with work from the ever-talented ONEQ on the cover.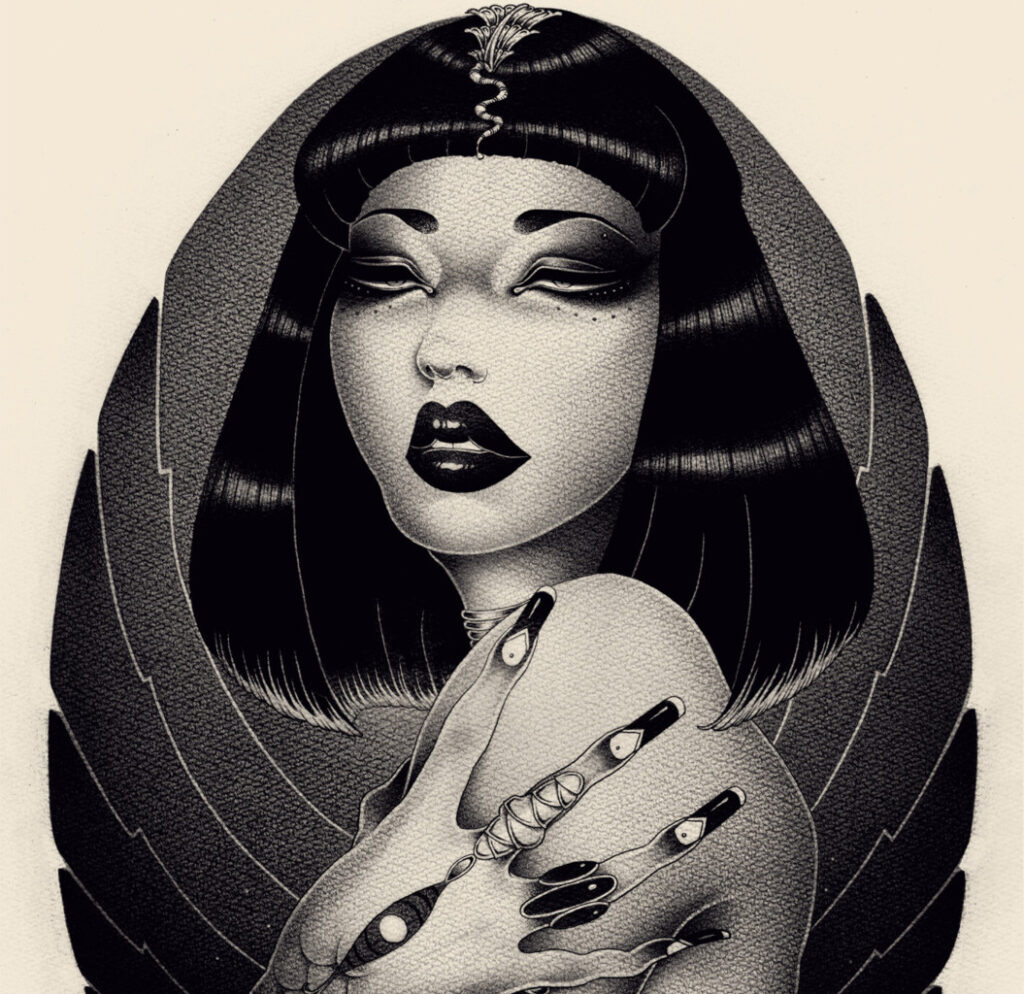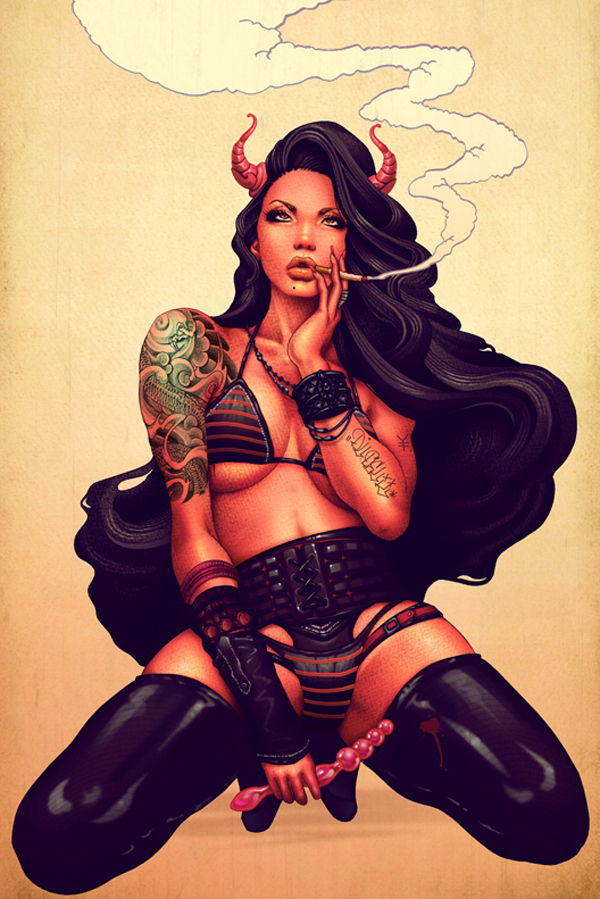 Your work is very unique. Can you describe your process, for a piece of art, from inception to completion?
First, I draw a rough sketch design of monochrome. It's very rough since it's just a prototype. Here, I decide composition and total balance. And then, I draw the next rough sketch that's a little more elaborate, including the subject's facial expression, hair style, accessories, etc…
Last, I begin to draw final sketch by mechanical pencil and sketchbook. If I am making a monochromatic piece, I work on shading again and again. If I want to have a full color piece, I don't focus on shading so much. Usually, I do my coloring in Photoshop.
Ideas are different for each piece. When I am driving, I like to listen to music-I often come up with ideas while I drive. I love to drive late at night.
How would you describe your art work?
I have never been good at explaining my work well. I guess, I would say that I am an illustrator. But, I often draw freehand works, except for pieces for clients. I enjoy both kinds of work.
What is the significance of the pin-up to you?
I have always liked to draw casual art, like manga. I loved boy's comic book artwork when I was a kid, and got to see so much of them because I have an older brother who was super invested in Marvel and DC. There's so much going on in that world of comics (click here for more info) and it was wonderful to see them. They were colorful, with pop and sexy, like a pin-up. So, I have just always loved the pin-up.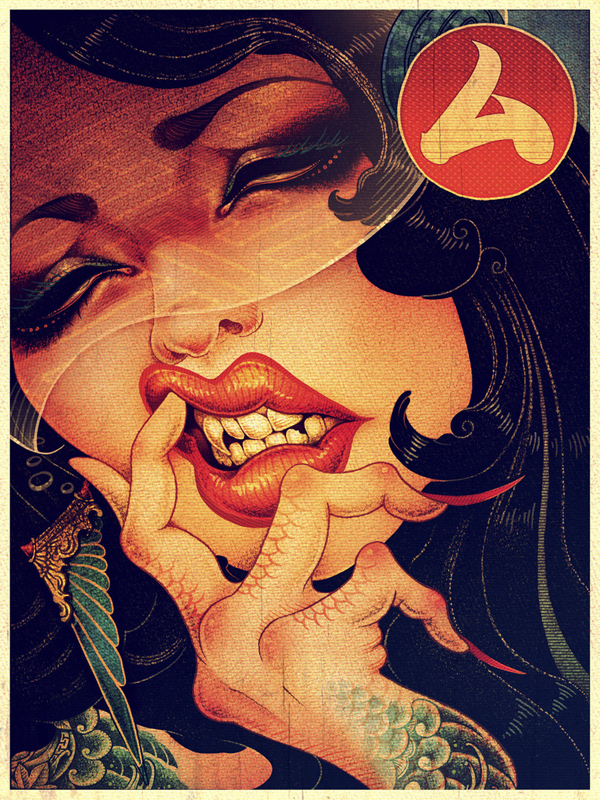 You have an edgy style to your portraits and characters, a lot of tattoos, bright colors, sensual poses of your subjects, muscular figures, playful composition, and a hint of darkness. Where did your style come from?
It's all that I have seen. Everything has influenced me-Japanese comics, American comic art, many awesome illustrators and artists, friends of tattoo artists, friends of graffiti writers, etc…
What are you hoping to represent or express in this style?
Something of a woman. I can't quite explain this yet.
Do you only create pin-ups? Are they always women only?
Yes, I only draw women. I have drawn many female portrait works in recent years. It's very enjoyable.
Your subjects are often very provocative and sensual, what is the significance of the inherent sexuality in your subjects?
It feels fun simply to draw a curve of woman's body. But, if I explain more… I still haven't fully understood women deeply, though I am a woman myself. So, I am drawn to draw women, because women are a mystery to me, and still a part of me.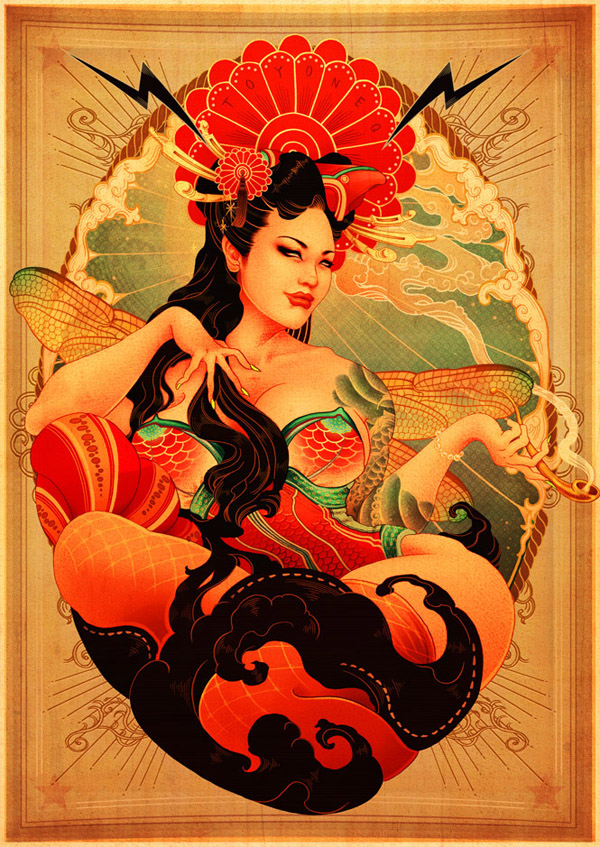 Some of your pieces seem fueled by subcultures, psychedelic drugs, graffiti, and comic book style art. Where do those concepts come from and what draws you to them in your work?
For the past 12 years or so, I occasionally paint murals. I like the graffiti culture also. It's very fun to draw by spray paint on big wall because it is rare for me. And, also I love to get dirty by spray paint. This year, I made the biggest mural I ever made. It took about 10 days.
I don't use drugs except a cigarette usually. But, I absolutely need a cat in order to make art.
What is your art and education background?
I have learned to draw by self-education because I hadn't gone to art school. So, my work might seem a little strange. I have many weak points from that. But, I think that weak points help shape your identity as an artist.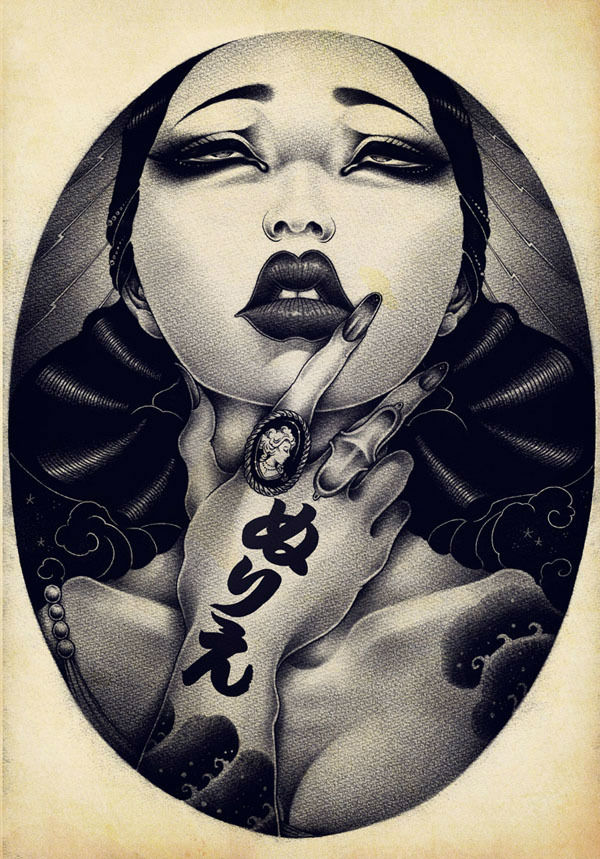 Who has influenced your art?
I am influenced by many artists, so far. When I was a child, I was influenced by Rumiko Takahashi, a famous Japanese comic artist. Her comics were the first comics I bought by myself. Her comic cover art was very pop and cute and unique, like pin-up art for me. And, I think that I became to love that style, pop, cute, sexy pin-up. Also, I was very influenced by Japanese artist ROCKIN'JELLY BEAN after that. His works have all my liking points. He is a really awesome artist.
What do you fear or dislike in this world?
I dislike a change like a cat.
What are some of your favorite things about this life, this world?
Cats, art, sea, cigarettes.
Do you come from a family of creative people? What was childhood like for you?
I did not come from a family of creative people. When I was a child, I was not a good student. I didn't go to high school because at that time, my rebellious age, was like a hurricane. But, I loved learning about art. I still feel wonder in this world, like a child.
Do you have a favorite piece/s you've made? Or one that has a compelling significance for you?
Yes, I have some favorite pieces. They are mine and my friend's. They are hanging on the walls of my work room.
Where do you see yourself in 5 years?
I think I will still continue to draw after 5 years. My works might change slightly in the future, but I don't know that yet. I would like to make more murals in different places. And, I would like to go various countries to see awesome art and cats!