Exclusive Interview with Lavely Miller, 3rd Prize Winner of the RAYMAR Traditional Art Award 2021 Beautiful Bizarre Art Prize
Find yourself in the midst of the emotional action, where subjects, an emblem of their mysterious sentiments, take on the physical expression of their inner turmoil. With chilling hints of motion achieved by layers of glazes and color, the subjects seemingly gaze out at their spectators, as though matching the irrefutable following stare of the Mona Lisa herself. Full of sensation, depth, and the peculiar, there is a softness flowing in an undertow of blackness; a light fighting against the inevitable dark. This fine balance between the figurative and the literal, of straddling the confines of interpretation, is where you'll find the sweet spot of Miller's work. Allow yourself to dive headfirst into Lavely Miller's world of hauntingly beautiful and ageless emotional encounters, conflict, and release.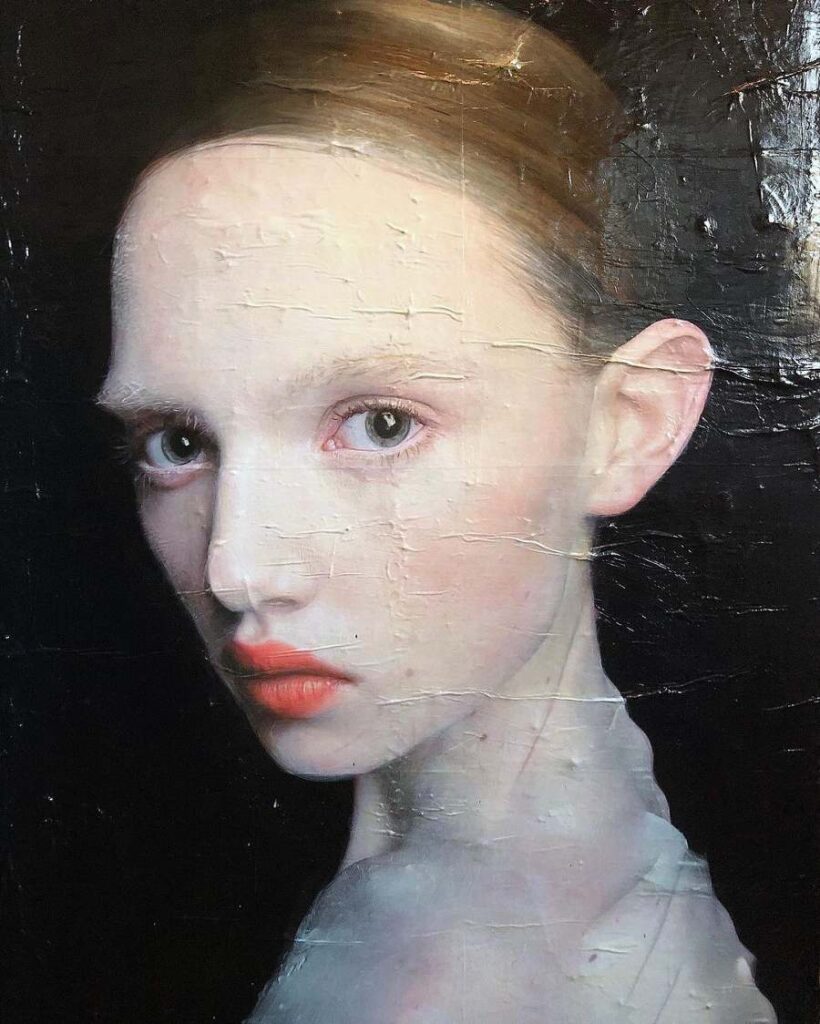 About the artist // Lavely Miller is a realist contemporary painter working with large-scale compositions. Miller builds layers of acrylic and thick gel medium by painting with her fingers and adopting the Flemish Method. Art Martin, writing for the Muskegon Museum of Art, elaborates,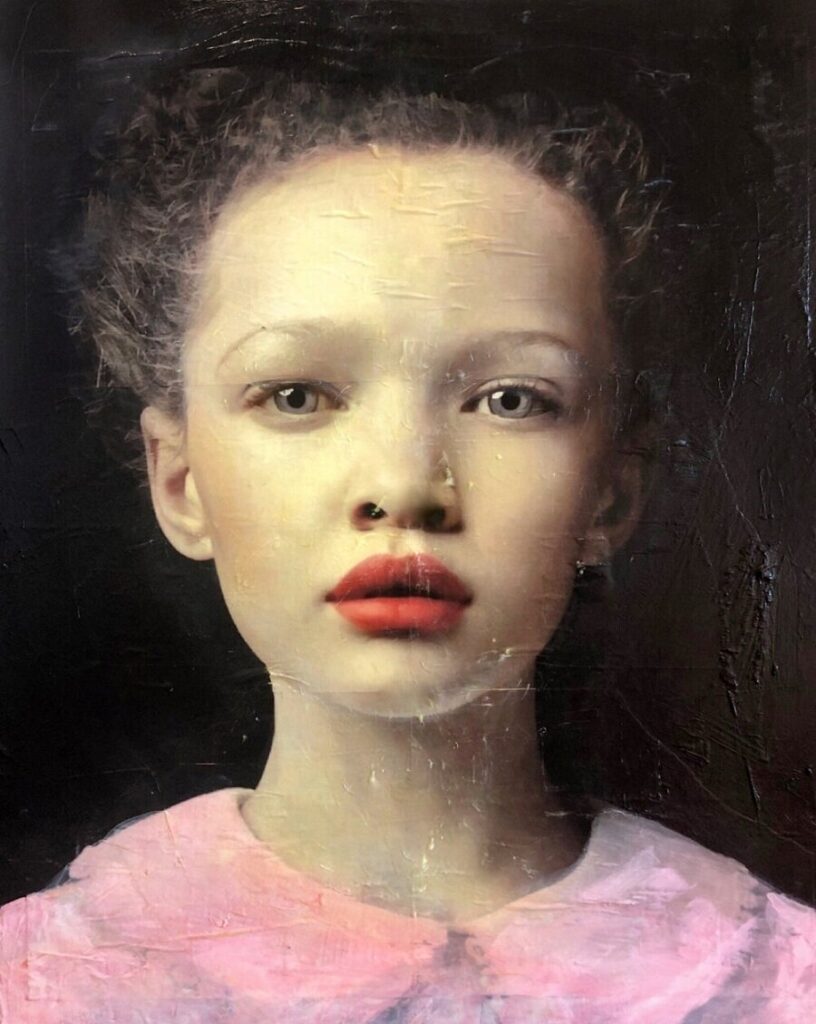 This sense of movement is translated through transparent layers of glazes, sometimes upward of 100 separate applications of color combining to create the final surface. The quality of layering is heightened by the use of paper, as it moves and crinkles during its application to create physical depth.
Awards for Miller's painting include a top prize at 2013's Art Basel and fellowships at the Virginia Center for the Creative Arts and Dacia Gallery in New York City. Her work has been published in interviews, reviews, and textbooks worldwide.
You can paint anything with a finger that you can with a brush.
Firstly, it's an absolute delight to have the opportunity to talk to you! Congratulations on being the 3rd prize winner of Beautiful Bizarre's RAYMAR Traditional Art Award (and thank you for taking the time to speak with us!)
On your Instagram bio, you write, "I paint with my right index finger, and that is it. Basically." Can you expand on your artistic process and how you achieve such fine lines and intricate details with your index finger?
The long answer:
I paint with acrylics and adapt a kind of Flemish Method. It goes basically like this:
Seal and glue paper down onto canvas. (This creates the wrinkled textures in the background of my recent work.)
Paint/draw in paint a very basic outline of the reference image I'm working from.
Start blocking in shapes with glazing layers (very small amounts of paint mixed with an acrylic gel medium.) I usually do this one color at a time, waiting for each to dry before starting the next one.
Cycle through steps 2-3, gradually refining lines and details between layers of glaze.
Realize I've cycled 20 times more than any reasonable person would have and that the painting looks ridiculous.
Paint over the entire thing and start again.
Typically repeat steps 2-6 far more frequently than I care to admit.
Short answer:
You can paint anything with a finger that you can with a brush. I should probably take that detail off my profile.
How long does it take to complete a piece and what are your favorite tools or materials to use and why?
It sort of depends on the size and how lucky I get with it, I guess. I paint every single day that it is practically possible and usually work fairly long hours. There's not much I paint that couldn't be finished in a week. The only materials I use are paper, canvas, acrylic gel medium, and red, yellow, blue, black, white, and brown acrylic paint. Sometimes I paint on wood.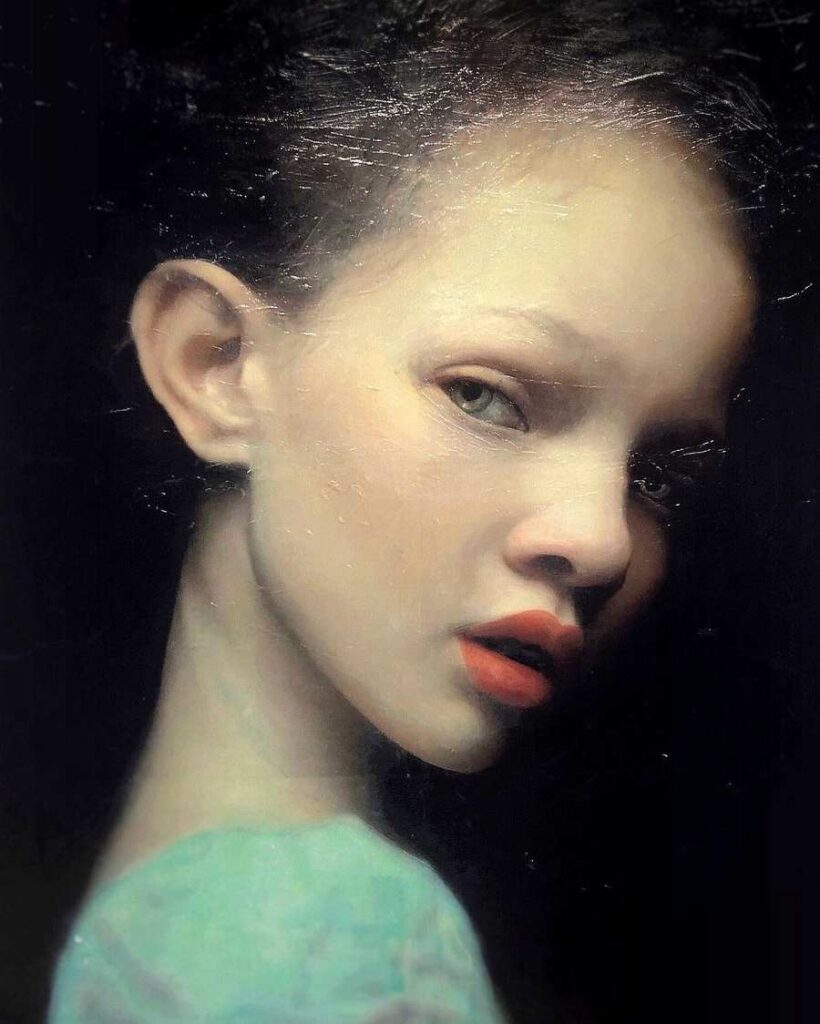 Who are the subjects of your paintings? What do you want people to experience while looking at them?
Years ago, I mainly painted people I knew; I spent a couple of decades painting my brother and his close friend as they grew up. When I started painting full-time several years ago I eventually started to run out of people. Most of the time now I just make them up. I kind of amalgamate various human features together and manipulate stuff around until somebody unique and vaguely familiar emerges.
As to the second part of your question, I don't really know; I've never thought about that before.
I kind of amalgamate various human features together and manipulate stuff around until somebody unique and vaguely familiar emerges.
How do you capture the ethereal quality of your paintings and subjects?
(I guess my answer to your first question is the same thing I'd say here?)
What keeps you occupied when you aren't working on your art?
I like to investigate new things. I've gotten into tracking airplanes and learning about them from air control radios and real-time flight websites. I made removable veneers for my teeth that nobody lets me wear out of the house. I have a bit of an eBay situation happening right now that I prefer to classify as a "hobby".
Who are your biggest artistic inspirations? What about their work inspires your own?
My grandmother, who taught me how to paint, and my aunt and uncle who are also painters, because each of them built their work around their lives, and their lives were (and are) fascinating. Sally Mann, because Sally Mann is the greatest artist who has ever existed on earth throughout the entire course of time (obviously).
What direction do you see your art taking in the future?
I really don't know. I just hope very much that I can continue making it.
Do you have any advice for other women pursuing contemporary art?
Nope. I don't really have any for men, either, for that matter.
I suppose it could be helpful for anyone to expect to encounter failure on a regular basis. And to not measure your satisfaction or success based upon anyone else's opinion, good or bad.
Why did you enter the Beautiful Bizarre Magazine Art Prize?
I aim high! :)
Would you recommend it and encourage others to enter? If so, why?
Absolutely! Beautiful Bizarre Magazine has a strong presence in the contemporary art world along with an enormous social media following. The organizers of the prize are also some of the nicest, most approachable people in the field, which makes a great difference to me personally.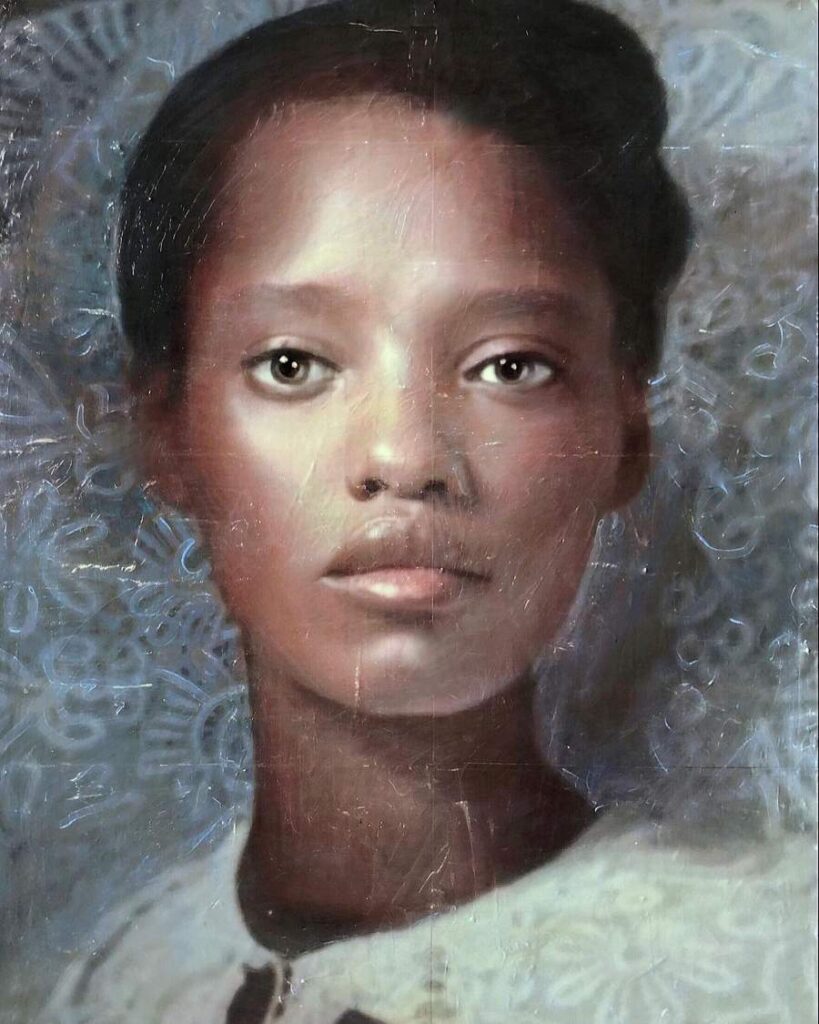 Lavely Miller Social Media Accounts