We hope you have enjoyed our week of reveals. The Winners of each Award [RAYMAR Traditional Art Award, Yasha Young Projects Sculpture Award, INPRNT Photography Award, iCanvas Digital Art Award] have now been announced, and aren't they all amazing?
Well, now it's time for the biggest reveal yet! The Winner of the 2021 Beautiful Bizarre Art Prize, the six Honourable Mentions selected by each of this year's wonderful sponsors, Directors of Haven Gallery in Long Island New York, and our Editor-in-Chief Danijela Krha Purssey, plus the Winner of the People's Choice Award, which saw our amazing community contribute over 13,406 votes from 98 different countries!
Thank you to everyone that voted for the People's Choice Award, we really appreciate your thoughts and opinions!
As an international ambassador of the arts, Beautiful Bizarre Magazine's long term vision for the Beautiful Bizarre Art Prize is to make contemporary representational art accepted, valued and respected, alongside traditional "high brow art" in homes and cultures around the world. Now it its 4th year, the Beautiful Bizarre Art Prize already surpasses all known Australian and many international prizes both in volume and caliber of entries!
Our Thanks
I would like to once again sincerely thank the 2021 Jury Panel: Gerald Brom (Traditional Art juror), Ingrid Baars, (Photography juror), Kristine Poole (Sculpture juror), and Stanley Artgerm Lau (Digital Art juror) and Directors of Haven Gallery, Erica Berkowitz and Joseph Weinreb for contributing their valuable time and expertise to the Jury Panel. I would also like to thank our amazing major partners: INPRNT, RAYMAR, Yasha Young Projects and iCanvas for their support of this year's Prize, It is through their valuable contributions that we are able to assist the Winners to grow and develop their practice through cash and amazing product and service prizes, and of course receive the visibility their work deserves. Finally I would like to thank the Beautiful Bizarre team for their dedication and hard work over the many months it takes to put the Beautiful Bizarre Art Prize together and administer it.
On behalf of Beautiful Bizarre Magazine and the global arts community: thank you for championing the Arts. This kind of support and backing of the representational visual arts is important now more than ever – so thank you, we are deeply grateful!
Beautiful Bizarre Magazine will continue our work to ensure that the 2022 Beautiful Bizarre Art Prize adds even more value to artists globally. The 2022 Beautiful Bizarre Art Prize will open on 1 February 2022, so to ensure you don't miss the news, please join the email mailing list here.
'Animalia' Exhibition
We look forward to sharing the artworks that the 1st, 2nd and 3rd Prize Winners in each Award category, and of course the overall Winner of the 2021 Beautiful Bizarre Art Prize create for the upcoming Beautiful Bizarre exhibition 'Animalia'. 'Animalia' opens on 23 October at Haven Gallery in Long Island, New York, USA. These works will be shared in the coming weeks leading up to the opening. If you happen to be in New York, please drop in to see the exhibition in person. It's going to be an amazing show!
The entire exhibition will also be available to enjoy online. If you would like to be added to the Collector's Preview, please email Gallery Director Erica Berkowitz at in[email protected].
Winner of the 2021 Beautiful Bizarre Art Prize
The overall 1st Prize Winner will receive:
Winners
So without further ado, it is with great pleasure and much pride that we share with you the Winner of the 2021 Beautiful Bizarre Art Prize, the Honourable Mentions, and the Winner of the People's Choice Award.
Winner of the 2021 Beautiful Bizarre Art Prize
Roland Mikhail
"Memory's Descent", Airbrushed Acrylic on Wood Panel, 40″ x 30″.
Roland Mikhail is the son of first generation Egyptian immigrants and lives in Sunset Park Brooklyn. He is a painter, sculptor, anatomy instructor at Pratt Institute, and artist in residence at the North American Sculpture Center. He is an expert in Jujitsu, mythology, and symbolism, and has spent the better part of the last decade excavating his childhood allowing him to unearth the hidden parts of psyche. This journey and all of these inquiries are reflected in his work.
"Memory's Descent": If images contain a potential glimpse of our own veiled soul, I like to think the bridal suggests the relationship between the mind and our own animal body; like horse and rider. Between head and torso, is a ruin of bodies unseen by the subject. What do our bodies carry that the mind can't see.
Honourable Mentions
Juli About
"To Our Pains", porcelain, embroidery thread, metal frame, gold wire, 94cm x 61cm x 24cm.
Awarded by Beautiful Bizarre Magazine's Editor-in-Chief, Danijela Krha Purssey.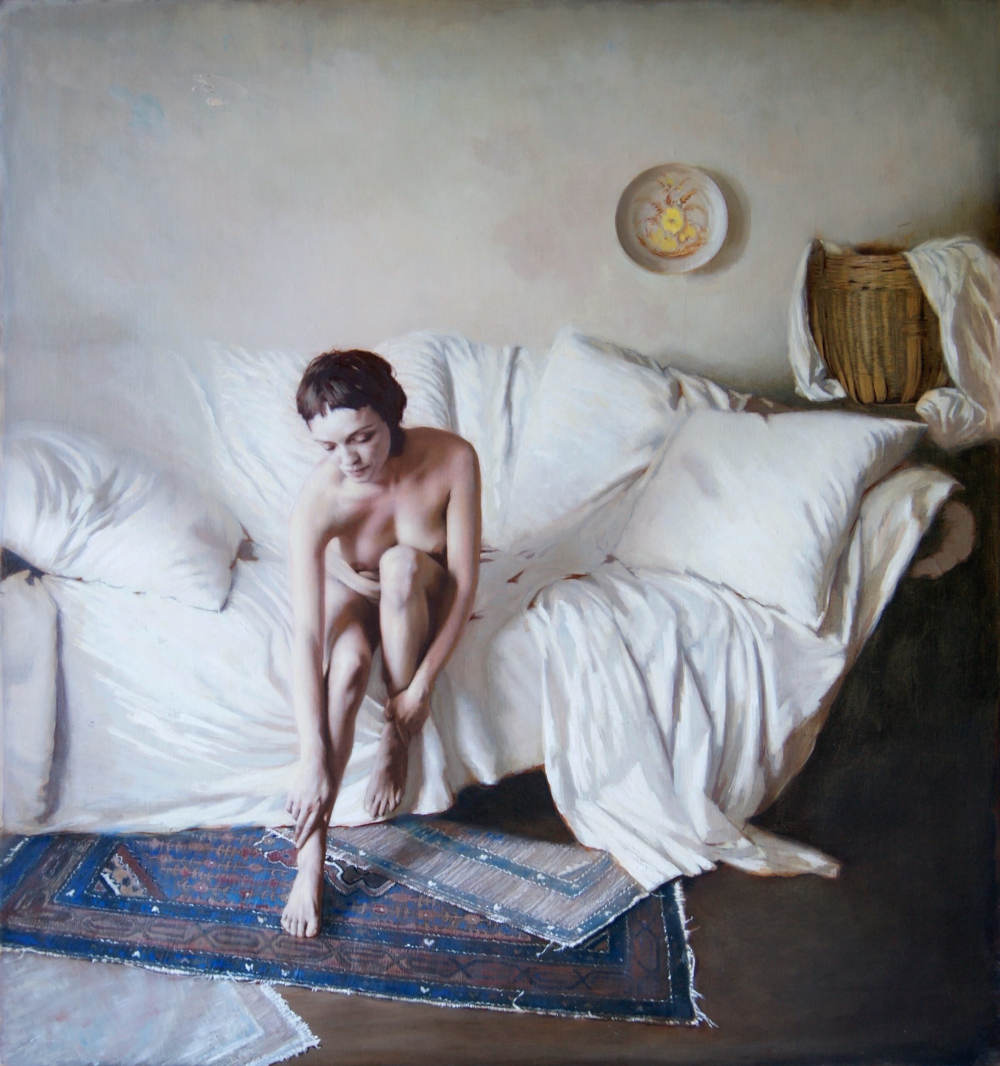 Carla Paine
"Before the Bath", Oil on Linen, 32″ x 30″.
Awarded by RAYMAR.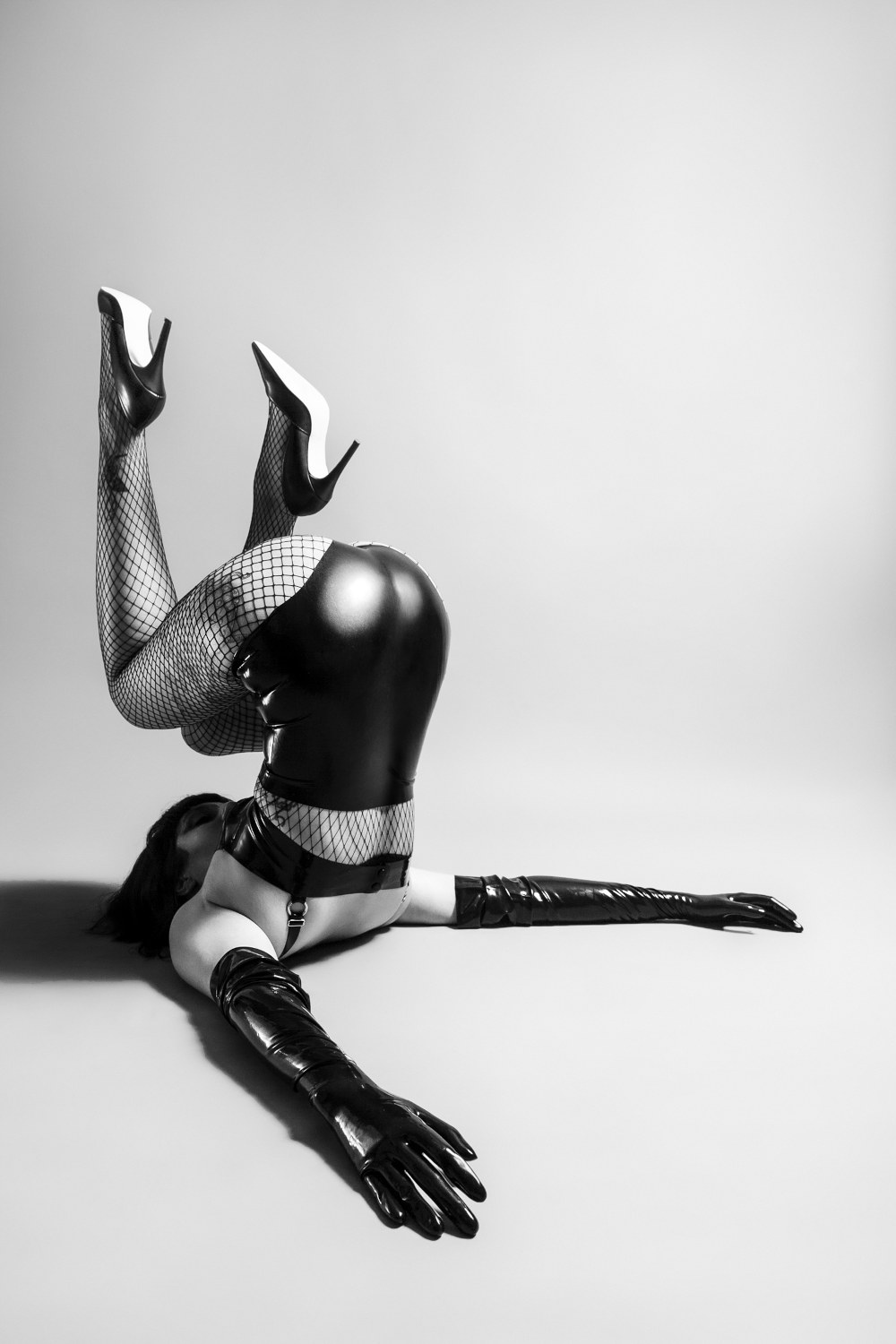 Nina Luca
"Reflective Desire", Digital photography (Canon eos 5d, f2.8 24-70, 1 Flashlight/Softbox and a reflector). Photo, Concept, Edit: Nina Luca // Model: Model Daliah.
Awarded by INPRNT.
Ransom & Mitchell
"It Will Be Ours", Photomanipulation (Nikon D800 50mm f1.4). Model: Alexzandria Compton; MUA: Jihyun Kim; Wardrobe: Kaytee Papusa.
Awarded by iCanvas.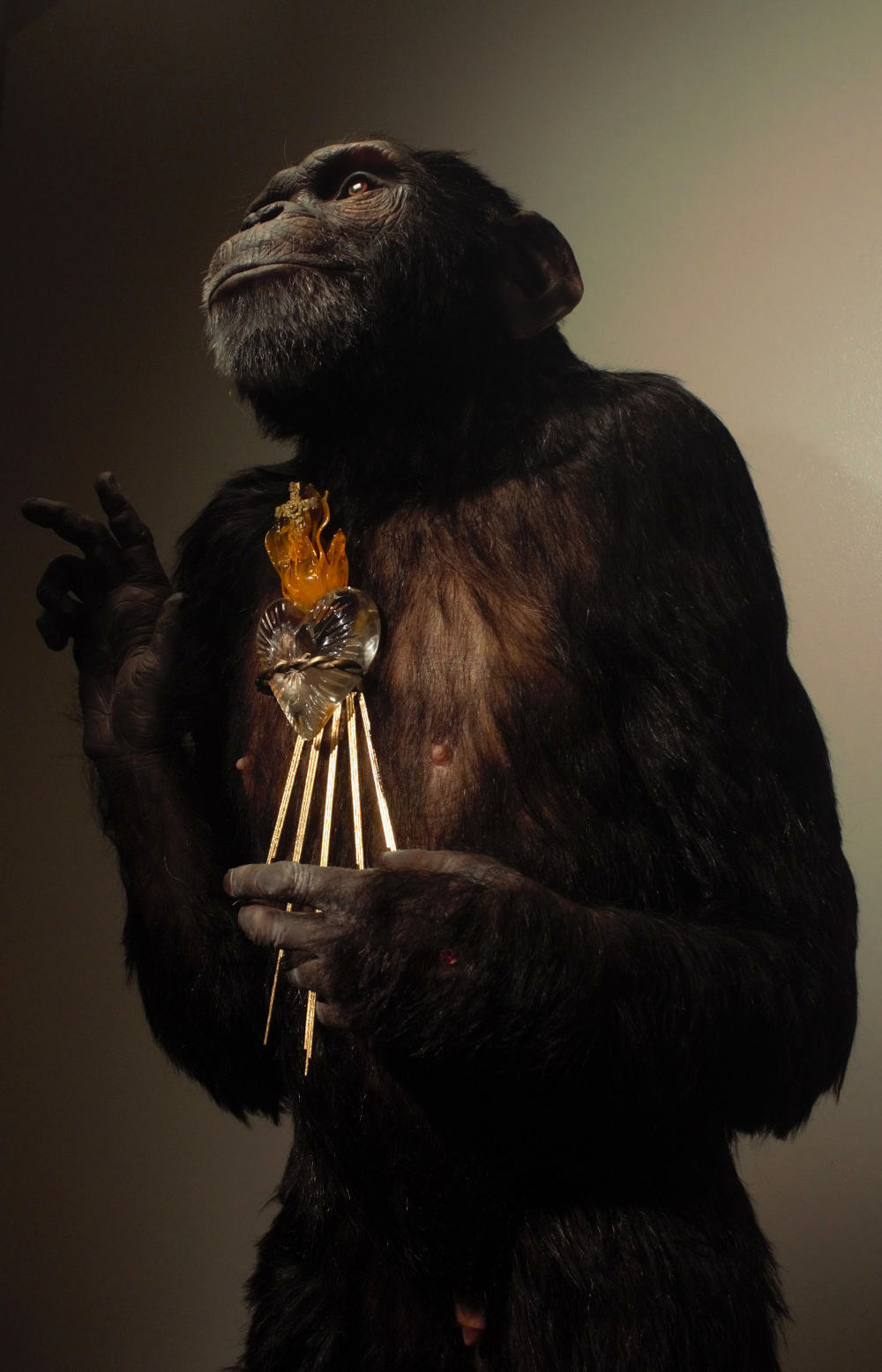 Sadhdh Mowlds
"The Suffering", Silcone, fiberglass, resin, glass, steel, bronze, hair, 30cm x 70cm x 65cm
Awarded by Yasha Young Projects.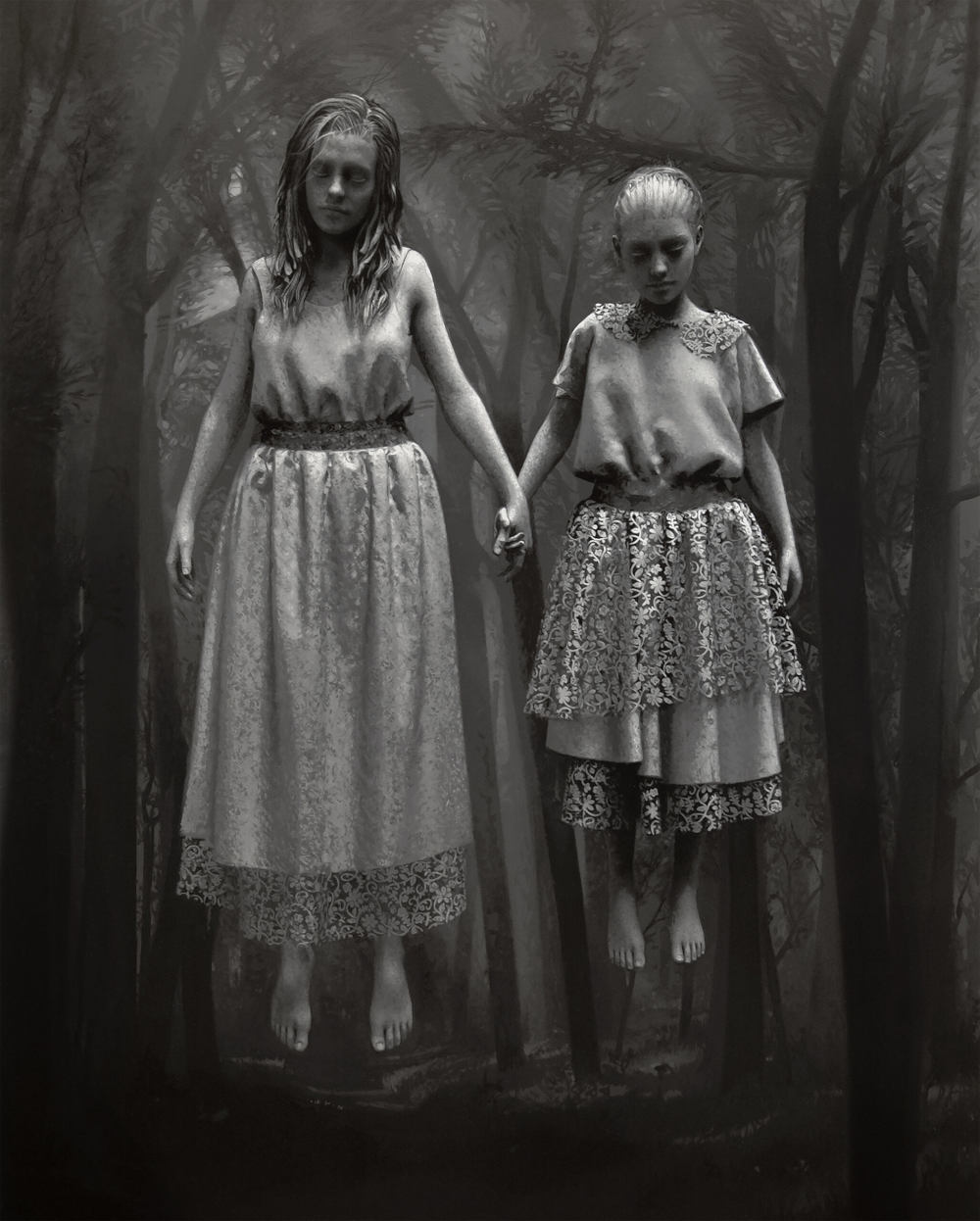 Ben Howe
"Passage", Oil on panel, 92cm x 87cm.
Awarded by Haven Gallery.
People's Choice Award Winner
Stephanie Rew
"Narcissus", Oil, egg tempera, gold leaf and optical lens on panel, 40″ x 66″.
The 2021 Beautiful Bizarre Art Prize is proudly sponsored by
MAJOR PARTNERS
SILVER SPONSORS
SUPPORTING SPONSORS