One of the first things that struck me about HezronH (pronounced "Hezron H") was his warm and grounded demeanour. Here is an artist who clearly loves what he does, and puts his very soul into each of his paintings. Based in Turks and Caicos, the Indo/Afro Caribbean artist is still rather fresh in his career as a professional painter. However, he has already developed a vibrant signature style which has gained him admirers around the world. Through vivacious palettes, HezronH encourages the viewer to both celebrate people of colour and their stories, whilst actually portraying skin using every other colour under the sun. Perplexing? Perhaps at first glance. But rather, HezronH is imbuing his models with interpretations of their auras, dancing on their skin. The effect is mesmerizing, and something which many viewers instantly connect with.
I wanted to interview HezronH to find out more about this up-and-coming artist. Thankfully, he agreed. So, get comfy, and prepare to enter the colourful world of HezronH.
Exclusive interview with HezronH
Thanks again for agreeing to chat with me, Hezron. The first thing that obviously stands out is your use of colour. You explain is so intriguingly on your website how our auras endow "minds with fragments of personality shimmering through a kaleidoscope of colour". That's a strong and beautiful image. Has this vision of colour and people's auras always been with you?
I believe it's something that has stuck with me subconsciously from my childhood. I'm an avid reader of comics and as a child consumed maybe 6 – 10 comics weekly. At the time I had access to a large library of back issue classics; a large portion were creations of Jack Kirby and he was known for his psychedelic colour mixes of secondary and sometimes tertiary colours. They were always so bold and eye catching.
Flash forward to adulthood and my technique; I didn't begin employing these colours immediately. My technique consisted mostly of realistic renderings of subjects. However, I saw a piece of art that employed several different colours. To this day I'm not sure who the artist was, if it was a traditional or digital medium. It was just a random image in google search at the time. I then began experimenting with the colours and started to bridge the gap by establishing a relationship between colour and the personality of my subjects.
I think it's certainly cemented and grown by a great deal over the past 5 years. I also love painting directly out of the tube or can without having to mix paint.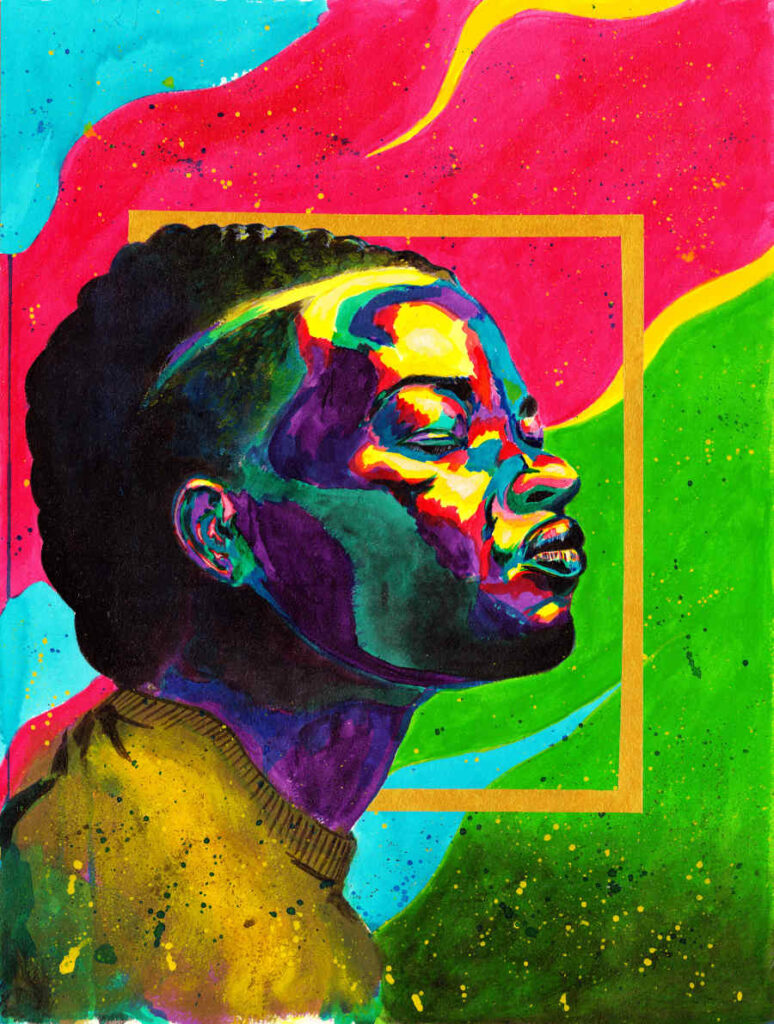 Aura Portraits
The power of colour is strongly emotive! Do you remember how you felt after painting your first "aura portrait" (if you don't mind me using the term)?
Maybe I'll start referring to them as aura portraits as well! The first time I tried, I had been experimenting with 2 other styles as well. However, the one where I employed variations of primary colours really struck a cord. They commanded attention and had power.
Even after first exhibiting it everyone was drawn to it, almost like a moth to flame. It was mesmerizing.
You've explained that you use focal points of the face to bring across the emotions of the subject in relation to the idea you seek to project. How do you plan this? Is it quite an organic process, or is every colour planned meticulously?
The process is quite organic. Usually, I make several notes of ideas and concepts I would like to explore in my art… I have so many themes and ideas I plan to expand on.
I then choose the one I feel I would enjoy working on; it's important that I enjoy the process of creating otherwise it just becomes burdensome. While I'm building these themes and elements in my head, I'm also collecting references as it relates to poses and faces. When I'm ready to develop a piece, I sift through the references I would like to use and decide on the colours I would like to employ… these are usually the dominant colours.
Once I begin painting it's quite spontaneous in laying the paint. It's a conversation between myself and the materials, and the outcome is much like the piece deciding how it turns out as a result of our conversation.
How long does an average-sized painting take to complete?
Time usually varies when producing a piece. I love to take my time and work on sections and then just have it sit there for a while until I get back to it. However, I can take anywhere from a day to a week on an 18×24 sized piece. Deadlines tend to motivate and dictate the time I spend on a piece.

Back to the roots
Going back to the beginning, when did you start creating art seriously?
I started creating seriously in 2017, just a few months later I was exhibiting in Australia and New Zealand as a result of Wacom's The Next Level competition.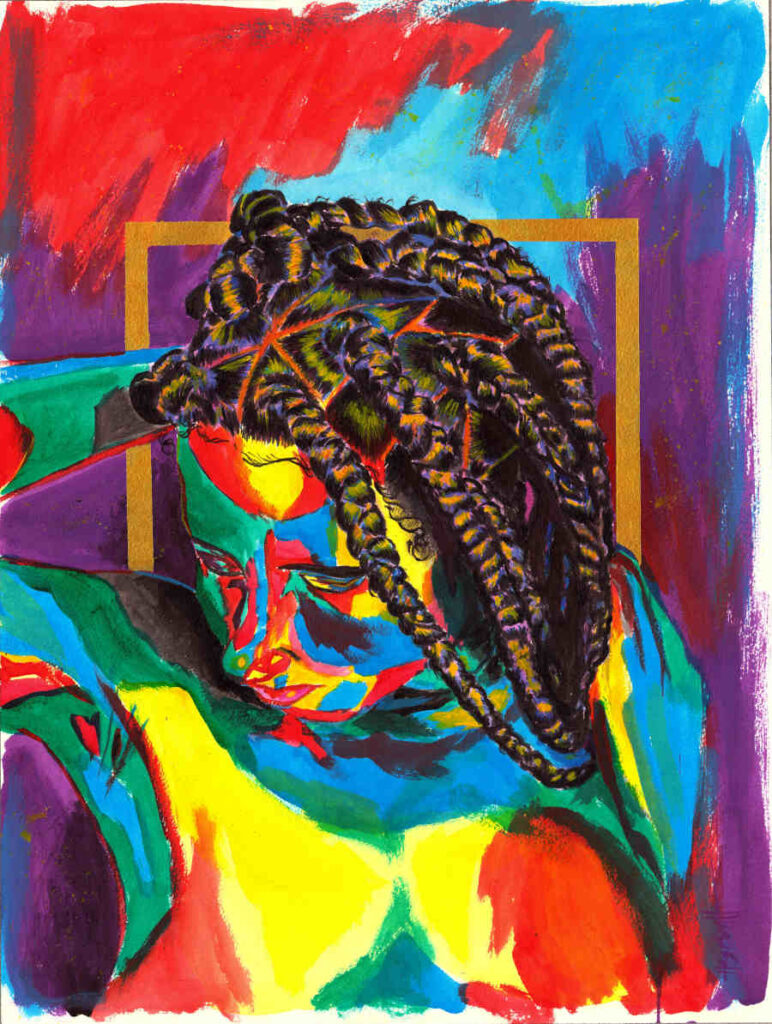 Yes, that's right: you were a Finalist in Wacom's "The Next Level" Competition in 2017. First of all, congratulations – that's really impressive! How was this experience for you?
This was an incredible experience being the first art related competition I entered, and in the very year I decided to take up art seriously; even more so further displaying art literally on the other side of the world. Turks and Caicos is an extremely small community compared to cities around the world that have a thriving art scene. To further find out there were over 2,000 submissions was a treat.
Artists seem to have mixed feelings about entering competitions. I certainly understand the vulnerability that comes with putting yourself out there like that. Do you see competitions more as extra opportunities to push yourself, or something to be done for fun?
Yeah, it's nerve wrecking putting out subjective art to be "judged." However, I look at the benefits. In Turks and Caicos, we have an annual art exhibition; TCI doesn't have a thriving fine art scene. Much of the art you'll find is directed at tourists, so it tends to be something beach oriented. For me it presents an opportunity to reach a wider audience especially when there's an exhibition involved as part of the prize. It's a form of marketing. This is what led me to applying for the open call for Art Takes 2021 (By SeeMe Community) and it further became my first US group exhibition.
Crown series
Can you share any viewer feedback on your works which has really stuck with you?

I get a lot of feedback on my Crown series. I employed mixed media for the final pieces that went on display. It was digital, acrylic and gold leaf. There weren't any words just facial appreciation. That collection was exhibited at the Annual Art Exhibition held here in the Turks and Caicos. All the floor pieces were sold out within 9 – 10 mins.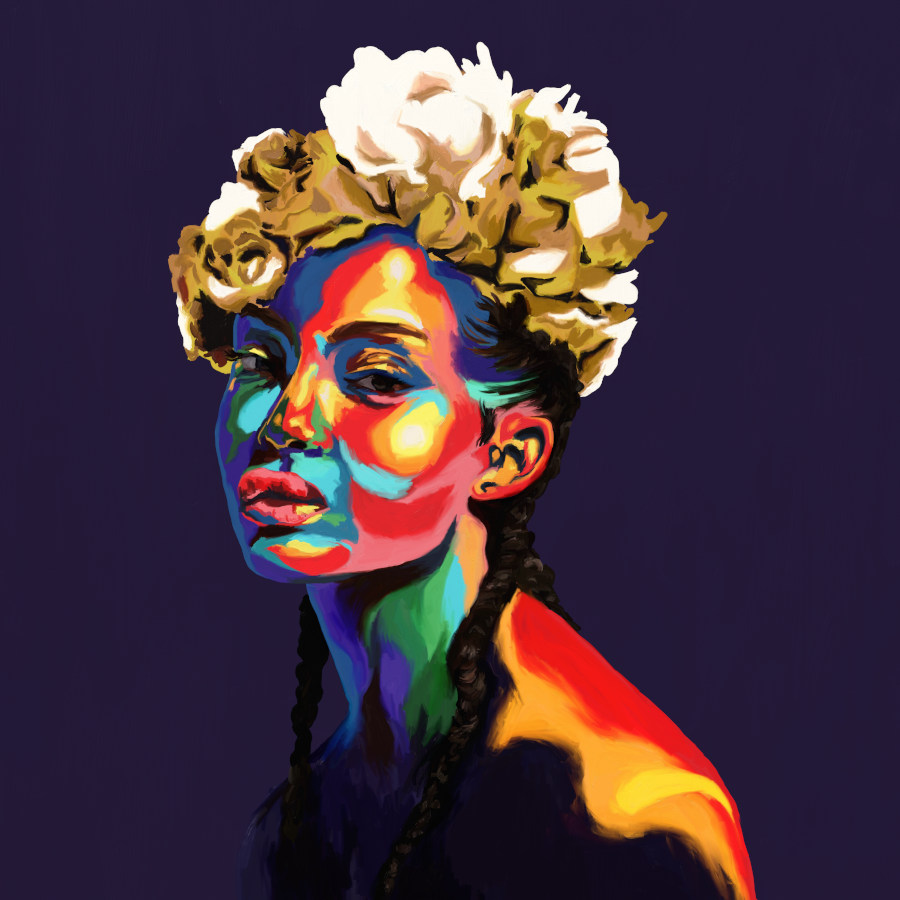 That is amazingly quick! But honestly, I'm not surprised. Just jumping back a bit, I'd love to learn more about the journey which has led you to where you are today…
I've always had a knack for visual art growing up. I was enrolled at a young age to take art classes at the Burrows school of Art over summer holidays. These were focused mostly on the practical elements of art, not so much on the academic side. At the time my skill level was at the level of artists twice my age. I attended those classes for 4 – 5 years over the summers.
Over time I still drew in my free time. But as I got older there was less time and eventually, I didn't contribute much to the visual arts, but instead, literary and performance art.
I would later take up art again after being gifted a Wacom tablet by my wife. Its portability allowed me the time to get back into art by producing digital pieces. Ultimately, I started exploring the combination of the traditional and digital mediums.
Tears of the Trouvadore
All of your works are spectacular, but certain series like Tears of the Trouvadore are particularly powerful. Can you share more about this series for our readers and why you created it?
The series revolves around Africans intended to be slaves in Cuba, but things take a different turn, shipwrecking them in the Turks and Caicos Islands. I'm of South Asian and West African descent; Indo/Afro Caribbean. As an immigrant living in Turks and Caicos you see certain things from a different perspective, as any immigrant would around the world.
There were several themes I wanted to explore along with a major over-arching theme. It relates to charting the future by remembering and honoring the past, and reflecting upon the nature of that journey – one of a displaced immigrant population by way of enslavement.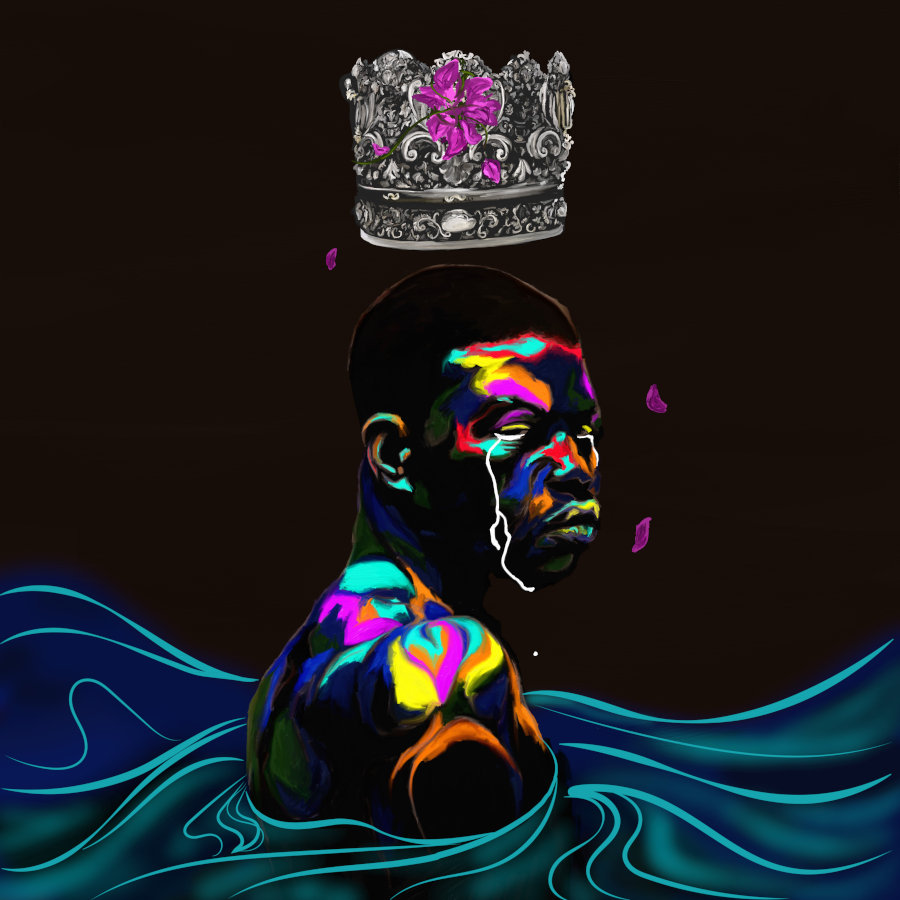 I wanted to highlight the fact that we as humans are capable of reclaiming and building something new, monuments to new achievements that simultaneously acknowledge the roots of its origin. Monuments must have a strong and cohesive foundation, or it will crumble under its own weight. But what creates that cohesion and how do you execute the process? That's a truth only the viewer can find and accomplish… if they wish.
Baldwin said, "The role of the artist is exactly the same as the role of the lover. If I love you, I have to make you conscious of the things you don't see." Even though it's not explicitly laid out; the journey is important as well in how the viewer reaches meaning in each of these pieces that make up the series.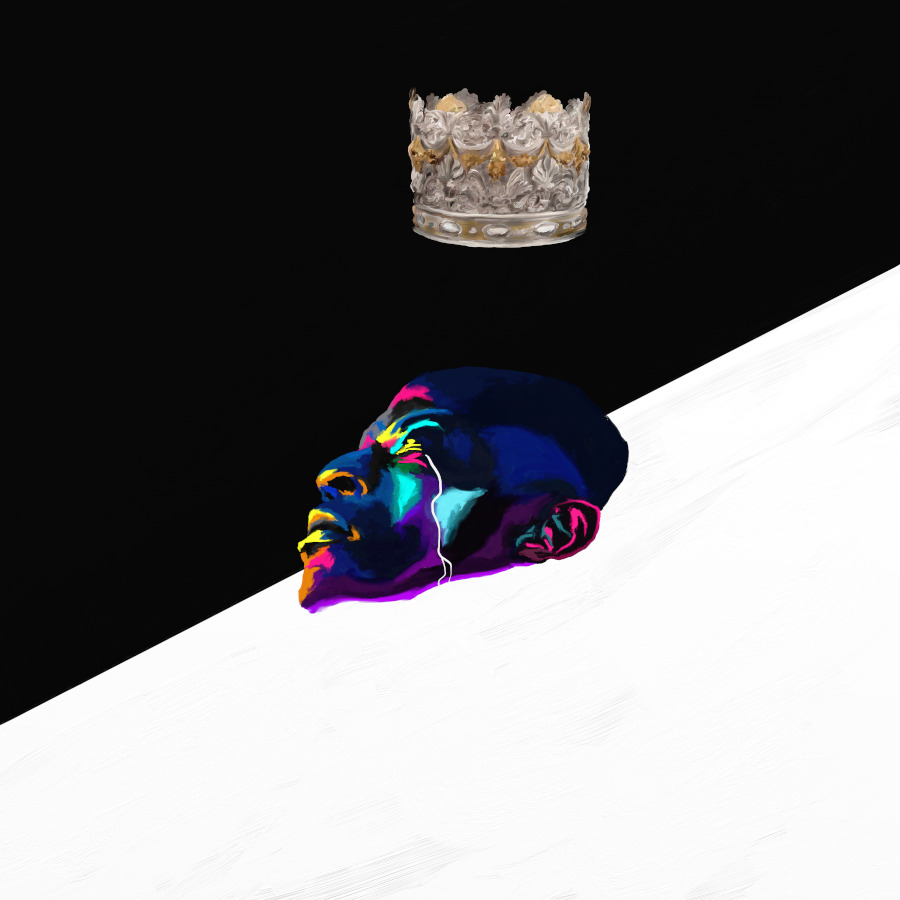 Are there any works you have created which hold a special place in your heart?
I think the entire Crown collection would fill this spot. Putting together the final multimedia pieces in the collection took a lot of time and patience in the laying of the gold leaf on each. It was also a learning process being my first time working with gold leaf. So, to have it all pay off with record breaking stats was a great accomplishment for me.
I have a feeling that you'll be enjoying many more accomplishments in the near future as well. On that note, what have you got planned for 2021?
Right now, I'm mostly planned on further building my portfolio, getting my art out there, networking. I've been actively researching galleries and submitting to open calls; the ones that fit a narrative of what I'm trying to accomplish with my art. It's important that I guide how and where my art is "consumed." In addition to this I'm also working on a 20-piece series that may serve as a solo exhibition or I may hold off on it; but I'm keeping my options open for the right moment.
HezronH will be exhibiting as part of the "Expression Against Oppression" public art exhibition alongside seven other artists. "Expression Against Oppression" will run from September 6th for one month. Billboard installations will be up in several locations around Portland.
HezronH Social Media Account