In a resonating narrative, David Van Gough shares with us the Memento Mori of his solo exhibition, "Infernal – The Denouement"… and perhaps a sliver of insight to moments lost to time and the confrontation of personal demons. Permeating an emotional state that lends empathy to his echoing creative vision, The Dark Art Emporium invite you to celebrate a keen artistic prowess with the opening of "Infernal – The Denouement".
The Dark Art Emporium Press // David Van Gough's "Infernal – The Denouement" chronicles Dante's nine circles through the prism of TS Eliots Wasteland, against the brutalist urban decay of the artists Liverpool, Catholic upbringing. Raw, visceral and elegiac, this final series represents Van Gough's darkly cathartic reveries as revelation, created during a tumultuous year of hell's–that included the pandemic, a brush with mortality and the death of the artist's father.
"Infernal…", closes the arc on a trilogy of works, that began with "Purgatorium" (2014) and "Paradiso's Fall" (2019).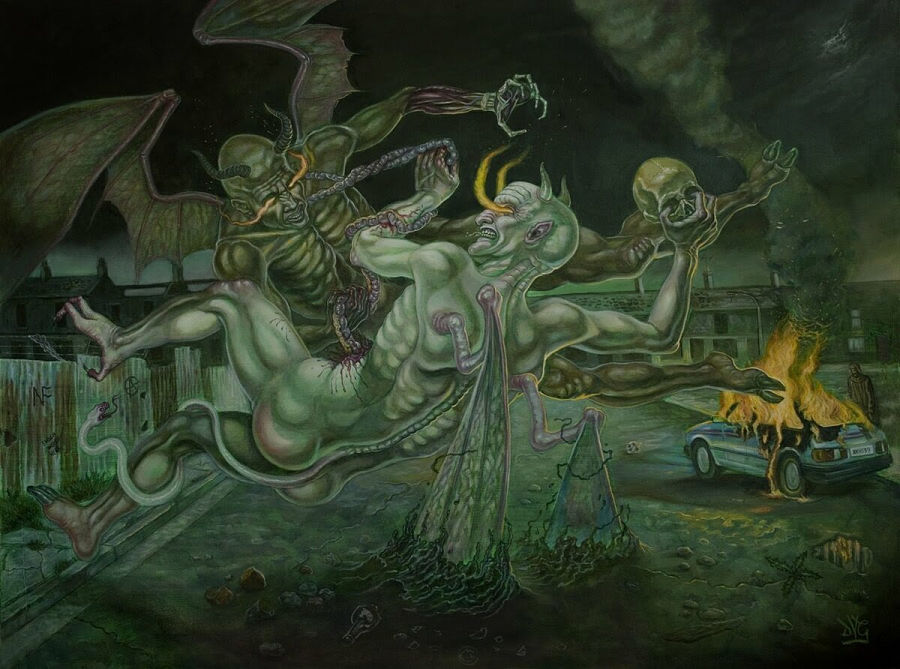 Hell is empty, and all the devils are here…

THE TEMPEST, WILLIAM SHAKESPEARE
Show your support and help celebrate! The gallery is now open to walk-ins, no appointments necessary. Grab a bite to eat while you're there… have some pizza and beer at @the4thhorsemanlbc then head to the back and feast your eyes on some amazing art!
To view all available artworks, visit the DAE website! If you haven't discovered The Art Pit DAE Podcast, now's the time. The Jeremys (as in Jeremy Schott – Gallery Owner and Jeremy Cross – Assistant Gallery Director) discuss all things art, music, movies, and more. Episodes 1-7 are now available to stream using Soundcloud via The Dark Art Emporium website or their YouTube channel.
About the Artist // David Van Gough is a Necrosurrealist artist originally from Liverpool, England, living and working in California. A keen scribbler from an early age, his artistic intents were fully realized upon seeing a monograph of Bosch's Earthly Delights. Enrolling to study at the Liverpool school of Art-upon graduating-he left to work for over a decade as a commercial artist and designer. However, upon the death of a friend–the third to die in a fifteen year period–what he calls a 'cruel reminder of life's fleetingness', revitalized his early artistic ambitions, imbuing his work with "an emotional and spiritual excavation for purpose"
Moving to California in 2005, he became an Honoree Artist of 2010 at the San Diego Art Institute,and his work has been hosted in a succession of solo and featured showcases on both sides of the Atlantic, including major exhibits at the Oceanside Museum of Art,(SD) Stephen Romano gallery (NY), Copro and Gregorio Escalante gallery (LA) and Bash Contemporary (SF). His Hyaena gallery exhibit "Man/son and the haunting of the American Madonna" has been featured as part of the critically acclaimed documentary "Serial Killer Culture" by John Borowski, now streaming on Amazon Prime.
David Van Gough "Infernal – The Denouement"
Opening Reception: Saturday, August 14, 2021 | 5 – 9pm
The Dark Art Emporium
121 W. 4th Street, Long Beach, California 90802
Located in Downtown Long Beach within The 4th Horseman
For additional information and purchase availability please contact: [email protected]
Exclusive Interview with David Van Gough
Hi David, thank you for taking time to talk to us about your upcoming exhibition, "Infernal – The Denouement", opening August 14th at The Dark Art Emporium. Let's jump right in… what can you tell us about your creative vision for the show?
"Infernal…" is the third in a series of works that followed on from "Purgatorium" in 2014, and "Paradiso's Fall" in 2019. My initial vision was to take The Divine Comedy's nine circles of hell as individual motifs, and I'd remembered reading a quote by T.S Eliot, that said "Hell is oneself", so I decided to use passages from his poem the Wasteland as titles and reserve a tenth circle for myself. This was my intention before the pandemic occurred, but then the pieces became almost prescient, like factotums of the times we were living – memento mori's of a raw period of turbulence, both socially and personally. It's a series very much made up of two halves, one of the aggrieved and one a testament to my own grief.

I've often felt that if I didn't give that articulation to the darker shades of my imagination, then I'd be lost, or worse incarcerated. I guess it's a force that has to be released in some form; I just choose to make reliquaries of my angst.
Which piece was the most demanding in this collection, and what about it challenged you?
I'd have to say "Prophet and Loss" (shown below), because its inception occurred directly following the death of my father on Christmas Eve last year. We returned to England to help with his estate, and whilst there, we stayed with my daughter's family, so that added to my own traditional British stoicism and meant I hadn't really been able to process my feelings. In the midst of all this, I'd been able to do a fairly detailed sketch inspired by my emotional state after reading Horrible History's to my grandson, Quinn.
It wasn't until months later, after we returned to the US, that I was able to begin mourning, so it became this thing where I'd be painting the piece through a real heartbroken state, often reduced to gobs of sobs. The piece itself portrays the Egyptian God Ammit, standing over a soul using the scale of two truths, which hold a heart in one scale and the feather of Ma'at in the other. And because I placed them at the cemetery gates, where my Father is interred, it became this very poignant, intense piece about things unsaid, about how one weighs and measures a life as lived, and about unspoken truths and moments lost in time.
How deeply unimaginable, I'm so sorry to hear about the loss of your father. We appreciate you for sharing the weight of such a tremendous heartbreak and extend our most sincere condolences to you and yours, David.
This is like opening a wound… with such a cumbersome emotional narrative, and at the same time steeped in eerie religious undertones, there's a concentrated macabre perspective entwining your protagonists. Like a ghost, it haunts the senses with symbols of your Necrosurreal artistic prowess. What are some of your favorite elements about "Infernal – The Denouement"?
For me personally, my favorite element is that the series contains a very coherent narrative from beginning to end – a sense of chronology or a dark tale playing out. It's been edifying, because it's familiar territory in that, its setting is very much the dilapidation and squalor of my Catholic upbringing in Liverpool. Except those streets and alleyways don't hold quite the same menace for me, they've become this interior playground in the work; inhabited by my own dark hellions. Like ghosts, as you say of revelation, of my past traumas and fears.
I think it's my most uncompromising work to date, but within the underlying malice, is this feeling of resolution that begins with a baptism of fire and ends with a baptism of the soul; a sort of purging or exorcism of demons if you will.
How has your artistic brain evolved over the years? What has changed and what remains untouched?
Creatively, because I've been using a particular retinue of props and characters that I can draw on from time to time, I've developed a kind of secret language – a way of working that references a contextual interplay that's uniquely my own. Conversely, I don't believe the ingredients or "meat" of my work has changed. It still contains the same overarching human questions about mortality, spirituality, society and what it means to be an artist; I just approach them differently from piece to piece.
In the same vein, it's not uncommon for an artist to connect intensely to their work. In what ways does the dark nature of your imagination affect you? Does it ever?
Well, I mean it's my life. I've often felt that if I didn't give that articulation to the darker shades of my imagination, then I'd be lost, or worse incarcerated. I guess it's a force that has to be released in some form; I just choose to make reliquaries of my angst.
Describe your current mood.
Drained but ebullient – dare I say, lighter.
In light of what you've mentioned, what are you doing in your spare time?
I lost two months at the beginning of the year so since returning from England, there hasn't been a lot of time, other than in service of the work at hand. I have been renovating my studio space to make it more habitable, however. When we moved here a year ago, it was just a roof sandwiched between two shipping containers, so insulation, drywall and lighting have been like a manna. Air conditioning will be next on the agenda – some day's I swear it's been like painting the Infernal in literal hell.
We hope you have a wonderful show! David, what else can we look forward to seeing from you?
Beyond the show – in my former life, and for my sins, I was a graphic designer, so I'm going to be putting together an art book to compile all of the three series. It will contain all the studies from my sketchbook, annotations, exposition, and journal entries surrounding the work. I haven't quite shaken myself of my demons just yet. They're going to remain with me a while longer at least.
The Dark Art Emporium Social Media Accounts
Website | Facebook | Twitter | Instagram
David Van Gough Social Media Accounts