Somniferous young girls crowned with floral arrangements literally bursting with color. Bright, painted nudes stretched in a variety of poses ranging between open and vulnerable, to withdrawn and secretive. Sketches of bare women laying in poses both playful yet reserved. This is the vision of Conrad Roset.
Some of them smile, others look roused from a melatonin-induced slumber, while girls camouflaged in piles of flower blossoms curl in on themselves. Hair and eyes dripping with glossy, eye-popping hues that run down their bodies. Spanish painter and illustrator Conrad Roset tells a thousand stories in the movements of his gorgeous and most beloved muses.
Conrad Roset was the cover artist for Beautiful Bizarre Magazine's Issue 8!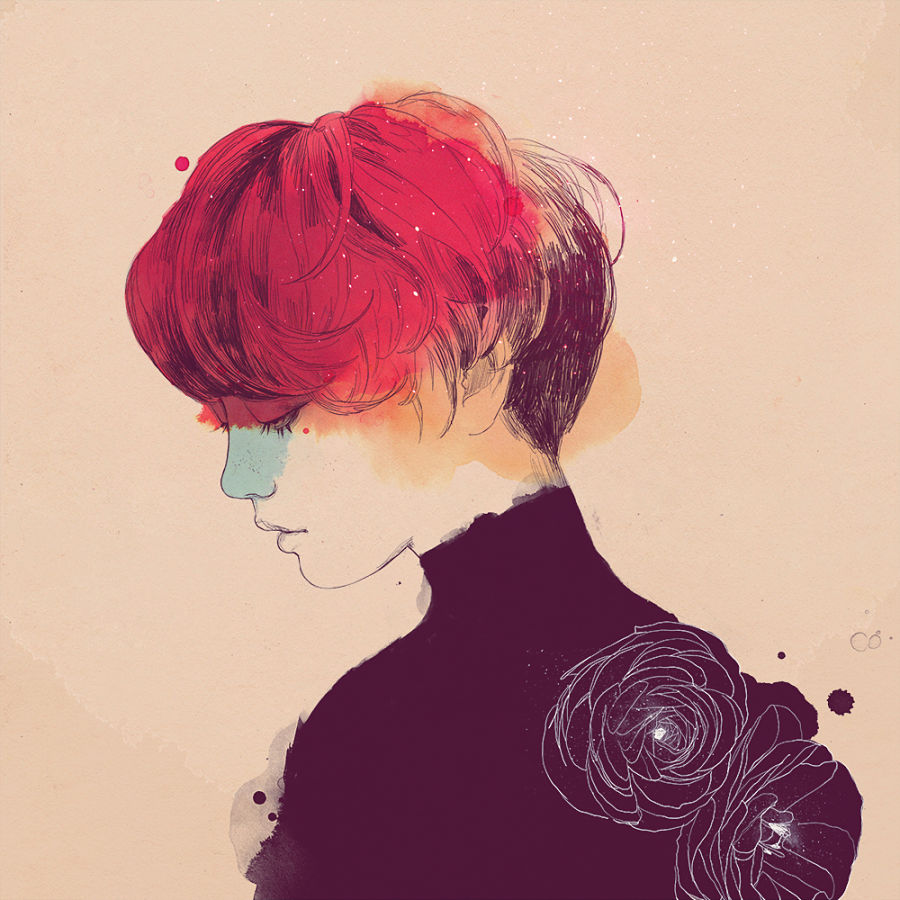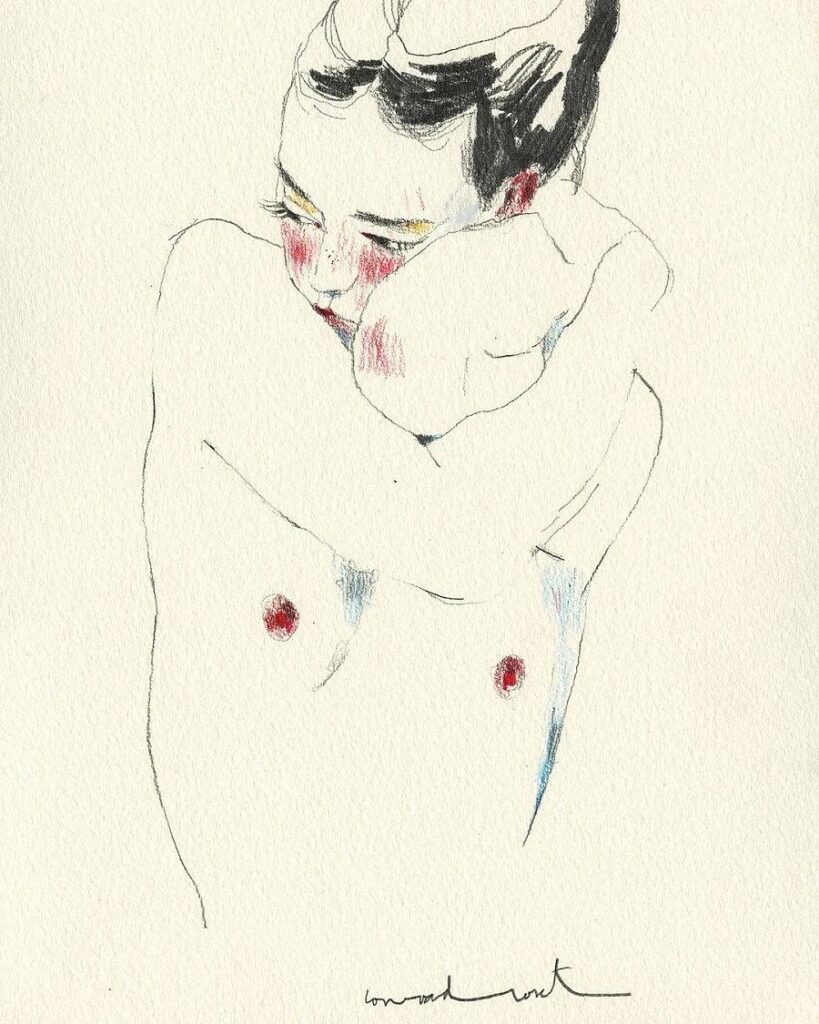 Conrad's world has never been a static one. He spent a good chunk of his life in Terrassa, Spain from childhood to his late 20s drawing with markers and filling up sketchbooks. He moved to Barcelona, and attended the Joso School, then the Faculty of Fine Arts. His personal work on social media eventually caught the attention of Spanish clothing retailer Zara. Once he got a feel for how his trade worked, Conrad became a freelancer. He's worked on ads for big name companies over the years like Adidas, Nike, and Coca Cola, but his personal collection of flower-decked muses obviously has a special place for him. His main inspiration is Egon Schiele. The Austrian impressionist's patchwork shading of nude figures contorted and stretched to the body's physical limits left a mark on Conrad. Schiels' unique style was emulated in Conrad's own work over the years.
Conrad Roset's bright color palate highlights the candid vulnerability of his muses. The eye naturally follows limbs of vermillion to torsos of yellow and green, or cerulean; individual parts that bleed into one another creating the whole.
"I search for the beauty that the body exudes" Conrad says about his "Muses" collection.
A Black Celebration
The most recent addition to the collection is titled "Pale", exhibited in Washington's Spoke Art Gallery in 2019. Because of the muted palette and limited poses of the subjects, "Pale" is Conrad's most unique collection, depicting his girls in a much more complex light.
No more hue-soaked sketches of bare breasts and runny makeup, these new ladies are much more serious. Young girls stand prominent against stark white backgrounds: no distraction of flowerheads or washes of hazy warm tones. There is a reserved quality to these ladies' countenances. Dressed head to toe in India ink, a few of the girls look timidly at their audience; suddenly self-conscious of their bodies. Some break free of their shadowy trappings, exposing their bosoms, and showing off scandalous shoulders and collar bone curves. They sport wreaths of desaturated florals and plants while their expressions are wistful and distant.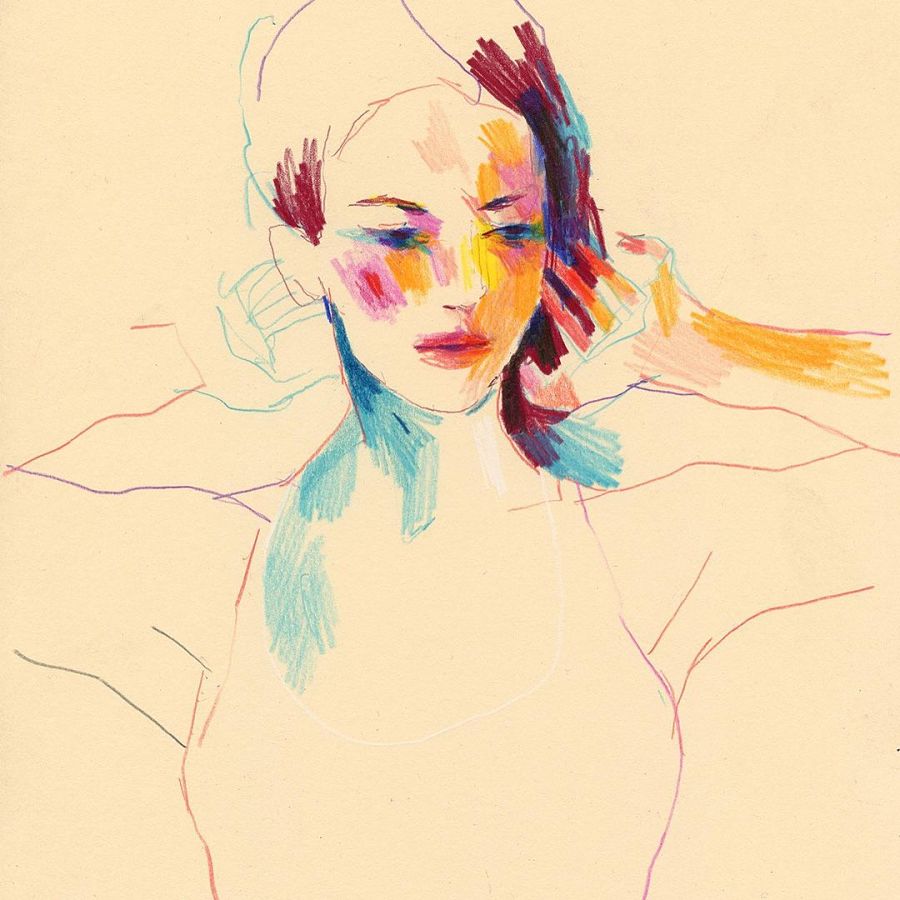 Shrouded in Mystery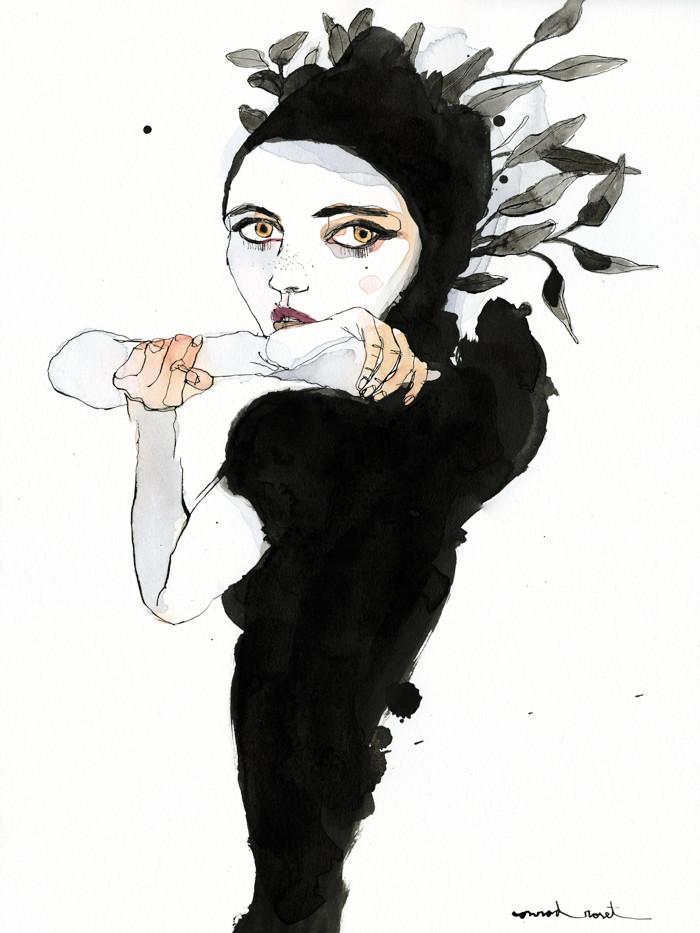 Conrad Roset's work has always shown solitary models. His subjects are the entire story. When Conrad became co-creator of indie gaming company Nomada Studios, he did no betray his signature style and subject form. One of the most widely-recognized games released was Journey, about a wandering nomad on his way up a treacherous mountain to attain their own enlightenment. Another game from Nomada Studios was GRIS. GRIS is the story of a blue-haired heroine getting her voice back after suffering a bout of depression that leaves her identity literally in pieces. Conrad's characters in both GRIS and Journey remain true to his style, and refuse to give anything away.
There is life and sorrow in the "Pale" muses. But there is nothing to suggest that the girls are trapped or miserable. Their shrouds don't restrict their movement. Their inky coverings appear to flow naturally with the girls' exaggerated poses. Previously, Conrad showed off his ladies' faces, breasts, elbows, knees, and hands in bright cherry red, drawing your eye to them immediately. In the "Pale" series, these highlights are now a soft pink. Movements appear limited, tired, even. But they all wear their sorrows with ease like any regular cloth; it is a part of them, and they embrace it as such.
It isn't clear what exactly these girls have been through, although their eyes give away something that makes them look far beyond their years. These muses show that the beauty Conrad Roset searches for isn't only found in warm tones, like their sister series, it is also found in the somber, muted values. Introspective and subdued expressions, the forms may be less saturated, but there is no shortage of vivid expression like the other girls in the "Muses" series. There are still embers of life burning in their haunted gazes.
Conrad Roset Social Media Accounts