Danish painter Anne Juul Christophersen has been making waves throughout Europe since her debut back in 2007. 13 years is not a long time to build a predominant career as an artist; sometimes, it takes a lifetime. Nevertheless, Anne's enchanting paintings soon caught the attention of Galerie Wolfsen, and a throng of faithful collectors. She has a repertoire of sold out shows under her belt – and yet, this is only the tip of the iceberg.
As well as becoming a well-respected artist, I recently learned that Anne Juul Christophersen runs a highly successful online art school.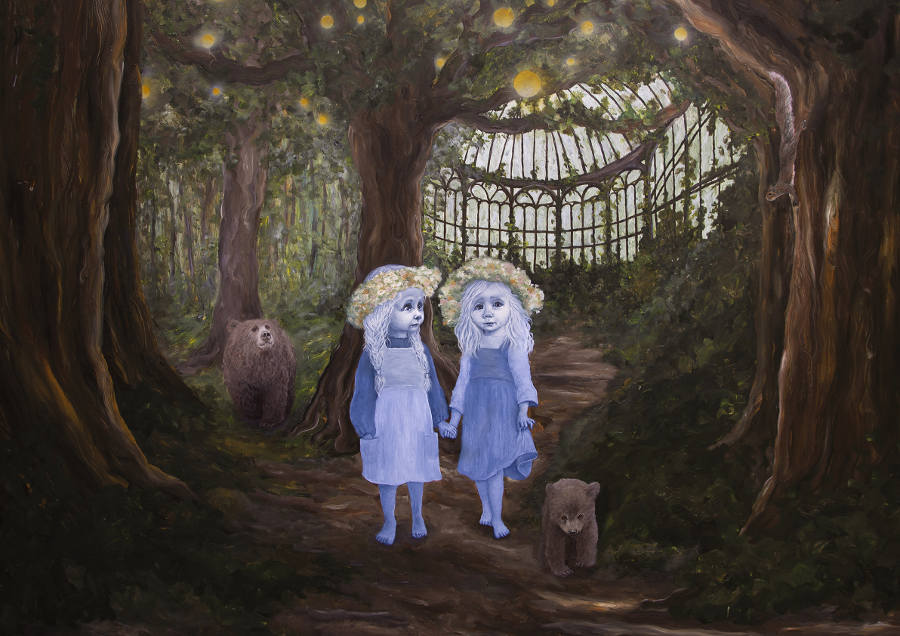 The need for a new kind of art school
Since her debut on the art scene, things have travelled at lightning speed. Anne has given artist talks at Art Copenhagen and Kunstmuseum Brandts, to name a few. She's also been interviewed on numerous television and Danish radio programmes, and her art has been published in multiple books including "Tiden sætter spor", "Forbundet", and most recently, the poetry collection "Transformation". But if that has not been enough, in the earlier years, Anne had also been hosting weekend courses at her atelier.
Originally, Anne graduated as a visual arts teacher back in 2001. Utilising these skills and her knowledge, Anne's weekend art courses were a huge success. However, Anne began to notice something that worried her:
The problem was, simply put, that when a weekend course was over and a couple of weeks had passed, the fighting spirit, enthusiasm, and self-confidence which the students had built up during the courses would steadily peter out again. There is need for ongoing help, guidance, inspiration, encouragement, discussion and network – and it can't be done in one weekend.
Students could have participated in more weekend courses. But it was clear most students couldn't afford to maintain this learning method, or struggled to travel to the atelier. Additionally, the small classes meant new students were limited, and time was precious to ensure Anne was able to work with each individual. Anne's husband, Jesper, saw the solution: an online art school.
"Jesper has many years' experience in IT and media guidance in the educational world. So, recording and organizing the lessons as videos, accessible online, was an obvious move." Anne explains. And so, the seeds were sewn for this monumental project.
Anne's Atelier Art School and Artistic Community
Anne and Jesper opened Anne's Atelier Art School and Artistic Community (the original Danish: Kunstskolen & Kunstnerfællesskabet Anne's Atelier) back in 2013. The title of 'Dream Team' comes to mind as Anne and Jesper told me more about how this Danish art school had formed. Like Anne, Jesper has more than 20 years of teaching experience, and has worked as an art writer, photographer, and musician in his own right. Together, they have lived through the challenges, dreams and hard work that arises on the path to becoming an artist, building multiple connections within the art industry.
The couple sourced instructors across numerous mediums and styles of art to create a broad spectrum of online courses. Anne and Jesper reminisce about their journey: "We were working at high intensity for many months up to the opening. Anne's Atelier Art School and Artistic Community opened on the 1st of January 2013. When we were already receiving our first registrations on New Year's Day, we knew that this concept was perfect for the goal.
With our art school, we make it possible for everyone, regardless of education, location, gender, age, etcetera to receive highly professional tuition by some of the best and most recognized artists. Tuition that, until now, had been reserved for those living in the biggest cities and those who could achieve acceptance to the state-supported art academies.

You can enjoy the guidance from home, at an absurdly low price compared to participating in weekend courses with artists, high school courses, and other similar examples. At our art school, you can find everything needed to progress your art.
Who would have thought that their abode and Anne's atelier, hidden in a field in the furthest southwestern corner of Denmark, would become the headquarter for such a versatile and well-loved online school?
Not just a painting school
From the very beginning, it was important that what they were building wasn't just a school for painting. "We aim to be an inclusive art school which embraces all artistic directions and offers training from qualified instructors in all areas." Jesper shares. "Art is much more than just painting or being able to paint nicely. To be an artist is about many other important skills and elements."
Over the past eight years, Anne's Atelier Art School and Artistic Community has grown into thousands of videos covering those all-important skills and knowledge, as well as videos on two-dimensional and three-dimensional art. Of course, Anne has created videos as well; her and Jesper are constantly coming up with new, entertaining ideas!
For us, it has also always been enormously important to be honest, authentic, and alive. We never pretend that artistic success or techniques can be acquired with a snap of the fingers. There is no quick fix in art. You have to do the work yourself – to take the journey.

It is precisely that journey that we are ready to help you with through the art school, all the way. You don't have to do it alone. You can sometimes avoid the worst bumps in the road through the experiences of other artists. If you stumble in any way, we'll be ready with "a bandage and disinfectant". We're also always ready with "confetti and fireworks" for when everything succeeds.

And you do succeed.
"We have seen many incredibly unsure and hopeful artists who have come to us, hesitant in their expression and anxious about stepping onto the art scene. Today, these same people have genuinely become comfortable as artists. They've worked their way up to their own unique expression and filled the exhibition calendars at good galleries. We are both enormously proud and humbled by the fact that we are allowed to take part in these journeys."
The Artist Community
Within the school's discussion forum, there are ample opportunities to network. Impressively, the art school community now has more than 2,300 other artists that are all members. "We have many members that have been members for years – some of them right from when we started in 2013, and that, by itself, is pretty fantastic."
Amongst many other things, the forum has a dedicated "Feedback" area. Ever wanted to bounce ideas off other artists? Pick up extra tips? Or perhaps you're interested in gaining insight on the techniques or progression of others? If so, this is your place.
Anne and Jesper are incredibly proud of the community that has grown: "Here you are very welcome to show what you're working with and ask for feedback from other members. It is enormously rewarding and stimulating for all involved. By actively participating in the forum, you have the opportunity to receive a lot of input from all the skilled artists here at Anne's Atelier Art School and Artistic Community. They, like yourself, want to take their art further.
We also have several highly skilled artists who are moderators in our forum, so there's the guarantee of an always pleasant tone, constructive posts and answers – and last but not least, our forum is incredibly cheerful. We haven't seen an atmosphere and knowledge-sharing like this elsewhere.
Future expansion: the English "sister" art school
When Anne and Jesper share that they've barely taken a vacation – or even weekend off – in the last eight years, the full mass of this project is laid bare. "Admittedly, we are incredibly proud of the fact that we have grown slowly and steadily over the years. But we make sure never to get too comfortable either!"
"We want to send a big THANK YOU to everyone who is part of the art school. They believe in their dream, and they work for it.
There is just such an energy in the idea that we are all gathered in the same place with so many hopes and dreams that come true, little by little – and unfurl themselves throughout the world in the most beautiful way. It's all about putting one foot in front of the other and keeping it up. We at the Art School and Artistic Community are by your side the whole way.
Based off the success of the Danish online art school, Anne and Jesper are now aiming to create and open and English version. This sister art school will also be online, with all courses and text in English.
"Throughout the years, we've received many enquiries from people who would like to become members, but who don't understand Danish. It has been a real shame to have to disappoint them.
But now that can change. And we are already on the lookout for talented English-speaking art instructors.
The duo will be working throughout the next year to build this new branch, with the aim of going live in 2022.
If that's not enough, Anne Juul Christophersen is also working on a large solo exhibition to take place at the Holmen art museum. Keep up to date on Anne and the school's future projects via the links below.
Anne's Atelier Art School and Artistic Community Social Media Accounts
Website | Facebook | Instagram
Anne Juul Christophersen Social Media Accounts