Erik Jones is an American painter and illustrator who works predominantly with a colorful and vibrant palette. He is well known for his figurative work that has recently morphed into a hybrid of both realism and abstract art. The article below was written over a year span which included two solo shows that both Erik Jones and I were present. Looking at the two bodies of work, Erik created exactly what he intended to- a new series that undeniably is recognized as his own- yet now stretched the boundaries of the earlier work we were used to seeing.
I own a few pieces by Erik and have really loved being witness to this more abstract shift. I find it exciting as I can only imagine how much more of a change is coming in the near future.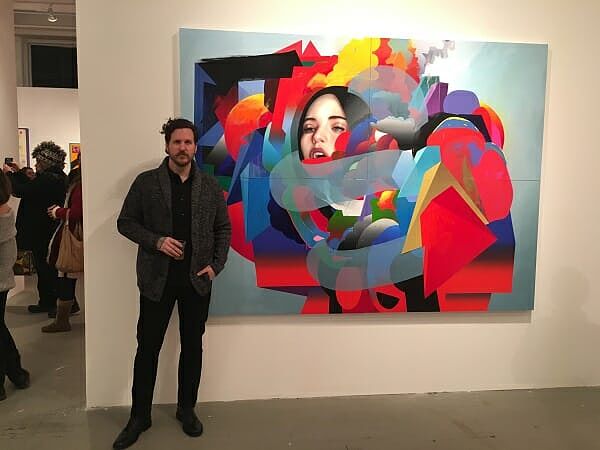 Erik Jones
Interview with Erik Jones
What a pleasure it was to see you at your second solo show, "Armour", at Jonathan LeVine Projects. Although, at first glance, the work was reminiscent of your first show "Twenty Sixteen", you have added more abstract imagery and a few pieces truly looked like your work combined with Egon Schiele like, uber modern and raw painted bodies. Although you may not agree with me, a few pieces were notably painted in your stylistic way, yet I recognized them as yours only due to their hyper realistic painted faces. What was your concept behind this new body of work?
As you know, I usually embellish the figure with abstractions. My first solo with LeVine even incorporated graphics such as stickers and a coded alphabet to decorate the figures. The work was playful and fun. My next body of work is up in the air at the moment. I purposefully have nothing on the schedule. I had visions of exploring this neo-cubism style I landed up on but for now I have it all on hold.
This body of work (for Hashimoto Contemporary) is certainly more abstract than any others I am used to. Are you moving away from hyperrealism? If so, what was the impetus behind that decision?
This latest body of work was a bit different. I started the show using some of the same tricks, embellishing the figure with sharp colorful abstract shapes, but as I progressed with the work the figures themselves began to become abstractions, almost like a neo-cubism. The process was a lot more fun, there where almost no rules. I just did what felt right. Until then, I had been very methodical about the abstractions. This work felt more liberating.
We briefly spoke about your next body of work. Would you kindly share that thought process with our audience?
That being said, I'm not sure where I'm heading, stylistically. I have to admit that realism is starting to bore me, at least realism without narrative or just to be decorative. I actually haven't visited my signature "figure-form" style since the completion of my show Armor" (minus one recent painting for the cover for ImagineFX). I've been experimenting a lot for the last 6 months, developing work with specific narratives, using all types of mediums including digital and print media. I haven't posted much about this but perhaps I will soon.
Has moving out to Illinois changed your artwork in any way? You were right here for years, in the Mecca of the art world per se, what made you relocate?
I think moving to Illinois got me out of the New York bubble, where I became consumed with notoriety and moving up the gallery chain, like so many artists in New York (respectfully). Actually, the main reason for leaving was to focus on much larger work. I simply did not have the space nor could I afford the space I needed in New York. I was stuck in a cycle of working on commissions, constantly, just to make rent. By relocating I made this goal possible and afford myself TONS of extra time to explore what I really want to be making. I'm still not sure exactly what that is but I'm closer now than I was in Brooklyn. It is a temporary thing; I planned on being back in New York City in 2019. However, I rather like being away from it all…
I have found the county life to be very relaxing. I'm thinking of moving to Upstate New York where I could possibly enjoy the county life AND be close to the chaos of NYC. I have one more year in Illinois to figure it out.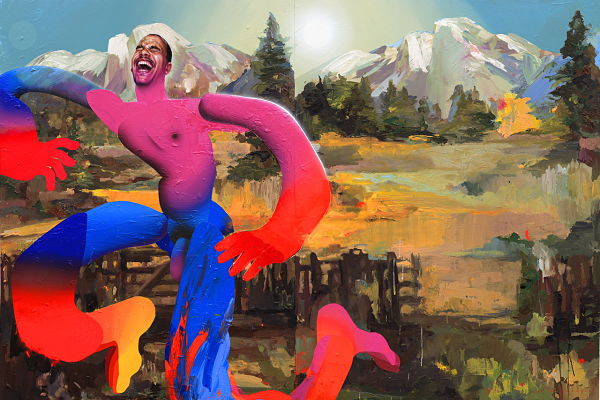 What was the impetus to change the look that so many are used to seeing as your work?
Since around 2010 my work has concentrated on figure painting mixed with nonrepresentational colorful forms. Sometimes the forms obstruct the figure, sometimes the forms decorate the figure and more recently the forms have become the figure. The choice to add backgrounds was to imply narrative, though there is no set narrative, per se. I still wanted the work to look like mine but with an evolved twist.
Was this new series harder to create as it is somewhat a departure from your previous work? Did it flow as you were painting or was it more challenging to paint? 
This body of work was far more time consuming but it was not hard to create. I had never painted landscapes before (outside of my college years) so I approached it without concern for the aesthetic. I simply painted in a style that came very naturally to me. For that reason the work was a lot of fun to create, I couldn't make any mistakes. In fact, I enjoyed painting the backgrounds more than the figures!
What did the title "Country" mean to you, aside from the obvious subjects in many of the landscapes?
I recently moved from Brooklyn to a tiny little town in central Illinois surround by farms, cows, corn and soy.
The pastoral countryside scenes I pass on a daily basis seem to have influenced me greatly. Along with my surroundings since I've moved here, I've been collecting paintings depicting landscapes and other country scenes mostly done by local artists. I think the style would be considered "outsider art" or "folk art". Another aspect of the title "Country" were the figures themselves. I wanted to find faces that portrayed emotions (rather than my past figures who were more stoic) reflecting my general mood about what's happening in this county. To find the faces, I Googled "people laughing" and "people screaming". Even the stagnate faces in this new body of work express a sort of morose tension. But as I mentioned in the beginning of this interview I didn't have a set narrative, rather I wanted the viewer to have their own unique emotional response to the work, even if that response was to simply enjoy the art for its rendering and colorful nature.
I love that you embrace diversity in your work. I know you agree that humans come in many different colors/ethnicities. Some artists only paint homogeneous subject matter. Why do you think you see all races/ ethnicities and include that belief within your artwork?
I don't think the work would be very compelling if it only depicted one race, sex or ethnicity. It needed to feel inclusive and reflect the people who live in this 'country'. It was rather simple to do because when you Google stock images of people you get all colors, sizes and shapes of people.
What will be your next series? Are you pushing yourself even further into the abstract concept? Will you leave your subjects out of your work?
The next body of work will be a continuation of "Country" but I want to explore a more hyper-realistic painting style juxtaposed with the loose painterly backgrounds. For example, if I were to revisit 'Pauline' or 'Jason', I would add realistic water droplets all over their bodies, or add realistic ants and flies in the paintings. I want to push the boundaries of my abilities as much as I can. I'll also be doing mural-sized paintings on canvas with dozens of life-sized figures!
What is next for you?
Not quite sure at the moment. For the rest of this year I intend to work on commissions and slowly start to conceptualize a new body of work and perhaps have a show later in 2020. Aside from that I'm gonna relax and enjoy the country.
Is there something you can share with me that you have never told another journalist before with regards to your work?
I have 2 secret Instagram accounts where I explore other types of art and narratives. There is something about the anonymity that's very freeing.
Erik Jones Social Media Accounts
Website | Facebook | Twitter | Instagram 
Related Articles