If you love collage portrait art steeped in fashion-forward aesthetics then you're going to love the work of Derek Gores…. if you don't already! Don't miss his beautiful solo that is taking over the entire space at Foosaner Art Museum, transforming each room into a memorable site to behold. This special exhibition displays the last ten years of his work!
I had the pleasure of interviewing Derek to learn more about Local Edition, his first 3D installation, as well as a deeper look into his artistic visions. I hope you enjoy!
Facebook | Twitter | Instagram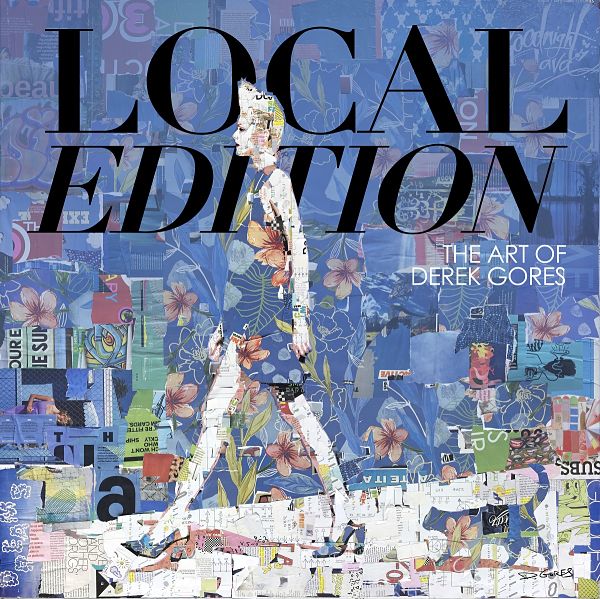 Derek Gores: Local Edition
On view through March 23, 2019
Foosaner Art Museum | Florida Institute of Technology
1463 Highland Avenue
Melbourne, Florida 32935
Hi Derek, thank you so much for taking time to share with our Beautiful Bizarre readers! To start, will you tell us a little about your mental process vs. creative process when preparing for "Local Edition"?
Thank you so much! Great question. As this is my first museum solo show, and considered a mid-career retrospective, this show was my first chance to exhibit older pieces, graciously on loan from some wonderful collectors. Seeing pieces from ten years ago was extra special, only more so because the curator Serene McGroarty was also open to having me create new pieces as well. So, mentally I had ten years plus of process changes, many miles under foot to consider. I've learned to consider a whole room, a whole space, and in this case a whole museum when making an exhibit flow. Creatively, I want to add that a well-timed trip to Venice mid-planning for the show was a wonderful spark. Seeing the Peggy Guggenheim collection, the DeChirico pieces in particular, let me lean more surreal in the newest pieces, and I'm excited where that will head.
Tell us about the full room installation.
True! This show includes my first shot at a 3D installation. An eye comes together in collage, hanging together in assorted spaces. I have much gratitude to artist Michael Murphy and others for the inspiration and encouragement to finally go 3D!
Beyond the art, what else did you bring to Local Edition?
A couple things. When you get a museum show, you of course need to rock the museum shop! And we did, from posters to coasters to scarves, stationery, trinket trays and even a duvet cover. They'd make the perfect match to a Noa Mattress for a new bedroom look! Plus, it let me treat it as a concept shop, with many prototype items to test locally. Many of those goodies will make it to my online shop soon. AND we have produced a catalog of the show, my very first book. That will be revealed very soon. Stay tuned~ eager readers should go to my website and jump on the mailing list for earliest word!
What elements of your art do you enjoy working with most? And why?
Most exciting for me is playing with the edges of the figures in my collage work because these are the key to the spatial play and hints of elapsed time. What from afar looks like the edge of a figure, upon closer view becomes a window into a different space, or the edge of text, of something else altogether. My little psychedelic art experience.
Describe the most integral part of your work?
I'd say in all my pieces, the strong woman is most integral; building on the Klimt and Egon Schiele figurative art of 100 years ago but with a modern, feminist perspective. I hope you see strength, wisdom, introspection, and sensuality rendered with utmost respect. She is always in on the moment with us.
What other exciting shows and events do you have planned for the year?
Next up is Moniker Art Fair in NYC first week of May. Then several group shows with the stellar Thinkspace Gallery. More exhibits down the line with Eisenhauer Gallery in Martha's Vineyard, Parlor Gallery in Asbury Park, LGOCA in Laguna Beach, and more. I'm also excited about several brand collaborations in the works. Adidas, Loews hotels and a few yet to be announced. Lots of artsy fun on the horizon!
Serene McGroarty Curator's Statement:
Derek Gores: Local Edition, a mid-career retrospective of contemporary artist Derek Gores, showcases his neo- Dada style collages and wet drawings in a transformative, site-specific installation at the Foosaner Art Museum, Gores' hometown art hub. A unique show borne of circumstance, opportunity, and an artist's ardent devotion to his community, Local Edition highlights Gores' unending passion for the Eau Gallie Arts District and the many fellow artists and partners who serve as its foundation. Originally conceived of as a smaller, one room salon style show, Local Edition grew to take over the entire museum space, transforming the rooms into environments, the quiet walls to buzzing canvases. The exhibition traces Gores' last ten years of work, from his first collages depicting young, beautiful women–often nudes– through the lens of fashion advertising, to his quieter, newer works such as A View in which his play with transparency underscores his surrealist vision. The newest piece in the show, EYE, is Gores' first attempt at three-dimensional collage.
An entire room is filled with small collages hanging from fishing wire, which (seemingly by magic) add up to a stylized eye when viewed from a specific point. Gores teases with scale throughout his work, blurring the line between the real and surreal, playing with the viewer's sense of what is and is not actually present in his work. The viewer's mind fills in the blanks so readily that it is only when a true pause is taken that s/he might realize the image is in fact an interaction between his/her mind and memory, and the piece itself. Similarly, the small words and images that fade into the work can be striking upon closer viewing, giving cultural (and often comedic) context to each piece.
The practice of collage came out of the modernist era, when artists began to question the flatness of canvas. Coined by cubist greats Pablo Picasso and Georges Braques, "collage" comes from the French word coller meaning "to glue". Its roots are in Cubism, Dadaism and Surrealism, but the practice itself is malleable and has adapted over the years to various artists, materials and technologies. As a medium it has changed and evolved, lending itself to the processes and personalities of artists of all different genres, such as Man Ray, Hannah Hoch, Robert Rauschenberg and John Stezaker.
Gores' version of collage utilizes magazine scraps, arranging them in such a way to create a precise image, often referencing a surrealist-style photograph. This self-referential process adds to the layered works, giving them a contemporary edge that provides the viewer with an image that challenges them as a cubist collage of the early 20th century might have challenged a then contemporary viewer. Installation is a meaningful element of Local Edition. Works are expanded upon, installed into environments that highlight or re-envision the pieces themselves. Spring in Her Step features a floral pattern woven throughout the piece which replicated as wallpaper to cover the entire wall upon which the work hangs. Universe Next Door hangs on an electric blue wall, similarly playing with its bold hue and nuance of color. Each element of the show was created to highlight Gores' artistic process and his best-known source materials– magazines. Floating vinyl on the walls mimics magazine headlines and layouts, again playing with scale and style.
Derek Gores is an artist of the 21st century. Active on social media, well versed in the business of the more accessible parts of the art world, Gores is not only a living artist, but one who thrives as part of human network of creators out in the real world. This exhibition highlights Gores' investment in his local arts scene- working with local partners such as Rocket City Retro and Standard Collective- to further stylize his work and brand. Local Edition was determined early on to be a "mid-career retrospective" of Gores' work, likely an early look at a career that will grow in step with his talent and drive.