Come one, come all. Step right up and experience for yourself the beautifully rendered essence of "carnival" that Michelle Jader has encapsulated in her new body of work, IT'S SHOWTIME. With bold palettes and intriguing contrasts, each painting brings an air of nostalgia that will send you soaring, dreamlike, one circus act at a time.
Join Robert Lange Studios in celebration of Michelle Jader's solo exhibition on view through August 27th!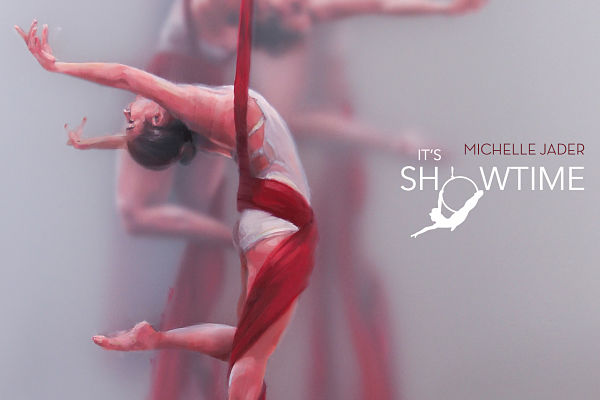 ---
"My objective for this body of work is to capture the kaleidoscope of experiences, feelings and emotions you might encounter at a show, carnival or amusement park," Michelle Jader says of the exhibit.
"The carnival is an invitation for us to embrace the world with a childlike sensibility of possibility and daring. The lights, the movement, the sounds and smells take you out of your head andyou begin to play with your fears and inhibitions. When you step through the gate or behind the curtain, you literally become a part of the show," Jader says.
Once a theme is identified, Jader conducts a number of photo shoots with a variety of models to capture motion. Images are selected in a series, compositions are developed, and she systematically begins to build the painting on multiple layers of acrylic panels. Jader weaves themes of personal growth throughout her work. "I've explored themes surrounding transformation through paintings of figures jumping, leaping and diving. While I anticipate that themes of change will be evergreen for me, I wanted to further explore motion and emotion in a new and dynamic way.
This show challenged me, as the show itself invites viewers to do when they step into this world, to challenge yourself, break free from your fears. When we invite ourselves to be taken in by imagination and fantasy and suspend our hesitations, we can discover a deeper connection to ourselves. There are moments in life that are serene and times that are brimming with excitement. My own life is feeling a bit like an exhilarating, white-knuckle ride with climbs, drops, and spins. I simultaneously want to stay on and can't wait to get off."
Simple amusement rides like the painting of the swings in "Interlude" or the carousel of "phantasmagorical 2" may return you to the safety of innocence versus danger that challenges to push boundaries like the painting of "Phantasmagorical 1".
Overall the exhibit is the perfect example of Jader's unyielding ability to consistently evolve as a painter. She says, "In my last solo show, I explored pushing the boundaries of my materials to show depth and movement with sculptures, perpendicular paintings and paintings with up to 12 layers of stacked, acrylic panels. For this show, I'm expanding beyond the figure and allowing a single thematic element to drive the show, which is amusement parks." The end effect showcases the growth and possibilities of her artistic style.
"Jader's fusion of contemporary materials with her expressive figurative approach creates a layered tension that's mesmerizing. I'm thrilled to see Michelle's progression to this new, vibrant body of work." Collector Courtney Moore, San Francisco, CA.
Michelle Jader: IT'S SHOWTIME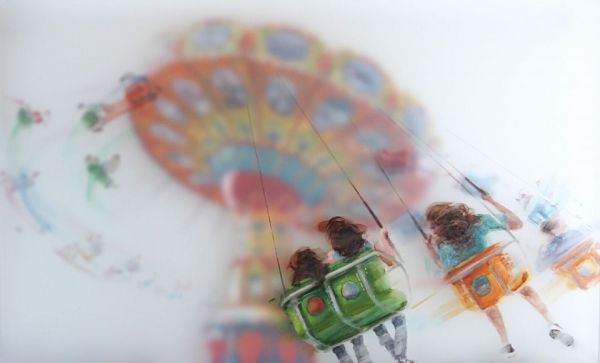 Exhibitions Dates: August 3-27, 2018
2 Queen Street, Charleston, SC 29401
Gallery hours: Daily 11 – 5 and by appointment