As a young student, Japanese wood carver Yoshimasa Tsuchiya loved science and art. He continued in these veins, ultimately completing his graduate studies in "cultural property preservation science" where he researched the wood-carved sculptures of Buddha created a thousand plus years ago.
Fast forward to present-day, and observe with reverence the calm, steady posture and dreamy grace of the artist's works, which emanate vibes akin to those of fellow Japanese sculptor Erika Sanada. Yoshimasa's animals appear lightweight – especially in photographs – and may even elude viewers into believing they are comprised of thin and delicate porcelain. Yet shockingly, these (often life-sized) animals begin their lives as blocks of wood.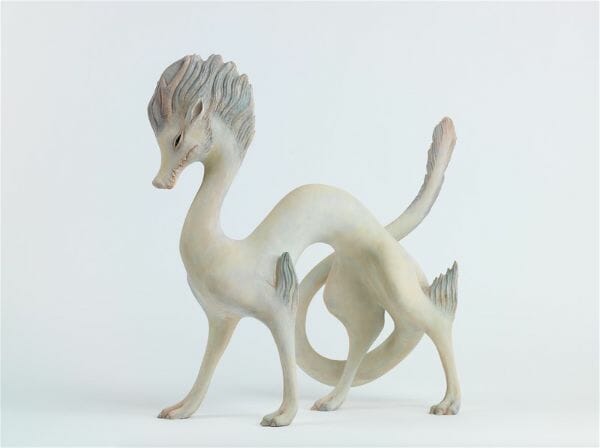 Using a chainsaw for the larger carvings, and a hand saw for smaller works, the artist employs some heavy machinery. An electric drill is used to bore holes in the outline of the piece which aids in the removal of unwanted sections. The artist first carves the outline of the spine, then the head, shoulder, and waistline, employing hammers, chisels, and sharp knives as he proceeds further along in his artistic process. Finally, to carve the faces, the artist cuts out the section from the jaw to the head and scoops out a cavity inside that space. He then puts crystal eyes inside the face, feeling great satisfaction when the piece suddenly takes on a lifelike appearance. He also relishes in applying pinks and reds to the eyeline and ear details of his creations, as he feels these colors deliver "a bloodstream" to his animals.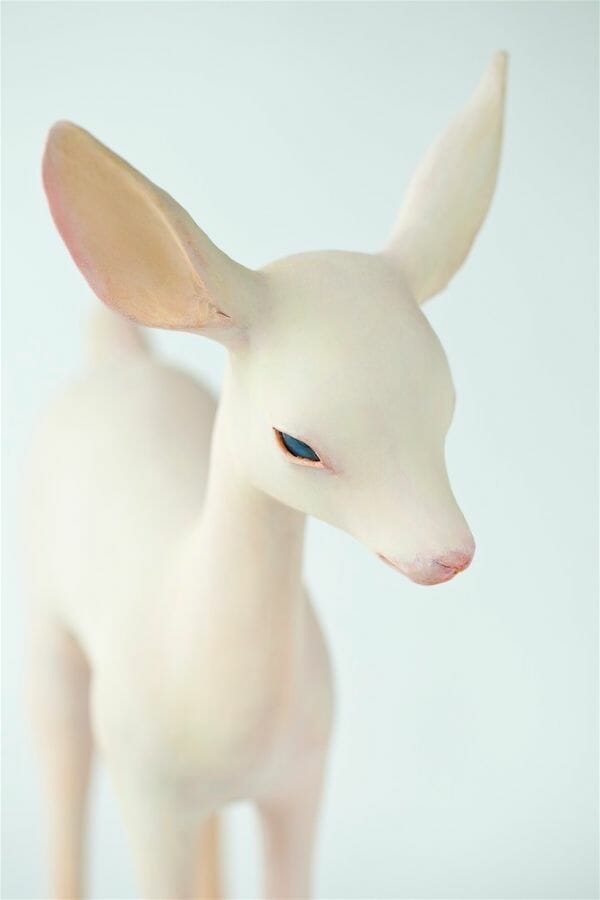 Yoshimasa explored various art media in college: clay, metals, stone, and finally, woodcarving. "When I carved wood for first time, I thought, 'this is it.' I felt the comfortable feeling like gnawing on fruits when I carve the wood." He then journeyed deeper into woodcarving, where he started out representational before beginning to create motifs envisioned in his imagination. The sheep he created for his graduate project – with its curled horns and twisted body – proved to be one of his favorites.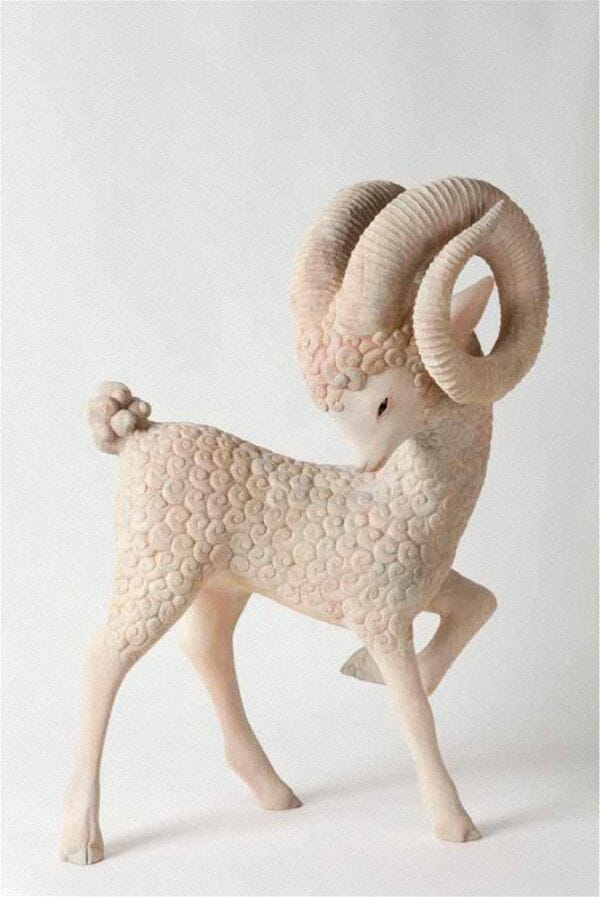 The artist envisions his animals "as if something is borrowing the posture of the animals and it's suddenly appearing" in front of him. "Nobody has ever seen unicorns but I imagine the shape of them by knowing the characteristics of their horns as medicine and that they don't get attached to, or domesticated by, humans."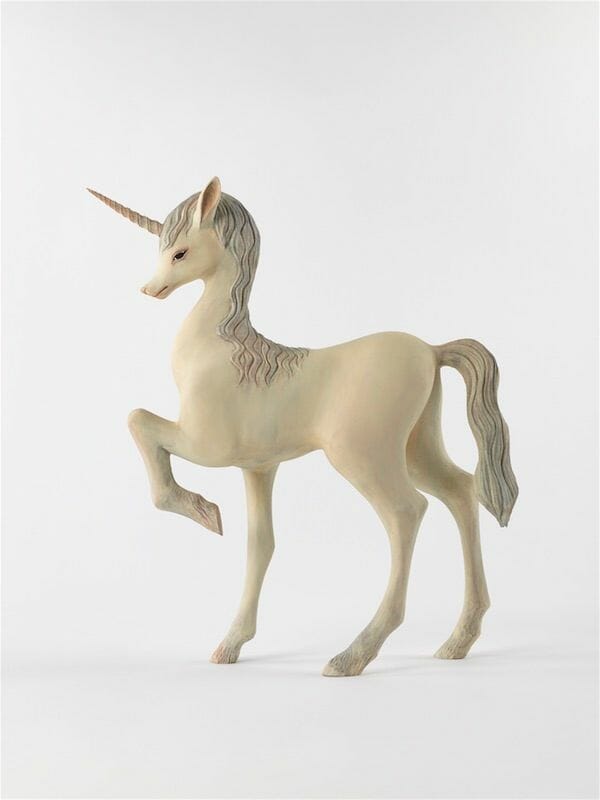 The artist has enjoyed five solos at MEGUMI OGITA GALLERY, first exhibiting animals such as deer and cats, before unveiling more fantastical creatures like unicorns and mermaids.  The mythical creatures were in his head, and as much as he wanted to create them, he felt embarrassed to make something "so childish." It wasn't until 2009 that he honored his wishes, the result being a renewed sense of accomplishment and a silenced inner critic.
Stay updated on Yoshimasa's exhibits, including a recent show at Jaski Gallery in Amsterdam. "I have lot of images I want to make," he said, "but I just finished another exhibition November 2017, so my ideas are still scattered. I believe I will think about it after I have had a little break."
Follow the trail of hoof and paw prints to Yoshimasa's Instagram page or Twitter account to see amazing process shots and photos of his latest works.