We are thrilled to announce the Jury Panel for The Inaugural Beautiful Bizarre Magazine Art Prize, made up of the Co-Founders of Beautiful Bizarre Magazine Danijela Krha Purssey and Richard Purssey, the Directors of Modern Eden Gallery Kim Larson and Bradley Platz, and three in-demand contemporary artists Audrey Kawasaki, Jeremy Mann and Marie Larkin who are excelling in their field of expertise and making waves around the world with their artwork. This Jury Panel consists of a deep knowledge of the arts, and many critical eyes that combine to bring the absolute best to the judging process, and ensures the Beautiful Bizarre Magazine Art Prize is one of excellence. See below for more information on each Juror.
Beautiful Bizarre Magazine Art Prize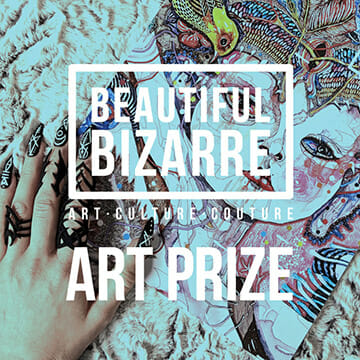 We welcome entries from all artists working in the mediums of: Painting, Drawing, and Sculpture [including embroidery and art dolls].
PRIZES include:
For more information on the Prize, Jury Panel, Entry Criteria > beautifulbizarre.net/art-prize
If you have any questions, please don't hesitate to contact us at [email protected]
Entries close midnight 30 June 2018 [Australian Eastern Standard Time].
2018 Jury Panel
[column size=one_half position=first ]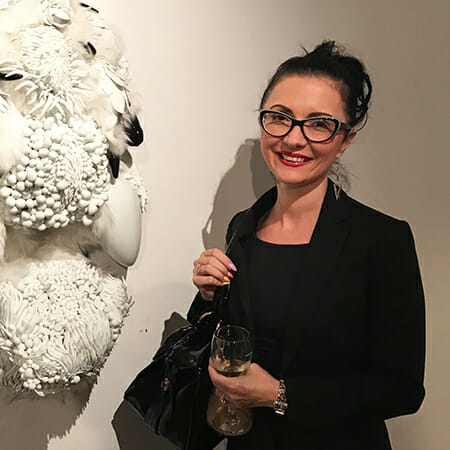 DANIJELA KRHA PURSSEY
Co-Founder & Editor-in-Chief
Beautiful Bizarre Magazine
Danijela Krha Purssey is an entrepreneur, and the Editor-in-Chief and Co-Founder of Australian based international contemporary art magazine, Beautiful Bizarre Magazine.
She is deeply passionate and committed to her vision to help shift the paradigm in the global contemporary arts industry regarding what is defined and accepted as contemporary art.
Danijela has created a carefully curated, unique contemporary arts experience via all the Beautiful Bizarre Magazine touch points that inspires and champions emerging and mid-career creatives both locally and around the world. Beautiful Bizarre Magazine has inspired creatives to pursue a life and career in the arts and helped artists' careers grow via Beautiful Bizarre Magazine's exposure of their work.
Danijela founded Beautiful Bizarre Magazine in 2013 with her husband, Richard Purssey. In the 5 years since the launch of Beautiful Bizarre Magazine she has released 20 issues, published over 1,400 web articles, developed and launched our interactive digital magazine, curated 5 exhibitions in 3 countries, and shared the work of countless creatives from all corners of the globe.  Beautiful Bizarre Magazine has become not only an influential player in the contemporary art scene, but more importantly – a voice, a tribe, and a platform – for creatives whose work doesn't always fit neatly into the traditional fine art "box".
Danijela has forged global connections with artists, collectors, gallery owners and their communities to further her vision for the new contemporary art scene and to help galleries and creatives thrive. The Beautiful Bizarre Magazine social media platforms have grown to over 850,000 followers.
In late 2016 Danijela was awarded the prestigious AMP Foundation 'Tomorrow Makers' Award, and grant funding to expand Beautiful Bizarre Magazine.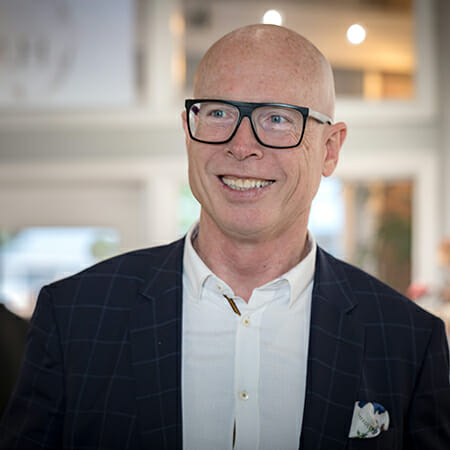 RICHARD PURSSEY
Co-Founder & Technical Director
Beautiful Bizarre Magazine
Richard Purssey is an IT consultant who is also a lifelong collector and appreciator of modern art. During the life of Beautiful Bizarre Magazine Richard has interviewed some of the finest contemporary realist artists from around the world, and been intimately involved in the creation of Beautiful Bizarre as a leading voice in the world of figurative art in all mediums. He has also been closely involved with the fine arts during his time as CIO of one of Australia's most prestigious public galleries, the Art Gallery of New South Wales.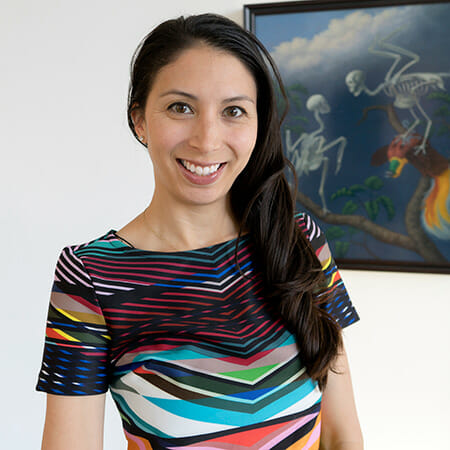 KIM LARSON
Director // Modern Eden Gallery
Kim is a small business entrepreneur with a background in jewelry making and sculpture. She is a founding member of North Beach First Fridays and is a proud member of the San Francisco Art Dealers Association. Her passion for art started at a young age and continues today with her private collection.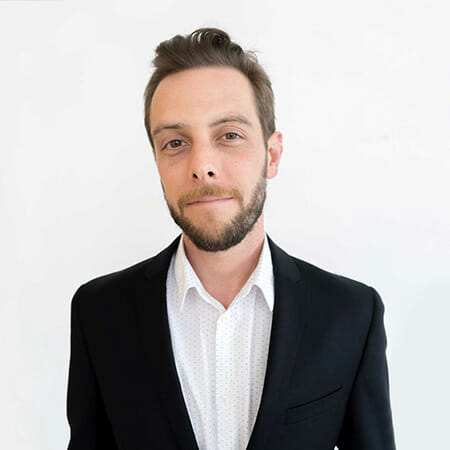 BRADLEY PLATZ
Director // Modern Eden Gallery
Bradley is a San Francisco based oil painter with a background in fine art painting and Art History. Over the last 10 years, Platz has planned, curated, installed, juried, and organized contemporary art exhibitions throughout the San Francisco Bay Area. He is a strong advocate for ecommerce and content marketing in the Arts.
[/column] [column size=one_half position=last ]
AUDREY KAWASAKI // Artist
Audrey Kawasaki is a Japanese-American artist, born and raised in Los Angeles, where she currently lives and works.
Kawasaki grew up reading Japanese manga comics, which inspired her to draw from an early age. She started taking after-school fine art classes at Mission Renaissance in her late teenage years. There she learned the basic foundation of drawing and painting. She attended Pratt Institute in New York after graduating high school, but left after two years without completion of degree. She started professionally showing at various art galleries in the US and internationally since 2005.
Kawasaki's work contains contrasting themes of innocence and eroticism, conveying the mysterious intrigue of feminine sensuality. Her sharp imagery is painted with precision onto wooden panels, the natural grain adding warmth to her enigmatic subject matter. The artist's creative influences include eastern as well as western traditions such as Art Nouveau and Japanese Manga comics. She paints sultry, seductive and uninhibited female subjects with delicate beauty and provocative, direct eye contact. Their graceful gestures and ghost-like features carry mysterious expressions of melancholy and longing.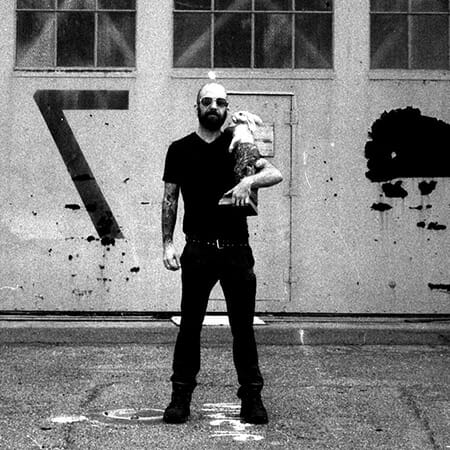 JEREMY MANN // Artist
Jeremy Mann is an Artist from Cleveland, OH and now residing in the Bay Area of California.  Graduating Cum Laude from both a BFA in Studio Fine Arts and an MFA in Painting, his studies have traversed all mediums and styles from abstract to realism, photography, printmaking, and oils.  Currently known for his modern impressionist oil paintings of cityscapes and figures, Mann continues to create in ever evolving styles, subjects and mediums.  A speaker at many major workshops throughout the world, he travels extensively, sketching, painting, writing and photographing the entire journey, while researching distant and rare art in museums worldwide.  While having published four books with more currently in the making, he has recently completed and released his first, entirely self-made, feature film, as well as many other experimental shorts.  An Artist without boundaries, his paintings are hewn from constant studies of life combined with personal studio practices translated through self-guided discovery of techniques, homemade analogue cameras, film lenses, and other vestibules.  He bases his artistic theories on a strong work ethic, insatiable curiosity for inspiration, knowledge, self-respect, and a purposeful awareness of life's subtleties.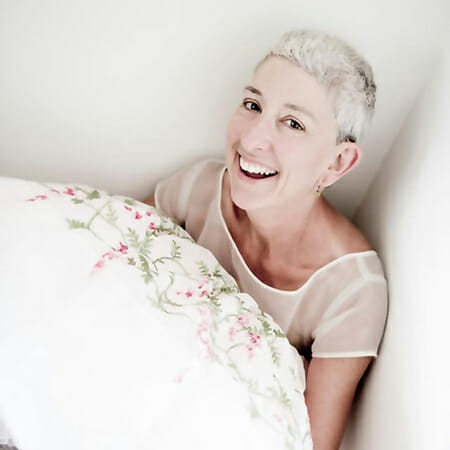 MARIE LARKIN // Artist
Marie Larkin is a prominent Australian Pop Surrealist. Her art embodies an undeniably feminine oeuvre, meticulous execution and attention to detail. Her richly coloured, painted and drawn alternate worlds, are inhabited by my signature women who imbue the works with narrative and emotional content. Women of strength and character, whose undeniable feminine force, has become Marie's trademark. Early works in painting, drawing and sculpture were inspired by fairytale and nursery rhyme narratives, pop culture and beauty but as Marie's work has matured and developed this has distilled into an art that is underpinned by explorations of the female persona. Marie's work over the past two years often attempts to show that elements of a goddess archetype are present in the everyday feminine. She seeks to help women find this within the everyday and has found that it resonates strongly with both men and women.
[/column]
[maxbutton id="8″]
Featured image above by Audrey Kawasaki