The Dark Art Emporium welcomes you to the dark side… join them March 10, 2018 from 7-10pm for the opening of The Shape of things to Come.
In a world where things seem to go bump in the night, and the macabre slithers beyond every murky crook and nanny, the insidious art of darkness prevails in The Shape of Things to Come, the new exhibition of Erick De La Vega & Krystopher Sapp. Can you hear them whispering and calling out to you, taunting and intriguing? As these nocturnal disturbances loom with twisted narratives and eerie emotion, help The Dark Art Emporium celebrate this wonderfully eerie new collection of work. To view additional artwork and purchase your favorite pieces, please visit the gallery's online shop.
Located in beautiful downtown Long Beach, Ca., The Dark Art Emporium is a diverse environment dedicated to showcasing the artists and creators that often fly under the radar of most people's perception of fine art. Here you will find everything from real human skulls, creepy dolls, unorthodox taxidermy, low brow, and dark fine art.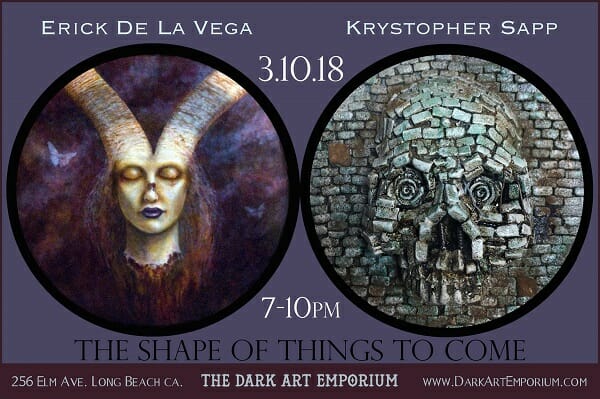 Opening Night:
March 10, 2018 | 7-10pm
Exhibition Dates:
March 10 – 31, 2018
The Dark Art Emporium
256 Elm Ave. | Long Beach, CA 90802
"The Shape Of Things To Come"
What happens when two friends, who also happen to be established and accomplished artists, get together to challenge each other in an attempt at creating a joint showing of new works? Fucking Magic, that's what happens.
Both Erick & Krys have well established through lines in their work. It is instantly recognizable as theirs. This show is no different in that regard. Here we find both artists taking a mindfully altered approach to their series'.  The voice of each artists still strongly growls through. Perhaps, if anything, it's just a bit louder.
For this show, Krystopher Sapp reached back in order to move forward. Recalling his skills as an illustrator and 2D painter and finding that those abstracted images incorporate fluidly into his dimensional assemblages. These revisited layers create roots. That don't so much feel as if they are pushed into existence as much as they seem to have found a natural evolution that enhances and strengthens the impact of each piece.
Erick De La Vega has made a hard left for this show. Abandoning several elements that had previously defined his work for more than a decade. Where you would find massive wall sized works, he offers intimate pieces at a much smaller scale, instead of airbrush and acrylics, the vast majority of this show is painted in layers of finely laid oils, and where a singular dark sepia tone created the world of previous works, here he has incorporated bright colors, a diversity of themed settings and delicate figurative work.
Both of these artists are in top form when experimenting and pushing the boundaries of their own styles.
We are in love with what they have produced for this exhibition and couldn't be more excited to show them to you.
Krystopher Sapp
Erick De La Vega