It may begin as a bedtime fable, or perhaps a sketch that yearns to not be forgotten. A room becomes a village or a symbol, a crest – before you know it, a seed of creation has sprouted into a New World of cultures and characters.  Yet what happens when your story keeps on growing?
Canadian artist Mark Heine has spent over three decades bringing to life hidden worlds beyond our own. Over the past five years, one such concept has failed to let go of his imagination. It is a world filled with poetry, reflection and adventure, whirling around a colony of Sirens who exist as the link between two estranged societies: the world above, and the world below the waters. In a symbiotic relationship with his manuscript, Mark's paintings portray the delicate grace and mystery of his amphibious humanoid creatures. Now exhibiting many of his works at Abend Gallery – many of which have never been outside of the studio before – Mark Heine shares with us some deeper insights into his carefully nurtured creation. Welcome to the extraordinary world of the Sirens.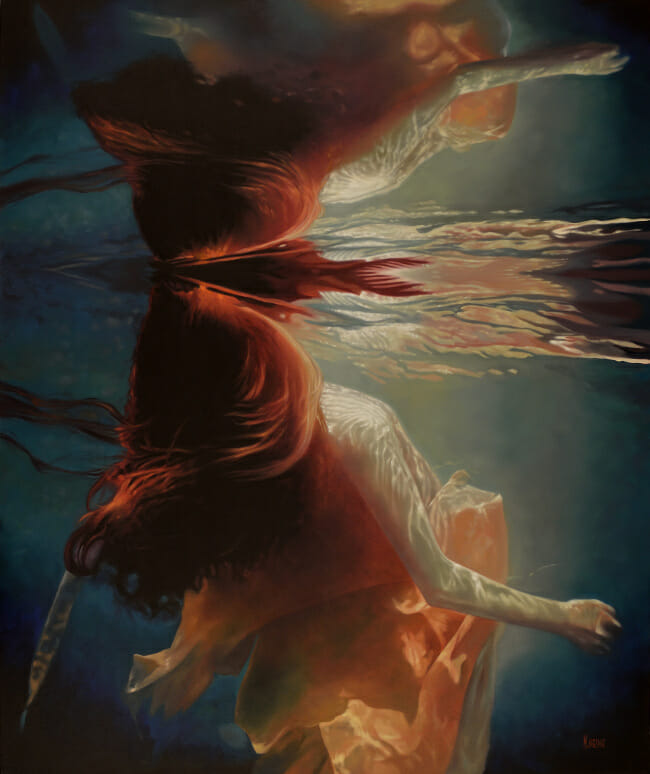 Communion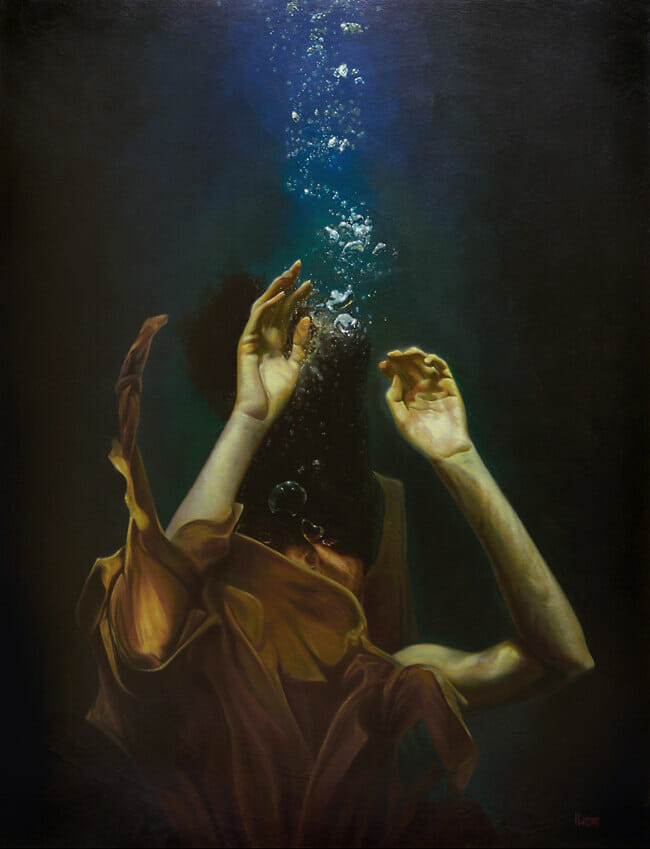 Surrender
Sewing the seeds
Growing up in an artistic household, it's not surprising Mark Heine captured the creative spark. His father showed Mark and his sisters, also professional artists, the struggle of living as a self-employed artist, and prepared them for the skills to navigate through the choppy waters ahead. At age 10, Mark won his first national poster competition, and at 18 the 1979 Attorney General's art school scholarship. More recently, he completed a mural for the 2006 Winter Olympics in Turin, and has painted the artwork for 42 different postage stamps for Canada, Lichtenstein and Luxembourg: "I think that could be a record" he comments, playfully. In his youth Mark worked at a marina, and continued his relationship with the sea into his adult life. A keen sailor, he has sailed to all of the remote locations in his book to gather local knowledge and histories first hand.
I've spent a lot of my life on the surface of the water. I've often wondered what lies below, but like most of us, have had only shallow, brief glimpses. So when my boat partner and I had the chance in 2014 to sail from Victoria, BC to Hawaii and back [two people, three years of planning, 6,450 miles in 52 days] part of my motivation was Sirens … I wanted a deeper understanding of the ocean. And I certainly got it!
Like many storytellers and artists, the tools of his trade span across many mediums. "Where I live, especially in the early years of my careers, being a professional artist meant that when you were offered work, you took it. Every project was different: illustration, architectural rendering, sculpture, mural. If you didn't know how to do it, you just had to work it out and trust your artistic senses. And leap. After 25 years of that, you lose all fear of subject, media and scale." Through all of his adventures, painting was always his primary favourite – style and medium, however, were always up for experimentation! Mark's relaxed attitude to painting gave him a special freedom when he finally transitioned from applied arts to oil painting and galleries 14 years ago: "I was completely free to wander creatively, comfortable that my diverse experience would help me tackle anything I chose.
That's led me here, to my Sirens project, which has grown to 44 paintings and a completed manuscript for my Sirens book."
Envoy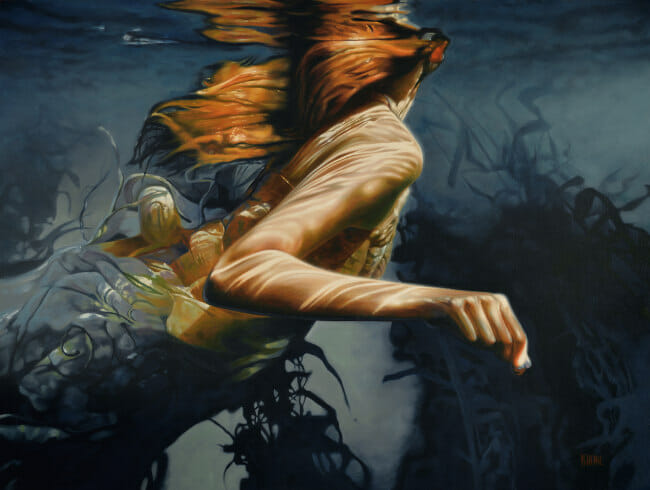 Labyrinth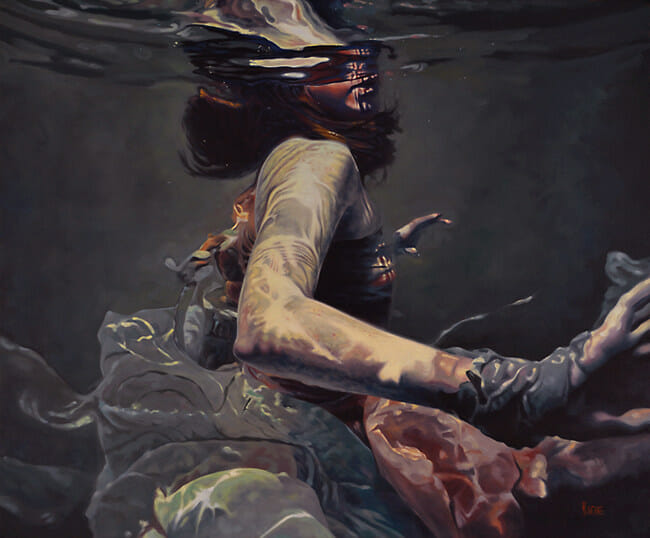 Imminent
If you think you've seen it all before, you may be wrong. One of the most poignant features to his Sirens lies in the way in which they exist far away from their dangerously alluring counterparts; Mark's characters are more than just a re-telling of traditional mythology. On his website, he describes his characters as an 'interpretation of the infamous and misunderstood femme fatales […] made famous in Homer's Odyssey'. But what if we go deeper?  "Evolution." Mark states, simply. "Sirens is about human evolution."
The number 1 threat to human existence, according to the United Nations, is global warming. We have the ability to change, but we lack the will.  For the future of my children, I've chosen to take action, using the skills I have at my disposal to influence social change. But rather than using reality and science to influence the brain, I've chosen imaginative realism and fiction to influence the heart.

We've all seen the popularity of this kind of fiction that's embraced widely by young adults in series like Harry Potter and Twilight… a hidden world within our own (often depressing) reality can be a great escape. But that escape, with the right message, can also influence attitudes about environmental stewardship and sustainability among those who – not so long from now – will inherit responsibility for our world. As a species, there's no question: we must evolve or perish.
A mythological muse
Curiously cryptic, Mark Heine references 'visions of my mythological muse' when talking about his Sirens series. But what – or who – is this? "My youngest daughter Sarah (now 19), has been the subject of the majority of my gallery work. In fact, my first figurative painting was of her, at age three, playing on the beach with some friends. It was entitled 'Sirens' (no coincidence there). For years, I painted scenes of her life… but these were scenes of her real world, and that came with limitations. This was one of my children, so I was unwilling to paint anything but sunshine and happiness. When I decided, five years ago, to dive into this magical realism series, it gave me license to explore darker themes in my work, many inherent to this underwater setting. Sarah is still my muse – but now as a character in a story. She's become my mythological muse, in a world of my own invention, which allows me the freedom to bring some clouds to the sunshine."
Three Little Birds
Onto the Canvas
When it comes to portraying his world on the canvas, Mark really puts his models to the test. Supported by his wife Lisa, editor of Sirens and costume designer, his models brave the Canadian waters dressed in Lisa's astoundingly beautiful creations. Mark laughs: "Our local waters are not overly warm here, so when we go on location for our underwater shoots, Lisa and I work in wetsuits – and as quickly as we can, so that our two models – Sarah and our family friend, Erica – don't get too cold. I'm in the water, working three cameras, and Lisa works just out of frame to attend to the girls and their costumes, which can sometimes take on a life of their own. It's all quite a challenge to pull off, and I couldn't do it without her!"
Each new canvas starts with a layer of heavy body gesso, applied with a palette knife to create a base texture. A rough wash of rusty red acrylic is then added as a ground, creating a "leather-like" appearance. "I find this process very cathartic" Mark muses, having messed up the pristine white canvas to irreversible depths. "That eliminates any apprehension over ruining it… Whatever I do from that point on can only make it better… in theory!"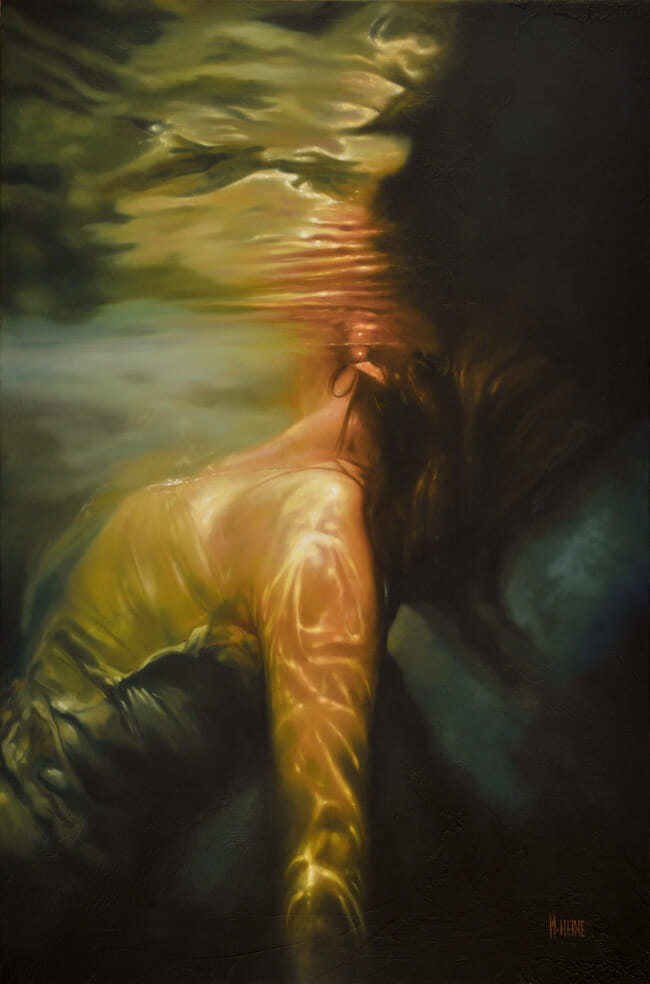 Emissary, study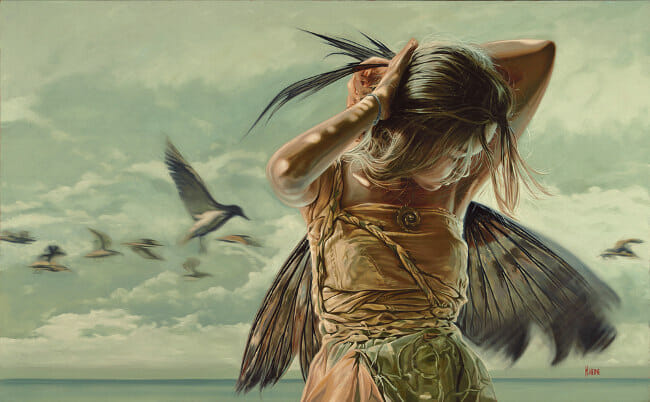 Metamorphosis
Into the galleries
My father used to tell me that galleries have changed. There was a time when they would take you in and work hard to further your career, beyond just hanging and selling. Dave [Ethridge, owner of Abend] and Abend Gallery seem to be cut from that type of cloth: they are making that effort on many levels to promote and forward my work. That's hard to find, and I value and appreciate it. My Canadian representation, the Peninsula Gallery here on Vancouver Island, is the same way. And when you find them, you take good care of them.
Mark's paintings have graced galleries for the past 14 years, provoking deeply personal responses from his audiences. "I've found viewer reactions to this work are often very strong… depending on the individual's comfort with water, his or her lifetime experience, or even phobias. I recently gave a slide presentation of Sirens to a local artists group. Afterwards, one lady approached me and said she hadn't realized until the end she'd been repeatedly holding her breath during the entire hour!"
His ability to play with your emotions through his paintings reflect the depths of his Sirens macrocosm. Often just touching a surface of the water, we are aware of our shared space with his creatures – the ambiguity in their motions ensure personal interpretations as to their intentions. Do they come to help or hinder? Do we see the moment before they break through the surface, or will they head deeper away from the light? As the viewer we remain in this limbo, awash in colour, beauty and uncertainty. The only way forward is to relinquish control and see where the Sirens personally take you.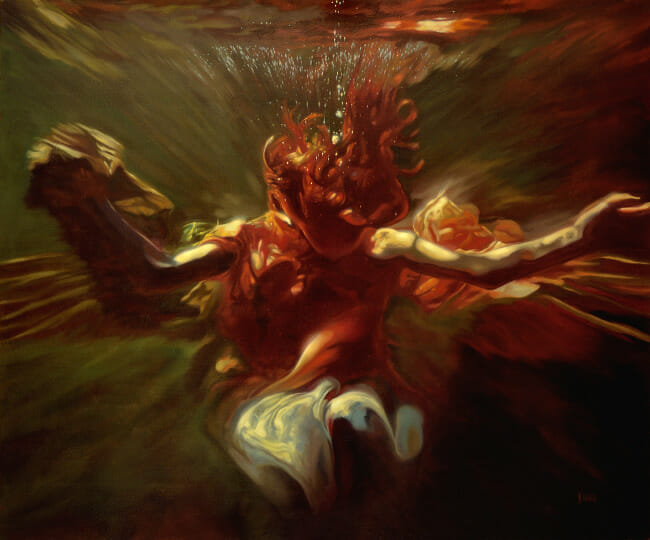 Salvation, study
One of the galleries where Mark Heine's paintings can currently be enjoyed and purchased from is Abend Gallery in Denver, CO. "Since this project is quite different from my previous paintings and from the mainstream, I felt that I needed a body of work before I began to approach galleries. So quite a few of the 44+ Sirens paintings, some life-size or larger, have never been outside of the studio. And now that I've built this thing, I need to find it a home! That's where Abend Gallery comes in. I was drawn to them by their interest in imaginative realism, and by the terrific pool of talent they represent, some of whom I've known and admired for years."
Looking forward, Mark Heine is currently working on a sequel to Sirens, in both manuscript and painting form. He hopes to cross over and attract book lovers to art, and art lovers to the book. Like many, we can't wait to see more of his captivating creations.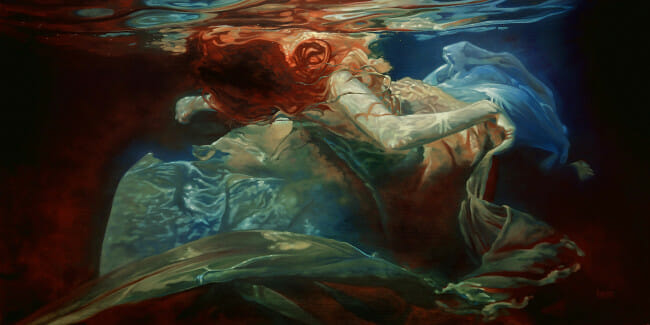 Resurrection, study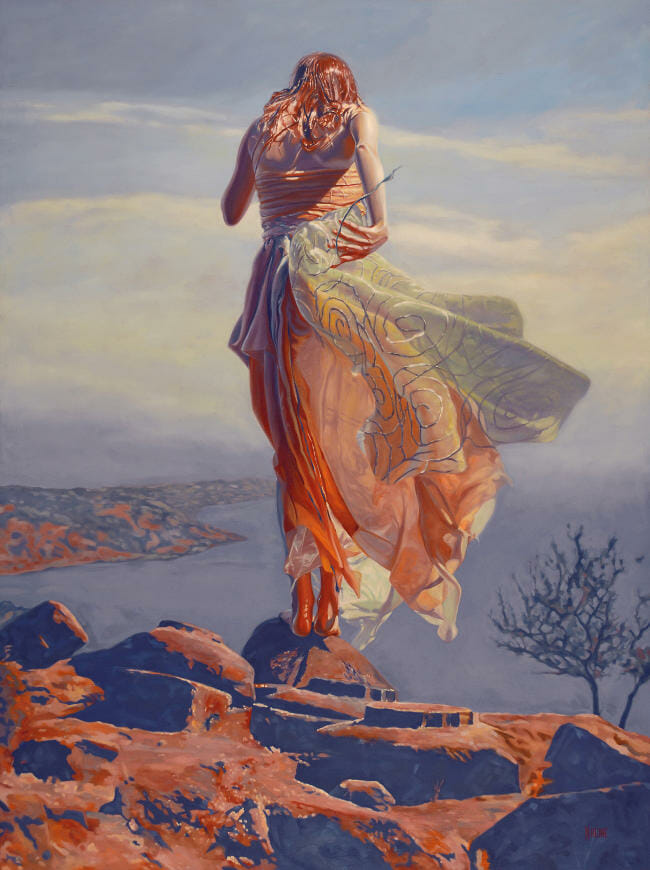 Sirenia
Deliverance